Abstract
Juice was extracted from wood apple (Feronia limoni) by conducting designed experiments with varying incubation temperature (°C), enzyme concentration (mg/100 g) and incubation time (h) as input variables at five different levels. The second-order polynomial models were developed using response surface methodology to understand effect of input variables on the responses in terms of,—juice recovery (%), TSS (°Bx) and clarity (%T at 590 nm). Interaction of incubation temperature with other input variables was observed to affect all the responses. Optimum values for input variables could be obtained with statistically valid models (p < 0.01) for maximized juice recovery and clarity at incubation temperature, enzyme concentration and incubation time of 40 °C, 34.7 mg/100 g and 5.5 h, respectively.
Access options
Buy single article
Instant access to the full article PDF.
US$ 39.95
Tax calculation will be finalised during checkout.
Subscribe to journal
Immediate online access to all issues from 2019. Subscription will auto renew annually.
US$ 79
Tax calculation will be finalised during checkout.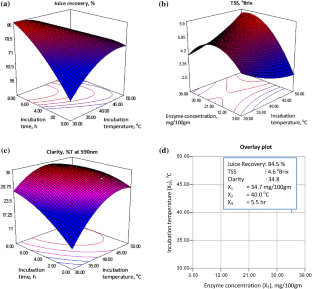 References
1.

Baumann JW (1983) Application of enzymes in fruit juice technology. In: Birch GG, Blakebrough N, Parker KJ (eds) Enzymes and food processing. Applied Science Publishers, London, pp 129–147

2.

Chang T, Siddiq M, Sinha NK, Cash JN (1995) Commercial pectinases and the yield and quality of Stanley plum juice. J Food Process Pres 19:89–101

3.

Dorreich K (1996) Investigations on production of apple juice without the utilisation of presses. XII International congress of fruit juice report of congress. IFU, Interlaken, pp 183–197

4.

Ghosh SN, Banik AK, Banik BC (2010) Conservation, multiplication and utilization of wood apple (Feronia limonia) a semi-wild fruit crop in West Bengal (India). In: International symposium on minor fruits and medicinal plants, Bidhan Chandra Agricultural University, Nadia, West Bengal, India, pp 1208–1214

5.

Grassin C, Fauquembergue P (1999) Enzymes, fruit juice processing. In: Flickinger MC, Drew SW (eds) Encyclopedia of bioprocess technology: Fermentation, biocatalysis, bioseparation. Wiley, New York, pp 1030–1061

6.

Ilaiyaraja N, Likhith KR, Sarath Babu GR, Khanun F (2014) Optimization of extraction of bioactive compounds from Feronia limonia (wood apple) fruit using response surface methodology (RSM). Food Chem 173:348–354

7.

Ilango K, Chitra V (2009) Hepatoprotective and antioxidant activities of fruit pulp of Limonia acidissima Linn. Int J Health Res 2:361–367

8.

Ito N, Fukushima S, Hagiwara A (1983) Carcinogenicity of butylated hydroxyanisole in F344 rats. J Natl Cancer Inst 70:343–352

9.

Joshi VK, Chauhan SK, Lal BB (1991) Extraction of juice from peaches, plumes and apricot by pectinolytic treatment. J Food Sci Tech 28:64–65

10.

Kashyap DR, Vohra PK, Chopra S, Tewari R (2001) Applications of pectinases in the commercial sector: a review. Bioresource Technol 77:215–227

11.

Kaur S, Sarkar BC, Sharma HK (2009) Optimization of enzymatic hydrolysis pre-treatment conditions for enhanced juice recovery from guava fruit using response surface methodology. Food Bioprocess Tech 2:96–100

12.

Khuri AI, Cornell JA (1987) Response surfaces: designs and analyses. Marcel Dekker Publication, New York

13.

Lee WC, Yusof S, Hamid NSA, Baharin BS (2006) Optimizing conditions for enzymatic clarification of banana juice using response surface methodology (RSM). J Food Eng 73:55–63

14.

Mishra PK, Shukla R, Singh P, Prakash B, Dubey NK (2012) Antifungal and antiaflatoxigenic efficacy of Caesulia axillaris Roxb. essential oil against fungi deteriorating some herbal raw materials, and its antioxidant activity. Ind Crops Prod 36:74–80

15.

Mohapatra D, Bal S (2010) Optimization of polishing conditions for long grain basmati rice in a laboratory abrasive mill. Food Bioprocess Technol 3:466–472

16.

Montgomery DC (2001) Design and analysis of experiments, 5th edn. Wiley, New York, pp 455–492

17.

Morton JF (1987) Wood-Apple. Fruits of warm climates. Julia F Morton, Miami, FL, pp 190–191

18.

Ratnayake RMRNK, Sumithra HJ, Fernando MD, Palipane KB (2009) Effect of GRAS compounds on Aspergillus rot of wood-apple (Feronia limonia L). Phytoparasitica 37:431–436

19.

Saxena D, Sabikhi L, Chakraborty SK, Singh D (2014) Process optimization for enzyme aided clarification of water melon juice. J Food Sci Tech 51:2490–2498

20.

Senthilkumar A, Venkateslu V (2014) Chemical constituents, in vitro antioxidant and anti microbial activities of essential oil from the fruit pulp of wood apple. Ind Crops Prod 40:66–72

21.

Shah N (2007) Optimization of an enzyme assisted process for juice extraction and clarification from litchis (Litchi chinensissonn). Int J Food Eng 3:1–17

22.

Singh A, Kumar S, Sharma HK (2012) Effect of enzymatic hydrolysis on the juice yield from bael fruit (Aeglemarmelos Correa) pulp. Am J Food Technol 7:62–72
Additional information
Publisher's Note
Springer Nature remains neutral with regard to jurisdictional claims in published maps and institutional affiliations.
About this article
Cite this article
Sharma, H.P., Chakraborty, S.K. & Patel, H. Process Parameter Optimization for Enzyme-Aided Juice Extraction of Wood Apple (Feronia limonia). Agric Res 9, 410–416 (2020). https://doi.org/10.1007/s40003-019-00436-4
Received:

Accepted:

Published:

Issue Date:
Keywords
Pectinase

Juice recovery

Total soluble solids

Clarity