Abstract
The study addresses the issue of micronutrient deficiency in diets through health and nutrition education and introduction of homestead gardens and backyard poultry with high egg-yielding birds in a rural community. The target was the pregnant women and mothers with preschool children aged 6–24 months registered with the 11 Integrated Child Development Services (ICDS) centres called 'Anganwadi' in eight villages of Medak district, in the South Indian state of Andhra Pradesh (now Telangana). Knowledge, attitude and practice (KAP) surveys of health and nutrition on a sub-sample of 142 mothers with 6- to 24-month-old children done initially and at the end of three years showed marked improvement in mothers' knowledge and child-feeding practices. At the end of three years, 335 target families had raised vegetable gardens diverting 57.8 acres of land. The KAP survey responses showed that the percentage of families raising homestead gardens increased from 30 % initially to over 70 % finally. Weekly mean frequency of green leafy vegetables (GLV) cooked, increased from 1.9 to 2.4. The percentage of households cooking GLV more than three times per week increased from 21 in the initial survey to 45 in the final survey. Weekly frequency and quantity of eggs consumed, among households who set up BYP, more than doubled. ICDS records showed gradual decline in percentage of 6 to 24-month-old children suffering from moderate-to-severe malnutrition, over the three-year experimental period.
Access options
Buy single article
Instant access to the full article PDF.
USD 39.95
Price includes VAT (USA)
Tax calculation will be finalised during checkout.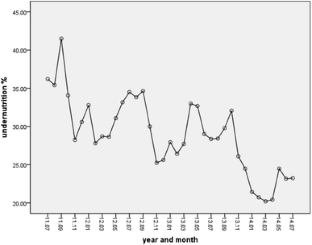 Abbreviations
AICRP:

All India Coordinated Research Project

ASHA:

Accredited Social Health Activist

BYP:

Backyard poultry

GLV:

Green leafy vegetables

ICDS:

Integrated Child Development Services

KAP:

Knowledge, attitude and practice

LBW:

Low birth weight
References
1.

Bamji MS, Murty PVVS, Rao MV, Satyanarayana G (2011) Diversification from agriculture to nutritionally and environmentally promotive horticulture in a dry-land area. Sight Life 25:38–42

2.

Das PK, Bhavani RV, Swaminathan MS (2014) A farming system model to leverage agriculture for nutritional outcomes. Agric Res 3:193–203

3.

Iannoti L, Cunningham K, Ruel M (2009) Improving diet quality and micronutrient nutrition. In: Homestead food production in Bangladesh. IFPRI discussion paper 00928, prepared for the project on Millions fed: Proven Successes in Agriculture Development, November 2009, pp 1–44. www.IFPRI.org/millionsfed

4.

Murty PVVS, Bamji MS, Rao MV, Prasad VLK (2013) Promotion of Backyard poultry for augmenting egg consumption in rural households. Ind J Nutr Diet 50:150–155

5.

National Nutrition Monitoring Bureau (NNMB), technical report No. 26.2012. Diet and nutrition status of rural population, prevalence of hypertension & diabetes among adults and infant & young child feeding practices. National Institute of Nutrition, Indian Council of Medical Research, Hyderabad

6.

Ndaeyo NU (2009) Assessing the contributions of homestead farming to food security in a developing economy: a case study of Southern Nigeria. J Agric Soc Sci 3:11–16

7.

Rahman FMM, Mortuza MGG, Rahman MT et al (2008) Food security through homestead vegetable production in the smallholder agricultural improvement project (SAIP) area. J Bangladesh Agric Univ 6:261–269

8.

Talkukdar A, Haselow NJ, Osel AK et al (2010) Homestead food production model contributes to improved household food security and nutrition status of young children and women in poor populations. Field Actions Science Reports (online), Special issue 1-Urban Agriculture, Online since 17 February 2010, Connection on 13 June 2010. http//factsreports.revues.org/index404.html

9.

Thompson B, Amoroso L (eds) (2011) Combating micronutrient deficiencies: food-based approach. FAO & CAB, Rome
Acknowledgments
The financial support for this study from the Department of Science and Technology—SEED programme is gratefully acknowledged. The technical support for this study was provided by N. Venkatesh (agriculture and horticulture), D. V. Ramana (education and data management), P. Pentiah (poultry) and KV Lakshmi (cooking demonstrations) and Supraja Sharma, (statistical analysis). The guidance and assistance from the following scientists are gratefully acknowledged: Dr. S. Narsimha Reddy, KVK Aurobindo Institute of Rural Development, Nalgonda district, AP (green methods of farming); Dr. ST Viroji Rao, Principal Scientist, AICP, Poultry, Sri Venkateshwara Veterinary University (AP) (BYP); Dr. T. Kotiah (Inbro research and breeding farm, Hyderabad (BYP); Dr. Archana Mukerjee, Principal Scientist, Regional centre of Central Tuber Crops Research Institute, Indian Council of Agricultural Research, Bhubaneswar, Odisha (advise and supply of cuttings of orange-flesh sweet potato); Dr. K. Bhaskarachary, Scientist, National Institute of Nutrition, Hyderabad (analyses of orange-fleshed sweet potato for carotenoids); and Dangoria Charitable Trust for all the facilities provided. Last but not the least the ICDS authorities, functionaries and the community for their cooperation.
About this article
Cite this article
Murty, P.V.V.S., Rao, M.V. & Bamji, M.S. Impact of Enriching the Diet of Women and Children Through Health and Nutrition Education, Introduction of Homestead Gardens and Backyard Poultry in Rural India. Agric Res 5, 210–217 (2016). https://doi.org/10.1007/s40003-016-0206-x
Received:

Accepted:

Published:

Issue Date:
Keywords
Dietary micronutrient deficiency in India

Homestead gardens

Backyard poultry

Health and nutrition education

Integrated Child Development Services - Anganwadi

Knowledge, attitude and practice survey

Preschool children nutrition status