Zusammenfassung
Hintergrund
Um Patienten zeitgemäß zu versorgen und über Grenzen von Sektoren (Krankenhaussektor, Sektoren ambulanter und stationärer Pflegeeinrichtungen) hinweg erfolgreich behandeln und pflegen zu können, bietet es sich an, bereits auf dem Markt befindliche Pflegeinnovationstechnologien, wie z. B. digitale Assistenzsysteme zur Bewegungserfassung von Personen im Rahmen von Dekubitusprophylaxe, unterstützend einzusetzen. Bislang werden Pflegeinnovationstechnologien zu Dekubitus- und Sturzprophylaxe, Diabetes mellitus, Orientierung etc. nur einzeln als nichtvernetzte Einzellösungen pro Person und punktuell eingesetzt. Um eine weitere Implementierung zu realisieren, erscheint es notwendig, die Bereitschaft zur Techniknutzung und die tatsächliche Techniknutzung von Pflegekräften zu analysieren.
Zielstellung
Die vorliegende Untersuchung beschäftigt sich mit der Analyse der Technikbereitschaft und -nutzung von Pflegekräften und anderen Akteuren im Pflegeprozess von Klinik und Pflegewohnheim sowie im ambulanten Pflegedienst. Zudem werden Erwartungen und Erfahrungen in Bezug auf Pflegeinnovationstechnologien sowie Förderfaktoren bzw. Barrieren und Voraussetzungen zur Nutzung im Pflegealltag identifiziert.
Material und Methode
Es wurden 97 Mitarbeiter*innen einer geriatrischen Klinik, eines Pflegewohnheims und eines ambulanten Pflegediensts mittels Fragebogen zu Technikbereitschaft, Erfahrung mit Technik, Fertigkeiten bei der Nutzung von Computer und Smartphone, Erfahrungen und Kenntnissen zu Pflegeinnovationstechnologien bei definierten Pflegeproblemen sowie dem erwarteten Nutzen von Pflegeinnovationstechnologien und Voraussetzungen für deren Einsatz im Pflegeprozess befragt.
Ergebnisse
Es zeigt sich eine mittlere Technikbereitschaft (M = 42,79 ± 7,27, bei Min. 12 und Max. 60) bei höherer Techniknutzung (M = 7,03–7,86 ± 2,35–2,9, bei Min. 1 bis Max. 10; je nach Endgerät). Zudem wird von den Mitarbeitern/Mitarbeiterinnen ein großer Nutzen ausgewählter Pflegeinnovationstechnologien, unter bestimmten Voraussetzungen wie einfache Handhabung und automatisierte Ergebnisübertragung in die Pflegedokumentation, erwartet.
Schlussfolgerung
Die Ergebnisse weisen auf die Möglichkeit einer potenziell positiven Implementierung von Pflegeinnovationstechnologien in den untersuchten Settings hin. Darüber hinaus konnte ein Überblick über Förderfaktoren und Barrieren für den Einsatz in der Praxis gegeben werden.
Abstract
Background
In order to provide patients with up to date care and to successfully treat and care for them across sectoral boundaries (hospital sector, sectors of outpatient and inpatient nursing facilities), it makes sense to use care innovation technologies that are already on the market to provide support, e.g. digital assistance systems to document movement of persons during decubitus prophylaxis. So far, nursing innovation technologies for decubitus and fall prophylaxis, diabetes mellitus, orientation, etc. have only been occasionally used as non-networked individual solutions. In order to realize further implementation, it seems to be necessary to analyze the readiness and actual technology use by nursing personnel.
Objective
The present study was concerned with the analysis of the technical readiness and the use of technologies by nursing staff and other actors in the nursing process of hospitals, nursing homes and outpatient nursing services. In addition, the expectations and experiences with respect to innovative nursing technologies as well as promoting factors and barriers and prerequisites for utilization in the nursing routine were identified.
Material and method
A total of 97 employees of a geriatric clinic, a nursing home and an outpatient nursing service were interviewed by means of questionnaires on technology readiness, experience with technology, skills in the use of computers and smartphones, experiences and knowledge of nursing innovation technologies for defined nursing problems. The expected benefits of technical assistance systems and prerequisites for the implementation in the nursing process were also surveyed.
Results
The results show a moderate technical readiness (M = 42.79 ± 7.27 points, at min. 12 and max. 60) with higher use of technology (M = 7.03–7.86 ± 2.35–2.9, at min. 1 and max. 10; depending on the end device). In addition, employees are expected to greatly benefit from selected care innovation technologies under certain conditions, such as ease of use and automated transfer of results to nursing documentation.
Conclusion
The results indicate the possibility of a successful implementation of care nursing innovation technologies in the investigated settings. In addition, an overview of promoting factors and barriers for utilization in practice could be given.
Access options
Buy single article
Instant access to the full article PDF.
US$ 39.95
Tax calculation will be finalised during checkout.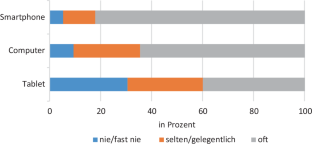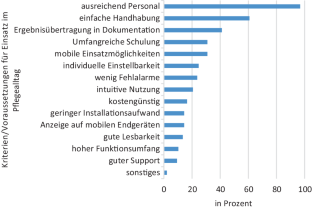 Literatur
Bräutigam C, Enste P, Evans M, Hilbert J, Merkel S, Öz F (2017) Digitalisierung im Krankenhaus: mehr Technik – bessere Arbeit? Studie der Hans-Böckler-Stiftung, Bd. 364. Hans-Böckler-Stiftung, Düsseldorf (Available from: https://www.boeckler.de/pdf/p_study_hbs_364.pdf)

Claßen K, Oswald F, Wahl H‑W, Heusel C, Antfang P, Becker C (2010) Bewertung neuerer Technologien durch Bewohner und Pflegemitarbeiter im institutionellen Kontext. Z Gerontol Geriat 43:210–218

Destatis (2017) Smartphones – Penetration in Deutschland nach Alter der Nutzer. https://de.statista.com/statistik/daten/studie/459963/umfrage/anteil-der-smartphone-nutzer-in-deutschland-nach-altersgruppe/. Zugegriffen: 18. Apr. 2019

deVeer AJ, Fleuren MA, Bekkema N, Francke AL (2011) Successful implementation of new technologies in nursing care: a questionnaire survey of nurse-users. BMC Med Inform Decis Mak. https://doi.org/10.1186/1472-6947-11-67

Eggert S, Suhlmann D, Teubner C (2018) Einstellung der Bevölkerung zu digitaler Unterstützung in der Pflege. Zentrum für Qualität in der Pflege, Berlin

Haubner D, Nöst S (2012) Pflegekräfte – Die Leerstelle bei der Nutzerintegration von Assistenztechnologien. In: Shire KA, Leimeister JM (Hrsg) Technologiegestützte Dienstleistungsinnovation in der Gesundheitswirtschaft. Gabler, Wiesbaden, S 3–30 https://doi.org/10.1007/978-3-8349-3506-9_1

Hein A, Steen E‑E, Thiel A, Hülsken-Giesler M (2015) Technik und neue Technologien in der Pflege. In: Pflegewissenschaft 1 Lehr- und Arbeitsbuch zur Einführung in das wissenschaftliche Denken in der Pflege. Bern: Hogrefe

Hielscher V, Kirchen-Peters S, Sowinski C (2015) Technologisierung der Pflegearbeit? Pflege Ges 20:5–66

Hobbs S (2002) Measuring nurses' computer competency: an analysis of published instruments. Comput Inform Nurs 20(2):63–73

Hülsken-Giesler M (2015) Technik und Neue Technologien in der Pflege. In: Brandenburg H, Dorschner S (Hrsg) Pflegewissenschaft. 1. Lehr- und Arbeitsbuch zur Einführung in das wissenschaftliche Denken in der Pflege, 3. Aufl. Huber, Bern, S 262–294

Hülsken-Gießler M, Daxberger S, Peters M, Wirth L-M (2019) Technikbereitschaft in der ambulanten Pflege. https://doi.org/10.1024/1012-5302/a000720

Merda M, Schmidt K, Kähler B (2017) Einsatz moderner Technologien aus der Sicht professionell Pflegender – Forschungsbericht. BGW, Hamburg

Neyer F, Felber J, Gebhardt C (2016) Kurzskala Technikbereitschaft (TB, technology commitment). https://search.datacite.org/works/10.6102/zis244. Zugegriffen: 2. Februar 2020

Pickham D, Berte N, Pihulic M, Valdez A, Mayer B, Desai M (2018) Effect of a wearable patient sensor on care delivery for preventing pressure injuries in acutely ill adults: a pragmatic randomized clinical trial (LS-HAPI study). Int J Nurs Stud 80:12–19

Robert Koch-Institut (Hrsg) (2015) Gesundheit in Deutschland. Gesundheitsberichterstattung des Bundes. Gemeinsam getragen von RKI und Destatis. RKI, Berlin, S 454 (Welche Auswirkungen hat der demografische Wandel auf Gesundheit und Gesundheitsversorgung?)

Scholz S (2019) Warum schaffen es so wenig technologische Innovationen in die Regelversorgung? https://idw-online.de/de/news?print=1&id=711656. Zugegriffen: 9. Mai 2019

Weiß C, Lutze M, Compagna D (2013) Abschlussbericht zur Studie Unterstützung Pflegebedürftiger durch technische Assistenzsysteme

Wilson D (2017) An overview of the application of wearable technology to nursing practice. Nurs Forum 52:124–132
Ethics declarations
Interessenkonflikt
N. Strutz, S. Kuntz, N. Lahmann und A. Steinert geben an, dass kein Interessenkonflikt besteht.
Additional information
Hinweis des Verlags
Der Verlag bleibt in Hinblick auf geografische Zuordnungen und Gebietsbezeichnungen in veröffentlichten Karten und Institutsadressen neutral.
Die Originalversion dieses Artikels wurde korrigiert: Das Eingangsdatum wurde zu 13. Mai 2019 korrigiert.
About this article
Cite this article
Strutz, N., Kuntz, S., Lahmann, N. et al. Analyse der Technikbereitschaft und -nutzung von Pflegeinnovationstechnologien von Mitarbeiter*innen im Pflegeprozess. HBScience 11, 27–34 (2020). https://doi.org/10.1007/s16024-020-00339-3
Received:

Accepted:

Published:

Issue Date:
Schlüsselwörter
Technikakzeptanz

Pflegesetting

Innovation

Förderfaktoren

Implementierung
Keywords
Technology acceptance

Care setting

Innovation

Supporting factors

Implementation