Wenn die Chemotherapie bereits bei Anblick des Infusionsbeutels Übelkeit auslöst oder ein Biosimilar schlechter wirkt als das Original, ist vielleicht der Nocebo-Effekt schuld. Was das ist und wie Sie vorbeugen — eine Übersicht.
This is a preview of subscription content, log in to check access.
Access options
Buy single article
Instant access to the full article PDF.
US$ 39.95
Price includes VAT for USA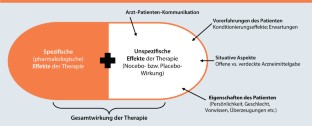 Literatur
Planès S et al. The nocebo effect of drugs. Pharmacol Res Perspect. 2016;4(2): e00208.

Hansen E et al. Placebo und Nocebo: Wie einsetzen bzw. vermeiden? Internist. 2017; 58(10):1102-10.
About this article
Cite this article
Borchers, M. Nocebo — der böse Bruder des Placebos. Im Focus Onkologie 21, 38–40 (2018). https://doi.org/10.1007/s15015-018-3760-1