Neonatologen und Kinderärzte benötigen ein Basiswissen über das Bild der zwei häufigsten Ichthyosen, um seltene kongenitale Formen abzugrenzen. Dieser Artikel wird Ihnen dabei helfen, die beiden Formen zu unterscheiden und therapeutische Kniffe anzuwenden.
Access options
Buy single article
Instant access to the full article PDF.
US$ 39.95
Tax calculation will be finalised during checkout.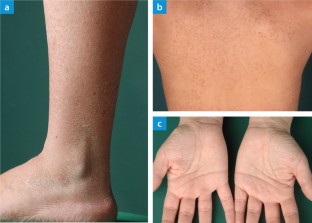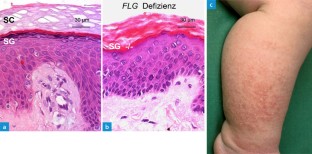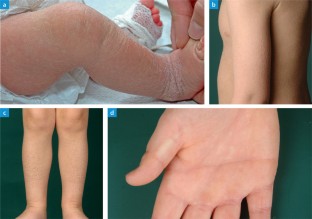 Literatur
1.

Oji V et al. Revised nomenclature and classification of inherited ichthyoses: results of the First Ichthyosis Consensus Conference in Sorèze 2009. J Am Acad Dermatol 2010; 63:607–41

2.

Traupe H et al. Nonsyndromic types of ichthyoses - an update. J Dtsch Dermatol Ges 2014;12:109–21

3.

Smith FJ et al. Loss-of-function mutations in the gene encoding filaggrin cause ichthyosis vulgaris. Nat Genet 2006;38:337–42

4.

Brown SJ et al. Filaggrin haploinsufficiency is highly penetrant and is associated with increased severity of eczema: further delineation of the skin phenotype in a prospective epidemiological study of 792 school children. Br J Dermatol 2009;161: 884–9

5.

Wells RS, Kerr CB. Clinical features of autosomal dominant and sex-linked ichthyosis in an English population. Br Med J 1966;1: 947–50

6.

Koppe G et al. X-linked ichthyosis. A sulphatase deficiency. Arch Dis Child 1978;53: 803–6

7.

Elias PM et al. Basis for abnormal desquamation and permeability barrier dysfunction in RXLI. J Invest Dermatol 2004;122: 314–9

8.

Craig WY, Roberson M, Palomaki GE et al. Prevalence of steroid sulfatase deficiency in California according to race and ethnicity. Prenat Diagn 2010;30:893–8

9.

Kent L et al. X-linked ichthyosis (steroid sulfatase deficiency) is associated with increased risk of attention deficit hyperactivity disorder, autism and social communication deficits. J Med Genet 2008;45:519–24

10.

Puri PK et al. Banding pattern on polarized hair microscopic examination and unilateral polymicrogyria in a patient with steroid sulfatase deficiency. Arch Dermatol 2012;148:73–8

11.

Cañueto J et al. Analysis of the STS gene in 40 patients with recessive X-linked ichthyosis: a high frequency of partial deletions in a Spanish population. J Eur Acad Dermatol Venereol 2010;24:1226–9

12.

Sánchez-Guijo A et al. High levels of oxysterol sulfates in serum of patients with steroid sulfatase deficiency. J Lipid Res 2015;56:403–12

13.

Blanchet-Bardon C et al. Association of glycerol and paraffin in the treatment of ichthyosis in children: an international, multicentric, randomized, controlled, double-blind study. J Eur Acad Dermatol Venereol 2012;26:1014–19

14.

Oji V, Traupe H. Ichthyosis: clinical manifestations and practical treatment options. Am J Clin Dermatol 2009;10:351–64
Additional information
Interessenkonflikt
Der Autor erklärt, dass bei der Erstellung des Beitrags kein Interessenkonflikt vorlag.
About this article
Cite this article
Oji, V. Ichthyosis vulgaris von X-chromosomal rezessiver Ichthyose unterscheiden. pädiatr. hautnah 27, 6–10 (2015). https://doi.org/10.1007/s15014-015-0454-4