Diverse Medienberichte über ein mögliches erhöhtes Thromboserisiko bei Anwendung kombinierter hormonaler Kontrazeptiva haben viele Patientinnen verunsichert. Ein entsprechender Rote-Hand-Brief von 2014 stellt einmal mehr heraus, dass der Nutzen die Risiken überwiegt, wenn es sich nicht um Risikopatientinnen handelt. Dieser Brief kann zweckdienliche Hilfe im Aufklärungsgespräch sein. Die aktuelle Datenlage wird nachfolgend praxisrelevant zusammengefasst.
Access options
Buy single article
Instant access to the full article PDF.
US$ 39.95
Tax calculation will be finalised during checkout.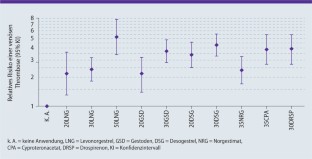 Literatur
1.

Scharrell D. Die Verordnung kombinierter hormonaler Kontrazeptiva. QM-Aspekte der Patientinnenaufklärung. Frauenarzt 2014; 55: 6.

2.

Halstrick C. Die Verordnung kombinierter hormonaler Kontrazeptiva. Juristische Aspekte der Patientinnenaufklärung unter Berücksichtigung des Rote-Hand-Briefs vom 30.1.2014. Frauenarzt 2014; 55:3.

3.

Lidegaard O et al. Oral contraceptives and venous thromboembolism: a five-year national case-control study.Contraception 2002; 65: 187–96.

4.

Stegeman BH et al. Different combined oral contraceptives and the risk of venous thrombosis: systematic review and network meta-analysis. BMJ 2013; 347: f5298.

5.

Dinger J et al. Impact of estrogen type on cardiovascular safety of combined oral contraceptives. Contraception 2016; 94: 328–39.

6.

Pomp ER, le Cessie S, Rosendaal FR, Doggen CJ. Risk of venous thrombosis: obesity and its joint effect with oral contraceptive use and prothrombotic mutations. Br J Haematol 2007; 139: 289–96.

7.

Roach RE et al. The risk of venous thrombosis in individuals with a history of superficial vein thrombosis and acquired venous thrombotic risk factors. Blood 2013; 122: 4264–9.

8.

Tepper NK et al. Superficial venous disease and combined hormonal contraceptives: a systematic review. Contraception 2016; 94: 275–9.

9.

Gomes MP, Deitcher SR. Risk of venous thromboembolic disease associated with hormonal contraceptives and hormone replacement therapy: a clinical review. Arch Intern Med 2004; 164: 1965–76.

10.

Sitruk-Ware R. Hormonal contraception and thrombosis. Fertil Steril. 2016

11.

Lidegaard O et al. Hormonal contraception and risk of venous thromboembolism: national follow-up study. BMJ 2009; 339: b2890.

12.

Lidegaard O et al. Venous thrombosis in users of non-oral hormonal contraception: follow-up study, Denmark 2001-10. BMJ 2012; 344: e2990.

13.

Tepper NK et al. Progestin-only contraception and thromboembolism: A systematic review. Contraception 2016

14.

Chabbert-Buffet N et al. Pregnane progestin contraception in systemic lupus erythematosus: a longitudinal study of 187 patients. Contraception 2011; 83: 229–37.

15.

Conard J et al. Progestogen-only contraception in women at high risk of venous thromboembolism. Contraception 2004; 70: 437–41.

16.

Mantha S et al. Assessing the risk of venous thromboembolic events in women taking progestin-only contraception: a meta-analysis. BMJ 2012; 345: e4944.
About this article
Cite this article
Ludwig, M. Bewertung des Thromboembolierisikos unter hormonalen Kontrazeptiva. gynäkologie + geburtshilfe 22, 29–32 (2017). https://doi.org/10.1007/s15013-017-1110-6