Abstract
Background
The diagnosis of cutaneous leishmaniasis (CL) is often difficult because of the diversity of clinical presentations, its often-misleading appearance and the very long incubation period (time between the endemic stay and the onset of skin lesions).
Case
We report the case of an otherwise healthy 67-year-old man who presented with inflammatory skin lesions on the scalp and face for the past 7 years. The lesions were first mistaken as cutaneous sarcoidosis, mycobacterial infection, and cutaneous lymphoma. Finally, the diagnosis was made by RT-PCR analysis on a punch-biopsy specimen, which was positive for Leishmania infantum.
Discussion and conclusion
To date, the choice of treatment for complex cutaneous leishmaniases is based on the Leishmania species. Our patient successfully responded to liposomal amphotericin B.
Access options
Buy single article
Instant access to the full article PDF.
USD 39.95
Price includes VAT (USA)
Tax calculation will be finalised during checkout.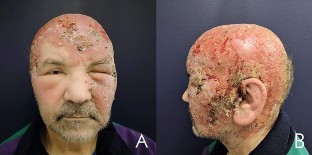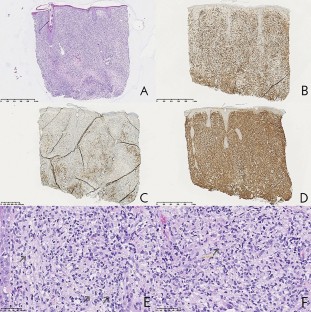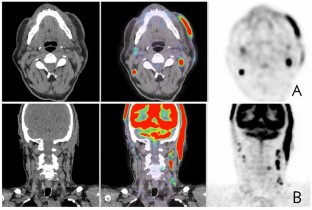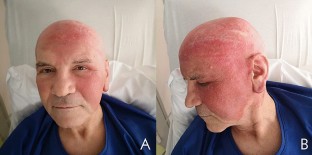 References
1.

Aronson NE, Joya CA. Cutaneous leishmaniasis: updates in diagnosis and management. Infect Dis Clin North Am. 2019;33:101–17.

2.

Merino-Espinosa G, Corpas-López V, Díaz-Sáez V, Morillas-Márquez F, Tercedor-Sánchez J, Azaña-Defez JM, et al. Cutaneous leishmaniasis by Leishmania infantum: behind granulomatous lesions of unknown aetiology. J Eur Acad Dermatol Venereol JEADV. 2018;32:117–24.

3.

Tyring SK, Lupi O, Hengge UR. Leishmaniasis. In: Tropical dermatology e-book. Elsevier Health Sciences, 2016, 2nd edn. https://books.google.be/books?id=_GdjDQAAQBAJ&printsec=frontcover&hl=fr#v=onepage&q&f=false. ISBN 032333914X, 9780323339148

4.

Maroli M, Rossi L, Baldelli R, Capelli G, Ferroglio E, Genchi C, et al. The northward spread of leishmaniasis in Italy: evidence from retrospective and ongoing studies on the canine reservoir and phlebotomine vectors. Trop Med Int Health TM IH. 2008;13:256–64.

5.

Gaspari V, Ortalli M, Foschini MP, Baldovini C, Lanzoni A, Cagarelli R, et al. New evidence of cutaneous leishmaniasis in north-eastern Italy. J Eur Acad Dermatol Venereol JEADV. 2017;31:1534–40.

6.

del Giudice P, Marty P, Lacour JP, Perrin C, Pratlong F, Haas H, et al. Cutaneous leishmaniasis due to Leishmania infantum: case reports and literature review. Arch Dermatol. 1998;134:193–8.

7.

Bongiorno MR, Pistone G, Aricò M. Unusual clinical variants of cutaneous leishmaniasis in Sicily. Int J Dermatol. 2009;48:286–9.

8.

Martín-Ezquerra G, Fisa R, Riera C, Rocamora V, Fernández-Casado A, Barranco C, et al. Role of Leishmania spp. infestation in nondiagnostic cutaneous granulomatous lesions: report of a series of patients from a Western Mediterranean area. Br J Dermatol. 2009;161:320–5.

9.

Burza S, Croft SL, Boelaert M. Leishmaniasis. Lancet Lond Engl. 2018;392:951–70.

10.

Meireles CB, Maia LC, Soares GC, Teodoro IPP, Gadelha M do SV, da Silva CGL, et al. Atypical presentations of cutaneous leishmaniasis: A systematic review. Acta Trop. 2017;172:240–54.

11.

Pittalis S, Nicastri E, Spinazzola F, Ghirga P, De Marco M, Grazia Paglia M, et al. Leishmania infantum leishmaniasis in corticosteroid-treated patients. BMC Infect Dis. 2006;6:177.

12.

Castellano LR, Filho DC, Argiro L, Dessein H, Prata A, Dessein A, et al. Th1/Th2 immune responses are associated with active cutaneous leishmaniasis and clinical cure is associated with strong interferon-gamma production. Hum Immunol. 2009;70:383–90.

13.

Aronson N, Herwaldt BL, Libman M, Pearson R, Lopez-Velez R, Weina P, et al. Diagnosis and treatment of Leishmaniasis: Clinical Practice Guidelines by the Infectious Diseases Society of America (IDSA) and the American Society of Tropical Medicine and Hygiene (ASTMH). Clin Infect Dis Off Publ Infect Dis Soc Am. 2016;63:e202–e264264.

14.

Hodiamont CJ, Kager PA, Bart A, de Vries HJC, van Thiel PP, Leenstra T, et al. Species-Directed Therapy for Leishmaniasis in Returning Travellers: A Comprehensive Guide. PLoS NTD. 2014;8:e2823.

15.

Mosimann V, Neumayr A, Paris DH, Blum J. Liposomal amphotericin B treatment of Old World cutaneous and mucosal leishmaniasis: a literature review. Acta Trop. 2018;182:246–50.
Acknowledgements
We thank Laurine Sacré, MD, for referral of the patient and the pathologists, Julie Lelotte, MD, Pascal Van Eeckout, MD, and Alessandra Camboni, MD, for their contributions to this case. We thank Mariana Andrade, MD, who provided editorial assistance. Compensation but no commercial funding was received for this purpose.
Ethics declarations
Conflicts of interest
The authors confirm that they have no conflict of interest.
Written patient consent
Obtained.
About this article
Cite this article
Vanlier, C., Marot, L., Laranaga, E. et al. A case report of cutaneous leishmaniasis: a misleading clinical presentation. Infection 49, 177–180 (2021). https://doi.org/10.1007/s15010-020-01517-1
Received:

Accepted:

Published:

Issue Date:
Keywords
Leishmaniasis

Skin

Leishmania infantum