Access options
Buy single article
Instant access to the full article PDF.
USD 39.95
Price excludes VAT (USA)
Tax calculation will be finalised during checkout.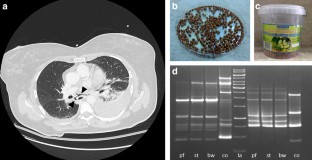 References
Brauer RB, Liebermann-Meffert D, Stein HJ, Bartels H, Siewert JR. Boerhaave's syndrome: analysis of the literature and report of 18 new cases. Dis Esophagus. 1997;10:64–8.

Vidarsdottir H, Blondal S, Alfredsson H, Geirsson A, Gudbjartsson T. Oesophageal perforations in Iceland: a whole population study on incidence, aetiology and surgical outcome. Thorac Cardiovasc Surg. 2010;58:476–80.

Morrell RM Jr, Wasilauskas BL. Tracking laboratory contamination by using a Bacillus cereus pseudoepidemic as an example. J Clin Microbiol. 1992;30:1469–73.

Choi JH, Cho YS, Lee JW, Shin HB, Lee IK. Bacterial contamination and disinfection status of laryngoscopes stored in emergency crash carts. J Prev Med Public Health. 2017;50:158–64.

Lechner S, Mayr R, Francis KP, Pruss BM, Kaplan T, Wiessner-Gunkel E, et al. Bacillus weihenstephanensis sp. nov. is a new psychrotolerant species of the Bacillus cereus group. Int J Syst Bacteriol. 1998;48:1373–82.

Munster S, Noshari S, Langwieler TE, Weber C. Boerhaave syndrome in norovirus infection. Rofo. 2012;184:372–3.

Oltuszak-Walczak E, Walczak P. PCR detection of cytK gene in Bacillus cereus group strains isolated from food samples. J Microbiol Methods. 2013;95:295–301.

Jeon YL, Yang JJ, Kim MJ, Lim G, Cho SY, Park TS, et al. Combined Bacillus licheniformis and Bacillus subtilis infection in a patient with oesophageal perforation. J Med Microbiol. 2012;61:1766–9.

Wei L, Wang F, Chen S. A late diagnosed case of Spontaneous esophageal perforation in an elderly patient. Int J Clin Exp Med. 2015;8:11594–7.

Henderson JA, Peloquin AJ. Boerhaave revisited: spontaneous esophageal perforation as a diagnostic masquerader. Am J Med. 1989;86:559–67.

Tamatey MN, Sereboe LA, Tettey MM, Entsua-Mensah K, Gyan B. Boerhaave's syndrome: diagnosis and successful primary repair one month after the oesophageal perforation. Ghana Med J. 2013;47:53–5.

Saha A, Jarvis M, Thorpe JA, O'Regan DJ. Atypical presentation of Boerhaave's syndrome as enterococcal bacterial pericardial effusion. Interact Cardiovasc Thorac Surg. 2007;6:130–2.

Barrett NR. Spontaneous perforation of the oesophagus; review of the literature and report of three new cases. Thorax. 1946;1:48–70.
Ethics declarations
Conflict of interest
On behalf of all the authors, the corresponding author states that there is no conflict of interest.
About this article
Cite this article
Dichtl, K., Koeppel, M.B., Wallner, CP. et al. Food poisoning: an underestimated cause of Boerhaave syndrome. Infection 48, 125–128 (2020). https://doi.org/10.1007/s15010-019-01367-6
Received:

Accepted:

Published:

Issue Date:

DOI: https://doi.org/10.1007/s15010-019-01367-6
Keywords
Boerhaave syndrome

Esophageal perforation

Food poisoning

Bacillus cereus

Food borne disease