Abstract
Purpose
We aimed to assess the diagnostic reliability of two indirect biomarkers, APRI and FIB-4, for the staging of liver fibrosis using transient elastography (TE) as reference standard, among HIV/HCV co-infected and HCV mono-infected patients.
Methods
This is an observational, retrospective study on subjects who had access to the RESIST HCV from October 2013 to December 2016, a regional network encompassing 22 hospitals and academic centers throughout Sicily. Sensitivity, specificity and diagnostic accuracy of indirect biomarkers for liver stiffness measurement (LSM) < 9.5 kPa (significant fibrosis) and LSM ≥ 12.5 kPa (cirrhosis) were determined by receiver operator characteristics (ROC) curves.
Results
238 HIV/HCV co-infected and 1937 HCV mono-infected patients were included. Performances of FIB-4 and APRI for the detection of significant fibrosis and cirrhosis proved to be unsatisfactory, with very high false negative and false positive rates among both cohorts. No significant differences were found after stratification of HIV/HCV co-infected patients for BMI < or ≥ 25, ALT < or ≥ 40 IU/L, ALT < or ≥ 80 IU/L, and presence/absence of a bright liver echo pattern on ultrasonography.
Conclusions
Differently from other studies, we detected the unreliability of APRI and FIB-4 for the assessment of liver fibrosis in both HCV mono-infected and HIV/HCV co-infected patients.
Access options
Buy single article
Instant access to the full article PDF.
USD 39.95
Price excludes VAT (USA)
Tax calculation will be finalised during checkout.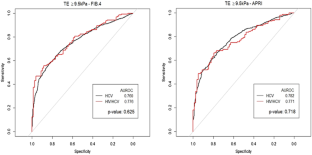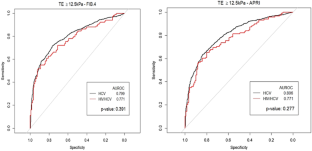 References
Tsochatzis EA, Castera L. Assessing liver disease in HIV-HCV coinfected patients. Curr Opin HIV AIDS. 2015;10:316–22.

Geng XX, Huang RG, Lin JM, et al. Transient elastography in clinical detection of liver cirrhosis: a systematic review and meta-analysis. Saudi J Gastroenterol. 2016;22:294–303.

European Association for the Study of the Liver. EASL recommendations on treatment of hepatitis C 2016. J Hepatol. 2017;66:153–94.

European Association for Study of Liver. Asociacion Latinoamericana para el Estudio del Higado. EASL-ALEH clinical practice guidelines: non-invasive tests for evaluation of liver disease severity and prognosis. J Hepatol. 2015;63:237–64.

Wai CT, Greenson JK, Fontana RJ, et al. A simple noninvasive index can predict both significant fibrosis and cirrhosis in patients with chronic hepatitis C. Hepatology. 2003;38:518–26.

Sterling RK, Lissen E, Clumeck N, et al. Development of a simple noninvasive index to predict significant fibrosis in patients with HIV/HCV coinfection. Hepatology. 2006;43:1317–25.

Chromy D, Schwabl P, Bucsics T, et al. Non-invasive liver fibrosis assessment and HCV treatment initiation within a systematic screening program in HIV/HCV coinfected patients. Wien Klin Wochenschr. 2017. https://doi.org/10.1007/s00508-017-1231-x.

Macías J, Girón-González JA, González-Serrano M, et al. Prediction of liver fibrosis in human immunodeficiency virus/hepatitis C virus coinfected patients by simple non-invasive indexes. Gut. 2006;55:409–14.

Cartabellotta F, Di Marco V. RESIST-HCV. The HCV Sicily Network: a web-based model for the management of HCV chronic liver diseases. Eur Rev Med Pharmacol Sci. 2016;20:11–6.

Calvaruso V, Cabibbo G, Cacciola I, et al. Incidence of hepatocellular carcinoma in patients with HCV-associated cirrhosis treated with direct-acting antiviral agents. Gastroenterology. 2018;155:411–21.

Taylor KJ, Riely CA, Hammers L, et al. Quantitative US attenuation in normal liver and in patients with diffuse liver disease: importance of fat. Radiology. 1986;160:65–71.

Lim JK, Flamm SL, Singh S, et al. American gastroenterological association institute guideline on the role of elastography in the evaluation of liver fibrosis. Gastroenterology. 2017;152:1536–43.

Li J, Gordon SC, Rupp LB, et al. The validity of serum markers for fibrosis staging in chronic hepatitis B and C. J Viral Hepat. 2014;21:930–7.

Lin ZH, Xin YN, Dong QJ, et al. Performance of the aspartate aminotransferase-to-platelet ratio index for the staging of hepatitis C-related fibrosis: an updated meta-analysis. Hepatology. 2011;53:726–36.

Castera L, Winnock M, Pambrun E, et al. Comparison of transient elastography (FibroScan), FibroTest, APRI and two algorithms combining these non-invasive tests for liver fibrosis staging in HIV/HCV coinfected patients: ANRS CO13 HEPAVIH and FIBROSTIC collaboration. HIV Med. 2014;15:30–9.

Schmid P, Bregenzer A, Huber M, et al. Progression of liver fibrosis in HIV/HCV co-infection: a comparison between non-invasive assessment methods and liver biopsy. PLoS One. 2015;10:e0138838.

Merli M, Galli L, Castagna A, et al. Diagnostic accuracy of APRI, FIB-4 and Forns for the detection of liver cirrhosis in HIV/HCV-coinfected patients. New Microbiol. 2016;39:110–3.

Konerman MA, Mehta SH, Sutcliffe CG, et al. Fibrosis progression in human immunodeficiency virus/hepatitis C virus coinfected adults: prospective analysis of 435 liver biopsy pairs. Hepatology. 2014;59:767–75.

Macías J, Berenguer J, Japón MA, et al. Fast fibrosis progression between repeated liver biopsies in patients coinfected with human immunodeficiency virus/hepatitis C virus. Hepatology. 2009;50:1056–63.

Vallet-Pichard A, Mallet V, Pol S. Nonalcoholic fatty liver disease and HIV infection. Semin Liver Dis. 2012;32:158–66.

Macaluso FS, Maida M, Minissale MG, et al. Metabolic factors and chronic hepatitis C: a complex interplay. Biomed Res Int. 2013;2013:564645.

Ioannou GN, Bryson CL, Weiss NS, et al. The prevalence of cirrhosis and hepatocellular carcinoma in patients with human immunodeficiency virus infection. Hepatology. 2013;57:249–57.

Miro JM, Montejo M, Castells L, et al. Outcome of HCV/HIV-coinfected liver transplant recipients: a prospective and multicenter cohort study. Am J Transplant. 2012;12:1866–76.
Ethics declarations
Conflict of interest
On behalf of all authors, the corresponding author states that there is no conflict of interest.
About this article
Cite this article
Mazzola, G., Adamoli, L., Calvaruso, V. et al. Suboptimal performance of APRI and FIB-4 in ruling out significant fibrosis and confirming cirrhosis in HIV/HCV co-infected and HCV mono-infected patients. Infection 47, 409–415 (2019). https://doi.org/10.1007/s15010-018-1258-6
Received:

Accepted:

Published:

Issue Date:

DOI: https://doi.org/10.1007/s15010-018-1258-6
Keywords
APRI

FIB-4

HIV

HCV

Noninvasive biomarkers

Transient elastography