Abstract
Background
The role of adjunctive steroids in abdominal tuberculosis is unclear.
Objective
To evaluate effect of adjunctive use of steroids for abdominal tuberculosis in reducing/preventing complications.
Methods
We searched electronic databases (Medline, Embase, CENTRAL, Scopus, Web of Science, CINAHL) from inception to 25th June 2018 using the terms "abdominal tuberculosis" OR "intestinal tuberculosis" OR "peritoneal tuberculosis" OR "tuberculous peritonitis" AND steroids OR methylprednisolone OR prednisolone. Bibliography of potential articles was also searched. We included studies comparing adjunctive steroids to antitubercular therapy (ATT) alone. We excluded non-English articles, case reports, reviews and unrelated papers. The primary outcome was a comprehensive clinical outcome including need for surgery or the presence of symptomatic stricture (abdominal pain or intestinal obstruction). Quality assessment of included studies was done using ROBINS-I tool. Random-effects model was used to calculate the summary effect for all the outcomes.
Results
Of total 633 records, three studies on peritoneal tuberculosis were included in meta-analysis. These papers were of poor quality (one quasi-randomised study and two retrospective cohort studies). Meta-analyses showed adjunctive steroids, with ATT is more effective than ATT alone in tuberculous peritonitis patients for the prevention of composite end point (RR 0.15 [0.04, 0.62], p = 0.008), symptomatic stricture(RR 0.15 [0.04–0.62] p = 0.008) and intestinal obstruction (RR 0.18 [0.03–0.99] p = 0.05).
Conclusion
The data on use of steroids for abdominal tuberculosis are limited to peritoneal tuberculosis. Although steroids seem to have some benefit in patients of tubercular peritonitis, the poor quality of studies limits the generalisability of the findings.
Systematic review registration number
CRD42016047347.
Access options
Buy single article
Instant access to the full article PDF.
US$ 39.95
Tax calculation will be finalised during checkout.
Subscribe to journal
Immediate online access to all issues from 2019. Subscription will auto renew annually.
US$ 99
Tax calculation will be finalised during checkout.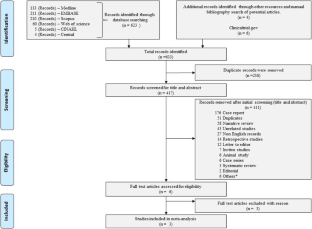 References
1.

Sharma V, Debi U, Mandavdhare HS, Prasad KK. Abdominal tuberculosis and other mycobacterial infections. Ref Module Biomed Sci. 2018. https://doi.org/10.1016/B978-0-12-801238-3.65963-9.

2.

Cherian JJ, Lobo I, Sukhlecha A, Chawan U, Kshirsagar NA, Nair BL, et al. Treatment outcome of extrapulmonary tuberculosis under Revised National Tuberculosis Control Programme. Indian J Tuberc. 2017;64:104–8.

3.

Norbis L, Alagna R, Tortoli E, Codecasa LR, Migliori GB, Cirillo DM. Challenges and perspectives in the diagnosis of extrapulmonary tuberculosis. Expert Rev Anti Infect Ther. 2014;12:633–47.

4.

Sharma MP, Bhatia V. Abdominal tuberculosis. Indian J Med Res. 2004;120:305–15.

5.

Vaid U, Kane GC. Tuberculous peritonitis. Microbiol Spectr 2017. https://doi.org/10.1128/microbiolspec.TNMI7-0006-2016.

6.

Sanai FM, Bzeizi KI. Systematic review: tuberculous peritonitis—presenting features, diagnostic strategies and treatment. Aliment Pharmacol Ther. 2005;22:685–700.

7.

Sharma SK, Ryan H, Khaparde S, Sachdeva KS, Singh AD, Mohan A, et al. Index-TB guidelines: guidelines on extrapulmonary tuberculosis for India. Indian J Med Res. 2017;145:448–463.

8.

Singh H, Krishnamurthy G, Rajendran J, Sharma V, Mandavdhare H, Kumar H, et al. Surgery for abdominal tuberculosis in the present era: experience from a tertiary-care center. Surg Infect (Larchmt). 2018. https://doi.org/10.1089/sur.2018.077.

9.

Pratap Mouli V, Munot K, Ananthakrishnan A, Kedia S, Addagalla S, Garg SK,et al. Endoscopic and clinical responses to antitubercular therapy can differentiate intestinal tuberculosis from Crohn's disease. Aliment Pharmacol Ther. 2017;45:27–36.

10.

Sharma V, Mandavdhare HS, Dutta U. Letter: mucosal response in discriminating intestinal tuberculosis from Crohn's disease-when to look for it? Aliment Pharmacol Ther. 2018;47:859–860.

11.

Moher D, Liberati A, Tetzlaff J, Altman DG, PRISMA Group. Preferred reporting items for systematic reviews and meta-analyses: the PRISMA statement. BMJ. 2009;339:b2535.

12.

Sterne JA, Hernán MA, Reeves BC, Savović J, Berkman ND, Viswanathan M, et al. ROBINS-I: a tool for assessing risk of bias in non-randomised studies of interventions. BMJ. 2016;355:i4919.

13.

Singh MM, Bhargava AN, Jain KP. Tuberculous peritonitis. An evaluation of pathogenetic mechanisms, diagnostic procedures and therapeutic measures. N Engl J Med. 1969;13:1091–4. 281(.

14.

Alrajhi AA, Halim MA, al-Hokail A, Alrabiah F, al-Omran K. Corticosteroid treatment of peritoneal tuberculosis. Clin Infect Dis. 1998;27:52–6.

15.

Demir K, Okten A, Kaymakoglu S, Dincer D, Besisik F, Cevikbas U, et al. Tuberculous peritonitis—reports of 26 cases, detailing diagnostic and therapeutic problems. Eur J Gastroenterol Hepatol. 2001;13:581–5.

16.

Bastani B, Shariatzadeh MR, Dehdashti F. Tuberculous peritonitis—report of 30 cases and review of the literature. Q J Med. 1985;56:549–57.

17.

Veeragandham RS, Lynch FP, Canty TG, Collins DL, Danker WM. Abdominal tuberculosis in children: review of 26 cases. J Pediatr Surg. 1996;31:170–5.

18.

Poyrazoglu OK, Timurkaan M, Yalniz M, Ataseven H, Dogukan M, Bahcecioglu IH. Clinical review of 23 patients with tuberculous peritonitis: presenting features and diagnosis. J Dig Dis. 2008;9:170–4.

19.

Aggarwal P, Kedia S, Sharma R, Bopanna S, Madhusudhan KS, Yadav DP, Goyal S, Jain S, Mouli VP, Das P, Dattagupta S, Makharia G, Ahuja V. Tubercular intestinal strictures show a poor response to anti-tuberculous therapy. Dig Dis Sci. 2017;62:2847–56.

20.

Sharma V, Singh H, Mandavdhare HS. Tubercular abdominal cocoon: systematic review of an uncommon form of tuberculosis. Surg Infect (Larchmt). 2017;18:736–741.

21.

Prasad K, Singh MB, Ryan H. Corticosteroids for managing tuberculous meningitis. Cochrane Database Syst Rev. 2016;4:CD002244.
Ethics declarations
Conflict of interest
None.
Electronic supplementary material
Below is the link to the electronic supplementary material.
About this article
Cite this article
Soni, H., Bellam, B.L., Rao, R.K. et al. Use of steroids for abdominal tuberculosis: a systematic review and meta-analysis. Infection 47, 387–394 (2019). https://doi.org/10.1007/s15010-018-1235-0
Received:

Accepted:

Published:

Issue Date:
Keywords
Abdominal tuberculosis

Tuberculous peritonitis

Antitubercular therapy

Steroids

Stricture

Surgery