Abstract
Introduction
Non-tuberculous mycobacteria (NTM) are ubiquitous organisms associated with various infections. The aim of the study was to determine the most relevant clinical characteristics of NTM during the 7-year period.
Methodology
A retrospective study of NTM infections was conducted between January 2009 and December 2016. The American Thoracic Society/Infectious Disease Society of America criteria were used to define cases of pulmonary or an extrapulmonary site.
Results
A total of 85 patients were included in the study. Pulmonary cases predominated 83/85 (98%), while extrapulmonary NTM were present in 2/95 (2%) patients. Overall, ten different NTM species were isolated. The most common organisms were slow-growing mycobacteria (SGM) presented in 70/85 (82.35%) patients. Isolated SGM strains were Mycobacterium avium complex (MAC) in 25/85 (29.41%) patients, M. xenopi in 20/85 (23.53%) patients, M. kansasii in 15/85 (17.65%) patients and M. peregrinum and M. gordonae in 5/85 (5.88%) patients each. Isolated rapid-growing mycobacteria (RGM) strains were M. abscessus in 8/85 (9.41%) patients, M. fortuitum in 4/85 (4.71%) patients and M. chelonae in 3/85 (3.53%) patients. Almost all patients (98%; 83/85) had comorbidities. Among 75 (88.24%) patients who completed follow-up, 59 (69.41%), 10 (11.76%) and 6 (7%), were cured, experienced relapse and died, respectively.
Conclusion
In the present study, pulmonary NTM infections were more frequent compared to extrapulmonary disease forms. SGM were most common isolates with MAC pulmonary disease the most frequently found. Comorbidities have an important role in NTM occurrence. Further investigation should focus on an NTM drug susceptibility testing.
This is a preview of subscription content, log in to check access.
Access options
Buy single article
Instant access to the full article PDF.
US$ 39.95
Price includes VAT for USA
Subscribe to journal
Immediate online access to all issues from 2019. Subscription will auto renew annually.
US$ 99
This is the net price. Taxes to be calculated in checkout.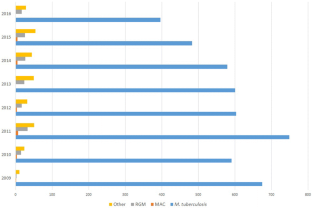 References
1.

Stout JE, Koh WJ, Yew WW. Update on pulmonary disease due to non-tuberculous mycobacteria. Int J Infect Dis. 2016;45:123–34.

2.

Gugliemetti L, Mougari F, Lopes A, Raskine L, Cambau E. Human infections due to nontuberculous mycobacteria: the infectious diseases and clinical microbiology specialists' point of view. Future Microbiol. 2015;10:1467–83.

3.

Griffith DE, Aksamit T, Brown-Elliott BA, Catanzaro A, Daley C, et al. An official ATS/IDSA statement: diagnosis, treatment and prevention of nontuberculous mycobacterial diseases. Am J Respir Crit Care Med. 2007;175:367–416.

4.

Namkoong H, Morimoto K, Nishimura T, Tanaka H, Sugiura H, et al. Clinical efficacy and safety of multidrug therapy including thrice weekly intravenous amikacin administration for Mycobacterium abscessus pulmonary disease in outpatient settings: a case series. BMC Infect Dis. 2016;16:396–405.

5.

Kendall BA, Wintrop KL. Update on the epidemiology of pulmonary nontuberculous mycobacterial infections. Semin Respir Crit Care Med. 2013;34:87–94.

6.

Adzic-Vukicevic T, Blanka A, Laban-Lazovic M, Skodric-Trifunovic V, Trifunovic D, et al. Pulmonary infections caused by non-tuberculous mycobacteria-single centre experience. Med Pregl. 2013;56:88–92.

7.

Wassilew N, Hoffman H, Andrejak C, Lange C. Pulmonary disease caused by non-tuberculous Mycobacteria. Respiration. 2016;91:386–402.

8.

Hoefsloot W, van Ingen J, Andrejak C, Angeby K, Bauriaud R, et al. The geographic diversity of nontuberculous mycobacterial isolated from pulmonary samples: an NTM-NET collaborative study. Eur Respir J. 2013;42:1604–13.

9.

Mirsaedi M, Machado RF, Garcia JG, Schraufnagel DE. Nontuberculous mycobacterial disease mortality in the United States, 1999–2010: a population-based comparative study. PLoS One. 2014;9:e91879.

10.

Kotlainen H, Valtonen V, Tukiainen P, Poussa T, Eskola J, et al. Clinical findings in relation to mortality in non-tuberculous mycobacterial infections: patients with Mycobacterium avium complex have better survival than patients with other mycobacteria. Eur J Clin Microbiol Infect Dis. 2015;34:1909–18.

11.

Reich M, Johnson E. Mycobacterium avium complex pulmonary disease presented as an isolated lingular or middle lobe pattern. The Lady Windermere syndrome. Chest. 1992;101:1605–9.

12.

Shah M, Davidson A, Anderson F, Lalor MK, Kim J, et al. Pulmonary Mycobacterium avium-intracellulare is the main driver of the rise in non-tuberculous mycobacteria incidence in England, Wales and Northern Ireland, 2007–2012. BMC Infect Dis. 2016;16:195.

13.

Dailloux M, Albalain ML, Laurain C, Lebrun L, Loos-Ayav C, et al. Respiratory infections associated with nontuberculous mycobacteria in non-HIV patients. Eur Respir J. 2006;28:1211–5.

14.

Johnson M, Odell A. Nontuberculous mycobacterial pulmonary infections. J Thorac Dis. 2014;6:210–20.

15.

Andrejak C, Nielsen R, Thomsen O, Duhaut P, Sørensen HT, et al. Chronic respiratory disease, inhaled corticosteroids and risk of non-tuberculous mycobacteriois. Thorax. 2013;68:256–62.

16.

Adjemian J, Olivier N, Prevots R. Nontuberculous mycobacteria among patients with cystic fibrosis in the United States: screening practices and environmental risk. Am J Respir Crit Care. 2014;190:581–6.

17.

Van Ingen J, Bendien SA, de Lange WC, de Haas PE, Dekhuijzen PN, et al. Clinical relevance of non-tuberculous mycobacteria isolated in the Nijmegen-Arnheim region, The Netherland. Thorax. 2009;64:502–6.

18.

Blanc P, Dutronc H, Peuchant O, Dauchy FA, Cazanave C, et al. Nontuberculous mycobacterial infections in a French Hospital: a 12-year retrospective study. PLoS One. 2016;11:e0168290.

19.

Bonaiti G, Pesci A, Marruchell A, Lapadula G, Gori A, et al. Nontuberculous mycobacteria in noncystic fibrosis bronchiectasis. Biomed Res Int. 2015;2015:197950.

20.

Kunst H, Wickremasinghe M, Wells A, Wilson R. Nontuberculous mycobacterial disease and Aspergillus-related lung disease in bronchiectasis. Eur Respir J. 2006;28:352–7.

21.

Chu Z, Zhao I, Xiao H, Zdhang Z, Zhang J, et al. Prevalence of nontuberculous mycobacteria in patients with bronchiectasis: a meta-analysis. Arch Med Sci. 2014;10:661–8.

22.

Honda R, Knight V, Chen D. Pathogenesis and risk factors for nontuberculous mycobacterial lung disease. Clin Chest Med. 2015;36:1–11.

23.

Henkle E, Winthrop L. Nontuberculous mycobacteria infections in immunosuppressed hosts. Clin Chest Med. 2015;36:91–9.

24.

Winthrop L, Chang E, Yamashita S, Iademarco MF, LoBue PA. Nontuberculous mycobacteria infections and anti-tumor necrosis factor-alpha therapy. Emerg Infect Dis. 2009;15:1556–61.

25.

Fleshner M, Olivier N, Shaw A, Adjemian J, Strollo S, et al. Mortality among patients with pulmonary non-tuberculous mycobacteria disease. Int J Tuberc Lung Dis. 2016;20:582–7.

26.

Andrejak C, Lescure FX, Pukenyte E, Douadi Y, Yazdanpanah Y, et al. Mycobacterium xenopi pulmonary infections: a multicentric retrospective study of 136 cases in north-east France. Thorax. 2009;64:659–65.

27.

Moon SM, Park HY, Jeon K, Kim SY, Chung MJ, Huh HJ, et al. Clinical significance of Mycobacterium kansasii isolates from respiratory specimens. PLoS One. 2015;10:e0139621.
Acknowledgements
The paper has been published with the non-financial support of the project of the Ministry of Education, Science and Technology of the Republic of Serbia (No III 45005).
Funding
The authors did not receive any funding for the study.
Ethics declarations
Conflict of interest
There is no conflict of interest.
Ethical statement
The study was conducted in accordance with the rules of Good Clinical Practice (GPS), including International Conference on Harmonization guidelines, Directive 2001/20/EC of the European Parliament, and the most recent version of the Declaration of Helsinki.
About this article
Cite this article
Adzic-Vukicevic, T., Barac, A., Blanka-Protic, A. et al. Clinical features of infection caused by non-tuberculous mycobacteria: 7 years' experience. Infection 46, 357–363 (2018). https://doi.org/10.1007/s15010-018-1128-2
Received:

Accepted:

Published:

Issue Date:
Keywords
Non-tuberculous mycobacteria

Extrapulmonary

Pulmonary

Slow growing

Rapid growing