Abstract
This case study discusses how we diagnosed and treated a patient with a late haematogenous bilateral periprosthetic joint infection (PJI) after total knee arthroplasties caused by Ureaplasma urealyticum. This has never been reported before. We will discuss how we used a PET-CT, synovial fluid cell count, and synovial fluid analysis by 16S rRNA gene sequencing to diagnose this PJI. We will also discuss how we treated this patient to obtain full recovery.
Access options
Buy single article
Instant access to the full article PDF.
USD 39.95
Price excludes VAT (USA)
Tax calculation will be finalised during checkout.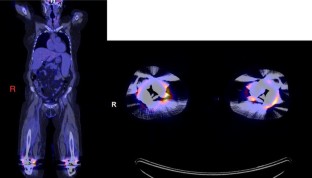 References
Huotari K, Peltola M, Jämsen E. The incidence of late prosthetic joint infections: a registry-based study of 112,708 primary hip and knee replacements. Acta Orthop. 2015;86:321–5.

Gundtoft PH, Overgaard S, Schønheyder HC, Møller JK, Kjærsgaard-Andersen P, Pedersen AB. The "true" incidence of surgically treated deep prosthetic joint infection after 32,896 primary total hip arthroplasties: a prospective cohort study. Acta Orthop. 2015;86:326–34.

J Parvizi, T Gehrke. In: Proceedings of the International Consensus Meeting on Periprosthetic Joint Infection. 2013. ISBN 978-1-57400-147-1.

Kumar R, Kumar V, Malhotra R. Potential clinical implication of 18 F-FDG PET/CT in diagnosis of periprosthetic infection and its comparison with 18 F-Fluoride PET/CT. J Med Imaging Radiat Oncol. 2016. doi:10.1111/1754-9485.12444 (Epub ahead of print).

Basu S, Kwee TC, Saboury B, Garino JP, Nelson CL, Zhuang H, et al. FDG PET for diagnosing infection in hip and knee prostheses: prospective study in 221 prostheses and subgroup comparison with combined (111)In-labeled leukocyte/(99 m)Tc-sulfur colloid bone marrow imaging in 88 prostheses. Clin Nucl Med. 2014;39:609–15.

Bedair H, Ting N, Jacovides C, Saxena A, Moric M, Parvizi J, Della Valle CJ. The Mark Coventry Award: diagnosis of early postoperative TKA infection using synovial fluid analysis. Clin Orthop Relat Res. 2011;469:34–40.

Sköldenberg OG, Rysinska AD, Neander G, Muren OH, Ahl TE. Ureaplasma urealyticum infection in total hip arthroplasty leading to revision. J Arthroplasty. 2010;25:11–3.

Dias JM, Costa MM, da Silva JAP, de Queiroz MV. Septic arthritis: patients with or without isolated infectious agents have similar characteristics. Infection. 2014;42:385–91.

Lai GG, Lim ST, Tao M, Chan A, Li H, Quek R. Late-onset neutropenia following RCHOP chemotherapy in diffuse large B-cell lymphoma. Am J Hematol. 2009;84:414–7.

Boxer L. How to approach neutropenia. Hematol Educ Progr Am Soc Hematol. 2012;2012:174–82.

Presterl E, Grisold AJ, Reichmann S, Hirschl AM, Georgopoulos A, Graninger W. Viridans streptococci in endocarditis and neutropenic sepsis: biofilm formation and effects of antibiotics. J Antimicrob Chemother. 2005;55:45–50.

Tande A, Patel R. Prosthetic joint infection. Clin Microbiol Rev. 2014;27:302–45.

Kado R, Sanders G, McCune WJ. Suppression of normal immune responses after treatment with rituximab. Curr Opin Rheumatol. 2016;28:251–8.

Filanovsky K, Miller EB, Sigler E, Berrebi A, Shvidel L. Incidence of profound hypogammaglobulinemia and infection rate in lymphoma patients following the combination of chemotherapy and rituximab. Recent Pat Anticancer Drug Discov. 2016;11:228–35.

Fried AJ, Bonilla FA. Pathogenesis, diagnosis, and management of primary antibody deficiencies and infections. Clin Microbiol Rev. 2009;22:396–414.

Achermann Y, Stasch P, Preiss S, Lucke K, Vogt M. Characteristics and treatment outcomes of 69 cases with early prosthetic joint infections of the hip and knee. Infection. 2014;42:511–9.

Samra Z, Rosenberg S, Dan M. Susceptibility of Ureaplasma urealyticum to tetracycline, doxycycline, erythromycin, roxithromycin, clarithromycin, azithromycin, levofloxacin and moxifloxacin. J Chemother. 2011;23:77–9.
Ethics declarations
Informed consent
The patient has given her informed consent prior to this report.
Conflict of interest
The authors declare that they have no conflict of interest.
About this article
Cite this article
Roerdink, R.L., Douw, C.M., Leenders, A.C.A.P. et al. Bilateral periprosthetic joint infection with Ureaplasma urealyticum in an immunocompromised patient. Infection 44, 807–810 (2016). https://doi.org/10.1007/s15010-016-0912-0
Received:

Accepted:

Published:

Issue Date:

DOI: https://doi.org/10.1007/s15010-016-0912-0
Keywords