Abstract
Purpose
Late HIV presentation is still a health concern, even in industrialised countries. Data concerning this problem in Eastern Germany are scarce. We investigated associated factors in a cohort of HIV-infected patients in Dresden, Germany, including syphilis serology as a proxy for sexual risk behaviour.
Methods
A retrospective cohort study on 348 patients presenting for the first time in our treatment centre from 1986 to 2010 was undertaken. Risk factors of late (CD4 cells <350/μl) and very late (CD4 cells <200/μl) presentation either to care or to diagnosis were identified by means of logistic regression analyses.
Results
Of 348 classifiable patients, 54 % were late and 33.9 % were very late presenters to care. In a subgroup of 260 patients with recent HIV diagnosis, 50.4 % were late and 31.2 % were very late presenters to diagnosis. Age >24 years was a significant independent factor associated with late or very late presentation, but not male gender, originating from high-prevalence countries (HPC) or years of presentation. Being MSM alone was not associated with early or late HIV presentation, but MSM with positive TPHA or TPPA showed a lower risk of late presentation, predominantly in those presenting late to diagnosis [odds ratio (OR) 0.42, p = 0.048].
Conclusions
A positive syphilis screening test seems to be a determinant for lower risk of late presentation to HIV care and diagnosis in MSM. The presence and awareness of sexually transmitted infections (STIs) such as syphilis may lead to earlier utilisation of HIV health care and, thus, promote earlier HIV diagnosis. HIV prevention strategies should focus more on STIs and not only on HIV.
Access options
Buy single article
Instant access to the full article PDF.
USD 39.95
Price excludes VAT (USA)
Tax calculation will be finalised during checkout.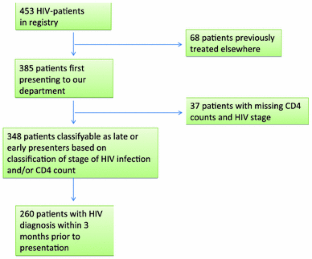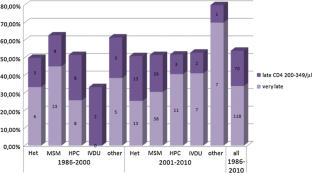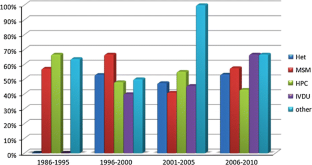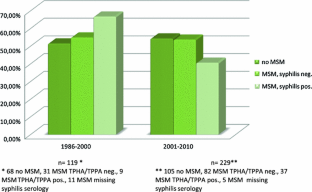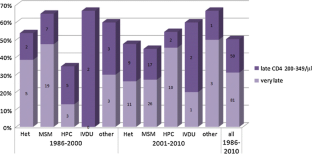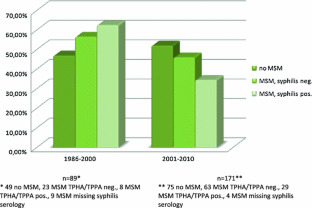 Abbreviations
MSM:

Men who have sex with men

HPC:

High-prevalence country

IVDU:

Intravenous drug use

TPHA:

Treponema pallidum haemagglutination test

TPPA:

Treponema pallidum particle agglutination test
References
When To Start Consortium, Sterne JA, May M, Costagliola D, de Wolf F, Phillips AN, Harris R, Funk MJ, Geskus RB, Gill J, Dabis F, Miró JM, Justice AC, Ledergerber B, Fätkenheuer G, Hogg RS, Monforte AD, Saag M, Smith C, Staszewski S, Egger M, Cole SR. Timing of initiation of antiretroviral therapy in AIDS-free HIV-1-infected patients: a collaborative analysis of 18 HIV cohort studies. Lancet. 2009;373:1352–63.

Antinori A, Coenen T, Costagiola D, Dedes N, Ellefson M, Gatell J, Girardi E, Johnson M, Kirk O, Lundgren J, Mocroft A, D'Arminio Monforte A, Phillips A, Raben D, Rockstroh JK, Sabin C, Sönnerborg A, De Wolf F; European Late Presenter Consensus Working Group. Late presentation of HIV infection: a consensus definition. HIV Med. 2011;12:61–4.

Wohlgemut J, Lawes T, Laing RB. Trends in missed presentations and late HIV diagnosis in a UK teaching hospital: a retrospective comparative cohort study. BMC Infect Dis. 2012;12:72.

Chen M, Rhodes PH, Hall IH, Kilmarx PH, Branson BM, Valleroy LA; Centers for Disease Control and Prevention (CDC). Prevalence of undiagnosed HIV infection among persons aged ≥13 years—National HIV Surveillance System, United States, 2005–2008. MMWR Morb Mortal Wkly Rep. 2012;61 Suppl:57–64.

Adler A, Mounier-Jack S, Coker RJ. Late diagnosis of HIV in Europe: definitional and public health challenges. AIDS Care. 2009;3:284–93.

Delpierre C, Lauwers-Cances V, Pugliese P, Poizot-Martin I, Billaud E, Duvivier C, Yazdanpanah Y, Cuzin L; NADIS Group. Characteristics trends, mortality and morbidity in persons newly diagnosed HIV positive during the last decade: the profile of new HIV diagnosed people. Eur J Public Health. 2008;18:345–7.

Buchacz K, Armon C, Palella FJ, Baker RK, Tedaldi E, Durham MD, Brooks JT. CD4 cell counts at HIV diagnosis among HIV outpatient study participants, 2000–2009. AIDS Res Treat. 2012;2012:869841.

Mukolo A, Villegas R, Aliyu M, Wallston KA. Predictors of late presentation for HIV diagnosis: a literature review and suggested way forward. AIDS Behav. 2013;17:5–30.

Wolbers M, Bucher HC, Furrer H, Rickenbach M, Cavassini M, Weber R, Schmid P, Bernasconi E, Hirschel B, Battegay M; Swiss HIV Cohort Study. Delayed diagnosis of HIV infection and late initiation of antiretroviral therapy in the Swiss HIV Cohort Study. HIV Med. 2008;9:397–405.

d'Arminio Monforte A, Cozzi-Lepri A, Girardi E, Castagna A, Mussini C, Di Giambenedetto S, Galli M, Cassola G, Vullo V, Quiros-Roldan E, Lo Caputo S, Antinori A; Icona Foundation Study Group. Late presenters in new HIV diagnoses from an Italian cohort of HIV-infected patients: prevalence and clinical outcome. Antivir Ther. 2011;16:1103–12.

Helleberg M, Engsig FN, Kronborg G, Laursen AL, Pedersen G, Larsen O, Nielsen L, Jensen J, Gerstoft J, Obel N. Late presenters, repeated testing, and missed opportunities in a Danish nationwide HIV cohort. Scand J Infect Dis. 2012;44:282–8.

Zoufaly A, an der Heiden M, Marcus U, Hoffmann C, Stellbrink H, Voss L, van Lunzen J, Hamouda O; ClinSurv Study Group. Late presentation for HIV diagnosis and care in Germany. HIV Med. 2012;13:172–81.

Smith RD, Delpech VC, Brown AE, Rice BD. HIV transmission and high rates of late diagnoses among adults aged 50 years and over. AIDS. 2010;24:2109–15.

HIV-Infektionen und AIDS-Erkrankungen in Deutschland. Bericht zur Entwicklung im Jahr 2011 aus dem Robert Koch-Institut. Epidemiologisches Bulletin 28/2012; pp 255–274.

Burns FM, Imrie JY, Nazroo J, Johnson AM, Fenton KA. Why the(y) wait? Key informant understandings of factors contributing to late presentation and poor utilization of HIV health and social care services by African migrants in Britain. AIDS Care. 2007;19:102–8.

Fakoya I, Reynolds R, Caswell G, Shiripinda I. Barriers to HIV testing for migrant black Africans in Western Europe. HIV Med. 2008;9:23–5.

Choe PG, Park WB, Song JS, Kim NH, Park JY, Song KH, Park SW, Kim HB, Kim NJ, Oh MD. Late presentation of HIV disease and its associated factors among newly diagnosed patients before and after abolition of a government policy of mass mandatory screening. J Infect. 2011;63:60–5.

Martinelli CV, Tognetti L, Colao G, Carocci A, Corsi P, Leoncini F. Syphilis with HIV in Florence, 2003–2009: a 7-year epidemiological study. Epidemiol Infect. 2012;140:168–71.

HIV-Infektionen und AIDS-Erkrankungen in Deutschland. Bericht zur Entwicklung im Jahr 2010 aus dem Robert Koch-Institut. Epidemiologisches Bulletin 21/2011; pp 179–86.

Jung N, Kümmerle T, Brengelmann SD, Gielen J, Lehmann C, Wyen C, Birtel A, Fischer J, Gillor D, Koch S, Vehreschild JJ, Cornely OA, Fätkenheuer G. Liver involvement in HIV-infected patients diagnosed with syphilis. Infection. 2012;40:543–7.

Bremer V, Marcus U, Hamouda O. Syphilis on the rise again in Germany—results from surveillance data for 2011. Euro Surveill. 2012;17. pii: 20222.

Schätzung der Prävalenz und Inzidenz von HIV-Infektionen in Deutschland, Stand Ende 2012. Epidemiologisches Bulletin 47/2012; pp 472–6.

Lorenc T, Marrero-Guillamón I, Llewellyn A, Aggleton P, Cooper C, Lehmann A, Lindsay C. HIV testing among men who have sex with men (MSM): systematic review of qualitative evidence. Health Educ Res. 2011;26:834–46.

Mimiaga MJ, Goldhammer H, Belanoff C, Tetu AM, Mayer KH. Men who have sex with men: perceptions about sexual risk, HIV and sexually transmitted disease testing, and provider communication. Sex Transm Dis. 2007;34:113–9.
About this article
Cite this article
Spornraft-Ragaller, P., Boashie, U., Stephan, V. et al. Analysis of risk factors for late presentation in a cohort of HIV-infected patients in Dresden: positive serology for syphilis in MSM is a determinant for earlier HIV diagnosis. Infection 41, 1145–1155 (2013). https://doi.org/10.1007/s15010-013-0476-1
Received:

Accepted:

Published:

Issue Date:

DOI: https://doi.org/10.1007/s15010-013-0476-1
Keywords
HIV infection

Syphilis

Late presentation