Abstract
Purpose
Inadequate use of antibiotics can lead to problems such as resistance. Overuse is especially a problem for children, since they are more affected by acute (often virus-caused) infections. While the problem has been addressed internationally over the past several years, regional variations in prescriptions are striking. Therefore, the present study aims to analyze regional variations in antibiotic prescription on a district level in Germany and tries to identify reasons for those variations through adding possible influencing factors to the analysis on individual and district levels.
Methods
We analyzed 1.2 million children insured in a German health insurance fund. Antibiotic prescriptions were quantified in 2010 and reasons for prescriptions were analyzed in multilevel regressions based on the district of residence, regional deprivation, and age and sex of the child.
Results
Thirty-six percent of all children aged 0–17 years received an antibiotic prescription in 2010. In the south, prevalences are generally lower, and also to the very north. The highest prevalences are found in the close-to-border districts in the west, as well as in a band throughout the middle of Germany, in rather low population density areas. Regional variation in the prevalence range from 19 to 53 % between districts. Regional deprivation can explain part of this variation.
Conclusions
Including area deprivation measures helped identify an influence of especially regional income and occupational deprivation on antibiotic prescriptions for children. Regional analysis such as this can help identify specific regions and groups of persons to address information programs on the risks of preventable antibiotic consumption and alternative treatment methods.
Access options
Buy single article
Instant access to the full article PDF.
USD 39.95
Price excludes VAT (USA)
Tax calculation will be finalised during checkout.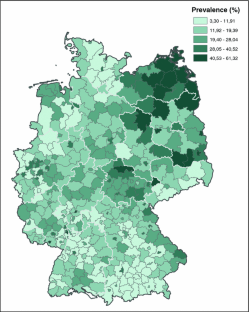 Notes
It is based on 439 districts in Germany in 2008. Those districts were reclassified into the 412 districts present in Germany in 2010 after area reforms in some federal states.
References
Nyquist AC, Gonzales R, Steiner JF, Sande MA. Antibiotic prescribing for children with colds, upper respiratory tract infections, and bronchitis. JAMA. 1998;279:875–7.

Gonzales R, Steiner JF, Sande MA. Antibiotic prescribing for adults with colds, upper respiratory tract infections, and bronchitis by ambulatory care physicians. JAMA. 1997;278:901–4.

File TM Jr, Hadley JA. Rational use of antibiotics to treat respiratory tract infections. Am J Manag Care. 2002;8:713–27.

McCaig LF, Besser RE, Hughes JM. Antimicrobial drug prescription in ambulatory care settings, United States, 1992–2000. Emerg Infect Dis. 2003;9:432–7.

Ong DSY, Kuyvenhoven MM, van Dijk L, Verheij TJM. Antibiotics for respiratory, ear and urinary tract disorders and consistency among GPs. J Antimicrob Chemother. 2008;62:587–92.

Nadeem Ahmed M, Muyot MM, Begum S, Smith P, Little C, Windemuller FJ. Antibiotic prescription pattern for viral respiratory illness in emergency room and ambulatory care settings. Clin Pediatr (Phila). 2010;49:542–7.

Moro ML, Marchi M, Gagliotti C, Di Mario S, Resi D; "Progetto Bambini a Antibiotici [ProBA]" Regional Group. Why do paediatricians prescribe antibiotics? Results of an Italian regional project. BMC Pediatr. 2009;9:69.

Lieberthal AS. Acute otitis media guidelines: review and update. Curr Allergy Asthma Rep. 2006;6:334–41.

Koneczny N, Schmidt-Troschke S, Berger T, Isfort J, Floer B, Vollmar HC, et al. Akute otitis media (AOM) bei kindern (ICD: H66.0): eine evidenzbasierte Leitlinie. Klin Pädiatr. 2004;216:215–24.

American Academy of Pediatrics Subcommittee on Management of Acute Otitis Media. Diagnosis and management of acute otitis media. Pediatrics. 2004;113:1451–65.

Scottish Intercollegiate Guidelines Network (SIGN). Diagnosis and management of childhood otitis media in primary care. A national clinical guideline. 2003. http://www.sign.ac.uk

National Guideline Clearinghouse (NGC). Evidence based clinical practice guideline for medical management of acute otitis media in children 2 months to 13 years of age. 2006. http://www.guideline.gov

University of Michigan Health System (UMHS). Guidelines for clinical care otitis media key points. 2002. http://cme.med.umich.edu/pdf/guideline/om.pdf

Rosenfeld RM, Brown L, Cannon CR, Dolor RJ, Ganiats TG, Hannley M, et al. Clinical practice guideline: acute otitis externa. Otolaryngol Head Neck Surg. 2006;134:S4–23.

Goossens H, Ferech M, Vander Stichele R, Elseviers M; ESAC Project Group. Outpatient antibiotic use in Europe and association with resistance: a cross-national database study. Lancet. 2005;365:579–87.

Cars O, Mölstad S, Melander A. Variation in antibiotic use in the European Union. Lancet. 2001;357:1851–3.

Pastor García E, Eiros Bouza JM, Mayo Iscar A, Bachiller R. Influence of population structure on the consumption of systemic antibiotics. Int J Antimicrob Agents. 2005;25:84–8.

Bruinsma N, Filius PM, De Smet PA, Degener J, Endtz P, van den Bogaard AE, Stobberingh EE. Antibiotic usage and resistance in different regions of the Dutch community. Microb Drug Resist (Larchmont, N.Y.). 2002;8:209–14.

Filippini M, Masiero G, Moschetti K. Socioeconomic determinants of regional differences in outpatient antibiotic consumption: evidence from Switzerland. Health Policy (Amsterdam, Netherlands). 2006;78:77–92.

Kern WV, de With K, Nink K, Steib-Bauert M, Schröder H. Regional variation in outpatient antibiotic prescribing in Germany. Infection. 2006;34:269–73.

Pichichero ME. Understanding antibiotic overuse for respiratory tract infections in children. Pediatrics. 1999;104:1384–8.

Thrane N, Olesen C, Schønheyder HC, Sørensen HT. Socioeconomic factors and prescription of antibiotics in 0- to 2-year-old Danish children. J Antimicrob Chemother. 2003;51:683–9.

Mangrio E, Wremp A, Moghaddassi M, Merlo J, Bramhagen A-C, Rosvall M. Antibiotic use among 8-month-old children in Malmö, Sweden—in relation to child characteristics and parental sociodemographic, psychosocial and lifestyle factors. BMC Pediatr. 2009;9:31.

Kondo N, Sembajwe G, Kawachi I, van Dam RM, Subramanian SV, Yamagata Z. Income inequality, mortality, and self rated health: meta-analysis of multilevel studies. BMJ. 2009;339:b4471.

Kawachi I, Subramanian SV, Almeida-Filho N. A glossary for health inequalities. J Epidemiol Community Health. 2002;56:647–52.

Noble M, Wright G, Smith G, Dibben C. Measuring multiple deprivation at the small-area level. Environ Plan A. 2006;38:169–85.

Maier W, Fairburn J, Mielck A. Regionale deprivation und mortalität in Bayern. Entwicklung eines "Index Multipler Deprivation" auf Gemeindeebene. Gesundheitswesen. 2012;74:416–425.

Kuznetsov L, Maier W, Hunger M, Meyer M, Mielck A. Associations between regional socioeconomic deprivation and cancer risk: analysis of population-based Cancer Registry data from Bavaria, Germany. Prev Med. 2011;53:328–30.

Merlo J, Chaix B, Ohlsson H, Beckman A, Johnell K, Hjerpe P, et al. A brief conceptual tutorial of multilevel analysis in social epidemiology: using measures of clustering in multilevel logistic regression to investigate contextual phenomena. J Epidemiol Community Health. 2006;60:290–7.

Larsen K, Merlo J. Appropriate assessment of neighborhood effects on individual health: integrating random and fixed effects in multilevel logistic regression. Am J Epidemiol. 2005;161:81–8.

Piovani D, Clavenna A, Cartabia M, Bonati M; Antibiotic Collaborative Group. The regional profile of antibiotic prescriptions in Italian outpatient children. Eur J Clin Pharmacol. 2012;68:997–1005.

Franchi C, Sequi M, Bonati M, Nobili A, Pasina L, Bortolotti A, et al. Differences in outpatient antibiotic prescription in Italy's Lombardy region. Infection. 2011;39:299–308.

Hoffmann F, Icks A. Diabetes "epidemic" in Germany? A critical look at health insurance data sources. Exp Clin Endocrinol Diabetes. 2012;120:410–5.

Hoffmann F, Icks A. Structural differences between health insurance funds and their impact on health services research: results from the Bertelsmann Health-Care Monitor. Gesundheitswesen. 2012;74:291–7.

Abbas S, Ihle P, Heymans L, Küpper-Nybelen J, Schubert I. Differences in antibiotic prescribing between general practitioners and pediatricians in Hesse, Germany. Dtsch Med Wochenschr (1946). 2010;135:1792–7.
Acknowledgments
This study is based on a preliminary study commissioned and sponsored by the Bertelsmann Stiftung for the project "Faktencheck Gesundheit". We thank the BARMER GEK for the provision of the data.
Conflict of interest
The authors declare that they have no conflict of interests.
About this article
Cite this article
Koller, D., Hoffmann, F., Maier, W. et al. Variation in antibiotic prescriptions: is area deprivation an explanation? Analysis of 1.2 million children in Germany. Infection 41, 121–127 (2013). https://doi.org/10.1007/s15010-012-0302-1
Received:

Accepted:

Published:

Issue Date:

DOI: https://doi.org/10.1007/s15010-012-0302-1
Keywords