Abstract
Dengue virus (DENV) is an arthropod-borne virus (family Flaviviridae) causing dengue fever or dengue hemorrhagic fever. Here, we report the first fatal DENV infection imported into Germany. A female traveler was hospitalized with fever and abdominal pain after returning from Ecuador. Due to a suspected acute acalculous cholecystitis, cholecystectomy was performed. After cholecystectomy, severe spontaneous bleeding from the abdominal wound occurred and the patient died. Postmortem analysis of transudate and tissue demonstrated a DENV secondary infection of the patient and a gallbladder wall thickening (GBWT) due to an extensive edema.
Access options
Buy single article
Instant access to the full article PDF.
US$ 39.95
Tax calculation will be finalised during checkout.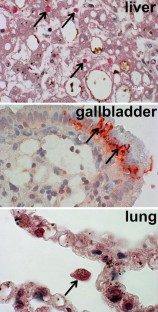 References
1.

Allwinn R. Significant increase in travel-associated dengue fever in Germany. Med Microbiol Immunol. 2011;200:155–9.

2.

Gubler DJ. Epidemic dengue/dengue hemorrhagic fever as a public health, social and economic problem in the 21st century. Trends Microbiol. 2002;10:100–3.

3.

Whitehorn J, Farrar J. Dengue. Br Med Bull. 2010;95:161–73.

4.

Schmidt-Chanasit J, Haditsch M, Schoneberg I, Gunther S, Stark K, Frank C. Dengue virus infection in a traveller returning from Croatia to Germany. Euro Surveill. 2010;15. pii: 19677.

5.

Dreesman J, Benzler J. Infectious disease surveillance based on the Protection against Infection Act in the German public health sector. Bundesgesundheitsblatt Gesundheitsforschung Gesundheitsschutz. 2005;48:979–89.

6.

Couvelard A, Marianneau P, Bedel C, Drouet MT, Vachon F, Hénin D, Deubel V. Report of a fatal case of dengue infection with hepatitis: demonstration of dengue antigens in hepatocytes and liver apoptosis. Hum Pathol. 1999;30:1106–10.

7.

Huerre MR, Lan NT, Marianneau P, Hue NB, Khun H, Hung NT, Khen NT, Drouet MT, Huong VT, Ha DQ, Buisson Y, Deubel V. Liver histopathology and biological correlates in five cases of fatal dengue fever in Vietnamese children. Virchows Arch. 2001;438:107–15.

8.

Seneviratne SL, Malavige GN, de Silva HJ. Pathogenesis of liver involvement during dengue viral infections. Trans R Soc Trop Med Hyg. 2006;100:608–14.

9.

Oliveira GA, Machado RC, Horvat JV, Gomes LE, Guerra LR, Vandesteen L, Oliveira FT, Lousada NS, Moreira-Silva S, de Fatima Ceolin M. Transient reticular gallbladder wall thickening in severe dengue fever: a reliable sign of plasma leakage. Pediatr Radiol. 2010;40:720–4.

10.

Schilling S, Emmerich P, Günther S, Schmidt-Chanasit J. Dengue and Chikungunya virus co-infection in a German traveller. J Clin Virol. 2009;45:163–4.
Conflict of interest
The authors declare that they have no conflict of interest.
About this article
Cite this article
Schmidt-Chanasit, J., Tenner-Racz, K., Poppert, D. et al. Fatal dengue hemorrhagic fever imported into Germany. Infection 40, 441–443 (2012). https://doi.org/10.1007/s15010-011-0208-3
Received:

Accepted:

Published:

Issue Date:
Keywords
Dengue virus

Germany

Dengue hemorrhagic fever

Immunohistochemistry