Der erstmalig verliehene AeDA-Immuntherapie-Preis, der vom Unternehmen HAL Allergy gesponsert wurde, ist auf 5.000 € dotiert und unterstützt die zukunftsorientierte Forschung im Bereich der allergenspezifischen Immuntherapie (AIT).
Das Preiskomitee honorierte dieses Jahr gleich zwei Publikationen, die sich den Preis teilen dürfen.
Die Publikation von Prof. Mohamed Shamji, London, UK, und seinen Co-Autoren wurde ausgewählt, da das Gremium davon überzeugt ist, dass das Verständnis der Antikörperreaktionen bei allergischen Erkrankungen sowie der AIT von enormer Bedeutung ist und die Forschung in Zukunft leiten wird [Shamji MH et al. The role of allergen-specific IgE, IgG and IgA in allergic disease. Allergy 2021; https://doi.org/10.1111/all.14908]. Diese Forschung ist die Grundlage für ein besseres Verständnis der Immunmechanismen in der Grundlagenforschung, der Diagnostik und der AIT.
Prof. Giorgio Walter Canonica, Mailand, Italien, und seine Co-Autoren überzeugten mit ihrer Publikation, weil diese die enorme Bedeutung von Real-Life-Studien in der AIT in der Zukunft hervorhebt und die Basis für eine qualitätsgesicherte Evaluierung und Implementierung von Real-Life-Studien in der AIT in der Zukunft bildet [Di Bona D et al. Allergen immunotherapy for respiratory allergy: Quality appraisal of observational comparative effectiveness studies using the REal Life Evidence AssessmeNt Tool. An EAACI methodology committee analysis. Clin Transl Allergy 2021 Jun 14;11: e12033].
Der Preis wurde im Rahmen der Veranstaltung "Allergologie im Kloster 2021" in der Basilika des Kloster Eberbach, Eltville im Rheingau, durch Prof. Ludger Klimek, Präsident des AeDA und Rainer Trust, Vertriebsleiter Deutschland bei HAL Allergy, an Prof. Shamji und Prof. Canonica (virtuell anwesend) überreicht.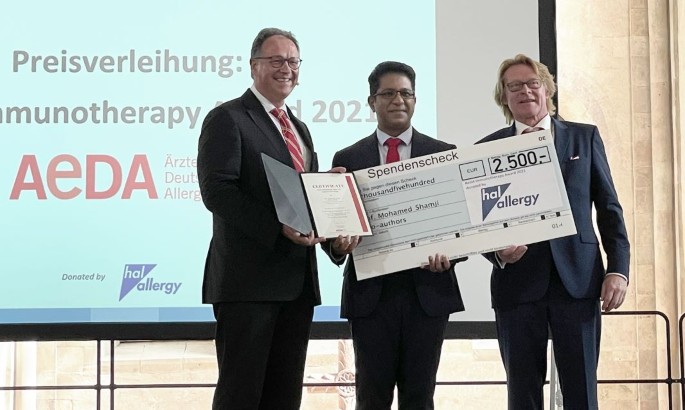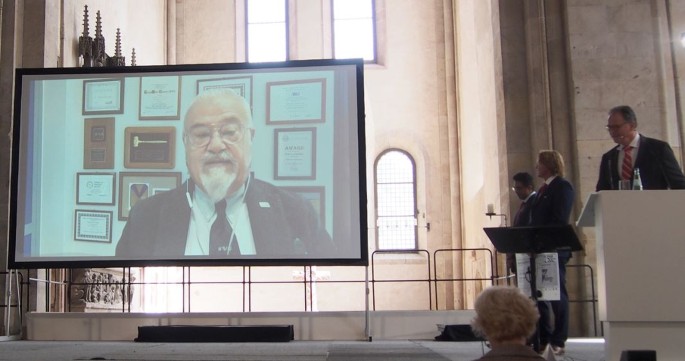 About this article
Cite this article
Facharztmagazine, R. AeDA-Immuntherapie-Preis 2021. Allergo J 30, 54 (2021). https://doi.org/10.1007/s15007-021-4909-3