Zusammenfassung
Seit 1983 werden in Deutschland durch die Stiftung Deutscher Polleninformationsdienst die allergologisch bedeutsamen Pollen gemessen. Dies sind die Pollen von Hasel, Erle, Birke, Gräsern, Roggen, Beifuß und (seit 2006) Ambrosia. In den letzten elf Jahren ist es zu geringen Veränderungen in der Menge dieser Pollen gekommen. Die Baumpollen treten tendenziell in steigenden Konzentrationen auf, Gräserpollen nehmen leicht ab, Roggenpollen sind in der Menge so gering, dass sie epidemiologisch bedeutungslos werden. Beifußpollen sind stark schwankend. Ambrosia nimmt – besonders regional – zu, löst aber bisher nur wenige primär ambrosiabedingte Allergien aus.
Summary
Allergological significant pollen, such as hazel, alder, birch, grass, rye, mugwort and since 2006, ambrosia, has been measured in Germany by the Foundation German Pollen Information Service since 1983. During the last 11 years, small changes in the amount of pollen have occurred. Tree pollen has been appearing in rising concentration and grass pollen has diminished slightly. Rye pollen is so little in mass, that it is almost epidemiologically irrelevant. Mugwort pollen fluctuates strongly, whereas ambrosia pollen is increasing especially at a regional level but has, until now, only initiated a few primarily ambrosia-induced allergies.
Access options
Buy single article
Instant access to the full article PDF.
US$ 39.95
Tax calculation will be finalised during checkout.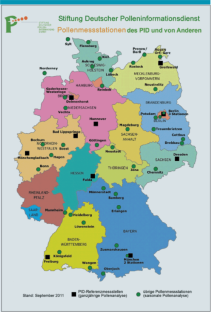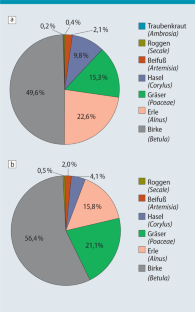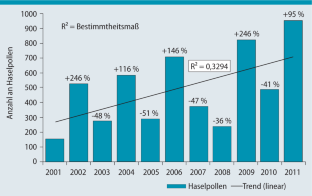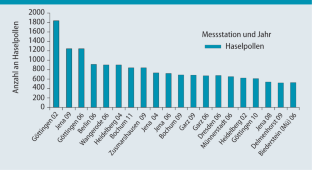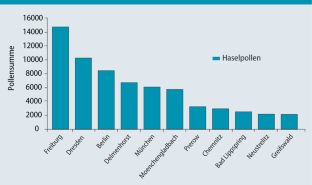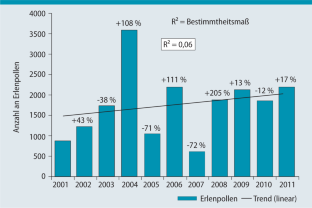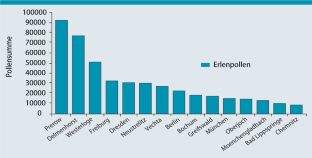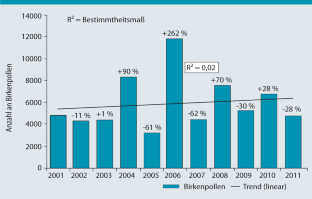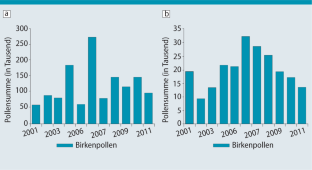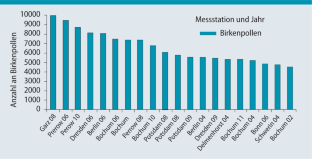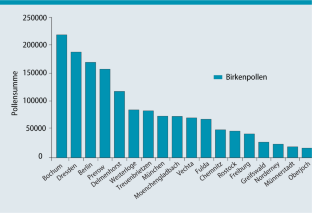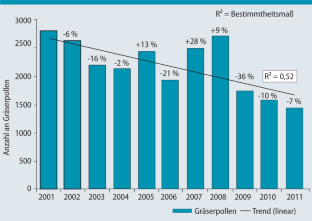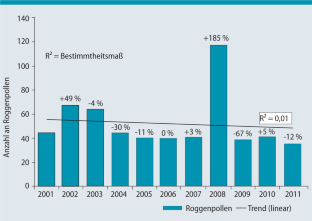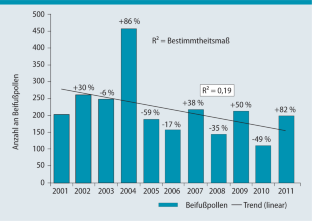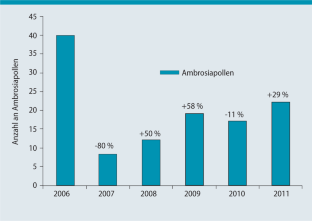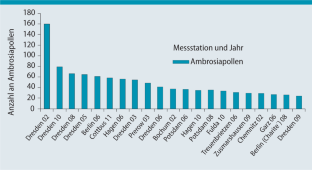 Abbreviations
EAN:

Europäisches Aeroallergen Netzwerk

PI:

Pollenindex

PID:

Stiftung Deutscher Polleninformationsdienst

R2 :

Bestimmtheitsmaß
Literatur
1.

Scheid G, Bergmann KC. 20 Jahre Stiftung Deutscher Polleninformationsdienst (1983–2003). Allergo J 2004; 13: 261–8

2.

Ariano R, Canonica GW, Passalacqua G. Possible role of climate changes in variations in pollen seasons and allergic sensitizations during 27 years. Ann Allergy Asthma Immunol 2010; 104: 215–22

3.

Bergmann KC, Jäger S. Pollenflug über Europa — Indikator des Klimawandels? In: Bayerische Akademie der Wissenschaften, Hrsg. Rundgespräche der Kommission für Ækologie, Bd 38, Bioaerosole und ihre Bedeutung für die Gesundheit. München: Dr. Friedrich Pfeil, 2012: 43–53

4.

Ziello C, Sparks TH, Estrella N, Belmonte J, Bergmann KC, Bucher E, Brighetti MA, Damialis A, Detandt M, Galán C, Gehrig R, Grewling L, Gutiérrez Bustillo AM, Hallsdóttir M, Kockhans-Bieda MC, De Linares C, Myszkowska D, Pàldy A, Sánchez A, Smith M, Thibaudon M, Travaglini A, Uruska A, Valencia-Barrera RM, Vokou D, Wachter R, Weger LA de, Menzel A. Changes to airborne pollen counts across Europe. PLoS One 2012; 7(4): e34076. doi 10.1371/journal.pone.0034076

5.

Hecht R, Winkler H. Empfehlungen zum Einsatz von Burkard-Pollenfallen bei der Erfassung von Tagespollenimmissionen. 3. Europäisches Pollenflug-Symposium 04.–06.02.1994, Vorträge und Berichte 1994: 131–3

6.

Hecht R, Winkler H. Empfehlungen zur Präparationstechnik, Bestimmung und Auswertung bei der Pollenflugerfassung mit der Burkard-Pollenfalle. 3. Europäisches Pollenflug-Symposium 04.–06.02.1994, Vorträge und Berichte 1994: 135–41

7.

Hirst JM. An automatic volumetric sporetrap. Ann Appl Biol 1952; 39(2): 257–65

8.

Winkler H, Ostrowski R, Wilhelm M. Pollenbestimmungsbuch der Stiftung Deutscher Polleninformationsdienst. Paderborn: Takt, 2001

9.

Bergmann KC, Simoleit A, Mücke HG, Wagner S, Werchan M, Zuberbier T, Verteilung von Pollen und Feinstaub in einem städtischen Ballungsraum am Beispiel der Großstadt Berlin. Allergo J 2013; zur Publikation eingereicht

10.

Buters JT, Thibaudon M, Smith M, Kennedy R, Rantio-Lehtimäki A, Albertini R, Reese G, Weber B, Galan C, Brandao R, Antunes CM, Jäger S, Berger U, Celenk S, Grewling G, Jackowiak B, Sauliene I, Weichenmeier I, Pusch G, Sarioglu H, Ueffing M, Behrendt H, Prank M, Sofiev M, Cecchi L; The HIALINE working group. Release of Bet v 1 from birch pollen from 5 European countries. Results from the HIALINE study. Atmos Environ 2012; 55: 496–505

11.

Comtois P, Alcazar P, Neron D. Pollen counts statistics and its relevance to precision. Aerobiologia 1999, 15: 19–28

12.

Emberlin J, Smith M, Close R, Adams-Groom B. Changes in the pollen seasons of the early flowering trees Alnus spp. and Corylus spp. in Worcester, United Kingdom, 1996–2005. Int J Biometeorol 2007; 51: 181–91

13.

Garcia-Mozo H, Galan C, Jato V, Belmonte J, Guardia C de la, Fernandez D, Gutierrez M, Aira M, Roure J, Ruiz L, Trigo M, Dominguez-Vilches E. Quercus pollen season dynamics in the Iberian peninsula: response to meteorological parameters and possible consequences of climate change. Ann Agric Environ Med 2006; 13: 209–24

14.

Siljamo P, Sofiev M, Filatova E, Grewling L, Jäger S, Khoreva E, Linkosalo T, Ortega Jimenez S, Ranta H, Rantio-Lehtimäki A, Svetlov A, Veriankaite L, Yakovleva E, Kukkonen J. A numerical model of birch pollen emission and dispersion in the atmosphere. Model evaluation and sensitivity analysis. Int J Biometeorol 2013; 57: 125–36. doi 10.1007/s00484-012-0539-5

15.

Izquierdo R, Belmonte J, Avila A, Alarcón M, Cuevas E, Alonso-Pérez S. Source areas and long-range transport of pollen from continental land to Tenerife (Canary Islands). Int J Biometeorol 2011; 55: 67–85

16.

Sofiev M, Siljamo P, Ranta H, Rantio-Lehtimäki A. Towards numerical forecasting of long-range air transport of birch pollen: theoretical considerations and a feasibility study. Int J Biometeorol 2006; 50: 392–402

17.

Wayne P, Foster S, Connolly J, Bazzaz F, Epstein P. Production of allergenic pollen by ragweed (Ambrosia artemisii folia L.) is increased in CO2-enriched atmospheres. Ann Allergy Asthma Immunol 2002; 88: 279–82

18.

Crone EE, Miller E, Sala A. How do plants know when other plants are flowering? Resource depletion, pollen limitation and mast-seeding in a perennial wildflower. EcolLett 2009; 12: 1119–26

19.

D'Amato G, Cecchi L, Liccardi G. Thunderstorm-related asthma: not only grass pollen and spores. J Allergy Clin Immunol 2008; 121: 537–8

20.

Kaminski U, Glod T. Are there changes in Germany regarding the start of the pollen season, the season length and the pollen concentration of the most important allergenic pollens? Meteorol Z 2011; 20(5): 497–507

21.

Kaminski U, Alberternst B, Gabrio T, Böhme M, Nawrath S, Behrendt H. Ambrosia Pollen-Konzentrationen in Baden-Württemberg. Umweltmed Forsch Prax 2010; 15: 6–14

22.

Tosi A, Wüthrich B, Bonini M, Pietragalla-Köhler B. Time lag between Ambrosia sensitisation and Ambrosia allergy: a 20-year study (1989–2008) in Legnano, northern Italy. Swiss Med Wkly 2011; 141: w13253
Additional information
Erklärung zum Interessenkonflikt
Die Autoren erklären, dass kein Interessenkonflikt vorliegt.
About this article
Cite this article
Werchan, M., Bergmann, KC. & Behrendt, H. Pollenflug in Deutschland 2011 und Veränderungen seit 2001. Allergo J 22, 168–176 (2013). https://doi.org/10.1007/s15007-013-0100-9
Received:

Accepted:

Published:

Issue Date:
Schlüsselwörter
Pollenallergie

Pollenflug

Pollenanalyse
Key words
Pollen allergy

pollen flight

pollen analysis