Access options
Buy single article
Instant access to the full article PDF.
US$ 39.95
Tax calculation will be finalised during checkout.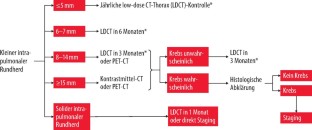 Literatur
1.

Torre LA, Siegel RL, Jemal A. Adv Exp Med Biol. 2016;893:1-19

2.

Nadpara PA, Madhavan SS, Tworek C et al. J Geriatr Oncol. 2015;6:101-10

3.

Paraschiv B, Diaconu CC, Toma CL et al. Pneumol Buchar Rom. 2015;64:14-9

4.

Gillissen A. MMW Fortschr Med 2015;157(17):64-69

5.

Rami-Porta R, Call S, Dooms C et al. Eur Respir J. 2018;51:1800190

6.

Oberndorfer F, Müllauer L. Curr Opin Oncol. 2018;30:69-76

7.

Kris MG, Gaspar LE, Chaft JE et al. J Clin Oncol Off J Am Soc Clin Oncol. 2017;35:2960-74

8.

Maconachie R, Mercer T, Navani N et al. BMJ 2019;364:l1049

9.

Hanna N, Johnson D, Temin S et al. J Clin Oncol Off J Am Soc Clin Oncol. 2017;35:3484-515

10.

Kalemkerian GP, Loo BW, Akerley W et al. JNCCN. 2018;16:1171-82

11.

Ford DW, Koch KA, Ray DE et al. Chest. 2013;143:e498S-512S

12.

Tse LA, Lin X, Li W et al. Br J Cancer. 2018;119:1557-62

13.

Wong K-Y, Seow A, Koh W-P et al. Br J Cancer. 2010;103:1093-6

14.

Wood DE, Kazerooni EA, Baum SL et al. JNCCN. 2018;16:412-41
Ethics declarations
Die Autoren erklären, dass sie sich bei der Erstellung des Beitrages von keinen wirtschaftlichen Interessen leiten ließen. Sie legen folgende potenzielle Interessenkonflikte offen: Keine
Der Verlag erklärt, dass die inhaltliche Qualität des Beitrags von zwei unabhängigen Gutachtern geprüft wurde. Werbung in dieser Zeitschriftenausgabe hat keinen Bezug zur CME-Fortbildung. Der Verlag garantiert, dass die CME-Fortbildung sowie die CME-Fragen frei sind von werblichen Aussagen und keinerlei Produktempfehlungen enthalten. Dies gilt insbesondere für Präparate, die zur Therapie des dargestellten Krankheitsbildes geeignet sind.
About this article
Cite this article
Gillissen, A., Kubicka, S. Lungentumoren - neue Therapien, bessere Prognose. MMW - Fortschritte der Medizin 163, 58–65 (2021). https://doi.org/10.1007/s15006-021-9557-8
Keywords:
Lung cancer

lung neoplasmas

targeted therapy

immunotherapy

supportive measures