Die Herpes-simplex-Virus-Enzephalitis ist eine schwere neurologische Erkrankung. Nicht immer präsentiert sie sich mit den typischen Kardinalsymptomen Vigilanzminderung in Kombination mit Verwirrtheit und Fieber. Welche Untersuchungen sichern die Diagnose? Welche Therapie sollte noch vor den endgültigen Befunden eingeleitet werden?
Access options
Buy single article
Instant access to the full article PDF.
USD 39.95
Price excludes VAT (USA)
Tax calculation will be finalised during checkout.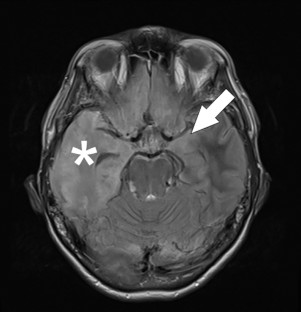 Literatur
Jorgensen LK, Dalgaard LS, Ostergaard LJ, Norgaard M, Mogensen TH. Incidence and mortality of herpes simplex encephalitis in Denmark: A nationwide registry-based cohort study. J Infect. 2017;74(1):42–9.

Jouan Y, Grammatico-Guillon L, Espitalier F, Cazals X, Francois P, Guillon A. Long-term outcome of severe herpes simplex encephalitis: a population-based observational study. Crit Care. 2015;19:345.

Modi S, Mahajan A, Dharaiya D, Varelas P, Mitsias P. Burden of herpes simplex virus encephalitis in the United States. J Neurol. 2017;264(6):1204–8.

Bradshaw MJ, Venkatesan A. Herpes Simplex Virus-1 Encephalitis in Adults: Pathophysiology, Diagnosis, and Management. Neurotherapeutics. 2016;13(3):493–508.

Stahl JP, Mailles A. Herpes simplex virus encephalitis update. Curr Opin Infect Dis. 2019;32(3):239–43.

Sili U, Kaya A, Mert A, Group HSVES. Herpes simplex virus encephalitis: clinical manifestations, diagnosis and outcome in 106 adult patients. J Clin Virol. 2014;60(2):112–8.

Tan IL, McArthur JC, Venkatesan A, Nath A. Atypical manifestations and poor outcome of herpes simplex encephalitis in the immunocompromised. Neurology. 2012;79(21):2125–32.

Wei TT, Hu ZD, Qin BD, Ma N, Tang QQ, Wang LL, et al. Diagnostic Accuracy of Procalcitonin in Bacterial Meningitis Versus Nonbacterial Meningitis: A Systematic Review and Meta-Analysis. Medicine (Baltimore). 2016;95(11):e3079.

Bewersdorf JP, Koedel U, Patzig M, Dimitriadis K, Paerschke G, Pfister HW, et al. Challenges in HSV encephalitis: normocellular CSF, unremarkable CCT, and atypical MRI findings. Infection. 2019;47(2):267–73.

Saraya AW, Wacharapluesadee S, Petcharat S, Sittidetboripat N, Ghai S, Wilde H, et al. Normocellular CSF in herpes simplex encephalitis. BMC Res Notes. 2016;9:95.

Mendez AA, Bosco A, Abdel-Wahed L, Palmer K, Jones KA, Killoran A. A Fatal Case of Herpes Simplex Encephalitis with Two FalseNegative Polymerase Chain Reactions. Case Rep Neurol. 2018;10(2):217–22.

Meyding-Lamade U, Craemer E, Jacobi C, Krone B, Pfausler B, Prange H, et al. Virale Meningoenzephalitis, S1-Leitlinie. Deutsche Gesellschaft für Neurologie, Leitlinien üfr Diagnostik und Thearpie in der Neurologie. 2018.

Hauer L, Pikija S, Schulte EC, Sztriha LK, Nardone R, Sellner J. Cerebrovascular manifestations of herpes simplex virus infection of the central nervous system: a systematic review. J Neuroinflammation. 2019;16(1):19.

Armangue T, Spatola M, Vlagea A, Mattozzi S, Carceles-Cordon M, Martinez-Heras E, et al. Frequency, symptoms, risk factors, and outcomes of autoimmune encephalitis after herpes simplex encephalitis: a prospective observational study and retrospective analysis. Lancet Neurol. 2018;17(9):760–72.

Armangue T, Leypoldt F, Malaga I, RaspallChaure M, Marti I, Nichter C, et al. Herpes simplex virus encephalitis is a trigger of brain autoimmunity. Ann Neurol. 2014;75(2):317–23.

Pruss H. Postviral autoimmune encephalitis: manifestations in children and adults. Curr Opin Neurol. 2017;30(3):327–33.
About this article
Cite this article
Dyckhoff-Shen, S., Ködel, U., Pfister, HW. et al. Herpes-simplex-Enzephalitis unverzüglich behandeln. MMW - Fortschritte der Medizin 162, 37–40 (2020). https://doi.org/10.1007/s15006-020-0158-8
Published:

Issue Date:

DOI: https://doi.org/10.1007/s15006-020-0158-8
Keywords
HSV

enzephalitis

meningitis

CNS

infection

acyclovir

NMDA receptor