Körperlicher und geistiger Leistungsabfall mit Antriebsarmut und Depressivität, dazu evtl. trockene Haut und eine Halschwellung — das können Zeichen einer Schilddrüsenunterfunktion sein. Über das leitliniengerechte Vorgehen bei Diagnostik und Therapie lesen Sie hier.
Access options
Buy single article
Instant access to the full article PDF.
USD 39.95
Price excludes VAT (USA)
Tax calculation will be finalised during checkout.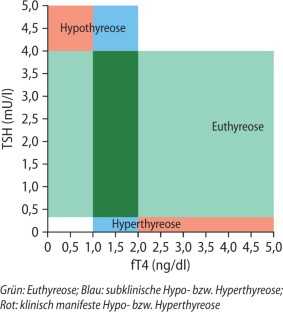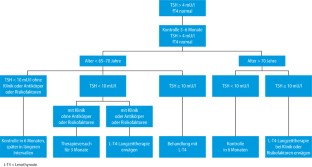 Literatur
Wiersinga WM. Adult Hypothyroidism. In: De Groot LJ, Chrousos G, Dungan K, Feingold KR, Grossman A, Hershman JM, et al., editors. Endotext. South Dartmouth (MA): MDText.com, Inc.; 2000.

Garmendia Madariaga A, Santos Palacios S, Guillen-Grima F, Galofre JC. The incidence and prevalence of thyroid dysfunction in Europe: a meta-analysis. The Journal of clinical endocrinology and metabolism. 2014;99(3):923–31.

Vanderpump MP, Tunbridge WM. Epidemiology and prevention of clinical and subclinical hypothyroidism. Thyroid: official journal of the American Thyroid Association. 2002;12(10):839–47.

Lause M, Kamboj A, Fernandez Faith E. Dermatologic manifestations of endocrine disorders. Translational pediatrics. 2017;6(4):300–12.

Garber JR, Cobin RH, Gharib H, Hennessey JV, Klein I, Mechanick JI, et al. Clinical practice guidelines for hypothyroidism in adults: cosponsored by the American Association of Clinical Endocrinologists and the American Thyroid Association. Thyroid: official journal of the American Thyroid Association. 2012;22(12):1200–35.

Raza SA, Mahmood N. Subclinical hypothyroidism: Controversies to consensus. Indian Journal of Endocrinology and Metabolism. 2013;17(Suppl 3):S636–S42.

Diez JJ, Iglesias P. Spontaneous subclinical hypothyroidism in patients older than 55 years: an analysis of natural course and risk factors for the development of overt thyroid failure. The Journal of clinical endocrinology and metabolism. 2004;89(10):4890–7.

Hansen MP, Matheis N, Kahaly GJ. Type 1 diabetes and polyglandular autoimmune syndrome: A review. World journal of diabetes. 2015;6(1):67–79.

Monzani F, Di Bello V, Caraccio N, Bertini A, Giorgi D, Giusti C, et al. Effect of levothyroxine on cardiac function and structure in subclinical hypothyroidism: a double blind, placebo-controlled study. The Journal of clinical endocrinology and metabolism. 2001;86(3):1110–5.

Mutlu S, Parlak A, Aydogan U, Aydogdu A, Soykut B, Akay C, et al. The effect of levothyroxine replacement therapy on lipid profile and oxidative stress parameters in patients with subclinical hypothyroid. Archives of pharmacal research. 2013.

Chang YC, Chang CH, Yeh YC, Chuang LM, Tu YK. Subclinical and overt hypothyroidism is associated with reduced glomerular filtration rate and proteinuria: a large cross-sectional population study. Scientific reports. 2018;8(1):2031.

Mainenti MR, Vigario PS, Teixeira PF, Maia MD, Oliveira FP, Vaisman M. Effect of levothyroxine replacement on exercise performance in subclinical hypothyroidism. Journal of endocrinological investigation. 2009;32(5):470–3.

Pearce SHS, Brabant G, Duntas LH, Monzani F, Peeters RP, Razvi S, et al. 2013 ETA Guideline: Management of Subclinical Hypothyroidism. European Thyroid Journal. 2013;2(4):215–28.

Stott DJ, Rodondi N, Kearney PM, Ford I, Westendorp RGJ, Mooijaart SP, et al. Thyroid Hormone Therapy for Older Adults with Subclinical Hypothyroidism. New England Journal of Medicine. 2017;376(26):2534–44.

Persani L. Central Hypothyroidism: Pathogenic, Diagnostic, and Therapeutic Challenges. The Journal of Clinical Endocrinology & Metabolism. 2012;97(9):3068–78.

Baumgartner C, Blum MR, Rodondi N. Subclinical hypothyroidism: summary of evidence in 2014. Swiss medical weekly. 2014;144:w14058.

Wiersinga WM, Duntas L, Fadeyev V, Nygaard B, Vanderpump MPJ. 2012 ETA Guidelines: The Use of L-T4 + L-T3 in the Treatment of Hypothyroidism. European Thyroid Journal. 2012;1(2):55–71.

Leung AM, Braverman LE. Iodine-induced thyroid dysfunction. Current opinion in endocrinology, diabetes, and obesity. 2012;19(5):414–9.

Lazarus J, Brown RS, Daumerie C, Hubalewska-Dydejczyk A, Negro R, Vaidya B. 2014 European thyroid association guidelines for the management of subclinical hypothyroidism in pregnancy and in children. Eur Thyroid J. 2014;3(2):76–94.

Alexander EK, Pearce EN, Brent GA, Brown RS, Chen H, Dosiou C, et al. 2017 Guidelines of the American Thyroid Association for the Diagnosis and Management of Thyroid Disease During Pregnancy and the Postpartum. Thyroid: official journal of the American Thyroid Association. 2017;27(3):315–89.

Kohrle J, Brabant G. [Synthesis, metabolism and diagnostics of thyroid hormones]. Der Internist. 2010;51(5):559–60, 62-7.
About this article
Cite this article
Hansen, M.P., Kahaly, G.J. Hypothyreose beim Hausarzt: wie abklären, wie behandeln?. MMW - Fortschritte der Medizin 160, 42–46 (2018). https://doi.org/10.1007/s15006-018-0983-1
Published:

Issue Date:

DOI: https://doi.org/10.1007/s15006-018-0983-1
Keywords
Hypothyroidism

subclinical hypothyroidism

thyroxine therapy