2015 traten in Deutschland über 60% der in der EU gemeldeten Masernfälle auf. Zunehmend sind auch Jugendliche und Erwachsene bis 45 Jahre davon betroffen. Wie sollten Sie bei Masernverdacht vorgehen? Wer muss geimpft werden, wer ist schon ausreichend geschützt?
Access options
Buy single article
Instant access to the full article PDF.
US$ 39.95
Tax calculation will be finalised during checkout.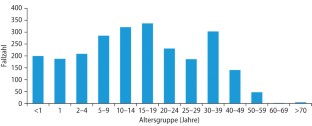 Literatur
1.

Strebel PM, Papania MJ, Fiebelkorn AP, Halsey NA. Measles vaccine. In Vaccines 6th Edition, edited by Plotkin SA, Orenstein WA, Offit PA, 2012

2.

Perry RT, Halsey NA. The clinical significance of measles: a review. J Inf Dis 2004; 189 (Suppl 1): S4–16

3.

Robert Koch-Institut (RKI). RKI Ratgeber für Ärzte (2014): Ladbar unter: http://www.rki.de/DE/Content/Infekt/EpidBull/Merkblaetter/Ratgeber_Masern.html;jsessionid=2493809381BF02504A4EDFC06F212D9B.2_cid290. Letzter Zugriff am 29.8.2016

4.

Robert Koch-Institut (RKI). Impfquoten der Masern-, HPV- und Influenza-Impfung in Deutschland. Epid Bull 2016; 1: 1-7

5.

Poethko-Müller C, Mankertz A. Seroprevalence of Measles-, Mumps- and Rubella-Specific IgG Antibodies in German Children and Adolescents and Predictors for Seronegativity. PLoS ONE 2012; 7(8): e42867

6.

Uzicanin A, Zimmermann L. Field Effectiveness of Life Attenuated Measles-Containing Vaccines: A Review of Published Literature. JID 2011; 204: S133–S148

7.

Robert Koch-Institut (RKI): Empfehlungen der Ständigen Impfkommission (STIKO) am Robert Koch-Institut — 2016/2017. Ladbar unter: http://www.rki.de/DE/Content/Infekt/EpidBull/epid_bull_node.html. Letzter Zugriff 29.8.16
About this article
Cite this article
Wicker, S., Wichmann, O. & Matysiak-Klose, D. Was Sie über Masern wissen sollten. MMW - Fortschritte der Medizin 159, 54–58 (2017). https://doi.org/10.1007/s15006-017-9484-x
Keywords
Measles elimination

National Verification Committee

vaccination