Bei chronischer Verstopfung sollten Sie nicht nur Abführmittel verschreiben, sondern immer auch eine Ernährungsumstellung anregen. Welche Nahrungsmittel fördern die Verdauung? Wie viel und was sollte Ihr Patient trinken?
Access options
Buy single article
Instant access to the full article PDF.
USD 39.95
Price excludes VAT (USA)
Tax calculation will be finalised during checkout.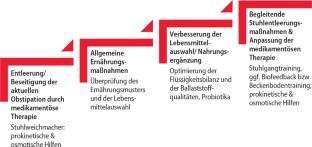 Literatur
Andresen V, Enck P et al: S2k-Leitlinie Chronische Obstipation: Definition, Pathophysiologie, Diagnostik und Therapie. Gemeinsame Leitlinie der Deutschen Gesellschaft für Neurogastroenterologie und Motilität (DGNM) und der Deutschen Gesellschaft für Verdauungs- und Stoffwechselkrankheiten (DGVS). AWMF-Registriernr. 021/19. Z Gastroenterologie 51 (2013) 651–672

DGE Beratungsstandards Obstipation, Umschau Verlag 2015

Krammer H, Kolac C et al.: Tabuthema Obstipation: Welche Rolle spielen Lebensgewohnheiten, Ernährung, Prä- und Probiotika sowie Laxanzien. Aktuel Ernaehr Med 34 (2009) 38–46

Müller-Lissner S: Obstipation- Pathophysiologie, Diagnose und Therapie, CME Fortbildung: Deutsches Ärzteblatt 106 (2009);25: 424–432

GEDA (Gesundheit in Deutschland aktuell 2012): Faktenblatt: Gemüseverzehr. Ergebnisse der Studie »Gesundheit in Deutschland aktuell 2012« [http://www.rki.de/DE/Content/Gesundheitsmonitoring/Gesundheits-berichterstattung/Faktenblaetter/GEDA12/geda12_fb_inhalt.html]

Müller-Lissner S., Pehl C.: Laxanziengebrauch und Zufriedenheit chronisch obstipierter Frauen — eine Umfrage bei Patientinnen und Gastroenterologen in Deutschland. Z Gastroenterol 50(2012)6: 573–577 5

DGE: 12.Ernährungsbericht, Umschau Verlag 2012

De Vrese M, Schrezenmeir J: Präventive Bedeutung von Joghurts in: Bischoff S: Probiotika, Prebiotika, Synbiotika Stuttgart-Thieme 2009

Degen L, Dedering JP et al: Fakten und Mythen zur Obstipation — State of the art. Schweiz Med Forum 2008; 8 913–918

Keller J, Wedel T et al: S3-Leitlinie der Deutschen Gesellschaft für Verdauungs- und Stoffwechselkrankheiten (DGVS) und der Deutschen Gesellschaft für Neurogastroenterologie und Motilität (DGNIM) zu Definition, Pathophysiologie, Diagnostik und Therapie intestinaler Motilitätsstörungen. Z Gastroenterol 49 (2011) 374–390

Blaut M: Interaktion von Ballaststoffen und Mikrobiota Aktuelle Ernährungsmed 40(2015) 01: 43–49

Suares NC, Ford AC: Effects of fibre in the management of chronic idiopathic constipation Aliment Pharmacol Ther 33(2011); 895–901

DGE Evidenzbasierte Leitlinie: Kohlenhydratzufuhr und Prävention ausgewählter ernährungsbedingter Krankheiten, Bonn, Version 2011, https://www.dge.de/wissenschaft/leitlinien/leitlinie-kohlenhydrate/Zugriff 16.12.2016

Heuss L, Degen L: Chronische Obstipation: SchweizMedForum 2004;4: 983–689

Deutsche Gesellschaft für Ernährung, Österreichische Gesellschaft für Ernährung, Schweizerische Gesellschaft für Ernährung (Hrsg.): Referenzwerte für die Nährstoffzufuhr. Bonn, 2. Auflage, 1. Ausgabe, 2015

Becker S, Weber M: Ballaststoffe. Schweiz Zschr GanzheitsMedizin 14.(2002)32–40

Eswaran S, Muir J et al.: Fiber and Functional Gastrointestinal Disorders. Am J Gastroenterol 2013; 5: 718–727

Krammer H, Neumer F, Enck P: Beeinflussung des Reizdarmsyndroms und der Obstipation durch Pro- und Präbiotika. In: Bischoff S: Probiotika, Präbiotika und Synbiotika. Suttgart-Thieme 2009.

Layer, P.; Andresen, V.; Pehl, C. et al: S3-Leitlinie Reizdarmsyndrom: Definition, Pathophysiologie, Diagnostik und Therapie. Gemeinsame Leitlinie der Deutschen Gesellschaft für Verdauungs- und Stoffwechselkrankheiten (DGVS) und der Deutschen Gesellschaft für Neurogastroenterologie und Motilität (DGNM). AWMF-Registrierungsnummer: 021/16. Z Gastroenterol. 49(2) (2011) 237–93
About this article
Cite this article
Schäfer, C. Das bringt den Darm in Schwung. MMW - Fortschritte der Medizin 159, 45–49 (2017). https://doi.org/10.1007/s15006-017-9338-6
Published:

Issue Date:

DOI: https://doi.org/10.1007/s15006-017-9338-6
Keywords
Constipation

nutrition

dietary fiber

laxantives