Zusammenfasung
Koffein als analgetisches Adiuvans ist Gegenstand langjähriger Diskussion. In einer neueren Cochrane-Analyse, in der 19 Studien mit insgesamt 7238 Patienten ausgewertet wurden, steigerte Koffein die Wirksamkeit von Paracetamol, Ibuprofen oder Acetylsalicylsäure mit einem NNT-Wert (number needed to treat) von ca. 16, vergleichbar mit dem von anderen Autoren berichteten Effekt einer Dosisverdoppelung des primären Schmerzmittels. Die Koffeinanalgesie läßt sich vor allem mit einem Antagonismus an Adenosinrezeptoren erklären. Auch neuere Untersuchungen bestätigen das günstige Verträglichkeitsprofil von Koffein bei Konsum "normaler" Mengen (z. B. 300 mg pro Tag, entsprechend ca. drei Tassen Kaffee). Dies schließt mögliche Risiken im kardiovaskulären Bereich, bei der Knochendichte und bei Exposition in der Schwangerschaft ein; günstige Koffeinwirkungen sind u. a. bei Morbus Parkinson und Leberfibrose/-zirrhose bekannt. Koffein ist ein analgetisches Adiuvans mit einem günstigen Nutzen-Risiko-Profil.
Abstract
Caffeine as an analgesic adiuvant has been discussed for many years. In a recent Cochrane review based on 19 studies with a total of 7238 patients, caffeine enhanced the efficacy of paracetamol, ibuprofen or aspirin with a number needed to treat (NNT) of about 16, comparable to the effect of doubling the dose of the primary analgesic, reported by other authors. Analgesia by caffeine is best explained by antagonism at adenosine receptors. Recent studies confirmed a favourable tolerability profile of caffeine when consumed in "normal" quantities (e. g. 300 mg or about 3 cups of coffee per day), including possible cardiovascular risks, effects on bone density, and exposure in pregnancy. Beneficial effects are known, e. g., in Parkinson's disease and liver cirrhosis and fibrosis. Caffeine remains an analgesic adiuvant with a favourable risk-benefit balance.
This is a preview of subscription content, log in to check access.
Access options
Buy single article
Instant access to the full article PDF.
US$ 39.95
Price includes VAT for USA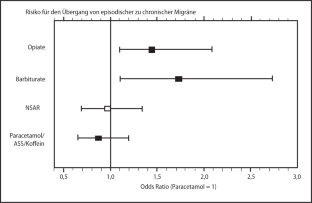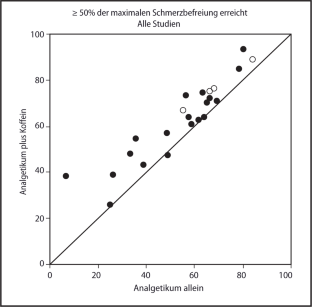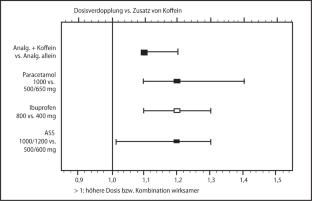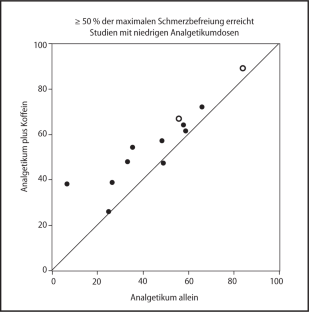 Literatur
1.

Mullner JW. Coffee. Canad Med Ass 100 (1969), 683.

2.

Weigmann R. Significance of caffeine in analgesic combined preparations. Arzneimittelforschung 3 (1953), 606–609.

3.

Crozier TW, Stalmach A, Lean ME, Crozier A. Espresso coffees, caffeine and chlorogenic acid intake: potential health implications. Food Funct 3 (2012), 30–33.

4.

Higdon JV, Frei B. Coffee and health: A review of recent human research. Crit Rev Food Sci Nutr 46 (2006), 101–123.

5.

Montella M, Tramacere I, Tavani A, et al. Coffee, decaffeinated coffee, tea intake, and risk of renal cell cancer. Nutr Cancer 61 (2009), 76–80.

6.

Bolignano D, Coppolino G, Barillà A, et al. Caffeine and the kidney: what evidence right now? J Ren Nutr 17 (2007), 225–234.

7.

Mesas AE, Leon-Muñoz LM, Rodriguez-Artalejo F, Lopez-Garcia E. The effect of coffee on blood pressure and cardiovascular disease in hypertensive individuals: a systematic review and meta-analysis. Am J Clin Nutr 94 (2011), 1113–1126.

8.

Brent RL, Christian MS, Diener RM. Evaluation of the reproductive and developmental risks of caffeine. Birth Defects Res B Dev Reprod Toxicol 92 (2011), 152–187.

9.

Cano-Marquina A, Tarín JJ, Cano A. The impact of coffee on health. Maturitas 75 (2013), 7–21.

10.

Sofi F, Conti AA, Gori AM, et al. Coffee consumption and risk of coronary heart disease: a meta-analysis. Nutr Metab Cardiovasc Dis 17 (2007), 209–223.

11.

Wu JN, Ho SC, Zhou C, et al. Coffee consumption and risk of coronary heart diseases: a meta-analysis of 21 prospective cohort studies. Int J Cardiol 137 (2009), 216–225.

12.

Gronroos NN, Alonso A. Diet and risk of atrial fibrillation–epidemiologic and clinical evidence. Circ J 74 (2010), 2029–2038.

13.

Frisoli TM, Schmieder RE, Grodzicki T, Messerli FH. Beyond salt: lifestyle modifications and blood pressure. Eur Heart J 32 (2011), 3081–3087.

14.

Geleijnse JM. Habitual coffee consumption and blood pressure: an epidemiological perspective. Vasc Health Risk Manag 4 (2008), 963–970.

15.

Li M, Wang M, Guo W, Wang J, Sun X. The effect of caffeine on intraocular pressure: a systematic review and meta-analysis. Graefes Arch Clin Exp Ophthalmol 249 (2011), 435–442.

16.

Chandra P, Gaur A, Varma S. Effect of caffeine on the intraocular pressure in patients with primary open angle glaucoma. Clin Ophthalmol 5 (2011), 1623–1629.

17.

Jiwani AZ, Rhee DJ, Brauner SC, et al. Effects of caffeinated coffee consumption on intraocular pressure, ocular perfusion pressure, and ocular pulse amplitude: a randomized controlled trial. Eye (Lond) 26 (2012), 1122–1130.

18.

Nieber K, Felke S, Schmalz A. Coffein: Genussmittel und Arzneistoff. Pharmazeutische Zeitung 04 (2007). Erhältlich unter http://www.pharmazeutische-zeitung.de/index.php?id=2523 (aufgesucht am 23.10.2013).

19.

Satel S. Is caffeine addictive? A review of the literature. Am J Drug Alcohol Ab 32 (2006), 493–502.

20.

Cronstein BN. Adenosine receptors and fibrosis: a translational review. F1000 Biol Rep 3 (2011), 21.

21.

Nkondjock A. Coffee consumption and the risk of cancer: an overview. Cancer Lett 277 (2009), 121–125.

22.

U.S. Food and Drug Administration (FDA). CFR–Code of Federal Regulations Title 21 (2012). Erhältlich unter http://www.accessdata.fda.gov/scripts/cdrh/cfdocs/cfcfr/CFRSearch.cfm?fr=182.1180 (aufgesucht am 23.10.2013).

23.

Nawrot P, Jordan S, Eastwood J, Rotstein J, Hugenholtz A, Feeley M. Effects of caffeine on human health. Food Addit Contam 20 (2003), 1–30.

24.

FDA. Voluntary and Mandatory Reports on 5-Hour Energy, Monster Energy, and Rockstar Energy Drink. January 1, 2004, through October 23, 2012. Erhältlich unter http://www.fda.gov/downloads/AboutFDA/CentersOffices/OfficeofFoods/CFSAN/CFSANFOIAElectronicReadingRoom/UCM328270.pdf (aufgesucht am 23.10.2013).

25.

Fox JM, Siebers U. Caffeine as a promoter of analgesic-associated nephropathy–where is the evidence? Fundam Clin Pharmacol 17 (2003), 377–392.

26.

Diener HC, Schneider R, Aicher B. Per-capita consumption of analgesics: a nine-country survey over 20 years. J Headache Pain 9 (2008), 225–231. Deutsche aktualisierte Fassung: Diener HC, Schneider R, Aicher B. Pro-Kopf-Verbrauch von Schmerzmitteln. Eine Erhebung in neun Ländern über 20 Jahre (1985 bis 2005). Pharmazeutische Zeitung 37 (2008), erhältlich unter http://www.pharmazeutische-zeitung.de/index.php?id=6672 (aufgesucht am 23.10.2013).

27.

Tepper SJ, Tepper DE. Breaking the cycle of medication overuse headache. Cleve Clin J Med 77 (2010), 236–242.

28.

National Headache Foundation. Caffeine withdrawal. Erhältlich unter http://www.headaches.org/educational_modules/caffeine_module/withdrawl.htm (aufgesucht am 13.04.2013).

29.

Feinstein AR, Heinemann LA, Dalessio D, et al. Do caffeine-containing analgesics promote dependence? A review and evaluation. Clin Pharmacol Ther 68 (2000), 457–467.

30.

Bigal ME, Serrano D, Buse D, Scher A, Stewart WF, Lipton RB. Acute migraine medications and evolution from episodic to chronic migraine: a longitudinal population-based study. Headache 48 (2008), 1157–1168.

31.

Sjaastad O, Bakketeig LS. Caffeine-withdrawal headache. The Vågå study of headache epidemiology. Cephalalgia 24 (2004), 241–249.

32.

Dews PB, Curtis GL, Hanford KJ, O'Brien CP. The frequency of caffeine withdrawal in a population-based survey and in a controlled, blinded pilot experiment. J Clin Pharmacol 39 (1999), 1221–1232.

33.

Derry CJ, Derry S, Moore RA. Caffeine as an analgesic adjuvant for acute pain in adults. Cochrane Database Syst Rev 2012(3).

34.

Fredholm BB. Adenosine receptors as drug targets. Exp Cell Res 316 (2010), 1284–1288.

35.

Abo-Salem OM, Hayallah AM, Bilkei-Gorzo A, Filipek B, Zimmer A, Müller CE. Antinociceptive effects of novel A2B adenosine receptor antagonists. J Pharmacol Exp Ther 308 (2004), 358–366.

36.

Morelli M, Carta AR, Kachroo A, Schwarzschild MA. Pathophysiological roles for purines: adenosine, caffeine and urate. Prog Brain Res 183 (2010), 183–208.

37.

Postuma RB, Lang AE, Munhoz RP, et al. Caffeine for treatment of Parkinson disease: a randomized controlled trial. Neurology 79 (2012), 651–658.

38.

Rahman A. The role of adenosine in Alzheimer's disease. Curr Neuropharmacol 7 (2009), 207–216.

39.

McQuay HJ, Moore RA. Dose-response in direct comparisons of different doses of aspirin, ibuprofen and paracetamol (acetaminophen) in analgesic studies. Br J Clin Pharmacol 63 (2007), 271–278.

40.

Zimmermann GR, Lehár J, Keith CT. Multi-target therapeutics: when the whole is greater than the sum of the parts. Drug Discov Today 12 (2007), 34–42.

41.

Straube A, Aicher B, Fiebich BL, Haag G. Combined analgesics in (headache) pain therapy: shotgun approach or precise multi-target therapeutics? BMC Neurol 31 (2011), 43.
Additional information
Diese Arbeit wurde unterstützt von Pharma Consulting, Aachen.
This article is part of a supplement not sponsored by the industry.
Interessenkonflikt
Karl-Uwe Petersen hat in den letzten fünf Jahren Honorare für Vorträge und Beratungen von AstraZeneca, Bayer, bene, Boehringer Ingelheim, Hexal, Eisai, Norgine, Novartis, Pohl-Boskamp und Shire erhalten.
About this article
Cite this article
Petersen, K. Koffein in Schmerzmitteln Mär oder Medizin?. MMW - Fortschritte der Medizin 155, 109–114 (2013). https://doi.org/10.1007/s15006-013-2541-1
Schlüsselwörters
Koffein

Analgetika

Kombinationspräparate

Sicherheit

Wirksamkeit
Keywords
Caffeine

Analgesics

Drug combinations

Safety

Efficacy