Zusammenfassung
Die Behandlung psychisch erkrankter Menschen stellt in der täglichen klinischen Praxis eine große Herausforderung dar. Durch die Vielzahl von psychotherapeutischen und pharmakologischen Interventionsmöglichkeiten ist es oft schwierig, die wirksamste Therapie zu finden. In diesem Artikel wird anhand der aktuellen Datenlage ein Überblick über die Wirksamkeit der verschiedenen Interventionen für die einzelnen psychiatrischen Erkrankungen gegeben.
Access options
Buy single article
Instant access to the full article PDF.
USD 39.95
Price includes VAT (USA)
Tax calculation will be finalised during checkout.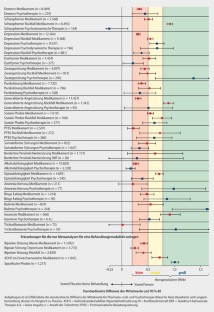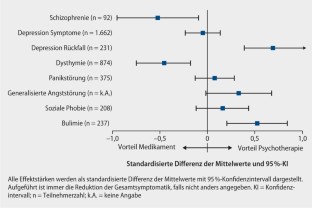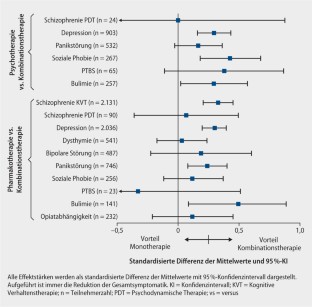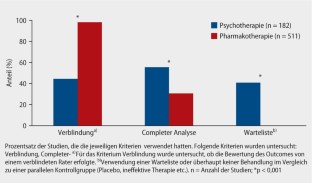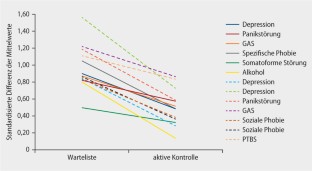 Literatur
1.

Kirsch, I., et al., Initial severity and antidepressant benefits: a meta-analysis of data submitted to the Food and Drug Administration. PLoS Med, 2008. 5(2): p. e45.

2.

Gøtzsche, P.C., et al., Deadly medicines and organised crime: how big pharma has corrupted healthcare. 2013, London: Radcliffe Publishing.

3.

Leucht, S., et al., Putting the efficacy of psychiatric and general medicine medication into perspective: review of meta-analyses. Br J Psychiatry, 2012. 200(2): p. 97–106.

4.

Greenberg, G., Manufacturing depression: the secret history of a modern disease. 2010, New York: Simon & Schuster.

5.

Cochrane Library. Cochrane Mental Health Group. 08.10.2014; Available from: http://www.thecochranelibrary.com/view/0/index.html#http://www.thecochranelibrary.com/view/0/browse.html.

6.

Huhn, M., et al., Efficacy of pharmacotherapy and psychotherapy for adult psychiatric disorders: a systematic overview of meta-analyses. JAMA Psychiatry, 2014. 71(6): p. 706–15.

7.

Cohen, J., Statistical Power Analysis for the Behavioral Sciences. 2nd ed. 1988, Hillsdale: Lawrence Erlbaum Associates.

8.

Trikalinos, T.A., et al., Effect sizes in cumulative meta-analyses of mental health randomized trials evolved over time. J Clin Epidemiol, 2004. 57(11): p. 1124–30.

9.

Barbui, C., et al., Effectiveness of paroxetine in the treatment of acute major depression in adults: a systematic re-examination of published and unpublished data from randomized trials. CMAJ, 2008. 178(3): p. 296–305.
Additional information
Interessenkonflikt
Die Autoren erklären, dass sie sich bei der Erstellung des Beitrages von keinen wirtschaftlichen Interessen leiten ließen. S. Leucht erklärt Lecture honoraria: EIiLilly, Lundbeck, Pfizer, Janssen, BMS, Johnson and Johnson, Roche, Sanofi Aventis, ICON, Abbvie; Consulting: Roche, Janssen, Lundbeck, EIiLilly. Preparation of educational material and publications from Lundbeck Institute and Roche. EIiLilly has provided medication for a clinical trial led by SL as principal investigator.Der Verlag erklärt, dass die inhaltliche Qualität des Beitrags von zwei unabhängigen Gutachtern geprüft wurde. Werbung in dieser Zeitschriftenausgabe hat keinen Bezug zur CME-Fortbildung. Der Verlag garantiert, dass die CME-Fortbildung sowie die CME-Fragen frei sind von werblichen Aussagen und keinerlei Produktempfehlungen enthalten. Dies gilt insbesondere für Präparate, die zur Therapie des dargestellten Krankheitsbildes geeignet sind.
About this article
Cite this article
Huhn, M., Leucht, S. Wirksamkeit von Psychotherapie und Pharmakotherapie. InFo Neurologie 17, 34–41 (2015). https://doi.org/10.1007/s15005-015-1214-2