Eine Reihe von Studien zeigen, dass die Injektion mit Botulinumtoxin ein wirksames Therapieverfahren bei der Behandlung der chronischen therapieresistenten Plantarfasziitis darstellen kann. Der Arbeitskreis Botulinumtoxin in Orthopädie und Unfallchirurgie der IGOST (Sektion Schmerztherapie DGOOC/DGOU) stellt die aktuelle Studienlage dar und bewertet, wann dieses Off-Label-Verfahren sinnvoll Einsatz finden kann.
This is a preview of subscription content, log in to check access.
Access options
Buy single article
Instant access to the full article PDF.
US$ 39.95
Price includes VAT for USA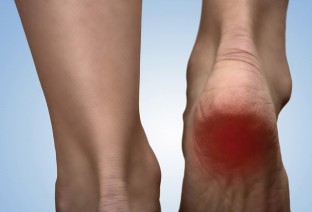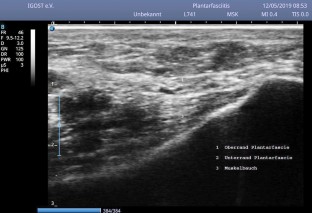 Literatur
1.

Cutts S, Obi N, Pasapula C, Chan W. Plantar fasciitis. Ann R Coll Surg 2012;94:539–42

2.

Babcock, MS, Foster L, Pasquina P, Jabbari, B. Treatment of pain attributed to plantar fasciitis with botulinum toxin type A: a short-term, randomized, placebo-controlled, double-blind study. Am J Phys Med Rehabil 2005;84:649–54

3.

Irving DB, Cook JL, Menz HB. Factors associated with chronic plantar heel pain: a systematic review. J Sci Med Sport 2006;9:11–22

4.

Placzek R. Botulinumtoxin A Therapieoption in Fällen chronischer Plantarfasciitis?. Z Orthop 2005;143:145–8

5.

Tatli YZ, Kapasi S. The real risks of steroid injection for plantar fasciitis, with a review of conservative therapies. Curr Rev Musculoskelet Med 2009;2:3–9

6.

Elsner A, Filler T, Barg A, Andermahr J. Nervenengpasssyndrome des Ramus calcanearis lateralis lateralis (Baxter-Nerv) und Nervus plantaris medialis (Jogger-Nerv). Fuß & Sprunggelenk 2015;13:237–44

7.

Lippert-Grüner S, Schulz A, Grüner S. Konservative Therapieoptionen bei Spastik. Orthopädie & Rheuma 2018;21:21–4

8.

Schulz A, Grüner S, Lippert-Grüner M. Botulinumtoxin — mögliche Indikationen in O & U. OUP 2016;4:218–21

9.

Agel J: Maryland Foot Score. J Orthop Trauma 2006;20:S96–97

10.

Kim DW, Lee SK, Ahnn J. Botulinum toxin as a pain killer: players and actions in antinociception. Toxins 2015;7:2435–53

11.

Sandrini G, De Icco R, Tassorelli C, Smania N, Tamburin S. Botulinum neurotoxin type A for the treatment of pain: not just in migraine and trigeminal neuralgia. J Headache Pain 2017;18:38

12.

Placzek R, Hölscher A, Deuretzbacher G, Meiss L, Perka C. Behandlung der chronischen Plantarfasciitis mit Botulinumtoxin A - Eine offene Pilotstudie an 25 Patienten mit einem Beobachtungszeitraum über 14 Wochen. Z Orthop 2006;144:405–9

13.

Huang YC, Wei SH, Wang HK, Lieu FK: Ultrasonographic guided botulinum toxin type A for plantar fasciitis: an outcome-based investigation for treating pain and gait changes. J Rehabil Med 2010;42:136–40

14.

Peterlein CD, Funk JF, Hölscher A, Schuh A, Placzek R. Is botolinum toxin A effective for the treatment of plantar fasciitis?. Clin J Pain 2012;28:527–33

15.

Díaz-Llopis IV, Rodríguez-Ruíz CM, Mulet-Perry S, Mondéjar-Gómez FJ, Climent-Barberá, JM, Cholbi-Llovel F. Randomized controlled study of the efficacy of the injection of botulinum toxin type A versus corticosteroids in chronic plantar fasciitis: results at one and six months. Clin Rehabil 2012;26:594–606

16.

Bennett PJ, Patterson C, Wearing S, Baglioni T. Development and validation of a questionnaire designed to measure foot-health status. J Am Podiatr Med Assoc 1998;88:419–28

17.

Díaz-Llopis IV, Gómez-Gallego D, Mondéjar-Gómez FJ, López-García A, Climent-Barberá JM, Rodríguez-Ruiz CM. Botulinum toxin type A in chronic plantar fasciitis: clinical effects one year after injection. Clin Rehabil 2013;27:681–5

18.

Elizondo-Rodriguez J, Araujo-Lopez Y, Moreno-Gonzalez JA et al. Comparison of botulinum toxin a and intralesional steroids for the treatment of plantarfasciitis: a randomized, double-blinded study. Foot Ankle Int 2013;34:8–14

19.

Ahmad J, Ahmad SH, Jones K. Treatment of plantar fasciitis with botulinum toxin: a randomized controllized study. Foot & Ankle International 2017;38:1–7

20.

Martin R, Irrgang JJ, Burdett RG, Ped C, Conti SF, Van Sweringen JM. Evidence of validity for the Foot an Ankle Abiliy Measure (FAAM). Foot&Ankle International 2005: 26(11):968–83

21.

Samant PD, Kale SY, Ahmed S, Asif A, Fefar M, Singh SD. Randomized controlled study comparing clinical outcomes after injection botulinum toxin type A versus corticosteroids in chronic plantar fasciitis. Int J Res Orthop 2018;4(4):672–5
About this article
Cite this article
Grüner, S., Schulz, A. & Lippert-Grüner, M. Einsatz von Botulinumtoxin bei chronischer Plantarfasziitis. Orthop. Rheuma 22, 32–39 (2019). https://doi.org/10.1007/s15002-019-1672-x