Abstract
Cancer is one of the major diseases that threaten human life worldwide. Despite advances in cancer treatment techniques, such as radiation therapy, chemotherapy, targeted therapy, and immunotherapy, it is still difficult to cure cancer because of the resistance mechanism of cancer cells. Current understanding of tumor biology has revealed that resistance to these anticancer therapies is due to the tumor microenvironment (TME) represented by hypoxia, acidity, dense extracellular matrix, and immunosuppression. This review demonstrates the latest strategies for effective cancer treatment using functional nanoparticles that can modulate the TME. Indeed, preclinical studies have shown that functional nanoparticles can effectively modulate the TME to treat refractory cancer. This strategy of using TMEs with controllable functional nanoparticles is expected to maximize cancer treatment efficiency in the future by combining it with various modern cancer therapeutics.
Access options
Buy single article
Instant access to the full article PDF.
USD 39.95
Price includes VAT (USA)
Tax calculation will be finalised during checkout.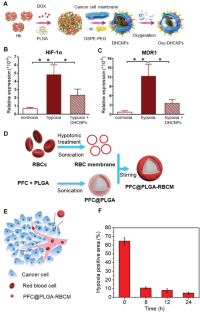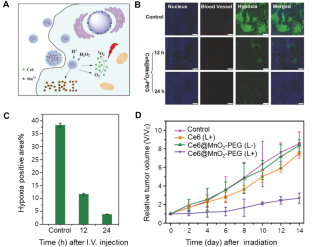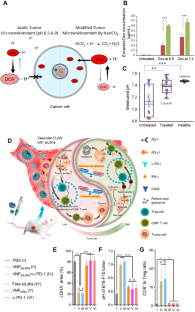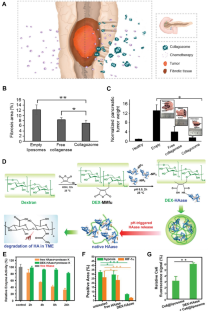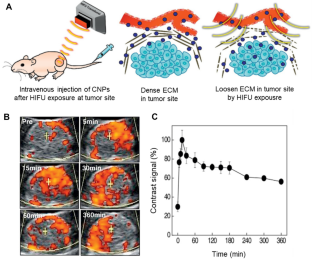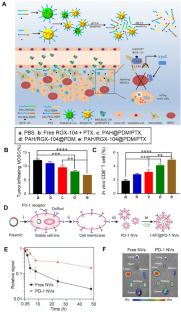 References
1.

Siegel RL, Miller KD, Jemal A. Cancer statistics, 2019. CA Cancer J Clin. 2019;69:7–34.

2.

Jung KW, Won YJ, Kong HJ, Lee ES. Cancer statistics in Korea: incidence, mortality, survival, and prevalence in 2016. Cancer Res Treat. 2019;51:417–30.

3.

Holohan C, Van Schaeybroeck S, Longley DB, Johnston PG. Cancer drug resistance: an evolving paradigm. Nat Rev Cancer. 2013;13:714–26.

4.

Brown JM, Wilson WR. Exploiting tumour hypoxia in cancer treatment. Nat Rev Cancer. 2004;4:437–47.

5.

Sharma P, Hu-Lieskovan S, Wargo JA, Ribas A. Primary, adaptive, and acquired resistance to cancer immunotherapy. Cell. 2017;168:707–23.

6.

Jin MZ, Jin WL. The updated landscape of tumor microenvironment and drug repurposing. Signal Transduct Target Ther. 2020;5:166.

7.

Quail DF, Joyce JA. Microenvironmental regulation of tumor progression and metastasis. Nat Med. 2013;19:1423–37.

8.

Trédan O, Galmarini CM, Patel K, Tannock IF. Drug resistance and the solid tumor microenvironment. J Natl Cancer Inst. 2007;99:1441–54.

9.

Yang S, Gao H. Nanoparticles for modulating tumor microenvironment to improve drug delivery and tumor therapy. Pharmacol Res. 2017;126:97–108.

10.

Liu J, Chen Q, Feng L, Liu Z. Nanomedicine for tumor microenvironment modulation and cancer treatment enhancement. Nano Today. 2018;21:55–73.

11.

Wingelaar TT, van Ooij PAM, Brinkman P, van Hulst RA. Pulmonary oxygen toxicity in navy divers: a crossover study using exhaled breath analysis after a one-hour air or oxygen dive at nine meters of sea water. Front Physiol. 2019;10:10.

12.

Liu J, Tian L, Zhang R, Dong Z, Wang H, Liu Z. Collagenase-encapsulated pH-responsive nanoscale coordination polymers for tumor microenvironment modulation and enhanced photodynamic nanomedicine. ACS Appl Mater Interfaces. 2018;10:43493–502.

13.

Torchilin V. Tumor delivery of macromolecular drugs based on the EPR effect. Adv Drug Deliv Rev. 2011;63:131–5.

14.

Xu J, Shi R, Chen G, Dong S, Yang P, Zhang Z, et al. All-in-one theranostic nanomedicine with ultrabright second near-infrared emission for tumor-modulated bioimaging and chemodynamic/photodynamic therapy. ACS Nano. 2020;14:9613–25.

15.

Wang AZ, Langer R, Farokhzad OC. Nanoparticle delivery of cancer drugs. Annu Rev Med. 2012;63:185–98.

16.

Shi J, Kantoff PW, Wooster R, Farokhzad OC. Cancer nanomedicine: progress, challenges and opportunities. Nat Rev Cancer. 2017;17:20–37.

17.

Matsumura Y, Maeda H. A new concept for macromolecular therapeutics in cancer chemotherapy: mechanism of tumoritropic accumulation of proteins and the antitumor agent smancs. Cancer Res. 1986;46:6387–92.

18.

Gerlowski LE, Jain RK. Microvascular permeability of normal and neoplastic tissues. Microvasc Res. 1986;31:288–305.

19.

Blanco E, Shen H, Ferrari M. Principles of nanoparticle design for overcoming biological barriers to drug delivery. Nat Biotechnol. 2015;33:941–51.

20.

Chung CH, Lu KY, Lee WC, Hsu WJ, Lee WF, Dai JZ, et al. Fucoidan-based, tumor-activated nanoplatform for overcoming hypoxia and enhancing photodynamic therapy and antitumor immunity. Biomaterials. 2020;257:120227.

21.

Zhang Y, Ho SH, Li B, Nie G, Li S. Modulating the tumor microenvironment with new therapeutic nanoparticles: a promising paradigm for tumor treatment. Med Res Rev. 2020;40:1084–102.

22.

Tan T, Hu H, Wang H, Li J, Wang Z, Wang J, et al. Bioinspired lipoproteins-mediated photothermia remodels tumor stroma to improve cancer cell accessibility of second nanoparticles. Nat Commun. 2019;10:3322.

23.

Tian H, Luo Z, Liu L, Zheng M, Chen Z, Ma A, et al. Cancer cell membrane-biomimetic oxygen nanocarrier for breaking hypoxia-induced chemoresistance. Adv Funct Mater. 2017;27:1703197.

24.

Gao M, Liang C, Song X, Chen Q, Jin Q, Wang C, et al. Erythrocyte-membrane-enveloped perfluorocarbon as nanoscale artificial red blood cells to relieve tumor hypoxia and enhance cancer radiotherapy. Adv Mater. 2017;29:1701429.

25.

Zhu W, Dong Z, Fu T, Liu J, Chen Q, Li Y, et al. Modulation of hypoxia in solid tumor microenvironment with MnO2 nanoparticles to enhance photodynamic therapy. Adv Funct Mater. 2016;26:5490–8.

26.

Abumanhal-Masarweh H, Koren L, Zinger A, Yaari Z, Krinsky N, Kaneti G, et al. Sodium bicarbonate nanoparticles modulate the tumor pH and enhance the cellular uptake of doxorubicin. J Control Release. 2019;296:1–13.

27.

Som A, Raliya R, Tian L, Akers W, Ippolito JE, Singamaneni S, et al. Monodispersed calcium carbonate nanoparticles modulate local pH and inhibit tumor growth in vivo. Nanoscale. 2016;8:12639–47.

28.

Zhang YX, Zhao YY, Shen J, Sun X, Liu Y, Liu H, et al. Nanoenabled modulation of acidic tumor microenvironment reverses anergy of infiltrating T cells and potentiates anti-PD-1 therapy. Nano Lett. 2019;19:2774–83.

29.

Zinger A, Koren L, Adir O, Poley M, Alyan M, Yaari Z, et al. Collagenase nanoparticles enhance the penetration of drugs into pancreatic tumors. ACS Nano. 2019;13:11008–21.

30.

Wang H, Han X, Dong Z, Xu J, Wang J, Liu Z. Hyaluronidase with pH-responsive dextran modification as an adjuvant nanomedicine for enhanced photodynamic-immunotherapy of cancer. Adv Funct Mater. 2019;29:1902440.

31.

Lee S, Han H, Koo H, Na JH, Yoon HY, Lee KE, et al. Extracellular matrix remodeling in vivo for enhancing tumor-targeting efficiency of nanoparticle drug carriers using the pulsed high intensity focused ultrasound. J Control Release. 2017;263:68–78.

32.

Shan H, Dou W, Zhang Y, Qi M. Targeted ferritin nanoparticle encapsulating CpG oligodeoxynucleotides induces tumor-associated macrophage M2 phenotype polarization into M1 phenotype and inhibits tumor growth. Nanoscale. 2020;12:22268–80.

33.

Wan D, Yang Y, Liu Y, Cun X, Li M, Xu S, et al. Sequential depletion of myeloid-derived suppressor cells and tumor cells with a dual-pH-sensitive conjugated micelle system for cancer chemoimmunotherapy. J Control Release. 2020;317:43–56.

34.

Zhang X, Wang C, Wang J, Hu Q, Langworthy B, Ye Y, et al. PD-1 blockade cellular vesicles for cancer immunotherapy. Adv Mater. 2018;30:e1707112.

35.

Vaupel P, Kallinowski F, Okunieff P. Blood flow, oxygen and nutrient supply, and metabolic microenvironment of human tumors: a review. Cancer Res. 1989;49:6449–65.

36.

Sharma A, Arambula JF, Koo S, Kumar R, Singh H, Sessler JL, et al. Hypoxia-targeted drug delivery. Chem Soc Rev. 2019;48:771–813.

37.

Fu C, Duan X, Cao M, Jiang S, Ban X, Guo N, et al. Targeted magnetic resonance imaging and modulation of hypoxia with multifunctional hyaluronic acid-MnO2 nanoparticles in glioma. Adv Healthc Mater. 2019;8:e1900047.

38.

Liu Y, Jiang Y, Zhang M, Tang Z, He M, Bu W. Modulating hypoxia via nanomaterials chemistry for efficient treatment of solid tumors. Acc Chem Res. 2018;51:2502–11.

39.

Wingelaar TT, van Ooij PAM, van Hulst RA. Oxygen toxicity and special operations forces diving: hidden and dangerous. Front Physiol. 2017;8:1263.

40.

Wang Y, Wu W, Mao D, Teh C, Wang B, Liu B. Metal–organic framework assisted and tumor microenvironment modulated synergistic image-guided photo-chemo therapy. Adv Funct Mater. 2020;30:2002431.

41.

Revuri V, Cherukula K, Nafiujjaman M, Vijayan V, Jeong YY, Park IK, et al. In situ oxygenic nanopods targeting tumor adaption to hypoxia potentiate image-guided photothermal therapy. ACS Appl Mater Interfaces. 2019;11:19782–92.

42.

Chen J, Ding Z, Peng Y, Pan F, Li J, Zou L, et al. HIF-1α inhibition reverses multidrug resistance in colon cancer cells via downregulation of MDR1/P-glycoprotein. PLoS One. 2014;9:e98882.

43.

Castro CI, Briceno JC. Perfluorocarbon-based oxygen carriers: review of products and trials. Artif Organs. 2010;34:622–34.

44.

Liu J, Zhang W, Kumar A, Rong X, Yang W, Chen H, et al. Acridine orange encapsulated mesoporous manganese dioxide nanoparticles to enhance radiotherapy. Bioconjugate Chem. 2020;31:82–92.

45.

Feng L, Dong Z, Tao D, Zhang Y, Liu Z. The acidic tumor microenvironment: a target for smart cancer nano-theranostics. Natl Sci Rev. 2018;5:269–86.

46.

Gatenby RA, Gillies RJ. Why do cancers have high aerobic glycolysis? Nat Rev Cancer. 2004;4:891–9.

47.

Park W, Chen J, Cho S, Park SJ, Larson AC, Na K, et al. Acidic pH-triggered drug-eluting nanocomposites for magnetic resonance imaging-monitored intra-arterial drug delivery to hepatocellular carcinoma. ACS Appl Mater Interfaces. 2016;8:12711–9.

48.

Lin G, Chen S, Mi P. Nanoparticles targeting and remodeling tumor microenvironment for cancer theranostics. J Biomed Nanotechnol. 2018;14:1189–207.

49.

Wojtkowiak JW, Verduzco D, Schramm KJ, Gillies RJ. Drug resistance and cellular adaptation to tumor acidic pH microenvironment. Mol Pharm. 2011;8:2032–8.

50.

Mahoney BP, Raghunand N, Baggett B, Gillies RJ. Tumor acidity, ion trapping and chemotherapeutics: I. Acid pH affects the distribution of chemotherapeutic agents in vitro. Biochem Pharmacol. 2003;66:1207–18.

51.

Ihraiz WG, Ahram M, Bardaweel SK. Proton pump inhibitors enhance chemosensitivity, promote apoptosis, and suppress migration of breast cancer cells. Acta Pharm. 2020;70:179–90.

52.

Faes S, Dormond O. Systemic buffers in cancer therapy: the example of sodium bicarbonate; stupid idea or wise remedy? Med Chem. 2015;5:540–4.

53.

Silva AS, Yunes JA, Gillies RJ, Gatenby RA. The potential role of systemic buffers in reducing intratumoral extracellular pH and acid-mediated invasion. Cancer Res. 2009;69:2677–84.

54.

Som A, Raliya R, Paranandi K, High RA, Reed N, Beeman SC, et al. Calcium carbonate nanoparticles stimulate tumor metabolic reprogramming and modulate tumor metastasis. Nanomedicine (Lond). 2019;14:169–82.

55.

Zhang Y, Cai L, Li D, Lao YH, Liu D, Li M, et al. Tumor microenvironment-responsive hyaluronate-calcium carbonate hybrid nanoparticle enables effective chemotherapy for primary and advanced osteosarcomas. Nano Res. 2018;11:4806–22.

56.

Huber V, Camisaschi C, Berzi A, Ferro S, Lugini L, Triulzi T, et al. Cancer acidity: an ultimate frontier of tumor immune escape and a novel target of immunomodulation. Semin Cancer Biol. 2017;43:74–89.

57.

Calcinotto A, Filipazzi P, Grioni M, Iero M, De Milito A, Ricupito A, et al. Modulation of microenvironment acidity reverses anergy in human and murine tumor-infiltrating T lymphocytes. Cancer Res. 2012;72:2746–56.

58.

Yang X, Lu Y, Hang J, Zhang J, Zhang T, Huo Y, et al. Lactate-modulated immunosuppression of myeloid-derived suppressor cells contributes to the radioresistance of pancreatic cancer. Cancer Immunol Res. 2020;8:1440–51.

59.

Choi SY, Collins CC, Gout PW, Wang Y. Cancer-generated lactic acid: a regulatory, immunosuppressive metabolite? J Pathol. 2013;230:350–5.

60.

Brand A, Singer K, Koehl GE, Kolitzus M, Schoenhammer G, Thiel A, et al. LDHA-associated lactic acid production blunts tumor immunosurveillance by T and NK cells. Cell Metab. 2016;24:657–71.

61.

Giussani M, Triulzi T, Sozzi G, Tagliabue E. Tumor extracellular matrix remodeling: new perspectives as a circulating tool in the diagnosis and prognosis of solid tumors. Cells. 2019;8:81.

62.

Frantz C, Stewart KM, Weaver VM. The extracellular matrix at a glance. J Cell Sci. 2010;123:4195–200.

63.

Theocharis AD, Skandalis SS, Gialeli C, Karamanos NK. Extracellular matrix structure. Adv Drug Deliv Rev. 2016;97:4–27.

64.

Kai F, Drain AP, Weaver VM. The extracellular matrix modulates the metastatic journey. Dev Cell. 2019;49:332–46.

65.

Netti PA, Berk DA, Swartz MA, Grodzinsky AJ, Jain RK. Role of extracellular matrix assembly in interstitial transport in solid tumors. Cancer Res. 2000;60:2497–503.

66.

Whatcott CJ, Han H, Posner RG, Hostetter G, Von Hoff DD. Targeting the tumor microenvironment in cancer: why hyaluronidase deserves a second look. Cancer Discov. 2011;1:291–6.

67.

Diener B, Carrick L Jr, Berk RS. In vivo studies with collagenase from Pseudomonas aeruginosa. Infect Immun. 1973;7:212–7.

68.

Villegas MR, Baeza A, Vallet-Regí M. Hybrid collagenase nanocapsules for enhanced nanocarrier penetration in tumoral tissues. ACS Appl Mater Interfaces. 2015;7:24075–81.

69.

Chen E, Han S, Song B, Xu L, Yuan H, Liang M, et al. Mechanism investigation of hyaluronidase-combined multistage nanoparticles for solid tumor penetration and antitumor effect. Int J Nanomedicine 2020;15:6311–24.

70.

Guan X, Chen J, Hu Y, Lin L, Sun P, Tian H, et al. Highly enhanced cancer immunotherapy by combining nanovaccine with hyaluronidase. Biomaterials. 2018;171:198–206.

71.

Mardhian DF, Storm G, Bansal R, Prakash J. Nano-targeted relaxin impairs fibrosis and tumor growth in pancreatic cancer and improves the efficacy of gemcitabine in vivo. J Control Release. 2018;290:1–10.

72.

Izci M, Maksoudian C, Manshian BB, Soenen SJ. The use of alternative strategies for enhanced nanoparticle delivery to solid tumors. Chem Rev. 2021;121:1746–803.

73.

Duan Q, Zhang H, Zheng J, Zhang L. Turning cold into hot: firing up the tumor microenvironment. Trends Cancer. 2020;6:605–18.

74.

Gao S, Yang D, Fang Y, Lin X, Jin X, Wang Q, et al. Engineering nanoparticles for targeted remodeling of the tumor microenvironment to improve cancer immunotherapy. Theranostics. 2019;9:126–151.

75.

Saeed M, Gao J, Shi Y, Lammers T, Yu H. Engineering nanoparticles to reprogram the tumor immune microenvironment for improved cancer immunotherapy. Theranostics. 2019;9:7981–8000.

76.

Mantovani A, Marchesi F, Malesci A, Laghi L, Allavena P. Tumour-associated macrophages as treatment targets in oncology. Nat Rev Clin Oncol. 2017;14:399–416.

77.

Jeong H, Kim S, Hong BJ, Lee CJ, Kim YE, Bok S, et al. Tumor-associated macrophages enhance tumor hypoxia and aerobic glycolysis. Cancer Res. 2019;79:795–806.

78.

Galván-Peña S, O'Neill LA. Metabolic reprograming in macrophage polarization. Front Immunol. 2014;5:420.

79.

Mosser DM, Edwards JP. Exploring the full spectrum of macrophage activation. Nat Rev Immunol. 2008;8:958–69.

80.

Sylvestre M, Crane CA, Pun SH. Progress on modulating tumor-associated macrophages with biomaterials. Adv Mater. 2020;32:e1902007.

81.

Gionfriddo G, Plastina P, Augimeri G, Catalano S, Giordano C, Barone I, et al. Modulating tumor-associated macrophage polarization by synthetic and natural PPARγ ligands as a potential target in breast cancer. Cells. 2020;9:174.

82.

Gabrilovich DI, Nagaraj S. Myeloid-derived suppressor cells as regulators of the immune system. Nat Rev Immunol. 2009;9:162–74.

83.

Gabrilovich DI. Myeloid-derived suppressor cells. Cancer Immunol Res. 2017;5:3–8.

84.

Kumar V, Patel S, Tcyganov E, Gabrilovich DI. The nature of myeloid-derived suppressor cells in the tumor microenvironment. Trends Immunol. 2016;37:208–20.

85.

Park W, Heo YJ, Han DK. New opportunities for nanoparticles in cancer immunotherapy. Biomater Res. 2018;22:1–10.

86.

Tavazoie MF, Pollack I, Tanqueco R, Ostendorf BN, Reis BS, Gonsalves FC, et al. LXR/ApoE activation restricts innate immune suppression in cancer. Cell. 2018;172:825–40.

87.

Taylor NA, Vick SC, Iglesia MD, Brickey WJ, Midkiff BR, McKinnon KP, et al. Treg depletion potentiates checkpoint inhibition in claudin-low breast cancer. J Clin Invest. 2017;127:3472–83.

88.

Ou W, Thapa RK, Jiang L, Soe ZC, Gautam M, Chang J-H, et al. Regulatory T cell-targeted hybrid nanoparticles combined with immuno-checkpoint blockage for cancer immunotherapy. J Control Release. 2018;281:84–96.

89.

Kumagai S, Togashi Y, Kamada T, Sugiyama E, Nishinakamura H, Takeuchi Y, et al. The PD-1 expression balance between effector and regulatory T cells predicts the clinical efficacy of PD-1 blockade therapies. Nat Immunol. 2020;21:1346–58.

90.

Tang J, Yu JX, Hubbard-Lucey VM, Neftelinov ST, Hodge JP, Lin Y. Trial watch: the clinical trial landscape for PD1/PDL1 immune checkpoint inhibitors. Nat Rev Drug Discov. 2018;17:854–5.

91.

Webb ES, Liu P, Baleeiro R, Lemoine NR, Yuan M, Wang Y. Immune checkpoint inhibitors in cancer therapy. J Biomed Res. 2018;32:317.
Acknowledgements
This study was supported by the National Research Foundation (NRF) of Korea funded by the Ministry of Science and ICT (MSIT), Republic of Korea (2021R1A2C4001776, 2020H1D3A1A04105814, and 2020M2D9A3094208), the Korea Medical Device Development Fund grant funded by the Korean government (MSIT, the Ministry of Trade, Industry and Energy, the Ministry of Health & Welfare, Ministry of Food and Drug Safety) (202012D21-02), and the Catholic University of Korea, Research Fund, 2020.
Ethics declarations
Conflict of interest
The authors declare no conflict of interest.
Ethical statement
There are no animal experiments carried out for this article.
Additional information
Publisher's Note
Springer Nature remains neutral with regard to jurisdictional claims in published maps and institutional affiliations.
About this article
Cite this article
Shin, S., Lee, J., Han, J. et al. Tumor Microenvironment Modulating Functional Nanoparticles for Effective Cancer Treatments. Tissue Eng Regen Med (2021). https://doi.org/10.1007/s13770-021-00403-7
Received:

Revised:

Accepted:

Published:
Keywords
Tumor microenvironment

Nanoparticles

Cancer treatments

Drug delivery

Biomaterials