Abstract
Background:
Transplantation of mesenchymal stem cells (MSCs) is a potential therapeutic strategy for cartilage degeneration of osteoarthritis (OA). But controlling chondrogenic differentiation of the implanted MSCs in the joints remains a challenge. The role of kartogenin (KGN) for chondrogenesis of MSCs has been widely reported, however, the mechanism of chondrogenesis has not been elucidated in OA.
Methods:
In this study, we investigated the miR-145-5p, TGF-β, Samd4, and p-stat3/stat3 expression in cartilage of OA patients and bone marrow mesenchymal stem cells (BMSCs) treated with KGN or miR-145-5p inhibitor. In addition, the cell proliferation and chondrogenic differentiation in vitro and in vivo of BMSCs treated with KGN was also detected.
Results:
In OA patients, the expression of miR-145-5p was up-regulated, and the expression of TGF-β, Samd4, and p-stat3/stat3 was inhibited. When the BMSCs treated with miR-145-5p inhibitor, the expression of TGF-β, Samd4, and p-stat3/stat3 was also significantly up-regulated. KGN-treated BMSCs had better proliferation and chondrogenic differentiation by up-regulating the expression of Sox 9, Col-2a1, aggrecan in vitro and in OA by down-regulation of miR-145-5p targeting Smad4 pathway. Moreover, intra-articular injection of KGN-treated BMSCs had a better pain relief effect in OA.
Conclusion:
The double effect on cartilage protection and pain relief indicates a great potential of intra-articular injection of KGN-treated BMSCs for the treatment of OA.
Access options
Buy single article
Instant access to the full article PDF.
USD 39.95
Price includes VAT (USA)
Tax calculation will be finalised during checkout.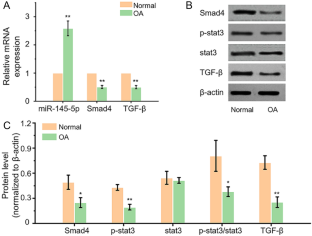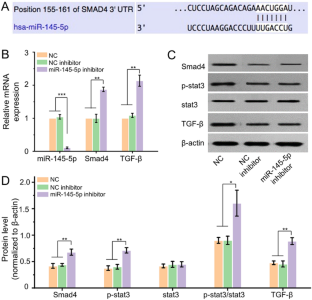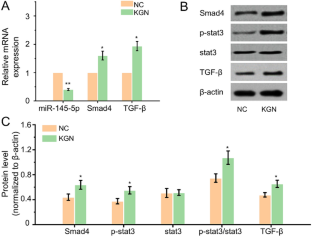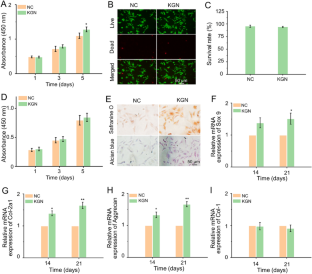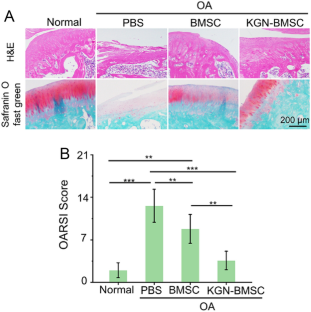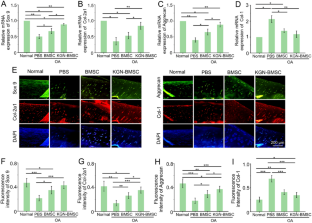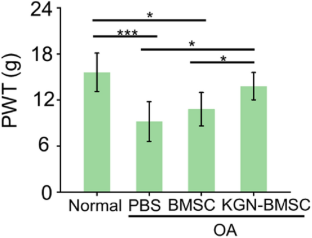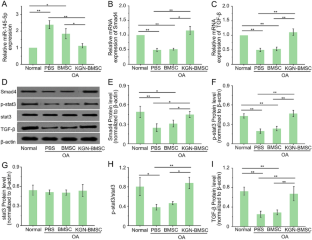 References
1.

Peat G, Thomas MJ. Osteoarthritis year in review 2020: epidemiology and therapy. Osteoarthritis Cartilage. 2021;29:180–9.

2.

Costello CA, Liu M, Furey A, Rahman P, Randell EW, Zhai G. Association between epidemiological factors and nonresponders to total joint replacement surgery in primary osteoarthritis patients. J Arthroplasty. 2021;36:1502–10.e5.

3.

Hailer NP, Kuja-Halkola R, Bruggemann A, Pedersen NL, Michaëlsson K. Body mass index differentially moderates heritability of total joint replacement due to hip and knee osteoarthritis a cohort study of 29,893 Swedish twin pairs. J Bone Joint Surg Am. 2021;103:1319–27.

4.

Kon E, Boffa A, Andriolo L, Di Martino A, Di Matteo B, Magarelli N. Subchondral and intra-articular injections of bone marrow concentrate are a safe and effective treatment for knee osteoarthritis: a prospective, multi-center pilot study. Knee Surg Sports Traumatol Arthrosc. 2021. https://doi.org/10.1007/s00167-021-06530-x.

5.

Najm A, Alunno A, Gwinnutt JM, Weill C, Berenbaum F. Efficacy of intra-articular corticosteroid injections in knee osteoarthritis: a systematic review and meta-analysis of randomized controlled trials. Joint Bone Spine. 2021;88:105198.

6.

Gazendam A, Ekhtiari S, Bozzo A, Phillips M, Bhandari M. Intra-articular saline injection is as effective as corticosteroids, platelet-rich plasma and hyaluronic acid for hip osteoarthritis pain: a systematic review and network meta-analysis of randomised controlled trials. Br J Sports Med. 2021;55:256–61.

7.

Barry F, Murphy M. Mesenchymal stem cells in joint disease and repair. Nat Rev Rheumatol. 2013;9:584–94.

8.

Bertoni L, Jacquet-Guibon S, Branly T, Desance M, Legendre F, Melin M, et al. Evaluation of allogeneic bone-marrow-derived and umbilical cord blood-derived mesenchymal stem cells to prevent the development of osteoarthritis in an equine model. Int J Mol Sci. 2021;22:2499.

9.

Hwang JJ, Rim YA, Nam Y, Ju JH. Recent developments in clinical applications of mesenchymal stem cells in the Treatment of rheumatoid arthritis and osteoarthritis. Front Immunol. 2021;12:631291.

10.

Centeno CJ, Busse D, Kisiday J, Keohan C, Freeman M, Karli D. Increased knee cartilage volume in degenerative joint disease using percutaneously implanted autologous mesenchymal stem cells. Pain Physician. 2008;11:343–53.

11.

Csaki C, Schneider PR, Shakibaei M. Mesenchymal stem cells as a potential pool for cartilage tissue engineering. Ann Anat. 2008;190:395–412.

12.

Maumus M, Guérit D, Toupet K, Jorgensen C, Noël D. Mesenchymal stem cell-based therapies in regenerative medicine: applications in rheumatology. Stem Cell Res Ther. 2011;2:14.

13.

Koga H, Shimaya M, Muneta T, Nimura A, Morito T, Hayashi M, et al. Local adherent technique for transplanting mesenchymal stem cells as a potential treatment of cartilage defect. Arthritis Res Ther. 2008;10:R84.

14.

Chang YH, Liu HW, Wu KC, Ding DC. Mesenchymal stem cells and their clinical applications in osteoarthritis. Cell Transplant. 2016;25:937–50.

15.

Ha CW, Park YB, Kim SH, Lee HJ. Intra-articular mesenchymal stem cells in osteoarthritis of the knee: a systematic review of clinical outcomes and evidence of cartilage repair. Arthroscopy. 2019;35:277–88.e2.

16.

Wang SJ, Qin JZ, Zhang TE, Xia C. Intra-articular injection of kartogenin-incorporated thermogel enhancing osteoarthritis treatment. Front Chem. 2019;7:677.

17.

Xu X, Liang Y, Li X, Ouyang K, Wang M, Cao T, et al. Exosome-mediated delivery of kartogenin for chondrogenesis of synovial fluid-derived mesenchymal stem cells and cartilage regeneration. Biomaterials. 2021;269:120539.

18.

Johnson K, Zhu S, Tremblay MS, Payette JN, Wang J, Bouchez LC, et al. A stem cell-based approach to cartilage repair. Science. 2012;336:717–21.

19.

Jing H, Zhang X, Gao M, Luo K, Fu W, Yin M, et al. Kartogenin preconditioning commits mesenchymal stem cells to a precartilaginous stage with enhanced chondrogenic potential by modulating JNK and beta-catenin-related pathways. FASEB J. 2019;33:5641–53.

20.

Zhou Q, Zhang JH, Yuan S, Shao JH, Cai ZY, Chen S, et al. A new insight of kartogenin induced the mesenchymal stem cells (MSCs) selectively differentiate into chondrocytes by activating the bone morphogenetic protein 7 (BMP-7)/Smad5 pathway. Med Sci Monitor. 2019;25:4960–7.

21.

Kao GS, Tu YK, Sung PH, Wang FS, Lu YD, Wu CT, et al. MicroRNA-mediated interacting circuits predict hypoxia and inhibited osteogenesis of stem cells, and dysregulated angiogenesis are involved in osteonecrosis of the femoral head. Int Orthop. 2018;42:1605–14.

22.

Yao C, Wu W, Tang H, Jia X, Tang J, Ruan X, et al. Self-assembly of stem cell membrane-camouflaged nanocomplex for microRNA-mediated repair of myocardial infarction injury. Biomaterials. 2020;257:120256.

23.

Geng Y, Chen J, Alahdal M, Chang C, Duan L, Zhu W, et al. Intra-articular injection of hUC-MSCs expressing miR-140-5p induces cartilage self-repairing in the rat osteoarthritis. J Bone Miner Metab. 2020;38:277–88.

24.

Bai H, Zhao Y, Wang C, Wang Z, Wang J, Liu H, et al. Enhanced osseointegration of three-dimensional supramolecular bioactive interface through osteoporotic microenvironment regulation. Theranostics. 2020;10:4779–94.

25.

Kang ML, Jeong SY, Im GI. Hyaluronic acid hydrogel functionalized with self-assembled micelles of amphiphilic pegylated kartogenin for the treatment of osteoarthritis. Tissue Eng Part A. 2017;23:630–9.

26.

Micheli L, Bozdag M, Akgul O, Carta F, Guccione C, Bergonzi MC, et al. Pain relieving effect of-NSAIDs-CAIs hybrid molecules: systemic and intra-articular treatments against rheumatoid arthritis. Int J Mol Sci. 2019;20:1923.

27.

Chen Y, Wang X, Yang M, Ruan W, Wei W, Gu D, et al. miR-145-5p increases osteoclast numbers in vitro and aggravates bone erosion in collagen- induced arthritis by targeting osteoprotegerin. Med Sci Monitor. 2018;24:5292–300.

28.

Zhuang X, He L. Effects on osteoarthritis inflammation and apoptosis of chondrocytes under down-regulated smad4 expression by MIR-146A-5P. Acta Medica Mediterranea. 2020;36:1707–13.

29.

Zhu J, Fu Q, Shao J, Peng J, Qian Q, Zhou Y, et al. Regulating effect of Circ_ATRNL1 on the promotion of SOX9 expression to promote chondrogenic differentiation of hAMSCs mediated by MiR-145-5p. J Tissue Eng Regen Med. 2021;15:487–502.

30.

Hu S, Zhao X, Mao G, Zhang Z, Wen X, Zhang C, et al. MicroRNA-455-3p promotes TGF-beta signaling and inhibits osteoarthritis development by directly targeting PAK2. Exp Mol Med. 2019;51:1–13.

31.

Peng XB, Zhang Y, Wang YQ, He Q, Yu Q. IGF-1 and BMP-7 synergistically stimulate articular cartilage repairing in the rabbit knees by improving chondrogenic differentiation of bone-marrow mesenchymal stem cells. J Cell Biochem. 2019;120:5570–82.

32.

Qasim M, Le NXT, Nguyen TPT, Chae DS, Park SJ, Lee NY. Nanohybrid biodegradable scaffolds for TGF-β3 release for the chondrogenic differentiation of human mesenchymal stem cells. Int J Pharm. 2020;581:119248.

33.

Taghavi M, Parham A, Raji A. The combination of TGF-beta 3 and BMP-6 synergistically promotes the chondrogenic differentiation of equine bone marrow-derived mesenchymal stem cells. Int J Pept Res Ther. 2020;26:727–35.

34.

Ruiz M, Maumus M, Fonteneau G, Pers YM, Ferreira R, Dagneaux L, et al. TGF beta i is involved in the chondrogenic differentiation of mesenchymal stem cells and is dysregulated in osteoarthritis. Osteoarthritis Cartilage. 2019;27:493–503.

35.

Boyden SD, Hossain IN, Wohlfahrt A, Lee YC. Non-inflammatory causes of pain in patients with rheumatoid arthritis. Curr Rheumatol Rep. 2016;18:30.

36.

Meeus M, Vervisch S, De Clerck LS, Moorkens G, Hans G, Nijs J. Central sensitization in patients with rheumatoid arthritis: a systematic literature review. Semin Arthritis Rheum. 2012;41:556–67.

37.

Zhang A, Lee YC. Mechanisms for joint pain in rheumatoid arthritis (RA): from cytokines to central sensitization. Curr Osteoporos Rep. 2018;16:603–10.

38.

Pinho-Ribeiro FA, Verri WA Jr, Chiu IM. Nociceptor sensory neuron-immune interactions in pain and inflammation. Trends Immunol. 2017;38:5–19.

39.

Nazempour A, Van Wie BJ. Chondrocytes, mesenchymal stem cells, and their combination in articular cartilage regenerative medicine. Ann Biomed Eng. 2016;44:1325–54.
Acknowledgement
Thank the staff of animal experiment center for their help in our research.
Ethics declarations
Conflict of interest
The authors declare no conflict of interest.
Ethical statement
All animal procedures were performed in accordance with the guidelines for Care and Use of Laboratory Animal Experience and approved by the Liyuan hospital affiliated to Tongji Medical College of Huazhong University of Science and Technology. (Approve no. LYH 2020–0194).
Additional information
Publisher's Note
Springer Nature remains neutral with regard to jurisdictional claims in published maps and institutional affiliations.
About this article
Cite this article
Liu, H., Liu, P. Kartogenin Promotes the BMSCs Chondrogenic Differentiation in Osteoarthritis by Down-Regulation of miR-145-5p Targeting Smad4 Pathway. Tissue Eng Regen Med 18, 989–1000 (2021). https://doi.org/10.1007/s13770-021-00390-9
Received:

Revised:

Accepted:

Published:

Issue Date:
Keywords
Osteoarthritis

BMSCs

Kartogenin

miR-145-5p

Pain