Abstract
Diabetic wound (DW) is one of the leading complications of patients having a long history of uncontrolled diabetes. Moreover, it also imposes an economic burden on people suffering from wounds to manage the treatment. The major impending factors in the treatment of DW are infection, prolonged inflammation and decreased oxygen levels. Since these non-healing wounds are associated with an extended recovery period, the existing therapies provide treatment for a limited period only. The areas covered in this review are general sequential events of wound healing along with DW's pathophysiology, the origin of DW and success, as well as limitations of existing therapies. This systematic review's significant aspect is to highlight the fabrication, characterization and applications of various acellular scaffolds used to heal DW. In addition to that, cellular scaffolds are also described to a limited extent.
Access options
Buy single article
Instant access to the full article PDF.
US$ 39.95
Tax calculation will be finalised during checkout.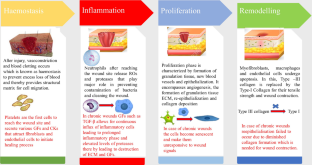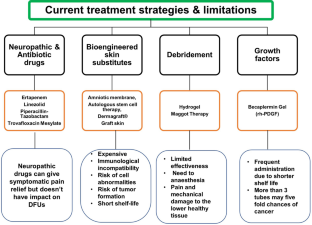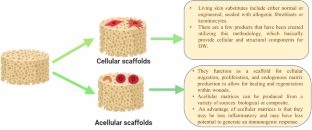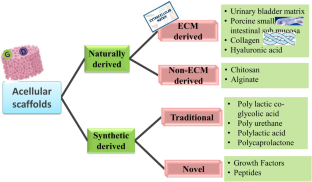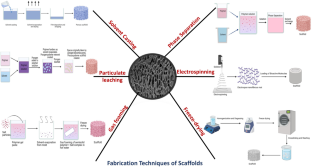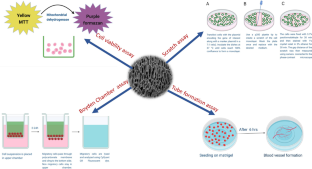 References
1.

Rosyid FN. Etiology, pathophysiology, diagnosis and management of diabetics' foot ulcer. Int J Res Med Sci. 2017;5:4206–13.

2.

Karri VVSR, Kuppusamy G, Talluri SV, Yamjala K, Mannemala SS, Malayandi R. Current and emerging therapies in the management of diabetic foot ulcers. Curr Med Res Opin. 2016;32:519–42.

3.

Syafril S. Pathophysiology diabetic foot ulcer. IOP Conf Ser: Earth Environ Sci. 2018;128:012161.

4.

Ho J, Walsh C, Yue D, Dardik A, Cheema U. Current advancements and strategies in tissue engineering for wound healing: a comprehensive review. Adv Wound Care (New Rochelle). 2017;6:191–209.

5.

Landén NX, Li D, Ståhle M. Transition from inflammation to proliferation: a critical step during wound healing. Cell Mol Life Sci. 2016;73:3861–85.

6.

Chaudhary C, Garg T. Scaffolds: A Novel Carrier and Potential Wound Healer. Crit Rev Ther Drug Carrier Syst. 2015;32:277–321.

7.

Schreml S, Szeimies R, Prantl L, Karrer S, Landthaler M, Babilas P. Oxygen in acute and chronic wound healing. Br J Dermatol. 2010;163:257–68.

8.

Dhall S, Do DC, Garcia M, Kim J, Mirebrahim SH, Lyubovitsky J, et al. Generating and reversing chronic wounds in diabetic mice by manipulating wound redox parameters. J Diabetes Res. 2014;2014:562625.

9.

McCarty SM, Percival SL. Proteases and delayed wound healing. Adv Wound Care (New Rochelle). 2013;2:438–47.

10.

Schultz GS, Sibbald RG, Falanga V, Ayello EA, Dowsett C, Harding K, et al. Wound bed preparation: a systematic approach to wound management. Wound Repair Regen. 2003;11:S1–28.

11.

Stanley A, Osler T. Senescence and the healing rates of venous ulcers. J Vasc Surg. 2001;33:1206–11.

12.

Tsourdi E, Barthel A, Rietzsch H, Reichel A, Bornstein SR (2013) Current aspects in the pathophysiology and treatment of chronic wounds in diabetes mellitus. BioMed research international. 2013.

13.

Ennis WJ, Sui A, Bartholomew A. Stem cells and healing: impact on inflammation. Adv Wound Care (New Rochelle). 2013;2:369–78.

14.

Lazarus GS, Cooper DM, Knighton DR, Margolis DJ, Percoraro RE, Rodeheaver G, et al. Definitions and guidelines for assessment of wounds and evaluation of healing. Wound Repair Regen. 1994;2:165–70.

15.

Järbrink K, Ni G, Sönnergren H, Schmidtchen A, Pang C, Bajpai R, et al. The humanistic and economic burden of chronic wounds: a protocol for a systematic review. Syst Rev. 2017;6:15.

16.

Falanga V. Wound healing and its impairment in the diabetic foot. Lancet. 2005;366:1736–43.

17.

Bowering CK. Diabetic foot ulcers. Pathophysiology, assessment, and therapy. Can Fam Physician. 2001;47:1007–16.

18.

Clayton W, Elasy TA. A review of the pathophysiology, classification and treatment of foot ulcers in diabetic patients. Clin diabetes. 2009;27:52–8.

19.

West NJ. Systemic antimicrobial treatment of foot infections in diabetic patients. Am J Health Syst Pharm. 1995;52:1199–207.

20.

Bril V, England J, Franklin GM, Backonja M, Cohen J, Del Toro D, et al. American academy of neurology; American association of neuromuscular and electrodiagnostic medicine; American academy of physical medicine and rehabilitation. Evidence-based guideline: Treatment of painful diabetic neuropathy: report of the American academy of neurology, the American association of neuromuscular and electrodiagnostic medicine, and the American academy of physical medicine and rehabilitation. PM R. 2011;3:345-52, 352.e1-21.

21.

Zelen CM, Serena TE, Fetterolf DE. Dehydrated human amnion/chorion membrane allografts in patients with chronic diabetic foot ulcers: a long-term follow-up study. Wound Medicine. 2014;4:1–4.

22.

Yang M, Sheng L, Zhang TR, Li Q. Stem cell therapy for lower extremity diabetic ulcers: where do we stand? Biomed Res Int. 2013;2013:462179.

23.

Shi L, Ronfard V. Biochemical and biomechanical characterization of porcine small intestinal submucosa (SIS): a mini review. Int J Burns Trauma. 2013;3:173–9.

24.

Smith J (2002) Debridement of diabetic foot ulcers.

25.

Kurokawa M, Nakamura H. Wound dressing for accelerating epidermal regeneration. US Patent 7,576,051, 2009.

26.

Jensen JL, Seeley J, Gillin B. Diabetic foot ulcerations. A controlled, randomized comparison of two moist wound healing protocols: Carrasyn Hydrogel Wound dressing and wet-to-moist saline gauze. Adv Skin Wound Care. 1998;11(7):1–4.

27.

Garg T, Singh O, Arora S, Murthy R. Scaffold: a novel carrier for cell and drug delivery. Crit Rev Ther Drug Carrier Syst. 2012;29:1–63.

28.

Nune SK, Rama KS, Dirisala VR, Chavali MY. Electrospinning of collagen nanofiber scaffolds for tissue repair and regeneration. In: Nanostructures for novel therapy. Elsevier; 2017. p. 281–311.

29.

Bracaglia LG, Smith BT, Watson E, Arumugasaamy N, Mikos AG, Fisher JP. 3D printing for the design and fabrication of polymer-based gradient scaffolds. Acta Biomater. 2017;56:3–13.

30.

Kirk JF, Ritter G, Finger I, Sankar D, Reddy JD, Talton JD, et al. Mechanical and biocompatible characterization of a cross-linked collagen-hyaluronic acid wound dressing. Biomatter. 2013;3:e25633.

31.

Sill TJ, von Recum HA. Electrospinning: applications in drug delivery and tissue engineering. Biomaterials. 2008;29:1989–2006.

32.

Zaulyanov L, Kirsner RS. A review of a bi-layered living cell treatment (Apligraf) in the treatment of venous leg ulcers and diabetic foot ulcers. Clin Interv Aging. 2007;2:93–8.

33.

Hu S, Kirsner RS, Falanga V, Phillips T, Eaglstein WH. Evaluation of Apligraf persistence and basement membrane restoration in donor site wounds: a pilot study. Wound Repair Regen. 2006;14:427–33.

34.

Falanga V, Isaacs C, Paquette D, Downing G, Kouttab N, Butmarc J, et al. Wounding of bioengineered skin: cellular and molecular aspects after injury. J Inves Dermatol. 2002;119:653–60.

35.

Veves A, Falanga V, Armstrong DG, Sabolinski ML, Apligraf Diabetic Foot Ulcer Study. Graftskin, a human skin equivalent, is effective in the management of noninfected neuropathic diabetic foot ulcers: a prospective randomized multicenter clinical trial. Diabetes Care. 2001;24:290–5.

36.

Naughton G, Mansbridge J, Gentzkow G. A metabolically active human dermal replacement for the treatment of diabetic foot ulcers. Artif Organs. 1997;21:1203–10.

37.

Hanft JR, Surprenant MS. Healing of chronic foot ulcers in diabetic patients treated with a human fibroblast-derived dermis. J Foot Ankle Surg. 2002;41:291–9.

38.

Cho H, Blatchley MR, Duh EJ, Gerecht S. Acellular and cellular approaches to improve diabetic wound healing. Adv Drug Deliv Rev. 2019;146:267–88.

39.

Dickinson LE, Gerecht S. Engineered biopolymeric scaffolds for chronic wound healing. Front Physiol. 2016;7:341.

40.

Zhong SP, Zhang YZ, Lim CT. Tissue scaffolds for skin wound healing and dermal reconstruction. Wiley Interdiscip Rev Nanomed Nanobiotechnol. 2010;2:510–25.

41.

Nieuwdorp M, Holleman F, de Groot E, Vink H, Gort J, Kontush A, et al. Perturbation of hyaluronan metabolism predisposes patients with type 1 diabetes mellitus to atherosclerosis. Diabetologia. 2007;50:1288–93.

42.

Bohn G, Liden B, Schultz G, Yang Q, Gibson DJ. Ovine-based collagen matrix dressing: next-generation collagen dressing for wound care. Adv Wound Care (New Rochelle). 2016;5:1–10.

43.

Holmes C, Wrobel JS, MacEachern MP, Boles BR. Collagen-based wound dressings for the treatment of diabetes-related foot ulcers: a systematic review. Diabetes Metab Syndr Obes. 2013;6:17–29.

44.

Brennan EP, Reing J, Chew D, Myers-Irvin JM, Young E, Badylak SF. Antibacterial activity within degradation products of biological scaffolds composed of extracellular matrix. Tissue Eng. 2006;12:2949–55.

45.

Martino MM, Briquez PS, Maruyama K, Hubbell JA. Extracellular matrix-inspired growth factor delivery systems for bone regeneration. Adv Drug Deliv Rev. 2015;94:41–52.

46.

Reyzelman A, Crews RT, Moore JC, Moore L, Mukker JS, Offutt S, et al. Clinical effectiveness of an acellular dermal regenerative tissue matrix compared to standard wound management in healing diabetic foot ulcers: a prospective, randomised, multicentre study. Int Wound J. 2009;6:196–208.

47.

Brigido SA. The use of an acellular dermal regenerative tissue matrix in the treatment of lower extremity wounds: a prospective 16-week pilot study. Int Wound J. 2006;3:181–7.

48.

Cazzell SM, Lange DL, Dickerson JE Jr, Slade HB. The management of diabetic foot ulcers with porcine small intestine submucosa tri-layer matrix: a randomized controlled trial. Adv Wound Care. 2015;4:711–8.

49.

Niezgoda JA, Van Gils CC, Frykberg RG, Hodde JP, Group ODUS. Randomized clinical trial comparing OASIS Wound Matrix to Regranex Gel for diabetic ulcers. Adv Skin Wound Care. 2005;18:258–66.

50.

Turner NJ, Badylak SF. The use of biologic scaffolds in the treatment of chronic nonhealing wounds. Adv Wound Care (New Rochelle). 2015;4:490–500.

51.

Brown B, Lindberg K, Reing J, Stolz DB, Badylak SF. The basement membrane component of biologic scaffolds derived from extracellular matrix. Tissue Eng. 2006;12:519–26.

52.

Kimmel H, Rahn M, Gilbert TW. The clinical effectiveness in wound healing with extracellular matrix derived from porcine urinary bladder matrix: a case series on severe chronic wounds. The Journal of the American College of Certified Wound Specialists. 2010;2:55–9.

53.

Alvarez OM, Smith T, Gilbert TW, Onumah NJ, Wendelken ME, Parker R, et al. Diabetic foot ulcers treated with porcine urinary bladder extracellular matrix and total contact cast: Interim analysis of a randomized, controlled trial. Wounds. 2017;29:140–6.

54.

Wu S, Applewhite AJ, Niezgoda J, Snyder R, Shah J, Cullen B, et al. Oxidized regenerated cellulose/collagen dressings: review of evidence and recommendations. Adv Skin Wound Care. 2017;30:S1–18.

55.

Chu J, Shi P, Yan W, Fu J, Yang Z, He C, et al. PEGylated graphene oxide-mediated quercetin-modified collagen hybrid scaffold for enhancement of MSCs differentiation potential and diabetic wound healing. Nanoscale. 2018;10:9547–60.

56.

Kilic Bektas C, Kimiz I, Sendemir A, Hasirci V, Hasirci N. A bilayer scaffold prepared from collagen and carboxymethyl cellulose for skin tissue engineering applications. J Biomater Sci Polym Ed. 2018;29:1764–84.

57.

Guillemin Y, Le Broc D, Segalen C, Kurkdjian E, Gouze J. Efficacy of a collagen-based dressing in an animal model of delayed wound healing. J Wound Care. 2016;25:406–13.

58.

Morimoto N, Yoshimura K, Niimi M, Ito T, Aya R, Fujitaka J, et al. Novel collagen/gelatin scaffold with sustained release of basic fibroblast growth factor: clinical trial for chronic skin ulcers. Tissue Eng Part A. 2013;19:1931–40.

59.

Tan Q, Chen B, Yan X, Lin Y, Xiao Z, Hou X, et al. Promotion of diabetic wound healing by collagen scaffold with collagen-binding vascular endothelial growth factor in a diabetic rat model. J Tissue Eng Regen Med. 2014;8:195–201.

60.

Marston WA, Usala A, Hill RS, Mendes R, Minsley MA. Initial report of the use of an injectable porcine collagen-derived matrix to stimulate healing of diabetic foot wounds in humans. Wound Repair Regen. 2005;13:243–7.

61.

Malafaya PB, Silva GA, Reis RL. Natural–origin polymers as carriers and scaffolds for biomolecules and cell delivery in tissue engineering applications. Adv Drug Deliv Rev. 2007;59:207–33.

62.

Liao YH, Jones SA, Forbes B, Martin GP, Brown MB. Hyaluronan: pharmaceutical characterization and drug delivery. Drug Deliv. 2005;12:327–42.

63.

Chen RF, Wang CT, Chen YH, Chien CM, Lin SD, Lai CS, et al. Hyaluronic Acid–Povidone-Iodine Compound Facilitates Diabetic Wound Healing in a Streptozotocin-Induced Diabetes Rodent Model. Plast Reconstr Surg. 2019;143:1371–82.

64.

Lai HJ, Kuan CH, Wu HC, Tsai JC, Chen TM, Hsieh DJ, et al. Tailored design of electrospun composite nanofibers with staged release of multiple angiogenic growth factors for chronic wound healing. Acta Biomater. 2014;10:4156–66.

65.

Ahmed A, Getti G, Boateng J. Ciprofloxacin-loaded calcium alginate wafers prepared by freeze-drying technique for potential healing of chronic diabetic foot ulcers. Drug Deliv Transl Res. 2018;8:1751–68.

66.

Gainza G, Aguirre JJ, Pedraz JL, Hernández RM, Igartua M. rhEGF-loaded PLGA-Alginate microspheres enhance the healing of full-thickness excisional wounds in diabetised Wistar rats. Eur J Pharm Sci. 2013;50:243–52.

67.

Masood N, Ahmed R, Tariq M, Ahmed Z, Masoud MS, Ali I, et al. Silver nanoparticle impregnated chitosan-PEG hydrogel enhances wound healing in diabetes induced rabbits. Int J Pharm. 2019;559:23–36.

68.

Patil PS, Fathollahipour S, Inmann A, Pant A, Amini R, Shriver LP, et al. Fluorinated methacrylamide chitosan hydrogel dressings improve regenerated wound tissue quality in diabetic wound healing. Adv Wound Care (New Rochelle). 2019;8:374–85.

69.

Lord MS, Ellis AL, Farrugia BL, Whitelock JM, Grenett H, Li C, et al. Perlecan and vascular endothelial growth factor-encoding DNA-loaded chitosan scaffolds promote angiogenesis and wound healing. J Control Release. 2017;250:48–61.

70.

Karri VVSR, Kuppusamy G, Talluri SV, Mannemala SS, Kollipara R, Wadhwani AD, et al. Curcumin loaded chitosan nanoparticles impregnated into collagen-alginate scaffolds for diabetic wound healing. Int J Biol Macromol. 2016;93:1519–29.

71.

Ahmed R, Tariq M, Ali I, Asghar R, Khanam PN, Augustine R, et al. Novel electrospun chitosan/polyvinyl alcohol/zinc oxide nanofibrous mats with antibacterial and antioxidant properties for diabetic wound healing. Int J Biol Macromol. 2018;120:385–93.

72.

Dong X, Xu J, Wang W, Luo H, Liang X, Zhang L, et al. Repair effect of diabetic ulcers with recombinant human epidermal growth factor loaded by sustained-release microspheres. Sci China, Ser C Life Sci. 2008;51:1039–44.

73.

Bairagi U, Mittal P, Singh J, Mishra B. Preparation, characterization and in vivo evaluation of nano formulations of ferulic acid in diabetic wound healing. Drug Dev Ind Pharm. 2018;44(11):1783–96.

74.

Chereddy KK, Lopes A, Koussoroplis S, Payen V, Moia C, Zhu H, et al. Combined effects of PLGA and vascular endothelial growth factor promote the healing of non-diabetic and diabetic wounds. Nanomedicine. 2015;11:1975–84.

75.

Yang Y, Wang F, Yin D, Fang Z, Huang L. Astragulus polysaccharide-loaded fibrous mats promote the restoration of microcirculation in/around skin wounds to accelerate wound healing in a diabetic rat model. Colloids Surf B Biointerfaces. 2015;136:111–8.

76.

Zhang X, Liu Y, Zhang S, Shen T, Wang J, Liu C. Potentiation effect on accelerating diabetic wound healing using 2-N, 6-O-sulfated chitosan-doped PLGA scaffold. RSC Adv. 2018;8:19085–97.

77.

Ranjbar-Mohammadi M, Rabbani S, Bahrami SH, Joghataei M, Moayer F. Antibacterial performance and in vivo diabetic wound healing of curcumin loaded gum tragacanth/poly (ε-caprolactone) electrospun nanofibers. Mater Sci Eng C Mater Biol Appl. 2016;69:1183–91.

78.

Chen H, Jia P, Kang H, Zhang H, Liu Y, Yang P, et al. Upregulating Hif-1α by hydrogel nanofibrous scaffolds for rapidly recruiting angiogenesis relative cells in diabetic wound. Adv Healthc Mater. 2016;5:907–18.

79.

Yin H, Ding G, Shi X, Guo W, Ni Z, Fu H, et al. A bioengineered drug-Eluting scaffold accelerated cutaneous wound healing In diabetic mice. Colloids Surf B Biointerfaces. 2016;145:226–31.

80.

Breitbart AS, Laser J, Parrett B, Porti D, Grant RT, Grande DA, et al. Accelerated diabetic wound healing using cultured dermal fibroblasts retrovirally transduced with the platelet-derived growth factor B gene. Ann Plast Surg. 2003;51:409–14.

81.

Herrmann I, Supriyanto E, Jaganathan SK, Manikandan A. Advanced nanofibrous textile-based dressing material for treating chronic wounds. Bull Mater Sci. 2018;41:18.

82.

Dhurai B, Saraswathy N, Maheswaran R, Sethupathi P, Vanitha P, Vigneshwaran S, et al. Electrospinning of curcumin loaded chitosan/poly (lactic acid) nanofilm and evaluation of its medicinal characteristics. Front Mater Sci. 2013;7:350–61.

83.

Wan W, Cai F, Huang J, Chen S, Liao Q. A skin-inspired 3D bilayer scaffold enhances granulation tissue formation and anti-infection for diabetic wound healing. J Mater Chem B. 2019;7:2954–61.

84.

Dwivedi C, Pandey I, Pandey H, Patil S, Mishra SB, Pandey AC, et al. In vivo diabetic wound healing with nanofibrous scaffolds modified with gentamicin and recombinant human epidermal growth factor. J Biomed Mater Res A. 2018;106:641–51.

85.

Yang Y, Xia T, Chen F, Wei W, Liu C, He S, et al. Electrospun fibers with plasmid bFGF polyplex loadings promote skin wound healing in diabetic rats. Mol Pharm. 2012;9:48–58.

86.

Subia B, Kundu J, Kundu SC. Biomaterial scaffold fabrication techniques for potential tissue engineering applications. In: Eberli D. editor. Tissue engineering. Rijeka: InTech Europe; 2010. p. 141–58.

87.

Ma PX, Langer R. Fabrication of biodegradable polymer foams for cell transplantation and tissue engineering. Tissue engineering methods and protocols: Springer; 1999. p. 47–56.

88.

Lu T, Li Y, Chen T. Techniques for fabrication and construction of three-dimensional scaffolds for tissue engineering. Int J Nanomedicine. 2013;8:337–50.

89.

Doshi J, Reneker DH. Electrospinning process and applications of electrospun fibers. J Electrostat. 1995;35:151–60.

90.

Lee CH, Hsieh MJ, Chang SH, Lin YH, Liu SJ, Lin TY, et al. Enhancement of diabetic wound repair using biodegradable nanofibrous metformin-eluting membranes: in vitro and in vivo. ACS Appl Mater Interfaces. 2014;6:3979–86.

91.

Amruthwar SS, Janorkar AV. Preparation and characterization of elastin-like polypeptide scaffolds for local delivery of antibiotics and proteins. J Mater Sci Mater Med. 2012;23:2903–12.

92.

Mahmoud AA, Salama AH. Norfloxacin-loaded collagen/chitosan scaffolds for skin reconstruction: Preparation, evaluation and in-vivo wound healing assessment. Eur J Pharm Sci. 2016;83:155–65.

93.

Gaharwar AK, Nikkhah M, Sant S, Khademhosseini A. Anisotropic poly (glycerol sebacate)-poly (ϵ-caprolactone) electrospun fibers promote endothelial cell guidance. Biofabrication. 2014;7:015001.

94.

Riss TL, Moravec RA, Niles AL, Duellman S, Benink HA, Worzella TJ, et al. Cell viability assays. Assay Guidance Manual [Internet]: In: Markossian S, Sittampalam GS, Grossman A, Brimacombe K, Arkin M, Auld D, et al. editors. Assay Guidance Manual [Internet]. Bethesda (MD): Eli Lilly & Company and the National Center for Advancing Translational Sciences; 2004.

95.

Hou R, Zhang G, Du G, Zhan D, Cong Y, Cheng Y, et al. Magnetic nanohydroxyapatite/PVA composite hydrogels for promoted osteoblast adhesion and proliferation. Colloids Surf B Biointerfaces. 2013;103:318–25.

96.

Kumar LV, Shakila RJ, Jeyasekaran G. In vitro anti-cancer, anti-diabetic, anti-inflammation and wound healing properties of collagen peptides derived from unicorn leatherjacket (Aluterus monoceros) at different hydrolysis. Turk J Fish Aquat Sci. 2019;19:551–60.

97.

Demirci S, Doğan A, Demirci Y, Şahin F. In vitro wound healing activity of methanol extract of Verbascum speciosum. Int J Appl Res Nat Prod. 2014;7:37–44.

98.

Tam JCW, Lau KM, Liu CL, To MH, Kwok HF, Lai KK, et al. The in vivo and in vitro diabetic wound healing effects of a 2-herb formula and its mechanisms of action. J Ethnopharmacol. 2011;134:831–8.

99.

Veerasubramanian PK, Thangavel P, Kannan R, Chakraborty S, Ramachandran B, Suguna L, et al. An investigation of konjac glucomannan-keratin hydrogel scaffold loaded with Avena sativa extracts for diabetic wound healing. Colloids Surf B Biointerfaces. 2018;165:92–102.
Acknowledgement
The authors would like to thank the Department of Science and Technology Fund for Improvement of Science and Technology Infrastructure in Universities and Higher Educational Institutions (DST-FIST), New Delhi for their infrastructure support to our department. The author Miss Vyshnavi Tallapaneni would like to thank the Indian Council of Medical Research, New Delhi for awarding senior research fellowship to carry out the studies and their support towards the research.
Ethics declarations
Conflict of interest
The authors declare that there are no conflicts of interest involved in this review. The authors alone are responsible for the content and writing of the paper.
Ethical statement
This article does not contain any studies with human or animal subjects performed by any of the authors.
Additional information
Publisher's Note
Springer Nature remains neutral with regard to jurisdictional claims in published maps and institutional affiliations.
About this article
Cite this article
Tallapaneni, V., Kalaivani, C., Pamu, D. et al. Acellular Scaffolds as Innovative Biomaterial Platforms for the Management of Diabetic Wounds. Tissue Eng Regen Med (2021). https://doi.org/10.1007/s13770-021-00344-1
Received:

Revised:

Accepted:

Published:
Keywords
Diabetes

Diabetic wound

Acellular scaffold

Biomaterials