Abstract
BACKGROUND:
Exosomes from mesenchymal stem cells (MSCs) show anti-inflammatory effect on osteoarthritis (OA); however, their biological effect and mechanism are not yet clearly understood. This study investigated the anti-inflammatory effect and mechanism of MSC-derived exosomes (MSC-Exo) primed with IL-1β in osteoarthritic SW982 cells.
METHODS:
SW982 cells were treated with interleukin (IL)-1β and tumor necrosis factor (TNF)-α to induce the OA phenotype. The effect of exosomes without priming (MSC-Exo) or with IL-1β priming (MSC-IL-Exo) was examined on the expression of pro- or anti-inflammatory factors, and the amount of IκBα was examined in SW982 cells. Exosomes were treated with RNase to remove RNA. The role of miR-147b was examined using a mimic and an inhibitor.
RESULTS:
MSC-IL-Exo showed stronger inhibitory effects on the expression of pro-inflammatory cytokines (IL-1β, IL-6, and monocyte chemoattractant protein-1) than MSC-Exo. The expression of anti-inflammatory factors (SOCS3 and SOCS6) was enhanced by MSCs-IL-Exo. Priming with IL-1β increased RNA content in MSC-IL-Exo, and pretreatment with RNase abolished anti-inflammatory effect in SW982 cells. miR-147b was found in much larger amounts in MSC-IL-Exo than in MSC-Exo. The miR-147b mimic significantly inhibited the expression of inflammatory cytokines, while the miR-147b inhibitor only partially blocked the anti-inflammatory effect of MSC-IL-Exo. MSC-IL-Exo and miR-147b mimic inhibited the reduction of IκBα, an nuclear factor kappa-light-chain-enhancer of activated B cells (NF-κB) inhibitor, by IL-1β and TNF-α.
CONCLUSION:
This study showed that MSC exosomes with IL-1β priming exhibit significantly enhanced anti-inflammatory activity in osteoarthritic SW982 cells. The effect of IL-1β-primed MSC exosomes is mediated by miRNAs such as miR-147b and involves inhibition of the NF-κB pathway.
Access options
Buy single article
Instant access to the full article PDF.
US$ 39.95
Tax calculation will be finalised during checkout.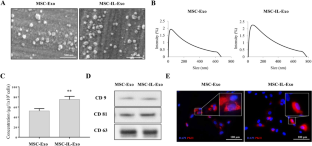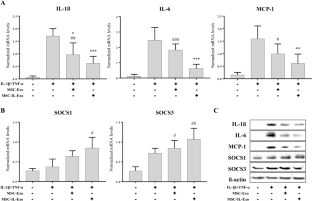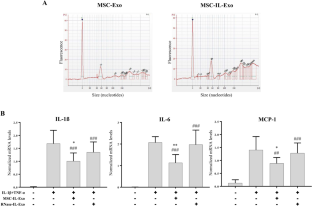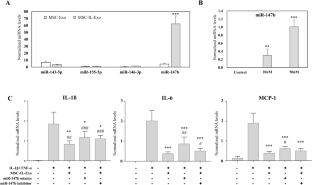 References
1.

Iyer SS, Rojas M. Anti-inflammatory effects of mesenchymal stem cells: novel concept for future therapies. Expert Opin Biol Ther. 2008;8:569–81.

2.

Zhao Q, Ren H, Han Z. Mesenchymal stem cells: immunomodulatory capability and clinical potential in immune diseases. J Cell Immunother. 2016;2:3–20.

3.

Luz-Crawford P, Djouad F, Toupet K, Bony C, Franquesa M, Hoogduijn MJ, et al. Mesenchymal stem cell-derived interleukin 1 receptor antagonist promotes macrophage polarization and inhibits B cell differentiation. Stem Cells. 2016;34:483–92.

4.

Deng Y, Zhang Y, Ye L, Zhang T, Cheng J, Chen G, et al. Umbilical cord-derived mesenchymal stem cells instruct monocytes towards an IL10-producing phenotype by secreting IL6 and HGF. Sci Rep. 2016;6:37566.

5.

Godoy JAP, Paiva RMA, Souza AM, Kondo AT, Kutner JM, Okamoto OK. Clinical translation of mesenchymal stromal cell therapy for graft versus host disease. Front Cell Dev Biol. 2019;7:255.

6.

Saeedi P, Halabian R, Imani Fooladi AA. A revealing review of mesenchymal stem cells therapy, clinical perspectives and modification strategies. Stem Cell Investig. 2019;6:34.

7.

Rostom DM, Attia N, Khalifa HM, Abou Nazel MW, El Sabaawy EA. The therapeutic potential of extracellular vesicles versus mesenchymal stem cells in liver damage. Tissue Eng Regen Med. 2020;17:537–52.

8.

Yu B, Zhang X, Li X. Exosomes derived from mesenchymal stem cells. Int J Mol Sci. 2014;15:4142–57.

9.

Baglio SR, Rooijers K, Koppers-Lalic D, Verweij FJ, Pérez Lanzón M, Zini N, et al. Human bone marrow- and adipose-mesenchymal stem cells secrete exosomes enriched in distinctive miRNA and tRNA species. Stem Cell Res Ther. 2015;6:127.

10.

Ko KW, Yoo YI, Kim JY, Choi B, Park SB, Park W, et al. Attenuation of tumor necrosis factor-alpha induced inflammation by umbilical cord-mesenchymal stem cell derived exosome-mimetic nanovesicles in endothelial cells. Tissue Eng Regen Med. 2020;17:155–63.

11.

Valadi H, Ekström K, Bossios A, Sjöstrand M, Lee JJ, Lötvall JO. Exosome-mediated transfer of mRNAs and microRNAs is a novel mechanism of genetic exchange between cells. Nat Cell Biol. 2007;9:654–9.

12.

Che Y, Shi X, Shi Y, Jiang X, Ai Q, Shi Y, et al. Exosomes derived from miR-143-overexpressing MSCs inhibit cell migration and invasion in human prostate cancer by downregulating TFF3. Mol Ther Nucleic Acids. 2019;18:232–44.

13.

Nahid MA, Satoh M, Chan EK. Mechanistic role of microRNA-146a in endotoxin-induced differential cross-regulation of TLR signaling. J Immunol. 2011;186:1723–34.

14.

Liu G, Friggeri A, Yang Y, Park YJ, Tsuruta Y, Abraham E. miR-147, a microRNA that is induced upon Toll-like receptor stimulation, regulates murine macrophage inflammatory responses. Proc Natl Acad Sci U S A. 2009;106:15819–24.

15.

Wang P, Hou J, Lin L, Wang C, Liu X, Li D, et al. Inducible microRNA-155 feedback promotes type I IFN signaling in antiviral innate immunity by targeting suppressor of cytokine signaling 1. J Immunol. 2010;185:6226–33.

16.

Ti D, Hao H, Tong C, Liu J, Dong L, Zheng J, et al. LPS-preconditioned mesenchymal stromal cells modify macrophage polarization for resolution of chronic inflammation via exosome-shuttled let-7b. J Transl Med. 2015;13:308.

17.

Song Y, Dou H, Li X, Zhao X, Li Y, Liu D, et al. Exosomal miR-146a contributes to the enhanced therapeutic efficacy of interleukin-1beta-primed mesenchymal stem cells against sepsis. Stem Cells. 2017;35:1208–21.

18.

Berenbaum F. Osteoarthritis as an inflammatory disease (osteoarthritis is not osteoarthrosis!). Osteoarthritis Cartilage. 2013;21:16–21.

19.

Gore M, Tai KS, Sadosky A, Leslie D, Stacey BR. Clinical comorbidities, treatment patterns, and direct medical costs of patients with osteoarthritis in usual care: a retrospective claims database analysis. J Med Econ. 2011;14:497–507.

20.

Richards MM, Maxwell JS, Weng L, Angelos MG, Golzarian J. Intra-articular treatment of knee osteoarthritis: from anti-inflammatories to products of regenerative medicine. Phys Sportsmed. 2016;44:101–8.

21.

Kristjánsson B, Honsawek S. Current perspectives in mesenchymal stem cell therapies for osteoarthritis. Stem Cells Int. 2014;2014:194318.

22.

Im GI. Perspective on intra-articular injection cell therapy for osteoarthritis treatment. Tissue Eng Regen Med. 2019;16:357–63.

23.

Manferdini C, Maumus M, Gabusi E, Piacentini A, Filardo G, Peyrafitte JA, et al. Adipose-derived mesenchymal stem cells exert antiinflammatory effects on chondrocytes and synoviocytes from osteoarthritis patients through prostaglandin E2. Arthritis Rheum. 2013;65:1271–81.

24.

Zhang S, Chuah SJ, Lai RC, Hui JHP, Lim SK, Toh WS. MSC exosomes mediate cartilage repair by enhancing proliferation, attenuating apoptosis and modulating immune reactivity. Biomaterials. 2018;156:16–27.

25.

Liao Z, Muth DC, Eitan E, Travers M, Learman LN, Lehrmann E, et al. Serum extracellular vesicle depletion processes affect release and infectivity of HIV-1 in culture. Sci Rep. 2017;7:2558.

26.

Wojdasiewicz P, Poniatowski ŁA, Szukiewicz D. The role of inflammatory and anti-inflammatory cytokines in the pathogenesis of osteoarthritis. Mediators Inflamm. 2014;2014:561459.

27.

Srinivasan S, Vannberg FO, Dixon JB. Lymphatic transport of exosomes as a rapid route of information dissemination to the lymph node. Sci Rep. 2016;6:24436.

28.

Kim M, Kim J, Park SR, Park DY, Kim YJ, Choi BH, et al. Comparison of fetal cartilage-derived progenitor cells isolated at different developmental stages in a rat model. Dev Growth Differ. 2016;58:167–79.

29.

Toh WS, Lai RC, Hui JHP, Lim SK. MSC exosome as a cell-free MSC therapy for cartilage regeneration: implications for osteoarthritis treatment. Semin Cell Dev Biol. 2017;67:56–64.

30.

Cosenza S, Ruiz M, Toupet K, Jorgensen C, Noel D. Mesenchymal stem cells derived exosomes and microparticles protect cartilage and bone from degradation in osteoarthritis. Sci Rep. 2017;7:16214.

31.

Tao SC, Yuan T, Zhang YL, Yin WJ, Guo SC, Zhang CQ. Exosomes derived from miR-140-5p-overexpressing human synovial mesenchymal stem cells enhance cartilage tissue regeneration and prevent osteoarthritis of the knee in a rat model. Theranostics. 2017;7:180–95.

32.

Li H, Guan SB, Lu Y, Wang F. MiR-140-5p inhibits synovial fibroblasts proliferation and inflammatory cytokines secretion through targeting TLR4. Biomed Pharmacother. 2017;96:208–14.

33.

Song J, Jin EH, Kim D, Kim KY, Chun CH, Jin EJ. MicroRNA-222 regulates MMP-13 via targeting HDAC-4 during osteoarthritis pathogenesis. BBA Clin. 2015;3:79–89.

34.

Wu MH, Tsai CH, Huang YL, Fong YC, Tang CH. Visfatin promotes IL-6 and TNF-alpha production in human synovial fibroblasts by repressing miR-199a-5p through ERK, p38 and JNK signaling pathways. Int J Mol Sci. 2018;19:190.

35.

Kim N, Cho SG. New strategies for overcoming limitations of mesenchymal stem cell-based immune modulation. Int J Stem Cells. 2015;8:54–68.

36.

Nakamura Y, Miyaki S, Ishitobi H, Matsuyama S, Nakasa T, Kamei N, et al. Mesenchymal-stem-cell-derived exosomes accelerate skeletal muscle regeneration. FEBS Lett. 2015;589:1257–65.

37.

Furuta T, Miyaki S, Ishitobi H, Ogura T, Kato Y, Kamei N, et al. Mesenchymal stem cell-derived exosomes promote fracture healing in a mouse model. Stem Cells Transl Med. 2016;5:1620–30.

38.

Koga Y, Yasunaga M, Moriya Y, Akasu T, Fujita S, Yamamoto S, et al. Exosome can prevent RNase from degrading microRNA in feces. J Gastrointest Oncol. 2011;2:215–22.

39.

Chen WX, Liu XM, Lv MM, Chen L, Zhao JH, Zhong SL, et al. Exosomes from drug-resistant breast cancer cells transmit chemoresistance by a horizontal transfer of microRNAs. PLoS One. 2014;9:e95240.

40.

Reis LA, Borges FT, Simões MJ, Borges AA, Sinigaglia-Coimbra R, Schor N. Bone marrow-derived mesenchymal stem cells repaired but did not prevent gentamicin-induced acute kidney injury through paracrine effects in rats. PLoS One. 2012;7:e44092.

41.

Jones SW, Watkins G, Le Good N, Roberts S, Murphy CL, Brockbank SM, et al. The identification of differentially expressed microRNA in osteoarthritic tissue that modulate the production of TNF-alpha and MMP13. Osteoarthritis Cartilage. 2009;17:464–72.

42.

Zhang Z, Yang J, Yan W, Li Y, Shen Z, Asahara T. Pretreatment of cardiac stem cells with exosomes derived from mesenchymal stem cells enhances myocardial repair. J Am Heart Assoc. 2016;5:e002856.

43.

Liang YC, Wu YP, Li XD, Chen SH, Ye XJ, Xue XY, et al. TNF-α-induced exosomal miR-146a mediates mesenchymal stem cell-dependent suppression of urethral stricture. J Cell Physiol. 2019;234:23243–55.

44.

Pers YM, Ruiz M, Noël D, Jorgensen C. Mesenchymal stem cells for the management of inflammatory in osteoarthritis: state of the art and perspectives. Osteoarthritis Cartilage. 2015;23:2027–35.

45.

Roman-Blas JA, Jimenez SA. NF-kappaB as a potential therapeutic target in osteoarthritis and rheumatoid arthritis. Osteoarthritis Cartilage. 2006;14:839–48.

46.

van Buul GM, Villafuertes E, Bos PK, Waarsing JH, Kops N, Narcisi R, et al. Mesenchymal stem cells secrete factors that inhibit inflammatory processes in short-term osteoarthritic synovium and cartilage explant culture. Osteoarthritis Cartilage. 2012;20:1186–96.

47.

Tang J, Cui W, Song F, Zhai C, Hu H, Zuo Q, et al. Effects of mesenchymal stem cells on interleukin-1beta-treated chondrocytes and cartilage in a rat osteoarthritic model. Mol Med Rep. 2015;12:1753–60.

48.

Tofiño-Vian M, Guillén MI, Pérez Del Caz MD, Silvestre A, Alcaraz MJ. Microvesicles from human adipose tissue-derived mesenchymal stem cells as a new protective strategy in osteoarthritic chondrocytes. Cell Physiol Biochem. 2018;47:11–25.
Acknowledgement
This study was supported by the National Research Foundation Grant (NRF-2019M3E5D1A02070861) of the Korea government.
Ethics declarations
Conflict of Interest
The authors declare no conflict of interest.
Ethics statement
The study has no ethical issues to declare.
Additional information
Publisher's Note
Springer Nature remains neutral with regard to jurisdictional claims in published maps and institutional affiliations.
Electronic supplementary material
Below is the link to the electronic supplementary material.
Anti-inflammatory effect of MSC-derived exosomes primed with various factors. Exosomes isolated from MSCs were unprimed or primed with IL-1β, Poly I:C, IFN-γ, or TNF-α all at 10 μg/mL for 24 h. SW982 cells were treated with IL-1β (10 ng/mL) and TNF-α (25 ng/mL) for 24 h in the presence of each of the MSC-derived exosomes as indicated. mRNA levels of selected pro-inflammatory cytokines (IL-1b, IL-6, and MCP-1) were examined via RT-qPCR analysis. Values are normalized by that of GAPDH and presented as mean ± SD from three independent experiments (n = 3). #/*p < 0.05, ##/**p < 0.01, and ###/***p < 0.001 by one-way ANOVA for five treatment groups (Unprimed-Exo, IL-1β-Exo, poly I:C-Exo, IFN-γ-Exo, and TNF-α-Exo) versus untreated control (#) or versus IL-1β and TNF-α groups (*)
About this article
Cite this article
Kim, M., Shin, D.I., Choi, B.H. et al. Exosomes from IL-1β-Primed Mesenchymal Stem Cells Inhibited IL-1β- and TNF-α-Mediated Inflammatory Responses in Osteoarthritic SW982 Cells. Tissue Eng Regen Med (2021). https://doi.org/10.1007/s13770-020-00324-x
Received:

Revised:

Accepted:

Published:
Keywords
Exosome

MSCs

Priming

Anti-inflammation

Osteoarthritis

MicroRNA