Abstract
Background:
Mannitol increases blood–brain barrier permeability and can improve the efficiency of systemically administered stem cells by facilitating stem cell entry from the periphery into the injured brain. The aim of this study was to elucidate the neuroprotective effects of a combination of mannitol pretreatment and stem cell transplantation on stroke-induced neural injury.
Methods:
The experimental rats were randomly assigned to three groups 24 h after middle cerebral artery occlusion and reperfusion. One group received intravenous (IV) injections of phosphate-buffered saline (vehicle), another group received IV injections of human adipose-derived stem cells (hADSCs), and the last group received IV injections of hADSCs 10 min after IV mannitol injections. Neurobehavioral functions and infarct volume were compared. Immunohistochemistry (IHC) analyses were performed using antibodies against ionized calcium binding adapter-1 (IBA-1), rat endothelial antigen-1 (RECA-1), and bromodeoxyuridine/doublecortin (BrdU/DCX).
Results:
PKH-26 labeling revealed no difference in the number of stem cells that had migrated into the injured brain, and hADSC transplantation did not improve the infarct volume. However, neurobehavioral functions improved in the mannitol group. IHC showed higher numbers of RECA-1-positive cells in the peri-infarcted brain and BrdU-/DCX-colocalized cells in the subventricular zone in the mannitol group. IBA-1-positive cell number decreased in the hADSC-only and mannitol-pretreatment groups compared with the vehicle group even though there was no difference between the former two groups.
Conclusion:
Combinatorial treatment with mannitol and hADSC transplantation may have better therapeutic potential than hADSC monotherapy for ischemic stroke.
This is a preview of subscription content, log in to check access.
Access options
Buy single article
Instant access to the full article PDF.
US$ 39.95
Price includes VAT for USA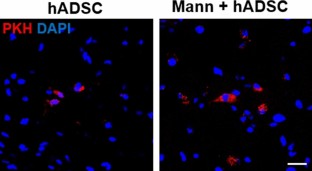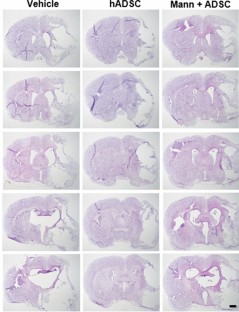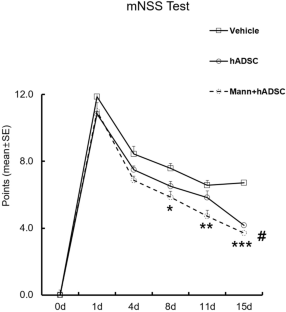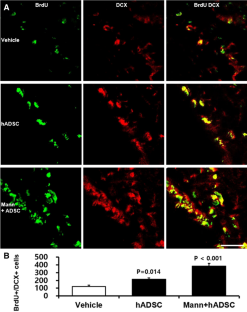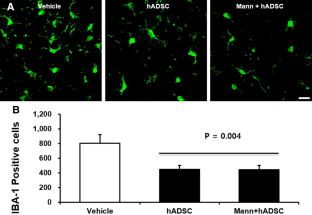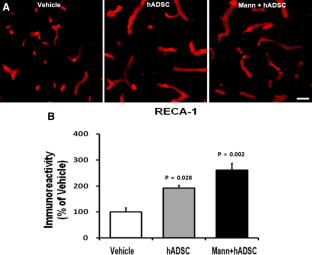 References
1.

Feigin VL, Forouzanfar MH, Krishnamurthi R, Mensah GA, Connor M, Benneth DA, et al. Global and regional burden of stroke during 1990–2010: findings from the Global Burden of Disease Study 2010. Lancet. 2014;383:245–54.

2.

Norrving B, Kissela B. The global burden of stroke and need for a continuum of care. Neurology. 2013;80:S5–12.

3.

Ovbiagele B, Goldstein LB, Higashida RT, Howard VJ, Johnston SC, Khavjou OA, et al. Forecasting the future of stroke in the United States: a policy statement from the American Heart Association and American Stroke Association. Stroke. 2013;44:2361–75.

4.

Nogueira RG, Jadhav AP, Haussen DC, Bonafe A, Budzik RF, Bhuva P, et al. Thrombectomy 6 to 24 hours after stroke with a mismatch between deficit and infarct. N Engl J Med. 2018;378:11–21.

5.

Powers WJ, Rabinstein AA, Ackerson T, Adeoye OM, Bambakidis NC, Becker K, et al. Guidelines for the early management of patients with acute ischemic stroke: 2019 update to the 2018 guidelines for the early management of acute ischemic stroke: a guideline for healthcare professionals from the American Heart Association/American Stroke Association. Stroke. 2019;50:e344–418.

6.

Powers WJ, Rabinstein AA, Ackerson T, Adeoye OM, Bambakidis NC, Becker K, et al. 2018 guidelines for the early management of patients with acute ischemic stroke: a guideline for healthcare professionals from the American Heart Association/American Stroke Association. Stroke. 2018;49:e46–110.

7.

Minassian A, Green C, Diedenhofen M, Vogel S, Hess S, Stoeber M, et al. Human neural stem cell induced functional network stabilization after cortical stroke: a longitudinal resting-state FMRI study in mice. Front Cell Neurosci. 2020;14:86.

8.

Gonzales-Portillo GS, Sanberg PR, Franzblau M, Gonzales-Portillo C, Diamandis T, Staples M, et al. Mannitol-enhanced delivery of stem cells and their growth factors across the blood-brain barrier. Cell Transplant. 2014;23:531–9.

9.

Choi C, Kim HM, Shon J, Park J, Kim HT, Kang SH, et al. The combination of mannitol and temozolomide increases the effectiveness of stem cell treatment in a chronic stroke model. Cytotherapy. 2018;20:820–9.

10.

Kalemci O, Aydin HE, Kizmazoglu C, Kaya I, Yilmaz H, Arda NM. Effects of quercetin and mannitol on erythropoietin levels in rats following acute severe traumatic brain injury. J Korean Neurosurg Soc. 2017;60:355–61.

11.

Ikeda M, Bhattacharjee AK, Kondoh T, Nagashima T, Tamaki N. Synergistic effect of cold mannitol and Na(+)/Ca(2+) exchange blocker on blood-brain barrier opening. Biochem Biophys Res Commun. 2002;291:669–74.

12.

Bhasin A, Kumaran SS, Bhatia R, Mohanty S, Padma Srivastava MVP. Safety and feasibility of autologous mesenchymal stem cell transplantation in chronic stroke in Indian patients. A four-year follow up. J Stem Cells Regen Med. 2017;13:14–9.

13.

Schrepfer S, Deuse T, Reichenspurner H, Fischbein MP, Robbins RC, Pelletier MP. Stem cell transplantation: the lung barrier. Transplant Proc. 2007;39:573–6.

14.

Youn SW, Jung KH, Chu K, Lee JY, Lee ST, Bahn JJ, et al. Feasibility and safety of intra-arterial pericyte progenitor cell delivery following mannitol-induced transient blood-brain barrier opening in a canine model. Cell Transplant. 2015;24:1469–79.

15.

Nau R, Sörgel F, Eiffert H. Penetration of drugs through the blood-cerebrospinal fluid/blood-brain barrier for treatment of central nervous system infections. Clin Microbiol Rev. 2010;23:858–83.

16.

Wang M, Etu J, Joshi S. Enhanced disruption of the blood brain barrier by intracarotid mannitol injection during transient cerebral hypoperfusion in rabbits. J Neurosurg Anesthesiol. 2007;19:249–56.

17.

Borlongan CV, Hadman M, Sanberg CD, Sanberg PR. Central nervous system entry of peripherally injected umbilical cord blood cells is not required for neuroprotection in stroke. Stroke. 2004;35:2385–9.

18.

Chen J, Li Y, Wang L, Zhang Z, Lu D, Lu M, et al. Therapeutic benefit of intravenous administration of bone marrow stromal cells after cerebral ischemia in rats. Stroke. 2001;32:1005–11.

19.

Hur JW, Cho TH, Park DH, Lee JB, Park JY, Chung YG. Intrathecal transplantation of autologous adipose-derived mesenchymal stem cells for treating spinal cord injury: a human trial. J Spinal Cord Med. 2016;39:655–64.

20.

Lim CY, Keun KI, Choi JJ, Lee HJ, Park SH, Lee WS, et al. BDNF enhancement of neuronal differentiation with adipose-derived stem cells (ADSCs). Tissue Eng Regen Med. 2008;5:764–71.

21.

Lee JY, Kim HS, Kim SH, Kim HS, Cho BP. Combination of human mesenchymal stem cells and repetitive transcranial magnetic stimulation enhances neurological recovery of 6-hydroxydopamine model of Parkinsonian's disease. Tissue Eng Regen Med. 2020;17:67–80.

22.

Sharath SS, Ramu J, Nair SV, Iyer S, Mony U, Rangasamy J. Human adipose tissue derivatives as a potent native biomaterial for tissue regenerative therapies. Tissue Eng Regen Med. 2020;17:123–40.

23.

Kwon SK, Song JJ, Cho CG, Park SW. Regeneration of facial nerve using mesenchymal stem cells in facial nerve palsy animal model. Tissue Eng Regen Med. 2009;6:300–6.

24.

Chan TM, Harn HJ, Lin HP, Chiu SC, Lin PC, Wang HI, et al. The use of ADSCs as a treatment for chronic stroke. Cell Transplant. 2014;23:541–7.

25.

Ryu S, Lee JM, Bae CA, Moon CE, Cho KO. Therapeutic efficacy of neuregulin 1-expressing human adipose-derived mesenchymal stem cells for ischemic stroke. PLoS One. 2019;14:e0222587.

26.

Fang Z, Yang Q, Xiong W, Li G, Xiao J, Guo F, et al. Neurogenic differentiation of murine adipose derived stem cells transfected with EGFP in vitro. J Huazhong Univ Sci Technolog Med Sci. 2010;30:75–80.

27.

Gutiérrez-Fernandez M, Rodríguez-Frutos B, Ramos-Cejudo J, Vallejo-Cremades MT, Fuentes B, Cerdán S, et al. Effects of intravenous administration of allogenic bone marrow- and adipose tissue-derived mesenchymal stem cells on functional recovery and brain repair markers in experimental ischemic stroke. Stem Cell Res Ther. 2013;4:11.

28.

Park D, Yang G, Bae DK, Lee SH, Yang YH, Kyung J, et al. Human adipose tissue-derived mesenchymal stem cells improve cognitive function and physical activity in ageing mice. J Neurosci Res. 2013;91:660–70.

29.

Karaoz E, Tepekoy F, Yilmaz I, Subasi C, Kabatas S. Reduction of inflammation and enhancement of motility after pancreatic islet derived stem cell transplantation following spinal cord injury. J Korean Neurosurg Soc. 2019;62:153–65.

30.

Oh SH, Jeong YW, Choi W, Noh JE, Lee S, Kim HS, et al. Multimodal therapeutic effects of neural precursor cells derived from human-induced pluripotent stem cells through episomal plasmid-based reprogramming in a rodent model of ischemic stroke. Stem Cells Int. 2020;2020:4061516.

31.

Stoll G, Jander S, Schroeter M. Inflammation and glial responses in ischemic brain lesions. Prog Neurobiol. 1998;56:149–71.

32.

Yilmaz N, Dulgar H, Kiymaz N, Yilmaz C, Gudu BO, Demir I. Activity of mannitol and hypertonic saline therapy on the oxidant and antioxidant system during the acute term after traumatic brain injury in the rats. Brain Res. 2007;1164:132–5.

33.

Tajiri N, Lee JY, Acosta S, Sanberg PR, Borlongan CV. Breaking the blood-brain barrier with mannitol to aid stem cell therapeutics in the chronic stroke brain. Cell Transplant. 2016;25:1453–60.

34.

Jeong SK, Choi I, Jeon SR. Current status and future strategies to treat spinal cord injury with adult stem cells. J Korean Neurosurg Soc. 2020;63:153–62.

35.

Yasuhara T, Hara K, Maki M, Xu L, Yu G, Ali MM, et al. Mannitol facilitates neurotrophic factor up-regulation and behavioural recovery in neonatal hypoxic-ischaemic rats with human umbilical cord blood grafts. J Cell Mol Med. 2010;14:914–21.

36.

Cosolo WC, Martinello P, Louis WJ, Christophidis N. Blood-brain barrier disruption using mannitol: time course and electron microscopy studies. Am J Physiol. 1989;256:R443–7.
Acknowledgements
This study was supported in part by grants from Korea University (K1913911, K2008071) and the Basic Science Research Program through the National Research Foundation of Korea (NRF) funded by the Ministry of Science, ICT & Future Planning (2013R1A1A2057994). The funding bodies did not play any role in the design, collection, analysis, or interpretation of the data; in the writing of the manuscript; or in the decision to submit the manuscript for publication.
Ethics declarations
Conflict of interest
Authors declare there is no conflict of interest with the manuscript.
Ethical statement
Animal studies were performed after receiving approval of the Institutional Animal Care and Use Committee (IACUC) in Korea University (IACUC approval No. KUIACUC-20140709-3).
Additional information
Publisher's Note
Springer Nature remains neutral with regard to jurisdictional claims in published maps and institutional affiliations.
About this article
Cite this article
Lee, S., Kang, H., Kim, J. et al. Mannitol Augments the Effects of Systemical Stem Cell Transplantation without Increasing Cell Migration in a Stroke Animal Model. Tissue Eng Regen Med (2020). https://doi.org/10.1007/s13770-020-00293-1
Received:

Revised:

Accepted:

Published:
Keywords
Ischemic stroke

Mannitol

Human adipose-derived stem cells

Combination

Pretreatment