Abstract
Background:
Due to adipose-derived stem cells (ASCs) being easy to obtain, their rapid proliferation rate, and their multidirectional differentiation capabilities, they have been widely used in the field of regenerative medicine. With the progress of decellularized adipose tissue (DAT) and adipose tissue engineering research, the role of DAT in promoting angiogenesis has gradually been emphasized.
Methods:
We examined the biological characteristics and biosafety of DAT and evaluated the stem cell maintenance ability and promotion of growth factor secretion through conducting in vitro and in vivo studies.
Results
The tested ASCs showed high rat:es of proliferation and adhered well to DAT. The expression levels of essential genes for cell stem maintenance, including OCT4, SOX2, and Nanog were low at 2–24 h and much higher at 48 and 96 h. The Adipogenic expression level of markers for ASCs proliferation including PPARγ, C/EPBα, and LPL increased from 2 to 96 h. Co-culture of ASCs and DAT increased the secretion of local growth factors, such as VEGF, PDGF-bb, bFGF, HGF, EGF, and FDGF-bb, and secretion gradually increased from 0 to 48 h. A model of full-thickness skin defects on the back of nude mice was established, and the co-culture of ASCs and DAT showed the best in vivo treatment effect.
Conclusion:
The application of DAT promotes wound healing, and DAT combined with ASCs may be a promising material in adipose tissue engineering and regenerative medicine.
This is a preview of subscription content, log in to check access.
Access options
Buy single article
Instant access to the full article PDF.
US$ 39.95
Tax calculation will be finalised during checkout.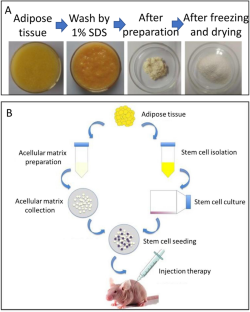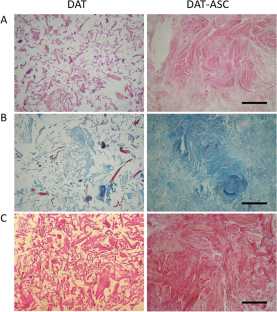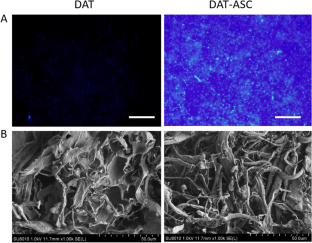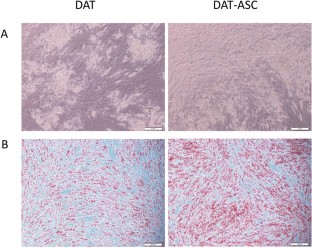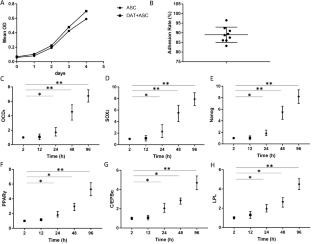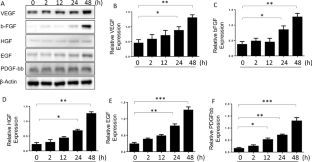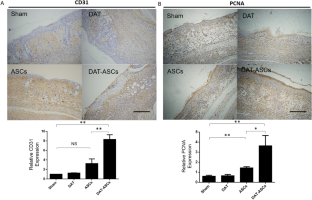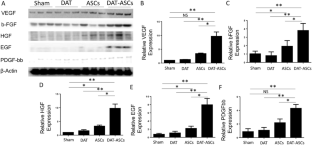 References
1.

Sen CK, Gordillo GM, Roy S, Kirsner R, Lambert L, Hunt TK, et al. Human skin wounds: a major and snowballing threat to public health and the economy. Wound Repair Regen. 2009;17:763–71.

2.

Shabbir A, Cox A, Rodriguez-Menocal L, Salgado M, Van Badiavas E. Mesenchymal stem cell exosomes induce proliferation and migration of normal and chronic wound fibroblasts, and enhance angiogenesis in vitro. Stem Cells Dev. 2015;24:1635–47.

3.

Zuk PA, Zhu M, Ashjian P, De Ugarte DA, Huang JI, Mizuno H, et al. Human adipose tissue is a source of multipotent stem cells. Mol Biol Cell. 2002;13:4279–95.

4.

Zuk PA. The adipose-derived stem cell: looking back and looking ahead. Mol Biol Cell. 2010;21:1783–7.

5.

Cheng H, Kimura K, Peter AK, Cui L, Ouyang K, Shen T, et al. Loss of enigma homolog protein results in dilated cardiomyopathy. Circ Res. 2010;107:348–56.

6.

Armentano I, Fortunati E, Mattioli S, Rescignano N, Kenny JM. Biodegradable composite scaffolds: a strategy to modulate stem cell behaviour. Recent Pat Drug Deliv Formul. 2013;7:9–17.

7.

Furth ME, Atala A, Van Dyke ME. Smart biomaterials design for tissue engineering and regenerative medicine. Biomaterials. 2007;28:5068–73.

8.

Irminger-Finger I, Kargul J, Laurent GJ. Extra cellular matrix a modular soil for stem cells. Int J Biochem Cell Biol. 2016;81:164.

9.

Omidi E, Fuetterer L, Reza Mousavi S, Armstrong RC, Flynn LE, Samani A. Characterization and assessment of hyperelastic and elastic properties of decellularized human adipose tissues. J Biomech. 2014;47:3657–63.

10.

Zhang Q, Johnson JA, Dunne LW, Chen Y, Iyyanki T, Wu Y, et al. Decellularized skin/adipose tissue flap matrix for engineering vascularized composite soft tissue flaps. Acta Biomater. 2016;35:166–84.

11.

Yang G, Rothrauff BB, Lin H, Yu S, Tuan RS. Tendon-derived extracellular matrix enhances transforming growth factor-β3-induced tenogenic differentiation of human adipose-derived stem cells. Tissue Eng Part A. 2017;23:166–76.

12.

Adam Young D, Bajaj V, Christman KL. Award winner for outstanding research in the PhD category, 2014 society for biomaterials annual meeting and exposition, denver, colorado, April 16–19, 2014: decellularized adipose matrix hydrogels stimulate in vivo neovascularization and adipose formation. J Biomed Mater Res Part A. 2014;102:1641–51.

13.

Ting AC, Craft RO, Palmer JA, Gerrand YW, Penington AJ, Morrison WA, et al. The adipogenic potential of various extracellular matrices under the influence of an angiogenic growth factor combination in a mouse tissue engineering chamber. Acta Biomater. 2014;10:1907–18.

14.

Han TT, Toutounji S, Amsden BG, Flynn LE. Adipose-derived stromal cells mediate in vivo adipogenesis, angiogenesis and inflammation in decellularized adipose tissue bioscaffolds. Biomaterials. 2015;72:125–37.

15.

Zeng Y, Zhu L, Han Q, Liu W, Mao X, Li Y, et al. Preformed gelatin microcryogels as injectable cell carriers for enhanced skin wound healing. Acta Biomater. 2015;25:291–303.

16.

Dong Y, Cui M, Qu J, Wang X, Kwon SH, Barrera J, et al. Conformable hyaluronic acid hydrogel delivers adipose-derived stem cells and promotes regeneration of burn injury. Acta Biomater. 2020;108:56–66.

17.

Yamamoto D, Tada K, Suganuma S, Hayashi K, Nakajima T, Nakada M, et al. Differentiated adipose-derived stem cells promote peripheral nerve regeneration. Muscle Nerve. 2020;62:119–27.

18.

Shafaei H, Kalarestaghi H. Adipose-derived stem cells: An appropriate selection for osteogenic differentiation. J Cell Physiol. 2020. https://doi.org/10.1002/jcp.29681.

19.

Heo JS, Choi Y, Kim HS, Kim HO. Comparison of molecular profiles of human mesenchymal stem cells derived from bone marrow, umbilical cord blood, placenta and adipose tissue. Int J Mol Med. 2016;37:115–25.

20.

Huang SJ, Fu RH, Shyu WC, Liu SP, Jong GP, Chiu YW, et al. Adipose-derived stem cells: isolation, characterization, and differentiation potential. Cell Transplant. 2013;22:701–9.

21.

Morissette Martin P, Shridhar A, Yu C, Brown C, Flynn LE. Decellularized adipose tissue scaffolds for soft tissue regeneration and adipose-derived stem/stromal cell delivery. In: Bunnell BA, Gimble JM, editors. Adipose-derived stem cells: methods and protocols. New York: Springer New York; 2018. p. 53–71.

22.

Mohiuddin OA, Campbell B, Poche JN, Thomas-Porch C, Hayes DA, Bunnell BA, et al. Decellularized adipose tissue: biochemical composition, in vivo analysis and potential clinical applications. In: Turksen K, editor. Cell biology and translational medicine, volume 6: stem cells: their heterogeneity, niche and regenerative potential. Cham: Springer; 2020. p. 57–70.

23.

Choi YC, Choi JS, Kim BS, Kim JD, Yoon HI, Cho YW. Decellularized extracellular matrix derived from porcine adipose tissue as a xenogeneic biomaterial for tissue engineering. Tissue Eng Part C Methods. 2012;18:866–76.

24.

Yu C, Kornmuller A, Brown C, Hoare T, Flynn LE. Decellularized adipose tissue microcarriers as a dynamic culture platform for human adipose-derived stem/stromal cell expansion. Biomaterials. 2017;120:66–80.

25.

Zhao Y, Fan J, Bai S. Biocompatibility of injectable hydrogel from decellularized human adipose tissue in vitro and in vivo. J Biomed Mater Res B Appl Biomater. 2019;107:1684–94.

26.

Mohiuddin OA, Campbell B, Poche JN, Ma M, Rogers E, Gaupp D, et al. Decellularized adipose tissue hydrogel promotes bone regeneration in critical-sized mouse femoral defect model. Front Bioeng Biotechnol. 2019;7:211.

27.

Dong J, Yu M, Zhang Y, Yin Y, Tian W. Recent developments and clinical potential on decellularized adipose tissue. J Biomed Mater Res A. 2018;106:2563–74.

28.

Zhang S, Lu Q, Cao T, Toh WS. Adipose tissue and extracellular matrix development by injectable decellularized adipose matrix loaded with basic fibroblast growth factor. Plast Reconstr Surg. 2016;137:1171–80.

29.

Yu C, Bianco J, Brown C, Fuetterer L, Watkins JF, Samani A, et al. Porous decellularized adipose tissue foams for soft tissue regeneration. Biomaterials. 2013;34:3290–302.

30.

Turner AE, Yu C, Bianco J, Watkins JF, Flynn LE. The performance of decellularized adipose tissue microcarriers as an inductive substrate for human adipose-derived stem cells. Biomaterials. 2012;33:4490–9.

31.

Thomas-Porch C, Li J, Zanata F, Martin EC, Pashos N, Genemaras K, et al. Comparative proteomic analyses of human adipose extracellular matrices decellularized using alternative procedures. J Biomed Mater Res A. 2018;106:2481–93.

32.

Porzionato A, Stocco E, Barbon S, Grandi F, Macchi V, De Caro R. Tissue-engineered grafts from human decellularized extracellular matrices: a systematic review and future perspectives. Int J Mol Sci. 2018;19:4117.
Acknowledgements
This work was supported by the Natural Science Foundation of China (No. 81601694).
Ethics declarations
Conflict of interest
The authors declare that there is no conflict of interest.
Ethical statement
All animal care and experiments were performed in accordance with the guidelines of Institutional Animal Care and Use Committee of Chinese Academy of Medical Sciences.
Additional information
Publisher's Note
Springer Nature remains neutral with regard to jurisdictional claims in published maps and institutional affiliations.
Lin Zhu and Zhifei Liu share the corresponding relationship equally.
About this article
Cite this article
Xia, Z., Guo, X., Yu, N. et al. The Application of Decellularized Adipose Tissue Promotes Wound Healing. Tissue Eng Regen Med (2020). https://doi.org/10.1007/s13770-020-00286-0
Received:

Revised:

Accepted:

Published:
Keywords
Decellularized adipose tissue

Adipose-derived stem cells

Nude mouse model

Wound healing