Abstract
Background:
Mesenchymal stem cells (MSCs) can be used for a wide range of therapeutic applications because of not only their differentiation potential but also their ability to secrete bioactive factors. Recently, several studies have suggested the use of human embryonic stem cell-derived MSCs (hE-MSCs) as an alternative for regenerative cellular therapy due to mass production of MSCs from a single donor.
Methods:
We generated hE-MSCs from embryonic stem cell lines, SNUhES3, and analyzed immune properties of these cells. Also, we evaluated the in-vivo therapeutic potential of hE-MSCs in immune-mediated inflammatory skin disease.
Results:
The cell showed the suppression of immunity associated with allogenic peripheral blood mononuclear cells in mixed lymphocyte response assay. We also detected that cytokines and growth factor related to the immune response were secreted from these cells. To assessed the in-vivo therapeutic potential of hE-MSCs in immune-mediated inflammatory skin disease, we used imiquimod (IMQ)-induced skin psoriasis mouse model. The score of clinical skin was significantly reduced in the hE-MSCs treated group compared with control IMQ group. In histological analysis, the IMQ-induced epidermal thickness was significantly decreased by hE-MSCs treatment. It was correlated with splenomegaly induced by IMQ which was also improved in the hE-MSCs. Moreover, IMQ-induced inflammatory cytokines; Th1 cytokines (TNF-α, IFN-α, IFN-γ,and IL-27) and Th17 cytokines (IL-17A and IL-23), in the serum and skin showed marked inhibition by hE-MSCs.
Conclusion:
These results suggested that hE-MSCs have a potency of immune modulation in psoriasis, which might be the key factor for the improved psoriasis.
Access options
Buy single article
Instant access to the full article PDF.
USD 39.95
Price excludes VAT (USA)
Tax calculation will be finalised during checkout.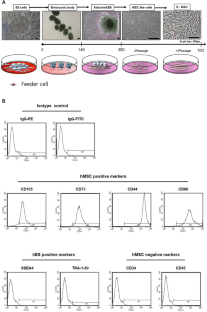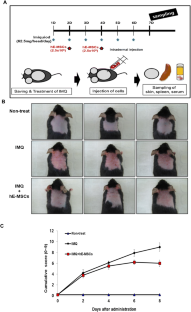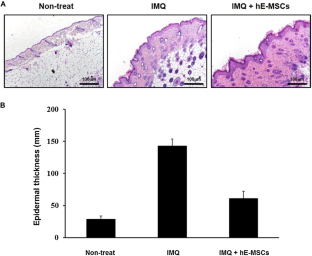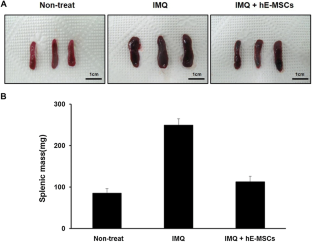 References
Lee EJ, Lee HN, Kang HJ, Kim KH, Hur J, Cho HJ, et al. Novel embryoid body-based method to derive mesenchymal stem cells from human embryonic stem cells. Tissue Eng Part A. 2010;16:705–15.

Lee EJ, Xu L, Kim GH, Kang SK, Lee SW, Park SH, et al. Regeneration of peripheral nerves by transplanted sphere of human mesenchymal stem cells derived from embryonic stem cells. Biomaterials. 2012;33:7039–46.

Sabat R, Philipp S, Höflich C, Kreutzer S, Wallace E, Asadullah K, et al. Immunopathogenesis of psoriasis. Exp Dermatol. 2007;16:779–98.

Cai Y, Fleming C, Yan J. New insights of T cells in the pathogenesis of psoriasis. Cell Mol Immunol. 2012;9:302–9.

Gudjonsson JE, Johnston A, Sigmundsdottir H, Valdimarsson H. Immunopathogenic mechanisms in psoriasis. Clin Exp Immunol. 2004;135:1–8.

Elloso MM, Gomez-Angelats M, Fourie AM. Targeting the Th17 pathway in psoriasis. J Leukoc Biol. 2012;92:1187–97.

van der Fits L, Mourits S, Voerman JS, Kant M, Boon L, Laman JD, et al. Imiquimod-induced psoriasis-like skin inflammation in mice is mediated via the IL-23/IL-17 axis. J Immunol. 2009;182:5836–45.

Kim CH, Kim JY, Lee AY. Therapeutic and immunomodulatory effects of glucosamine in combination with low-dose cyclosporine A in a murine model of imiquimod-induced psoriasis. Eur J Pharmacol. 2015;756:43–51.

Frenzel DF, Borkner L, Scheurmann J, Singh K, Scharffetter-Kochanek K, Weiss JM. Osteopontin deficiency affects imiquimod-induced psoriasis-like murine skin inflammation and lymphocyte distribution in skin, draining lymph nodes and spleen. Exp Dermatol. 2015;24:305–7.

Guarneri F, Guarneri C, Guarneri B. Biologic agents in the treatment of psoriasis. Recent Pat Inflamm Allergy Drug Discov. 2007;1:193–217.

Mansouri Y, Goldenberg G. Biologic safety in psoriasis: review of long-term safety data. J Clin Aesthet Dermatol. 2015;8:30–42.

Han G. In the pipeline for psoriasis: upcoming psoriasis treatments. Cutis. 2014;93:E12–6.

Menter A, Korman NJ, Elmets CA, Feldman SR, Gelfand JM, Gordon KB, et al. Guidelines of care for the management of psoriasis and psoriatic arthritis Section 4. Guidelines of care for the management and treatment of psoriasis with traditional systemic agents. J Am Acad Dermatol. 2009;61:451–85.

Prockop DJ, Oh JY. Mesenchymal stem/stromal cells (MSCs): role as guardians of inflammation. Mol Ther. 2012;20:14–20.

Lee EJ, Choi EK, Kang SK, Kim GH, Park JY, Kang HJ, et al. N-cadherin determines individual variations in the therapeutic efficacy of human umbilical cord blood-derived mesenchymal stem cells in a rat model of myocardial infarction. Mol Ther. 2012;20:155–67.

Duffy MM, Ritter T, Ceredig R, Griffin MD. Mesenchymal stem cell effects on T-cell effector pathways. Stem Cell Res Ther. 2011;2:34.
Acknowledgements
This work was supported by National Research Foundation of Korea (NRF) Grant funded by the Korea government (MSIP) (No. 2015R1C1A2A01055746) and supported by Basic Science Research Program through the National Research Foundation of Korea (NRF) funded by the Ministry of Education (NRF-2016R1D1A1B03934099), Republic of Korea.
Ethics declarations
Conflict of interest
The authors have no financial conflicts of interest.
Ethical statement
The study protocol was approved by the institutional review board of Seoul National University Hospital (IRB No. H-1410-093-619). The animal studies were performed after receiving approval of the Institutional Animal Care and Use Committee (IACUC) in Dongguk University Hospital (IACUC approval No. 201606150).
About this article
Cite this article
Kim, CH., Lim, CY., Lee, JH. et al. Human Embryonic Stem Cells-Derived Mesenchymal Stem Cells Reduce the Symptom of Psoriasis in Imiquimod-Induced Skin Model. Tissue Eng Regen Med 16, 93–102 (2019). https://doi.org/10.1007/s13770-018-0165-3
Received:

Revised:

Accepted:

Published:

Issue Date:

DOI: https://doi.org/10.1007/s13770-018-0165-3
Keywords
hE-MSCs

Skin psoriasis

Immune modulation

Psoriasis