Abstract
BACKGROUND:
Current dilemma working with surgically-induced OA (osteoarthritis) model include inconsistent pathological state due to various influence from surrounding tissues. On the contrary, biochemical induction of OA using collagenase II has several advantageous points in a sense that it does not involve surgery to induce model and the extent of induced cartilage degeneration is almost uniform. However, concerns still exists because biochemical OA model induce abrupt destruction of cartilage tissues through enzymatic digestion in a short period of time, and this might accompany systemic inflammatory response, which is rather a trait of RA (rheumatoid arthritis) than being a trait of OA.
METHODS:
To clear the concern about the systemic inflammatory response that might be caused by abrupt destruction of cartilage tissue, OA was induced to only one leg of an animal and the other leg was examined to confirm the presence of systemic degenerative effect.
RESULTS:
Although the cartilage tissues were rapidly degenerated during short period of time upon biochemical induction of OA, they did not accompanied with RA-like process based on the histology data showing degeneration of articular cartilage occurred only in the collagenase-injected knee joint. Scoring evaluation data indicated that the cartilage tissues in non-induced joint remained intact. Neutrophil count transiently increase between day 8 and day 16, and there were no significant change in other complete blood count profile showing a characteristics of OA disease.
CONCLUSION:
These study shows that biochemically induced cartilage degeneration truly represented uniform and reliable OA state.
This is a preview of subscription content,
to check access.
Access this article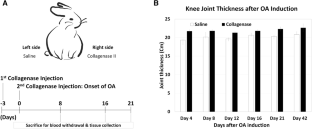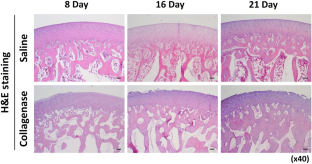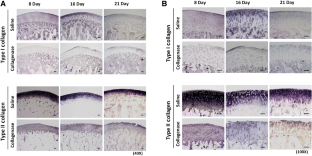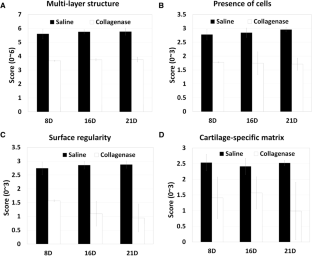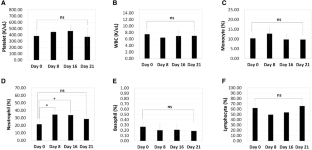 References
van der Kraan P, Matta C, Mobasheri A. Age-related alterations in signaling pathways in articular chondrocytes: implications for the pathogenesis and progression of osteoarthritis: a mini-review. Gerontology. 2017;63:29–35.

Van den Berg WB. Osteoarthritis year 2010 in review: pathomechanisms. Osteoarthritis Cartilage. 2011;19:338–41.

Kikuchi T, Sakuta T, Yamaguchi T. Intra-articular injection of collagenase induces experimental osteoarthritis in mature rabbits. Osteoarthritis Cartilage. 1998;6:177–86.

Little CB, Smith MM. Animal models of osteoarthritis. Curr Rheumatol Rev. 2008;4:175–82.

Lampropoulou-Adamidou K, Lelovas P, Karadimas EV, Liakou C, Triantafillopoulos IK, Dontas I, et al. Useful animal models for the research of osteoarthritis. Eur J Orthop Surg Traumatol. 2014;24:263–71.

Hong HS, Son Y. Substance P ameliorates collagen II-induced arthritis in mice via suppression of the inflammatory response. Biochem Biophys Res Commun. 2014;453:179–84.

Appleton CT, Usmani SE, Pest MA, Pitelka V, Mort JS, Beier F. Reduction in disease progression by inhibition of transforming growth factor alpha-CCL2 signaling in experimental posttraumatic osteoarthritis. Arthritis Rheumatol. 2015;67:2691–701.

Nam S, Cho W, Cho H, Lee J, Lee E, Son Y. Xiphoid process-derived chondrocytes: a novel cell source for elastic cartilage regeneration. Stem Cells Transl Med. 2014;3:1381–91.

Usmani SE, Ulici V, Pest MA, Hill TL, Welch ID, Beier F. Context-specific protection of TGFalpha null mice from osteoarthritis. Sci Rep. 2016;6:30434.

Sun MM, Beier F, Pest MA. Recent developments in emerging therapeutic targets of osteoarthritis. Curr Opin Rheumatol. 2017;29:96–102.

Pest MA, Pest CA, Bellini MR, Feng Q, Beier F. Deletion of dual specificity phosphatase 1 does not predispose mice to increased spontaneous osteoarthritis. PLoS One. 2015;10:e0142822.

Poulet B, Beier F. Targeting oxidative stress to reduce osteoarthritis. Arthritis Res Ther. 2016;18:32.

Bay-Jansen AC, Henrotin Y, Karsdal M, Mobasheri A. The need for predictive, prognostic, objective and complementary blood-based biomarkers in osteoarthritis (OA). EBioMedicine. 2016;7:4–6.

Mobasheri A, Henrotin Y. Biomarkers of (osteo)arthritis. Biomarkers. 2015;20:513–8.

Mobasheri A, Batt M. An update on the pathophysiology of osteoarthritis. Ann Phys Rehabil Med. 2016;59:333–9.

Musumeci G, Castrogiovanni P, Trovato FM, Weinberg AM, Al-Wasiyah MK, Alquhtani MH, et al. Biomarkers of chondrocyte apoptosis and autophagy in osteoarthritis. Int J Mol Sci. 2015;16:20560–75.

Murphy CL. HIF-2alpha: a mediator of osteoarthritis? Cell Res. 2010;20:977–9.

Hur JE, Baek YH, Ryu SR, Lee JD, Choi DY, Park DS. Efficacy and mechanism of action of KHBJ-9B, a new herbal medicine, and its major compound triterpenoids in human cartilage culture and in a rabbit model of collagenase-induced osteoarthritis. Int Immunopharmacol. 2009;9:230–40.

Roland L, Drillich M, Iwersen M. Hematology as a diagnostic tool in bovine medicine. J Vet Diagn Invest. 2014;26:592–8.

Park SK. An interpretation on abnormal finding of CBC. Korean J Med. 2010;78:531–9.

von Vietinghoff S, Ley K. Homeostatic regulation of blood neutrophil counts. J Immunol. 2008;181:5183–8.

Wakitani S, Goto T, Pineda SJ, Young RG, Mansour JM, Caplan AI, et al. Mesenchymal cell-based repair of large, full-thickness defects of articular cartilage. J Bone Joint Surg Am. 1994;76:579–92.

Rahmati M, Mobasheri A, Mozafari M. Inflammatory mediators in osteoarthritis: a critical review of the state-of-the-art, current prospect, and future challenges. Bone. 2016;85:81–90.
Acknowledgements
This work was supported by National Research Foundation of Korea (2017R1A2A1A05001330, NRF-2015R1D1A1A01059702, and NRF-2015R1A2A2A04006172).
Ethics declarations
Conflict of interest
The authors declare that there are no potential conflicts of interest.
Ethical approval
All animal studies were reviewed and approved by the Institutional Animal Care and Use Committee of the Kyung Hee University (KHMC-IACUC-2017-19) and all procedures including animal care were performed according to NIH guideline.
About this article
Cite this article
Park, J., Lee, J., Kim, KI. et al. A Pathophysiological Validation of Collagenase II-Induced Biochemical Osteoarthritis Animal Model in Rabbit. Tissue Eng Regen Med 15, 437–444 (2018). https://doi.org/10.1007/s13770-018-0124-z
Received:

Revised:

Accepted:

Published:

Issue Date:

DOI: https://doi.org/10.1007/s13770-018-0124-z
Keywords