Abstract
Lactobacilli have been used to treat many gastrointestinal disorders. But the outcome of Lactobacilli are strain specific. The strain Lactobacillus Fermentum, HY01, (LF-HY01) has a good performance in the environment of gastrointestinal tract. In this study, the aim is to investigate the preventive effects of LF-HY01 against activated-carbon-induced constipation in mice. Mice are randomized into four groups. Normal group was fed a normal diet, model group also has the same with activated carbon treatment, and low and high concentration groups are treated with LF-HY01. We have determined many indexes such as body weight, water content in faeces, defecation conditions, the level of small intestinal villi damages and levels of various neurotransmitters in serum, including motilin (MTL), gastrin (GT), endothelin (ET), somatostatin (SST), acetylcholinesterase (AchE), substance P (SP), and vasoactive intestinal peptide (VIP). LF-HY01 has no significant difference in each group, but it can significantly improve water content of faeces, defecation time of first black stool and activated carbon propelling rate in small intestine as compared of model group. Furthermore, LF-HY01 can effectively prevent small intestinal villi damages, which is less than that of model group. Moreover, LF-HY01 has the consistency to increase the levels of MTL, GT, ET, AchE, SP and VIP, and LF-HY01 can also have the ability to reduce the level of SST. These results suggest that Lactobacillus Fermentum, HY01, has a great impact in enhancing intestinal peristalsis ability and has the ability to prevent from activated-carbon-induced constipation in mice.
Access options
Buy single article
Instant access to the full article PDF.
US$ 39.95
Tax calculation will be finalised during checkout.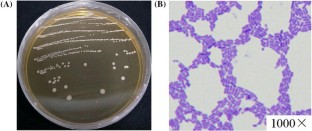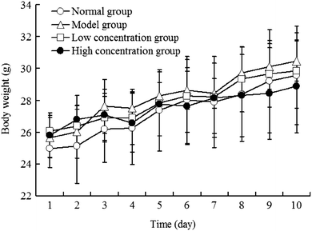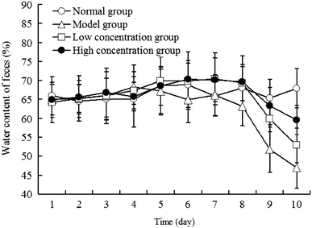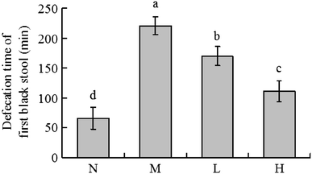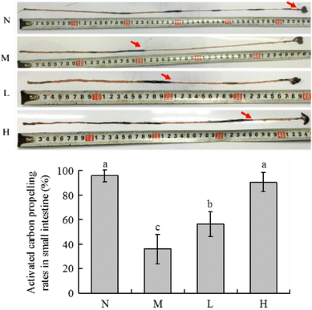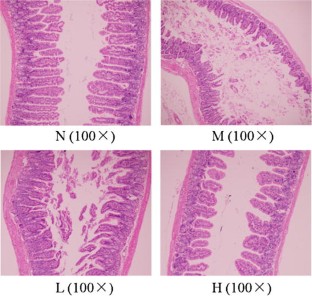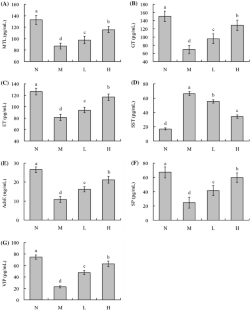 References
1.

Ge X, Zhao W, Ding C, Tian H, Xu L, Wang H, Ni L, Jiang J, Gong J, Zhu W, Zhu M, Li N (2017) Potential role of fecal microbiota from patients with slow transit constipation in the regulation of gastrointestinal motility. Sci Rep 7:441

2.

Suares NC, Ford AC (2011) Prevalence of, and risk factors for, chronic idiopathic constipation in the community: systematic review and meta-analysis. Am J Gastroenterol 106:1582–1591

3.

Cirillo C, Capasso R (2015) Constipation and botanical medicines: an overview. Phytother Res 29:1488–1493

4.

He CL, Burgart L, Wang L, Pemberton J, Young-Fadok T, Szurszewski J, Farrugia G (2000) Decreased interstitial cell of cajal volume in patients with slow-transit constipation. Gastroenterology 118:14–21

5.

Lebedeva MA, Karganov MY, Kozlova YA, Gotovtceva GN, Tumurov DA, Gudkova AA, Guekht AB (2014) The role of autonomic dysfunction in pathogenesis of irritable bowel syndrome. Patol Fiziol Eksp Ter 3:37–44

6.

Bassotti G, Villanacci V, Nascimbeni R, Asteria CR, Fisogni S, Nesi G, Legrenzi L, Mariano M, Tonelli F, Morelli A, Salermi B (2007) Colonic neuropathological aspects in patients with intractable constipation due to obstructed defecation. Mod Pathol 20:367–374

7.

Patel BA, Fidalgo S, Wang C, Parmar L, Mandona K, Panossian A, Flint MS, Ranson RN, Saffrey MJ, Yeoman MS (2017) The TNF-alpha antagonist etanercept reverses age-related decreases in colonic SERT expression and faecal output in mice. Sci Rep 7:42754

8.

Rivera LR, Poole DP, Thacker M, Furness JB (2011) The involvement of nitric oxide synthase neurons in enteric neuropathies. Neurogastroenterol Motil 23:980–988

9.

Allescher HD, Kurjak M, Huber A, Trudrung P, Schusdziarra V (1996) Regulation of VIP release from rat enteric nerve terminals: evidence for a stimulatory effect of NO. Am J Physiol 271:G568–G574

10.

Holzer P, Lippe IT (1984) Substance P can contract the longitudinal muscle of the guinea-pig small intestine by releasing intracellular calcium. Br J Pharmacol 82:259–267

11.

Mishra AK, Dubey V, Ghosh AR (2016) Obesity: an overview of possible role(s) of gut hormones, lipid sensing and gut microbiota. Metabolism 65:48–65

12.

Duary RK, Bhausaheb MA, Batish VK, Grover S (2012) Anti-inflammatory and immunomodulatory efficacy of indigenous probiotic Lactobacillus plantarum Lp91 in colitis mouse model. Mol Biol Rep 39:4765–4775

13.

Xia LP, Jiang Y (2016) Effect of probiotics in prevention and treatment of allergic diseases in children. Chin J Contemp Pediatr 18:189–194

14.

Sun Q, Shi Y, Wang F, Han D, Lei H, Zhao Y, Sun Q (2015) Study on the effects of microencapsulated Lactobacillus delbrueckii on the mouse intestinal flora. J Microencapsul 32:669–676

15.

Sharma R, Kapila R, Kapasiya M, Saliganti V, Dass G, Kapila S (2014) Dietary supplementation of milk fermented with probiotic Lactobacillus fermentum enhances systemic immune response and antioxidant capacity in aging mice. Nutr Res 34:968–981

16.

Suo H, Zhao X, Qian Y, Li G, Liu Z, Xie J, Li J (2014) Therapeutic effect of activated carbon-induced constipation mice with Lactobacillus fermentum Suo on treatment. Int J Mol Sci 15:21875–21895

17.

Wang IK, Lai HC, Yu CJ, Liang CC, Chang CT, Kuo HL, Yang YF, Lin CC, Lin HH, Liu YL, Chang YC, Wu YY, Chen CH, Li CY, Chuang FR, Huang CC, Lin CH, Lin HC (2012) Real-time PCR analysis of the intestinal microbiotas in peritoneal dialysis patients. Appl Environ Microbiol 78:1107–1112

18.

Wang H, Gong J, Wang W, Long Y, Fu X, Fu Y, Qian W, Hou X (2014) Are there any different effects of Bifidobacterium, Lactobacillus and Streptococcus on intestinal sensation, barrier function and intestinal immunity in PI-IBS mouse model. PLoS ONE 9:e90153

19.

Kannampalli P, Pochiraju S, Chichlowski M, Berg BM, Rudolph C, Bruckert M, Miranda A, Sengupta JN (2014) Probiotic Lactobacillus rhamnosus GG (LGG) and prebiotic prevent neonatal inflammation-induced visceral hypersensitivity in adult rats. Neurogastroenterol Motil 26:1694–1704

20.

MacLaren R, Kuhl DA, Gervasio JM, Brown RO, Dickerson RN, Livingston TN, Swift K, Headley S, Kudsk KA, Lima JJ (2000) Sequential single doses of cisapride, erythromycin, and metoclopramide in critically ill patients intolerant to enteral nutrition: a randomized, placebo-controlled, crossover study. Crit Care Med 28:438–444

21.

Tsilingiri K, Barbosa T, Penna G, Caprioli F, Sonzogni A, Viale G, Rescigno M (2012) Probiotic and postbiotic activity in health and disease: comparison on a novel polarised ex-vivo organ culture model. Gut 61:1007–1015

22.

Zhang H, Xu H, Wang J, Menghebilige Sun T, Li H, Guo M (2008) A survey on chemical and microbiological composition of kurut, naturally fermented yak milk from Qinghai in China. Food Control 19:578–586

23.

Pan J, Yang Y, Zhu X, Yeung LW, Taniyasu S, Miyake Y, Falandysz J, Yamashita N (2013) Altitudinal distributions of PCDD/Fs, dioxin-like PCBs and PCNs in soil and yak samples from Wolong high mountain area, eastern Tibet-Qinghai Plateau, China. Sci Total Environ 444:102–109

24.

Cui GX, Yuan F, Degen AA, Liu SM, Zhou JW, Shang ZH, Ding LM, Mi JD, Wei XH, Long RJ (2016) Composition of the milk of yaks raised at different altitudes on the Qinghai-Tibetan Plateau. Int Dairy J 59:29–35

25.

Luo F, Feng S, Sun Q, Xiang W, Zhao J, Zhang J, Yang Z (2011) Screening for bacteriocin-producing lactic acid bacteria from kurut, a traditional naturally-fermented yak milk from Qinghai-Tibet Plateau. Food Control 22:50–53

26.

Ding W, Shi C, Chen M, Zhou J, Long R, Guo X (2017) Screening for lactic acid bacteria in traditional fermented Tibetan yak milk and evaluating their probiotic and cholesterol-lowering potentials in rats fed a high-cholesterol diet. J Funct Foods 32:324–332

27.

Di W, Zhang L, Wang S, Yi H, Han X, Fan R, Zhang Y (2017) Physicochemical characterization and antitumour activity of exopolysaccharides produced by Lactobacillus casei SB27 from yak milk. Carbohydr Polym. https://doi.org/10.1016/j.carbpol.2017.03.018

28.

Tuo Y, Zhang L, Han X, Du M, Zhang Y, Yi H, Zhang W, Jiao Y (2011) In vitro assessment of immunomodulating activity of the two lactobacillus strains isolated from traditional fermented milk. World J Microbiol Biotechnol 27:505–511

29.

Wan Y, Corman S, Gao X, Liu S, Patel H, Mody R (2015) Economic burden of opioid-induced constipation among long-term opioid users with noncancer pain. Am Health Drug Benefits 8:93–102

30.

Ojetti V, Ianiro G, Tortora A, D'Angelo G, Di Rienzo TA, Bibbo S, Migneco A, Gasbarrini A (2014) The effect of Lactobacillus reuteri supplementation in adults with chronic functional constipation: a randomized, double-blind, placebo-controlled trial. J Gastrointes Liver Dis 23:387–391

31.

Ao X, Zhang X, Zhang X, Shi L, Zhao K, Yu J, Dong L, Cao Y, Cai Y (2012) Identification of lactic acid bacteria in traditional fermented yak milk and evaluation of their application in fermented milk products. J Dairy Sci 95:1073–1084

32.

Presti I, D'Orazio G, Labra M, B La Ferla, Mezzasalma V, Bizzaro G, Giardina S, Michelotti A, Tursi F, Vassallo M, Di Gennaro P (2015) Evaluation of the probiotic properties of new Lactobacillus and Bifidobacterium strains and their in vitro effect. Appl Microbiol Biot 99:5613–5626

33.

Barrangou R, Altermann E, Hutkins R, Cano R, Klaenhammer TR (2003) Functional and comparative genomic analyses of an operon involved in fructooligosaccharide utilization by Lactobacillus acidophilus. Proc Natl Acad Sci USA 100:8957–8962

34.

Nishida S, Michinaka A, Nakashima K, Iino H, Fujii T (2008) Evaluation of the probiotic potential of Lactobacillus paracasei KW3110 based on in vitro tests and oral administration tests in healthy adults. J Gen Appl Microbiol 54:267–276

35.

Nakajima K, Oda E, Kanda E (2016) Latent association between low urine pH and low body weight in an apparently healthy population. Scand J Clin Lab Investig 76:58

36.

Blevins JE, Baskin DG (2015) Translational and therapeutic potential of oxytocin as an anti-obesity strategy: insights from rodents, nonhuman primates and humans. Physiol Behav 152:438–449

37.

Zhou XD, Liu AP, Zhang M, Guo HY, Ren FZ (2012) Laxative Effect of Lactobacillus paracasei subsp.paracasei LC-01 in Constipated Mice. J Dairy Sci Technol 35:7–11

38.

McGee RG, Bakens A, Wiley K, Riordan SM, Webster AC (2011) Probiotics for patients with hepatic encephalopathy. Cochrane Database Syst Rev 11:CD008716

39.

Li G, Wang Q, Qian Y, Zhou Y, Wang R, Zhao X (2014) Component analysis of pu-erh and its anti-constipation effects. Mol Med Rep 9:2003

40.

Qian Y, Suo H, DU M, Zhao X, Li J, Li GJ, Song JL, Liu Z (2015) Preventive effect of Lee on activated carbon-induced constipation in mice. Exp Ther Med 9:272–278

41.

Feighner SD, Tan CP, McKee KK, Palyha OC, Hreniuk DL, Pong SS, Austin CP, Figueroa D, MacNeil D, Cascieri MA, Nargund R, Bakshi R, Abramovitz M, Stocco R, Kargman S, ONeill G, Van Der Ploeg LHT, Evans J, Patchett AA, Smith RG, Howard AD (1991) Receptor for motilin identified in the human gastrointestinal system. Science 284:2184–2188

42.

Sjölund K, Ekman R, Akre F, Lindner P (1986) Motilin in chronic idiopathic constipation. Scand J Gastroenterol 21:914–918

43.

Soudah HC, Hasler WL, Owyang C (1991) Effect of octreotide on intestinal motility and bacterial overgrowth in scleroderma. N Engl J Med 325:1461–1467

44.

Furchgott RF, Zawadzki JV (1980) The obligatory role of endothelial cells in the relaxation of arterial smooth muscle by acetylcholine. Nature 288:373–376

45.

Chen FX, Yu YB, Yuan XM, Zuo XL, Li YQ (2012) Brain-derived neurotrophic factor enhances the contraction of intestinal muscle strips induced by SP and CGRP in mice. Regul Pept 178:86–94

46.

Zhao X, Suo HY, Qian Y, Li GJ, Liu ZH, Li J (2015) Therapeutic effects of Lactobacillus casei Qian treatment in activated carbon-induced constipated mice. Mol Med Rep 12:3191–3199

47.

Cartagena E, Alva M, Montanaro S, Bardón A (2015) Natural sesquiterpene lactones enhance oxacillin and gentamicin effectiveness against pathogenic bacteria without antibacterial effects on beneficial lactobacilli. Phytother Res 29:695–700
Acknowledgment
This work was partly supported by Special Fund for Agro-scientific Research in the Public Interest (201303085), the People's Livelihood Science and technology innovation Foundation of Chongqing (cstc2015shmszx80021), Fundamental Research Funds for the Central Universities (XDJK2016A018), Research Project of Sichuan Key Laboratory of Bamboo Diseases and Insect Pests Prevention and Control, and Resource Development (17ZZ016), the Construction Program of Chongqing Collaborative Innovation Center for Functional Food, Chongqing University of Education (167001) and Chongqing Research Program of Basic Research and Frontier Technology (cstc2016jcyjA0339), China.
About this article
Cite this article
Chen, X., Song, JL., Hu, Q. et al. Positive enhancement of Lactobacillus fermentum HY01 on intestinal movements of mice having constipation. Appl Biol Chem 61, 39–48 (2018). https://doi.org/10.1007/s13765-017-0327-3
Received:

Accepted:

Published:

Issue Date:
Keywords
Activated carbon

Constipation

Intestinal movement

Lactobacillus Fermentum

Traditional fermented yak yoghurt