Abstract
Thirty commercial vinegars were investigated in order to study the factors influencing antioxidant capacity. Total phenols and flavonoids, 1,1-diphenyl-2-picrylhydrazyl, and 2,2′-Azino-bis(3-ethylbenzthiazoline-6-sulfonic acid) radical scavenging capacity, nitrite scavenging capacity, reducing capacity, and lipid oxidation inhibition method were used. Factor and k-means cluster analysis partitioned the vinegars into three clusters according to antioxidant capacity. Traditional balsamic vinegar (TBV), balsamic vinegar, and tomato vinegar were grouped as cluster 2, which contained the highest antioxidant capacity. Especially, TBV exhibited the highest antioxidant capacity. In high-performance liquid chromatography analysis, cluster 2 also had a high content of polyphenols and 5-hydroxymethylfurfural. These compounds presented positive correlation with the antioxidant capacity. The results suggested that polyphenols and 5-hydroxymethylfurfural were important factors influencing the antioxidant capacity of vinegars.
Access options
Buy single article
Instant access to the full article PDF.
US$ 39.95
Tax calculation will be finalised during checkout.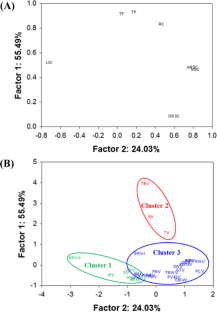 References
Anese M, Suman M (2013) Mitigation strategies of furan and 5-hydroxymethylfurfural in food. Food Res Int 51:257–264

Antonelli A, Chinnici F, Masino F (2004) Heat-induced chemical modification of grape must as related to its concentration during the production of traditional balsamic vinegar: a preliminary approach. Food Chem 88:63–68

Bae WS, Roh SW (2005) A study on k-means clustering. Korean Commun Stat 12:497–508

Bourgeois JF, Barja F (2009) The history of vinegar and of its acetification systems. Arch Sci 62:146–160

Capanoglu E, Beekwilder J, Boyacioglu D, Hall R, de Vos R (2008) Changes in antioxidant and metabolite profiles during production of tomato paste. J Agric Food Chem 56:964–973

Capuano E, Fogliano V (2011) Acrylamide and 5-hydroxymethylfurfural (HMF): a review on metabolism, toxicity, occurrence in food and mitigation strategies. Lebensm Wiss Technol 44:793–810

Cejudo Bastante MJ, Duran Guerrero E, Castro Mejias R, Natera Marin R, Rodriguez Dodero MC, Barroso CG (2010) Study of the polyphenolic composition and antioxidant activity of new sherry vinegar-derived products by maceration with fruits. J Agric Food Chem 58:11814–11820

Chen H, Zuo Y, Deng Y (2001) Separation and determination of flavonoids and other phenolic compounds in cranberry juice by high-performance liquid chromatography. J Chromatogr A 913:387–395

Chen YH, Hsieh PC, Mau JL, Sheu CS (2011) Antioxidant properties and mutagenicity of Pinus morrisonicola and its vinegar preparation. Lebensm Wiss Technol 44:1477–1481

Chen PX, Tang Y, Zhang B, Liu R, Marcone MF, Li X, Tsao R (2014) 5-Hydroxymethyl-2-furfural (HMF) and derivatives formed during acid hydrolysis of conjugated and bound phenolics in plant foods and the effects on phenolic content and antioxidant capacity. J Agric Food Chem 62:4754–4761

Cirlini M, Caligiani A, Palla G (2009) Formation of glucose and fructose acetates during maturation and ageing of balsamic vinegars. Food Chem 112:51–56

Cocchi M, Ferrari G, Manzini D, Marchetti A, Sighinolfi S (2007) Study of the monosaccharides and furfurals evolution during the preparation of cooked grape musts for Aceto Balsamico Tradizionale production. J Food Eng 79:1438–1444

Elias RJ, Kellerby SS, Decker EA (2008) Antioxidant activity of proteins and peptides. Crit Rev Food Sci Nutr 48:430–441

Fernández-Mar MI, Mateos R, García-Parrilla MC, Puertas B, Cantos-Villar E (2012) Bioactive compounds in wine: resveratrol, hydroxytyrosol and melatonin: a review. Food Chem 130:797–813

Giudici P (1993) Gluconic acid: genuineness criterion of the traditional balsamic vinegar. Ind Bevande 22:123–125

Gülçin İ (2012) Antioxidant activity of food constituents: an overview. Arch Toxicol 86:345–391

Heinrikson RL, Meridith SC (1984) Amino acid analysis by reverse-phase high-performance liquid chromatography: precolumn derivatization with phenylisothiocyanate. Anal Biochem 136:65–74

Herbert P, Barros P, Ratola N, Alves A (2000) HPLC determination of amino acids in musts and port wine using OPA/FMOC derivatives. J Food Sci 65:1130–1133

Hernández JL, González-Castro MJ, Alba IN, de la Cruz Garcia C (1998) High-performance liquid chromatographic determination of mono- and oligosaccharides in vegetables with evaporative light-scattering detection and refractive index detection. J Chromatogr Sci 36:293–298

Huang D, Ou B, Prior RL (2005) The chemistry behind antioxidant capacity assays. J Agric Food Chem 53:1841–1856

Jeong CH, Choi GN, Kim JH, Kwak JH, Kang ST, Choi SG, Heo HJ (2009) In vitro antioxidant properties and phenolic composition of Korean commercial vinegars. Food Sci Biotechnol 18:1258–1262

Joseph FJ, William CB, Barry JB, Rolph EA (2010) Multivariate data analysis. Pearson, Upper Saddle River

Kang YH, Park YK, Lee GD (1996) The nitrite scavenging and electron donating ability of phenolic compounds. Korean J Food Sci Technol 28:232–239

Kim JG (2004) Changes of components affecting organoleptic quality during the ripening of traditional Korean soybean paste (amino nitrogen, amino acids, and color). J Food Hyg Saf 19:31–37

Lee SH, Kim JC (2009) A comparative analysis for main components change during natural fermentation of persimmon vinegar. J Korean Soc Food Sci Nutr 38:372–376

Lee SM, Rhee SH, Park KY, Yu RN (1997) Effects of carrot on the stability of vitamin C in (green-yellow) vegetable juices. J Korean Soc Food Sci Nutr 26:582–587

Liatis S, Grammatikou S, Poulia K-A, Perrea D, Makrilakis K, Diakoumopoulou E, Katsilambros N (2010) Vinegar reduces postprandial hyperglycaemia in patients with type II diabetes when added to a high, but not to a low, glycaemic index meal. Eur J Clin Nutr 64:727–732

Lim EJ, Cha GH (2010) Study on manufacturing of vinegar through literatures of the Joseon dynasty. Korean J Food Cult 25:680–707

Lim JA, Na YS, Beak SH (2004) Antioxidative activity and nitrite scavenging ability of ethanol extract from Phyllostachys bambusoides. Korean J Food Sci Technol 36:306–310

Liu RH, Hotchkiss JH (1995) Potential genotoxicity of chronically elevated nitric oxide: a review. Mutat Res-Rev Genet 339:73–89

Liu F, Cao X, Wang H, Liao X (2010) Changes of tomato powder qualities during storage. Powder Technol 204:159–166

Llames CR, Fontaine J (1994) Determination of amino acids in feeds: collaborative study. J AOAC Int 77:1362–1402

Masino F, Chinnici F, Franchini GC, Ulrici A, Antonelli A (2005) A study of the relationships among acidity, sugar and furanic compound concentrations in set of casks for Aceto Balsamico Tradizionale of Reggio Emilia by multivariate techniques. Food Chem 92:673–679

Moreno MIN, Isla MI, Sampietro AR, Vattuone MA (2000) Comparison of the free radical-scavenging activity of propolis from several regions of Argentina. J Ethnopharmacol 71:109–114

Nakao C, Yamada E, Fukaya M, Tayama K, Tsukamoto Y, Sato Y (2001) Effect of acetate on glycogen replenishment in liver and skeletal muscles after exhaustive swimming in rats. Scand J Med Sci Sports 11:33–37

Nishidai S, Nakamura Y, Torikai K, Yamamoto M, Ishihara N, Mori H, Ohigashi H (2000) Kurosu, a traditional vinegar produced from unpolished rice, suppresses lipid peroxidation in vitro and in mouse skin. Biosci Biotechnol Biochem 64:1909–1914

Parcell S (2002) Sulfur in human nutrition and applications in medicine. Altern Med Rev 7:22–44

Pharmaceutical Society of Japan (2000) Standard method of analysis for hygienic chemists. Pharmaceutical Society of Japan, Tokyo

Rice-Evans CA, Miller NJ, Paganga G (1996) Structure-antioxidant activity relationships of flavonoids and phenolic acids. Free Radic Biol Med 20:933–956

Sakakibara S, Murakami R, Takahashi M, Fushimi T, Murohara T, Kishi M, Kajimoto Y, Kitakaze M, Kaga T (2010) Vinegar intake enhances flow-mediated vasodilatation via upregulation of endothelial nitric oxide synthase activity. Biosci Biotechnol Biochem 74:1055–1061

Sakanaka S, Ishihara Y (2008) Comparison of antioxidant properties of persimmon vinegar and some other commercial vinegars in radical-scavenging assays and on lipid oxidation in tuna homogenates. Food Chem 107:739–744

Sánchez-Moreno C, Larrauri JA, Saura-Calixto F (1999) Free radical scavenging capacity and inhibition of lipid oxidation of wines, grape juices and related polyphenolic constituents. Food Res Int 32:407–412

Sengun IY, Karabiyikli S (2011) Importance of acetic acid bacteria in food industry. Food Control 22:647–656

Shimoji Y, Tamura Y, Nakamura Y, Nanda K, Nishidai S, Nishikawa Y, Ishijara N, Uenakai K, Ohigashi H (2002) Isolation and identification of DPPH radical scavenging compounds in Kurosu (Japanese unpolished rice vinegar). J Agric Food Chem 50:6501–6503

Sies H (1993) Strategies of antioxidant defense. Eur J Biochem 215:213–219

Solieri L, Giudici P (2008) Yeasts associated to traditional balsamic vinegar: ecological and technological features. Int J Food Microbiol 125:36–45

Stadtman ER, Levine RL (2003) Free radical-mediated oxidation of free amino acids and amino acid residues in proteins. Amino Acids 25:207–218

Sylvia SW (2009) Wine and grape vinegars. In: Solieri L, Giudici P (eds) Vinegars of the world. Springer, Milan, pp 145–156

Tagliazucchi D, Verzelloni E, Conte A (2010) Contribution of melanoidins to the antioxidant activity of traditional balsamic vinegar during aging. J Food Biochem 34:1061–1078

Tannenbaum SR, Wishnok JS, Leaf CD (1991) Inhibition of nitrosamine formation by ascorbic acid. Am J Clin Nutr 53:247S–250S

Tsikas D (2007) Analysis of nitrite and nitrate in biological fluids by assays based on the Griess reaction: appraisal of the Griess reaction in the l-arginine/nitric oxide area of research. J Chromatogr B 851:51–70

Verzelloni E, Tagliazucchi D, Conte A (2007) Relationship between the antioxidant properties and the phenolic and flavonoid content in traditional balsamic vinegar. Food Chem 105:564–571

Verzelloni E, Tagliazucchi D, Conte A (2010a) Changes in major antioxidant compounds during aging of traditional balsamic vinegar. J Food Biochem 34:152–171

Verzelloni E, Tagliazucchi D, Conte A (2010b) From balsamic to healthy: traditional balsamic vinegar melanoidins inhibit lipid peroxidation during simulated gastric digestion of meat. Food Chem Toxicol 48:2097–2102

Xu Q, Tao W, Ao Z (2007) Antioxidant activity of vinegar melanoidins. Food Chem 102:841–849

Yang SY, Hong CJ, Huang YH, Tsai SJ (2010) The effects of glycine transporter I inhibitor, N-methylglycine (sarcosine), on ketamine-induced alterations in sensorimotor gating and regional brain c-Fos expression in rats. Neurosci Lett 469:127–130

Zahedi Asl S, Ghasemi A, Azizi F (2008) Serum nitric oxide metabolites in subjects with metabolic syndrome. Clin Biochem 41:1342–1347

Zhao L, Chen J, Su J, Li L, Hu S, Li B, Zhang X, Xu Z, Chen T (2013) In vitro antioxidant and antiproliferative activities of 5-hydroxymethylfurfural. J Agric Food Chem 61:10604–10611

Zin ZM, Abdul-Hamid A, Osman A (2002) Antioxidative activity of extracts from Mengkudu (Morinda Citrifolia L.) root, fruit and leaf. Food Chem 78:227–231

Zoecklein BW, Fugelsang KC, Gump BH, Nury FS (1990) Production wine analysis. Van Nostrad Reinhold, New York
Acknowledgments
This work was supported by the Catholic University of Korea, Research Fund, 2016.
About this article
Cite this article
Yun, JH., Kim, YJ. & Koh, KH. Investigation into factors influencing antioxidant capacity of vinegars. Appl Biol Chem 59, 495–509 (2016). https://doi.org/10.1007/s13765-016-0185-4
Received:

Accepted:

Published:

Issue Date:
Keywords
Antioxidant capacity

Lipid oxidation inhibition

Polyphenols

Radical scavenging capacity

Vinegar