Abstract
2,6,6-Trimethylbicyclo[3.1.1]hept-2-ene (α-Pinene) is an organic compound of the terpene class found in the essential oil of many plants. In this study, the inhibitory effect of α-pinene on tumor invasion in highly metastatic MDA-MB-231 human breast cancer cells was evaluated. α-Pinene inhibited tumor necrosis factor (TNF)-α-induced invasiveness of MDA-MB-231 cells as revealed by three-dimensional spheroid invasion assay. Further analysis showed that α-pinene reduced TNFα-induced matrix metalloproteinase-9 gene promoter activation and mRNA expression in a dose-dependent manner. In addition, α-pinene treatment attenuated TNFα-induced nuclear factor κB (NF-κB) activation and NF-κB-dependent transcriptional activity. These results suggest that α-pinene has a significant effect on the inhibition of tumor invasion and may potentially be developed into an anti-metastatic drug.
Access options
Buy single article
Instant access to the full article PDF.
USD 39.95
Price excludes VAT (USA)
Tax calculation will be finalised during checkout.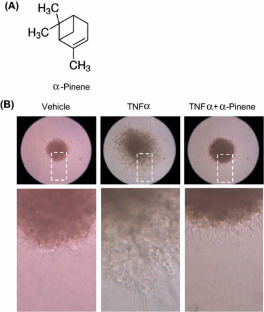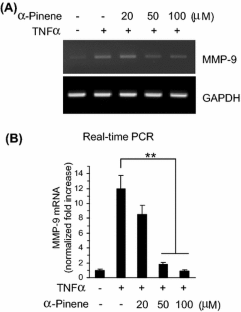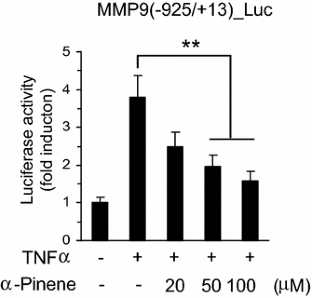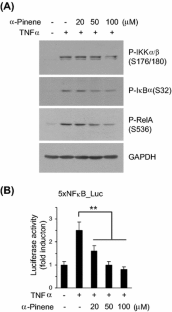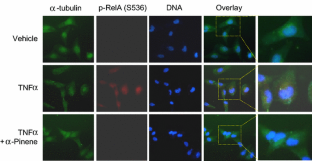 References
Balkwill F (2009) Tumour necrosis factor and cancer. Nat Rev Cancer 9:361–371

Balkwill FR, Capasso M, Hagemann T (2012) The tumor microenvironment at a glance. J Cell Sci 125:5591–5596

Barnes PJ, Karin M (1997) Nuclear factor-kappaB: a pivotal transcription factor in chronic inflammatory diseases. N Engl J Med 336:1066–1071

Chen W, Liu Y, Li M, Mao J, Zhang L, Huang R, Jin X, Ye L (2015) Anti-tumor effect of alpha-pinene on human hepatoma cell lines through inducing G2/M cell cycle arrest. J Pharmacol Sci 127:332–338

da Silva AC, Lopes PM, de Azevedo MM, Costa DC, Alviano CS, Alviano DS (2012) Biological activities of alpha-pinene and beta-pinene enantiomers. Molecules 17:6305–6316

Deryugina EI, Quigley JP (2006) Matrix metalloproteinases and tumor metastasis. Cancer Metastasis Rev 25:9–34

Downes CP, Carter AN (1991) Phosphoinositide 3-kinase: a new effector in signal transduction? Cell Signal 3:501–513

Friedl P, Alexander S (2011) Cancer invasion and the microenvironment: plasticity and reciprocity. Cell 147:992–1009

Han YP, Tuan TL, Hughes M, Wu H, Garner WL (2001) Transforming growth factor-beta-and tumor necrosis factor-alpha-mediated induction and proteolytic activation of MMP-9 in human skin. J Biol Chem 276:22341–22350

Jing H, Zhou X, Dong X, Cao J, Zhu H, Lou J, Hu Y, He Q, Yang B (2010) Abrogation of Akt signaling by Isobavachalcone contributes to its anti-proliferative effects towards human cancer cells. Cancer Lett 294:167–177

Joyce JA, Pollard JW (2009) Microenvironmental regulation of metastasis. Nat Rev Cancer 9:239–252

Lee YH, Jeon SH, Kim SH, Kim C, Lee SJ, Koh D, Lim Y, Ha K, Shin SY (2012) A new synthetic chalcone derivative, 2-hydroxy-3′,5,5′-trimethoxychalcone (DK-139), suppresses the Toll-like receptor 4-mediated inflammatory response through inhibition of the Akt/NF-kappaB pathway in BV2 microglial cells. Exp Mol Med 44:369–377

Lee MS, Koh D, Kim GS, Lee SE, Noh HJ, Kim SY, Lee YH, Lim Y, Shin SY (2015) 2-Hydroxy-3,4-naphthochalcone (2H-NC) inhibits TNFalpha-induced tumor invasion through the downregulation of NF-kappaB-mediated MMP-9 gene expression. Bioorg Med Chem Lett 25:128–132

Lin CC, Tseng HW, Hsieh HL, Lee CW, Wu CY, Cheng CY, Yang CM (2008) Tumor necrosis factor-[alpha] induces MMP-9 expression via p42/p44 MAPK, JNK, and nuclear factor-[kappa]B in A549 cells. Toxicol Appl Pharmacol 229:386–398

Madrid LV, Wang CY, Guttridge DC, Schottelius AJ, Baldwin AS Jr, Mayo MW (2000) Akt suppresses apoptosis by stimulating the transactivation potential of the RelA/p65 subunit of NF-kappaB. Mol Cell Biol 20:1626–1638

Madrid LV, Mayo MW, Reuther JY, Baldwin AS Jr (2001) Akt stimulates the transactivation potential of the RelA/p65 Subunit of NF-kappa B through utilization of the Ikappa B kinase and activation of the mitogen-activated protein kinase p38. J Biol Chem 276:18934–18940

Mercier B, Prost J, Prost M (2009) The essential oil of turpentine and its major volatile fraction (alpha- and beta-pinenes): a review. Int J Occup Med Environ Health 22:331–342

Ozes ON, Mayo LD, Gustin JA, Pfeffer SR, Pfeffer LM, Donner DB (1999) NF-kappaB activation by tumour necrosis factor requires the Akt serine-threonine kinase. Nature 401:82–85

Pikarsky E, Porat RM, Stein I, Abramovitch R, Amit S, Kasem S, Gutkovich-Pyest E, Urieli-Shoval S, Galun E, Ben-Neriah Y (2004) NF-kappaB functions as a tumour promoter in inflammation-associated cancer. Nature 431:461–466

Rao VH, Singh RK, Delimont DC, Finnell RH, Bridge JA, Neff JR, Garvin BP, Pickering DL, Sanger WG, Buehler BA, Schaefer GB (1999) Transcriptional regulation of MMP-9 expression in stromal cells of human giant cell tumor of bone by tumor necrosis factor-alpha. Int J Oncol 14:291–300

Sarbassov DD, Guertin DA, Ali SM, Sabatini DM (2005) Phosphorylation and regulation of Akt/PKB by the rictor-mTOR complex. Science 307:1098–1101

Shin SY, Kim JH, Baker A, Lim Y, Lee YH (2010) Transcription factor Egr-1 is essential for maximal matrix metalloproteinase-9 transcription by tumor necrosis factor alpha. Mol Cancer Res 8:507–519

Shin SY, Kim JH, Yoon H, Choi YK, Koh D, Lim Y, Lee YH (2013a) Novel antimitotic activity of 2-hydroxy-4-methoxy-2′,3′-benzochalcone (HymnPro) through the inhibition of tubulin polymerization. J Agric Food Chem 61:12588–12597

Shin SY, Lee JM, Lim Y, Lee YH (2013b) Transcriptional regulation of the growth-regulated oncogene alpha gene by early growth response protein-1 in response to tumor necrosis factor alpha stimulation. Biochim Biophys Acta 1829:1066–1074

Ura H, Bonfil RD, Reich R, Reddel R, Pfeifer A, Harris CC, Klein-Szanto AJ (1989) Expression of type IV collagenase and procollagen genes and its correlation with the tumorigenic, invasive, and metastatic abilities of oncogene-transformed human bronchial epithelial cells. Cancer Res 49:4615–4621

Van den Steen PE, Dubois B, Nelissen I, Rudd PM, Dwek RA, Opdenakker G (2002) Biochemistry and molecular biology of gelatinase B or matrix metalloproteinase-9 (MMP-9). Crit Rev Biochem Mol Biol 37:375–536
Acknowledgments
This study was supported by the Konkuk University research support program.
About this article
Cite this article
Kang, E., Lee, D.H., Jung, Y.J. et al. α-Pinene inhibits tumor invasion through downregulation of nuclear factor (NF)-κB-regulated matrix metalloproteinase-9 gene expression in MDA-MB-231 human breast cancer cells. Appl Biol Chem 59, 511–516 (2016). https://doi.org/10.1007/s13765-016-0175-6
Received:

Accepted:

Published:

Issue Date:

DOI: https://doi.org/10.1007/s13765-016-0175-6
Keywords
2,6,6-Trimethylbicyclo[3.1.1]hept-2-ene

Breast cancer

Matrix metalloproteinase-9

Nuclear factor kappa B

Tumor invasion

Tumor necrosis factor alpha