Abstract
The invasive potential of malignant tumor cells is critical for their metastasis. This study was undertaken to evaluate the anti-invasive activity of β-myrcene, a natural compound found in the essential oil from Pinus koraiensis cones (EOPC), in metastatic MDA-MB-231 human breast cancer cells. Among four major constituents that included α-pinene, β-myrcene, 3-carene, and d-limonene, β-myrcene showed the most potent inhibition of tumor necrosis factor-α (TNFα)-induced nuclear factor κB (NF-κB) activity. Pretreatment with β-myrcene suppressed TNFα-induced phosphorylation of inhibitor of κB kinase and NF-κB as well as matrix metalloproteinase-9 (MMP-9) gene expression in a dose-dependent fashion. Furthermore, β-myrcene inhibited TNFα-induced invasion of MDA-MB-231 cells as determined by three-dimensional spheroid invasion assays. These findings suggest that EOPC may promote anti-metastatic activity in breast cancer cells through its downregulation of NF-κB-mediated MMP-9 expression.
This is a preview of subscription content, log in to check access.
Access options
Buy single article
Instant access to the full article PDF.
US$ 39.95
Tax calculation will be finalised during checkout.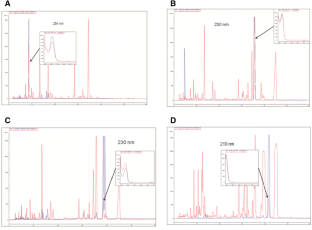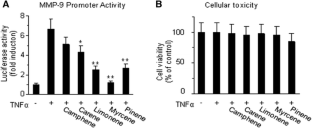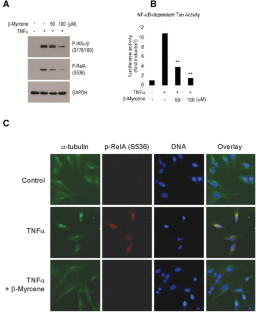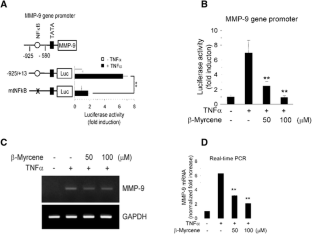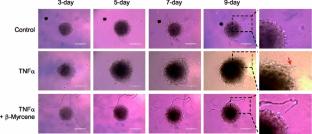 References
Balkwill F (2009) Tumour necrosis factor and cancer. Nat Rev Cancer 9:361–371

Deryugina EI, Quigley JP (2006) Matrix metalloproteinases and tumor metastasis. Cancer Metastasis Rev 25:9–34

Han YP, Tuan TL, Hughes M, Wu H, Garner WL (2001) Transforming growth factor-beta-and tumor necrosis factor-alpha-mediated induction and proteolytic activation of MMP-9 in human skin. J Biol Chem 276:22341–22350

Hong EJ, Na KJ, Choi IG, Choi KC, Jeung EB (2004) Antibacterial and antifungal effects of essential oils from coniferous trees. Biol Pharm Bull 27:863–866

Lee JH, Yang HY, Lee HS, Hong SK (2008) Chemical composition and antimicrobial activity of essential oil from cones of Pinus koraiensis. J Microbiol Biotechnol 18:497–502

Shin SY, Kim JH, Baker A, Lim Y, Lee YH (2010) Transcription factor Egr-1 is essential for maximal matrix metalloproteinase-9 transcription by tumor necrosis factor alpha. Mol Cancer Res 8:507–519

Shin SY, Hyun J, Lim Y, Lee YH (2011) 3′-Chloro-5,7-dimethoxyisoflavone inhibits TNF alpha-induced CXCL10 gene transcription by suppressing the NF-kappaB pathway in HCT116 human colon cancer cells. Int Immunopharmacol 11:2104–2111

Shin SY, Lee JM, Lim Y, Lee YH (2013a) Transcriptional regulation of the growth-regulated oncogene alpha gene by early growth response protein-1 in response to tumor necrosis factor alpha stimulation. Biochim Biophys Acta 1829:1066–1074

Shin SY, Lee KS, Choi YK, Lim HJ, Lee HG, Lim Y, Lee YH (2013b) The antipsychotic agent chlorpromazine induces autophagic cell death by inhibiting the Akt/mTOR pathway in human U-87MG glioma cells. Carcinogenesis 34:2080–2089

Van den Steen PE, Dubois B, Nelissen I, Rudd PM, Dwek RA, Opdenakker G (2002) Biochemistry and molecular biology of gelatinase B or matrix metalloproteinase-9 (MMP-9). Crit Rev Biochem Mol Biol 37:375–536
Acknowledgments
This paper was supported by Konkuk University in 2012.
About this article
Cite this article
Lee, JH., Lee, K., Lee, D.H. et al. Anti-invasive effect of β-myrcene, a component of the essential oil from Pinus koraiensis cones, in metastatic MDA-MB-231 human breast cancer cells. J Korean Soc Appl Biol Chem 58, 563–569 (2015). https://doi.org/10.1007/s13765-015-0081-3
Received:

Accepted:

Published:

Issue Date:
Keywords
Breast cancer

Essential oil

Invasion

Matrix metalloproteinase-9

Nuclear factor κB

Pinus koraiensis cone

β-Myrcene