Abstract
Man and the Biosphere Program (MaB) was established by UNESCO in the early 1970s to resolve the conflict between humans and nature. The biogeography representative was determined by UNESCO/MaB as one of the main criteria for registering an area as a biosphere reserve (BR). Therefore, countries require selecting appropriate areas for BRs to complete the criterion of representativeness of the global biogeography protection network. This study aimed to analyze the study process of biogeography representatives at the global and national levels based on the research objectives. The results revealed the necessity of combining the map of Iran's biogeography produced at the global level with the map of the macroecosystems of national production to identify the representative ecosystem units (REUs). The production of this map led to the identification of 112 REUs in the country. The compliance maps of BRs and REUs showed that 13 BRs of the country have covered only 23% of Iran's REUs. The results of the studies of biogeography provenances, biological hot spots and ecoregions led to the definition of 5 quantitative indicators for screening and prioritizing the country's REU. The description of this issue, which is very brief in the abstract, is given in the text of the article. A total of 18 REUs were specified with priority for selecting new BRs using identified indicators and Entropy Shannon VIKOR models. Based on the results, 27% of the REUs proposed can be covered by modifying existing BRs boundaries. All proposed BRs could select more than one REU. In addition, 15 REUs with about 17% of the country's area may be covered with the registration of seven new priority BRs.
This is a preview of subscription content,
to check access.
Access this article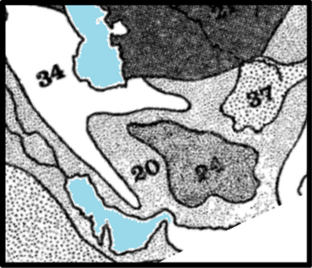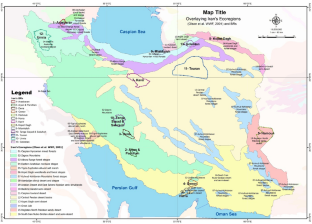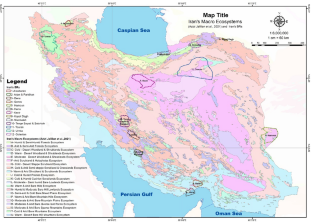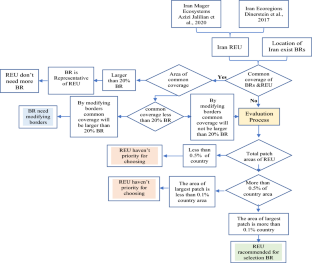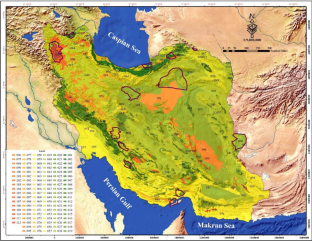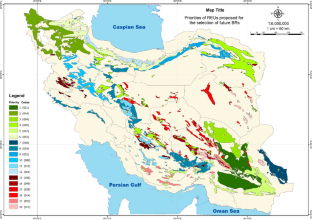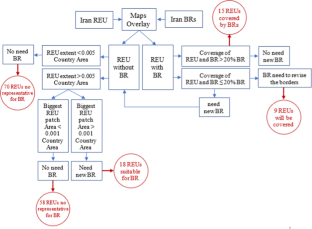 Similar content being viewed by others
Notes
World Network of Biosphere Reserves (WNBR).
References
Alborzimanesh M, Imani J, Danehkar A, Robati M, Alambeigi A (2021) An analytical survey of the adaptation of biosphere reserve zoning with the zoning of protected areas in Iran. J Sus Dev Env 2(3):1–19

Aycrigg JL, Davidson A, Svancara LK, Gergely KJ, McKerrow A, Scott JM (2013) Representation of ecological systems within the protected areas network of the continental United States. PLoS ONE 8(1):e54689. https://doi.org/10.1371/journal.pone.0054689

Azizi JM et al (2020) Anew ecosystem-based land classification of Iran for conservation goals. Environ Monit Assess. https://doi.org/10.1007/s10661-020-8145-1

Blasi C, Capotorti G, Copiz R, Guida D, Mollo B, Smiraglia D, Zavattero L (2014) Classification and mapping of the ecoregions of Italy. Plant Biosystems 3504:37–41. https://doi.org/10.1080/11263504.2014.985756

Blasi C, Capotorti G, AlósOrtí MM, Anzellotti I, Attorre F, Azzella MM, Caril E, Copiz R, Garfi V, Manes F, Marando F, Marchetti M, Mollo B, Zavattero L (2017) Ecosystem mapping for the implementation of the European biodiversity strategy at the national level: the case of Italy. Environ Sci Policy 78:173–184. https://doi.org/10.1016/j.envsci.2017.09.002

Chape S, Harrison J, Spalding M, Lysenko I (2005) Measuring the extent and effectiveness of protected areas as an indicator for meeting global biodiversity targets. Philos Trans Royal Soc Biol Sci 360(1454):443–455. https://doi.org/10.1098/rstb.2004.1592

Dasmann RF (1973) A system for defining and classifying natural regions for purpose of conservation. IUCN 1973:47p

Dasrnann RF (1972) Define the role, purpose, and conservation criteria for various protected areas llth general assembly of IUCN in Banff. Canada 1972:28p

Deniz K, Frye C, Sayre R, Breyer S, Aniello P, Vaughan R, Wright D (2017) Modeling global Hammond landform regions from 250-m elevation data. Trans GIS 21(5):1040–1060. https://doi.org/10.1111/tgis.12265

Diamond JM (1975) The island dilemma: lessons of modern biogeographic studies for the design of natural reserves. Biol Cons 7:129–146

Dinerstein E, Olson D et al (2017) An ecoregion-based approach to protecting half the terrestrial realm. Bioscience 67(6):534–545. https://doi.org/10.1093/biosci/bix014

Djamali M, Akhani H, Khoshravesh R (2011) Application of the global bioclimatic classification to Iran: implications for understanding the modern vegetation and biogeography. Ecologia Mediterranean Année 2011(37–1):91–114

Dudley N, Shadie P, Stolton S (2013) Guidelines for applying protected area management categories IUCN publications services IUCN publications services. Best Pract Prot Area Guidel Series 21:31

Forbes TR, Rossiter D, Van Wambeke A. 1982. Guidelines for evaluating the adequacy of soil resource inventories. printing ed. SMSS Technical Monograph #4. 1982, Ithaca, NY: Cornell University Department of Agronomy. 51.

Germany MaB-National Committee. 2007. Legal and administrative aspects of the UNESCO MaB Program in Germany

Goshtasb H, Bali A, Esteghamat M. 2018. Principles and Management of Biosphere Reserves, Definition, Strategies and Introduction of Biosphere Reserves in Iran. UNESCO/Persian National Committee. Publication of knowledge. 199p

Günter K (2013) 40 years of the UNESCO Man and the Biosphere Program in Austria – a success story of ecological basic research and flagship of transdisciplinary. Austrian MaB Report, Austrian Man and the Biosphere (MAB) research program

Herbada D, González JH, Torres RM, Pinilla JS, Martín RH, Xqlwv J (2011) An environmental land classification of Spain. Fitosociologia 48(2):101–110

IMO/MEPC. 2005. Guideline for the Identification and design nation of particularly sensitive sea areas. Adopted on 1 December 2005. 13p

International coordinating council of the program on man and biosphere (MaB)- Paris 1984- MAB report series No. 58. report of Minsk.

IUCN. 1978. Categories Objectives and Criteria for Pas. 25p

IUCN. 1992. Parks for Life. report of the fourth World Congress on National Parks and Protected Areas, 10–21 February 1992 Caracas. 134p

IUCN Secretariat. 1974. Biotic Provinces of the World. (IUCN, 1974, Occasional Paper No. 9).

IUCN/UNEP/WWF. 1980. World Conservation Strategy. 77p

Labourdette DR et al (2010) Zoning a protected area: proposal based on a multi-thematic approach and final decision. Environ Modeling Assess 15:531–547

Lourival R, Watts M, Phillip H (2011) What is Missing in Biosphere Reserves Accountability? Braz J Nat Conserv 9(2):160–178. https://doi.org/10.4322/natcon.2011.022

Margules C, Sarkar S (2000) Systematic conservation planning. Nature 405:243–253

Margules C, Pressey RL, Williams PH (2002) Representing biodiversity: data and procedures for identifying priority areas for conservation. J Biosci 27:309–326

Meffe et al (1995) Combining science and policy in conservation biology. Wildl Soc Bull 23:327–332

Myers N, Russel A, Mittermeier C, Mittermeier G, Gustav AB, Kent J (2000) Biodiversity hotspots for conservation priorities. Nature 403:853–858 (2000)

Naughton L. 2007. Collaborative land use planning: Zoning for Conservation and Development in Protected Areas. The University of Wisconsin-Madison. Land tenure center, no 4:1–16. http://digital.library.wisc.edu/1793/22153

Olson DM, Dinerstein E, Wikramanayake ED, Burgess ND, Powell GVN, Underwood EC, Amico D, Itoua I, Strand HE, Morrison JC, Loucks CJ, Allnutt TF, Ricketts TH, Kura Y, Lamoreux JF, Wettengel WW, Hedao P, Kassem KR (2001) Terrestrial ecoregions of the world: a new map of life on Earth. Bioscience 11:933–938

Phillips A, Kelleher G.1999.Guideline for marine protected areas. ISBN: 978-2-8317-0505-7. 2-8317-0505-3.

Rodrigues ASL, Andelman SJ, Bakarr MI, Boitani L et al (2004) Effectiveness of the global protected area network in representing species diversity. Nature 428:640–643

Salm R, Price A. 1995. Selection of Marine Protected Areas: Principles of Techniques for Managing. Edited by Susan Gubbay. Chapman Hall, London.232p

Saner HS, Yucesan M, Gul M (2022) A Bayesian BWM and VIKOR-based model for assessing hospital preparedness in the face of disasters. Nat Hazards 111:1603–1635. https://doi.org/10.1007/s11069-021-05108-7

Sayer R et al (2020) An assessment of the representation of ecosystems in global protected areas using new maps of world climate regions and world ecosystems. Global Ecol Conserv 21(2020):e00860

Shrestha UB, Shrestha S, Chaudhary P, Chaudhary RP (2010) How representative is the protected areas system of Nepal? Mt Res Dev 30(3):282–294. https://doi.org/10.1659/MRD-JOURNAL-D-10-00019.1

Singers NJD, Rogers GM (2014) A classification of New Zealand's terrestrial ecosystems. Sci Conserv 325:1–87

Soulé ME, Terborgh J (1999) Continental conservation: scientific foundations of regional reserve networks. Island Press, Washington, DC

Sunarsih S et al (2020) Analysis of priority scale for watershed reforestation using Trapezo dal Fuzzy VIKOR method: a case study in Semarang Central Java Indonesia. Symmetry 12(4):507. https://doi.org/10.3390/sym12040507

Udvardy MDF (1975) A Classification of the biogeographical provinces of the world. UNESCO's Man and the Biosphere Program Project No. 8.49p

UNESCO jointly UNEP. 1964. Task force on criteria and guidelines for the choice and establishment of biosphere reserves final report. http://npshistory.com/publications/mab/unesco-mab-report/22.pdf. 63p

UNESCO (1977) Man and his environment, an overview of UNESCO's evolvement. UNESCO, Paris 1979:65

UNESCO (1993) The biosphere conference 25 years later. UNESCO, Paris 1993:34p

UNESCO.2020.Technical Guidelines for Biosphere Reserves (TGBR).Accesed:20.11.2020. https://unesdoc.unesco.org/ark:/48223/pf0000253591

UNESCO. 2022. History of biosphere reserves creation of the international biological program. https://en.unesco.org/mab/50years/history-2022

WCS (1980) World Conservation Strategy: living resource conservation for sustainable development / prepared by the International Union for Conservation of Nature and Natural Resources. IUCN-UNEP-WWF, Gland, Switzerland, p 78

Zavadskas KE, Bausys R (2015) Multicriteria decision-making approach by VIKOR under interval neutrosophic set environment. Article in Econ Comput Econ Cybern Studies Res Acad Econ Studies 49(4):33–48
Ethics declarations
Conflict of interest
The authors have no conflicts of interest to declare. All co-authors have seen and agree with the contents of the manuscript and there is no financial interest to report.
Additional information
Editorial responsibility: Samareh Mirkia.
Rights and permissions
Springer Nature or its licensor (e.g. a society or other partner) holds exclusive rights to this article under a publishing agreement with the author(s) or other rightsholder(s); author self-archiving of the accepted manuscript version of this article is solely governed by the terms of such publishing agreement and applicable law.
About this article
Cite this article
Alborzi Manesh, M., Imani Harsini, J., DanehKar, A. et al. Analysis of Iran's biosphere reserves based on representative criteria and proposal of new options. Int. J. Environ. Sci. Technol. 20, 9465–9480 (2023). https://doi.org/10.1007/s13762-023-04981-y
Received:

Revised:

Accepted:

Published:

Issue Date:

DOI: https://doi.org/10.1007/s13762-023-04981-y
Keywords