Abstract
The degradation of azo dyes in aquatic environments is still challenging due to their stability and perpetual effect. This work demonstrates the application of highly ultraviolet-responsive titanium dioxide/molybdenum photocatalyst to degrade methyl orange. A series of titanium dioxide/molybdenum photocatalyst with different molybdenum concentrations (1–10 wt%) were synthesized by a facile wet impregnation method. The introduction of molybdenum has favorably induced changes in surface morphology, crystallite size, optical absorption, and specific surface area, which have collectively enhanced the photocatalytic performance of titanium dioxide/molybdenum photocatalyst on the removal of methyl orange. A systematic investigation on the influencing parameters such as photocatalyst dosage, initial methyl orange concentration, and initial pH was investigated, and the optimum conditions were achieved. The best-performing titanium dioxide/molybdenum (3 wt%) photocatalyst yielded a 94.5% methyl orange photodegradation efficiency within 120 min of irradiation. The dopant concentration, photocatalyst dosage, and pH were investigated to validate the optimized conditions for titanium dioxide/molybdenum on methyl orange removal using response surface methodology via the Box–Behnken design. The present results demonstrated that both the superoxide radical and hydroxyl radical play a primary role in the degradation mechanism. This study provides fresh insight that the successful structural modification of titanium dioxide by molybdenum could enhance the photocatalytic removal of dye wastewater.
Access options
Buy single article
Instant access to the full article PDF.
USD 39.95
Price includes VAT (USA)
Tax calculation will be finalised during checkout.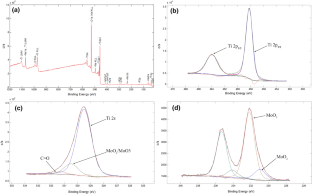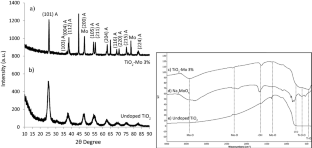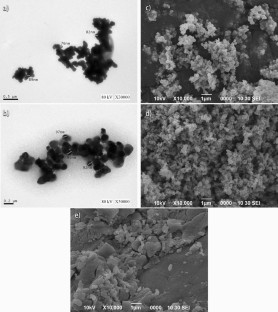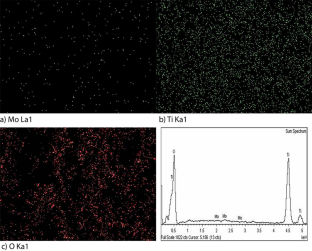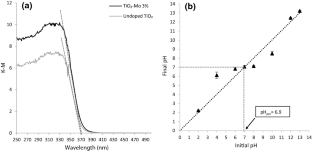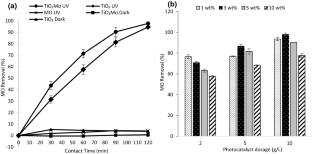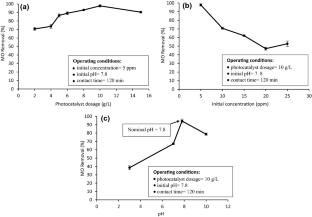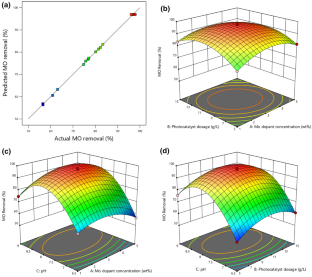 References
Abdulhameed AS, Jawad AH, Mohammad AK-T (2020) Statistical optimization for dye removal from aqueous solution by cross-linked chitosan composite. Sci Lett 14:1–14

Ajmal A, Majeed I, Malik RN, Idriss H, Nadeem MA (2014) Principles and mechanisms of photocatalytic dye degradation on TiO2 based photocatalysts: a comparative overview. RSC Adv 4:37003–37026

Alkaim A, Kandiel TA, Hussein F, Dillert R, Bahnemann D (2013) Enhancing the photocatalytic activity of TiO2 by pH control: a case study for the degradation of EDTA. Catal Sci Technol 3:3216–3222

Al-Qaradawi S, Salman SR (2002) Photocatalytic degradation of methyl orange as a model compound. J Photochem Photobiol A 148:161–168

Arslan S, Eyvaz M, Gürbulak E, Yükse E (2016) A review of state-of-the-art technologies in Dye-containing wastewater treatment – The textile industry case. In: Kumbasar EA (ed) Textile wastewater treatment. IntechOpen, London, p 1–28

Avilés-García O, Espino-Valencia J, Romero R, Rico-Cerda JL, Arroyo-Albiter M, Natividad R (2017) W and Mo doped TiO2: synthesis, characterization and photocatalytic activity. Fuel 198:31–41

Avilés-García O, Espino-Valencia J, Romero-Romero R, Rico-Cerda J, Arroyo-Albiter M, Solís-Casados D, Natividad-Rangel R (2018) Enhanced photocatalytic activity of titania by co-doping with Mo and W. Catalysts 8:631

Aziz NAA, Palaniandy P, Aziz HA, Dahlan I (2016) Review of the mechanism and operational factors influencing the degradation process of contaminants in heterogenous photocatalysis. J Chem Res 40:704–712

Badovinac IJ, Piltaver IK, Saric I, Peter R, Petravj M (2017) Oxidation of molybdenum by low-energy oxygen-ion bombardment. Mater Tehnol 51:617–621

Bhattacharyya K, Majeed J, Dey KK, Ayyub P, Tyagi A, Bharadwaj S (2014) Effect of Mo-Incorporation in the TiO2 Lattice: a mechanistic basis for photocatalytic dye degradation. J Phys Chem C 118:15946–15962

Bumajdad A, Madkour M (2014) Understanding the superior photocatalytic activity of noble metals modified titania under UV and visible light irradiation. Phys Chem Chem Phys 16:7146–7158

Collin F (2019) Chemical basis of reactive oxygen species reactivity and involvement in neurodegenerative diseases. Int J Mol Sci 20:2407

Cui Y, Chen W-F, Bastide A, Zhang X, Koshy P, Sorrell CC (2019) Effect of precursor dopant valence state on the photocatalytic performance of Mo3+-or Mo5+-doped TiO2 thin films. J Phys Chem Solids 126:314–321

Devi LG, Murthy BN (2008) Characterization of Mo doped TiO2 and its enhanced photo catalytic activity under visible light. Catal Lett 125:320–330

Fadzil NAM, Zainal Z, Abdullah AH (2012) Ozone-assisted decolorization of methyl orange via homogeneous and heterogeneous photocatalysis. Int J Electrochem Sci 7:11993–12003

Fajriati I, Mudasir M, Wahyuni ET (2017) The effect of pH and aging time on the synthesis of TiO2–chitosan nanocomposites as photocatalyst by sol–gel method at room temperature. Molekul 12:117–125

Fan Y-H, Ho C-Y, Chang Y-J (2017) Enhancement of dye-sensitized solar cells efficiency using mixed-phase TiO2 nanoparticles as photoanode. Scanning 2017:9152973–9152973

Feng S, Zhao J, Bai Y, Liang X, Wang T, Wang C (2020) Facile synthesis of Mo-doped TiO2 for selective photocatalytic CO2 reduction to methane: promoted H2O dissociation by Mo doping. J CO2 Util 38:1–9

Florea M, Avram D, Maraloiu VA, Cojocaru B, Tiseanu C (2018) Heavy doping of ceria by wet impregnation: a viable alternative to bulk doping approaches. Nanoscale 10:18043–18054

Guo J, Gan Z, Lu Z, Liu J, Xi J, Wan Y, Le L, Liu H, Shi J, Xiong R (2013) Improvement of the photocatalytic properties of TiO2 by (Fe+Mo) co-doping—a possible way to retard the recombination process. J Appl Phys 114:104903

Gupta A, Mittal M, Singh MK, Suib SL, Pandey OP (2018) Low temperature synthesis of NbC/C nano-composites as visible light photoactive catalyst. Sci Rep 8:1–17

Huang J, Guo X, Wang B, Li L, Zhao M, Dong L-L, Liu X, Huang Y (2015) Synthesis and photocatalytic activity of Mo-doped TiO2 nanoparticles. J Spectrosc 2015:1–8

Jalali J, Mozammel M (2017) Degradation of water-soluble methyl orange in visible light with the use of silver and copper co-doped TiO2 nanoparticles. J Mater Sci: Mater Electron 28:5336–5343

Jawad AH, Mamat NH, Hameed B, Ismail K (2019) Biofilm of cross-linked chitosan-ethylene glycol diglycidyl ether for removal of reactive red 120 and methyl orange: adsorption and mechanism studies. J Environ Chem Eng 7:102965

Kanakaraju D, Lim Y-C, Pace A (2018) Magnetic hybrid TiO2/Alg/FeNPs triads for the efficient removal of methylene blue from water. Sustain Chem Pharm 8:50–62

Karslıoğlu O, Song X, Kuhlenbeck H, Freund HJ (2013) Mo+TiO2 (110) mixed oxide layer: structure and reactivity. Top Catal 56:1389–1403

Khairy M, Zakaria W (2014) Effect of metal-doping of TiO2 nanoparticles on their photocatalytic activities toward removal of organic dyes. Egypt J Pet 23:419–426

Khaki MRD, Shafeeyan MS, Raman AAA, Daud WMAW (2017) Application of doped photocatalysts for organic pollutant degradation—a review. J Environ Manag 198:78–94

Khan H, Jiang Z, Berk D (2018) Molybdenum doped graphene/TiO2 hybrid photocatalyst for UV/visible photocatalytic applications. Sol Energy 162:420–430

Khandaker S, Kuba T, Toyohara Y, Kamida S, Uchikawa Y (2017) Development of ion-exchange properties of bamboo charcoal modified with concentrated nitric acid. IOP Conf Ser Earth Environ Sci 82:012002

Konstantinou IK, Albanis TA (2004) TiO2-assisted photocatalytic degradation of azo dyes in aqueous solution: kinetic and mechanistic investigations: a review. Appl Catal B 49:1–14

Kumar A, Pandey G (2017) A review on the factors affecting the photocatalytic degradation of hazardous materials. Mater Sci Eng Int J 1:106–114

Kumaravel V, Mathew S, Bartlett J, Pillai SC (2018) Photocatalytic hydrogen production using metal doped TiO2: a review of recent advances. Appl Catal B. 244:1021–1064

Kumaravel V, Rhatigan S, Mathew S, Michel MC, Bartlett J, Nolan M, Hinder SJ, Gascó A, Ruiz-Palomar C, Hermosilla D (2020) Mo doped TiO2: impact on oxygen vacancies, anatase phase stability and photocatalytic activity. J Phys Mater 3:025008

Lim YP, Lim YC, Kanakaraju D, Tan HL (2018) Enhanced photocatalytic degradation of methyl orange using Ag-Doped TiO2 photocatalyst. J Eng Appl Sci 13:4406–4413

Liu L, Zhang B, Zhang Y, He Y, Huang L, Tan S, Cai X (2015) Simultaneous removal of cationic and anionic dyes from environmental water using montmorillonite-pillared graphene oxide. J Chem Eng Data 60:1270–1278

Lu S, Sun N, Wang T (2017) Research on photocatalytic degradation of methyl orange by a β-cyclodextrin/titanium dioxide composite. Gen Chem 3:164–169

Maia CG, Oliveira AS, Saggioro EM, Moreira JC (2014) Optimization of the photocatalytic degradation of commercial azo dyes in aqueous TiO2 suspensions. React Kinet Mech Catal 113:305–320

Miljević B, van der Bergh J, Vučetić S, Lazar D, Ranogajec J (2017) Molybdenum doped TiO2 nanocomposite coatings: visible light driven photocatalytic self-cleaning of mineral substrates. Ceram Int 43:8214–8221

Moma J, Baloyi J (2018) Modified titanium dioxide for photocatalytic applications, photocatalysts-applications and attributes. IntechOpen, London

Moon EW, Lee H-W, Rok JH, Ha J-H (2020) Photocatalytic inactivation of viral particles of human norovirus by Cu-doped TiO2 non-woven fabric under UVA-LED wavelengths. Sci Total Environ 749:141574

Moongraksathum B, Chien M-Y, Chen Y-W (2019) Antiviral and antibacterial effects of silver-doped TiO2 prepared by the peroxo sol-gel method. J Nanosci Nanotechnol 19:7356–7362

Nasi R, Esposito S, Freyria FS, Armandi M, Gadhi TA, Hernandez S, Rivolo P, Ditaranto N, Bonelli B (2019) Application of reverse micelle sol–gel synthesis for bulk doping and heteroatoms surface enrichment in Mo-doped TiO2 nanoparticles. Materials 12:937

Nguyen CH, Fu C-C, Juang R-S (2018) Degradation of methylene blue and methyl orange by palladium-doped TiO2 photocatalysis for water reuse: efficiency and degradation pathways. J Cleaner Prod 202:413–427

Nooraziah A, Tiagrajah VJ (2014) A study on regression model using response surface methodology. Appl Mech Mater 666:235

Qin P, Yang Y, Zhang X, Niu J, Yang H, Tian S, Zhu J, Lu M (2017) Highly efficient, rapid, and simultaneous removal of cationic dyes from aqueous solution using monodispersed mesoporous silica nanoparticles as the adsorbent. Nanomaterials 8:4

Rajaramakrishna R, Ruangtawee Y, Kaewkhao J (2018) Sm3+-doped molybdenum gadolinium borate glasses for orange emission laser active medium. Ukr J Phys 63:721–721

Rajput H, Sangal VK, Dhir A (2018) Synthesis of highly stable and efficient Ag loaded GO/TiO2 nanotube electrodes for the photoelectrocatalytic degradation of pentachlorophenol. J Electroanal Chem 814:118–126

Ravi S, Shashikanth FW (2020) Magnetic properties of Mo-doped TiO2 nanoparticles: a candidate for dilute magnetic semiconductors. Mater Lett 264:127331

Saleh TA, Gupta VK (2012) Photo-catalyzed degradation of hazardous dye methyl orange by use of a composite catalyst consisting of multi-walled carbon nanotubes and titanium dioxide. J Colloid Interface Sci 371:101–106

Sheikh MUD, Naikoo GA, Thomas M, Bano M, Khan F (2016) Solar-assisted photocatalytic reduction of methyl orange azo dye over porous TiO2 nanostructures. New J Chem 40:5483–5494

Sreedhar M, Brijitta J, Reddy IN, Cho M, Shim J, Bera P, Joshi BN, Yoon SS (2018) Dye degradation studies of Mo-doped TiO2 thin films developed by reactive sputtering. Surf Interface Anal 50:171–179

Stengl V, Bakardjieva S (2010) Molybdenum-doped anatase and its extraordinary photocatalytic activity in the degradation of orange II in the UV and vis regions. J Phys Chem C 114:19308–19317

Sun P, Lu Q, Zhang J, Xiao T, Liu W, Ma J, Yin S, Cao W (2020) Mo-ion doping evoked visible light response in TiO2 nanocrystals for highly-efficient removal of benzene. Chem Eng J 397:125444

Suwarnkar M, Dhabbe R, Kadam A, Garadkar K (2014) Enhanced photocatalytic activity of Ag doped TiO2 nanoparticles synthesized by a microwave assisted method. Ceram Int 40:5489–5496

Tariq MK, Riaz A, Khan R, Wajid A, Haq H-U, Javed S, Akram MA, Islam M (2019) Comparative study of Ag, Sn or Zn doped TiO2 thin films for photocatalytic degradation of methylene blue and methyl orange. Mater. Res. Express. 6:106435

Tetteh EK, Obotey Ezugbe E, Rathilal S, Asante-Sackey D (2020) Removal of COD and SO42− from oil refinery wastewater using a photo-catalytic system—comparing TiO2 and zeolite efficiencies. Water 12:214

Thu TNT, Nguyen Thi N, Tran Quang V, Nguyen Hong K, Nguyen Minh T, Le Thi Hoai N (2016) Synthesis, characterisation, and effect of pH on degradation of dyes of copper-doped TiO2. J Exp Nanosci 11:226–238

Umar M, Aziz HA (2013) Photocatalytic degradation of organic pollutants in water, organic pollutants-monitoring, risk treatment. IntechOpen, London

Wang S, Bai L, Sun H, Jiang Q, Lian J (2013) Structure and photocatalytic property of Mo-doped TiO2 nanoparticles. Powder Technol 244:9–15

Yan J-H, Zhu Y-R, Tang Y-G, Zheng S-Q (2009) Nitrogen-doped SrTiO3/TiO2 composite photocatalysts for hydrogen production under visible light irradiation. J Alloys Compd 472:429–433

Yang Y, Li X, Chen J, Wang L (2004) Effect of doping mode on the photocatalytic activities of Mo/TiO2. J Photochem Photobiol A 163:517–522

Yu A, Liu Y, Li X, Yang Y, Zhou Z, Liu H (2021) Modeling and optimizing of NH4+ removal from stormwater by coal-based granular activated carbon using RSM and ANN coupled with GA. Water 13:608

Zhao Y, Zhao Y, Shi R, Wang B, Waterhouse GI, Wu LZ, Tung CH, Zhang T (2019) Tuning oxygen vacancies in ultrathin TiO2 nanosheets to boost photocatalytic nitrogen fixation up to 700 nm. Adv Mater 31:1806482

Zhou X, Zhou S, Feng X (2017) Optimization of the photoelectrocatalytic oxidation of landfill leachate using copper and nitrate co-doped TiO2 (Ti) by response surface methodology. PLoS ONE 12:0171234

Zhou J, Feng B, Lu X, Duan K (2018) Novel one-step fabrication of highly ordered Mo-doped TiO2 nanotubes arrays with enhanced visible light catalytic activity. J Mater Sci Mater Electron 29:18388–18396

Zhu S, Dong Y, Xia X, Liu X, Li H (2016) Synthesis of Mo-doped TiO2 nanowires/reduced graphene oxide composites with enhanced photodegradation performance under visible light irradiation. RSC Adv 6:23809–23815
Acknowledgements
The authors would like to acknowledge the financial support from the Universiti Malaysia Sarawak under the Tun Openg Chair (F07/TOC/1737/2018). This study was also supported by the Ministry of Higher Education, Malaysia, under the Fundamental Research Grant Scheme [FRGS/1/2019/STG07/UNIMAS/02/3].
Ethics declarations
Conflict of interest
The authors declare that they have no known competing financial interests or personal relationships that could have appeared to influence the work reported in this paper.
Human and animal rights
This article does not involve any studies with human participants or animals performed by any of the authors.
Additional information
Editorial responsibility: Babatunde Femi Bakare.
Supplementary Information
Below is the link to the electronic supplementary material.
About this article
Cite this article
Kanakaraju, D., Jasni, M.A.A. & Lim, Y.C. A highly photoresponsive and efficient molybdenum-modified titanium dioxide photocatalyst for the degradation of methyl orange. Int. J. Environ. Sci. Technol. (2021). https://doi.org/10.1007/s13762-021-03484-y
Received:

Revised:

Accepted:

Published:
Keywords
Doping

Metals

Photocatalysis

Wastewater

Wet impregnation