Abstract
Bioremediation strategies apply environmental microbes to metabolize organic compounds and can be useful for the treatment of oil-contaminated soils. In this study, different approaches of bioremediation were compared on a scale-up treatment. The defined microbial consortium was formulated with degrading microorganisms previously selected (Pseudomonas mendoncina BPB 1.8, Bacillus cereus BPB 1.20, Bacillus cereus BPB 1.26, and Bacillus sphaericus BPB 1.35). Bioaugmentation/biostimulation, biostimulation, and natural attenuation strategies were evaluated after 60 days of treatment by gas chromatography. The contaminant level remained elevated after the treatments using natural attenuation and biostimulation. However, the bioaugmentation with biostimulation treatment showed a satisfactory ability to degrade petroleum hydrocarbons (85%). Interestingly, no correlation was observed with the presence of hydrocarbon-degrading microorganisms and CO2 production, and denaturing gradient gel electrophoresis exhibited no significant difference in the biodiversity of the treatments. Although, the results showed that the microbial consortium was imperative to the successful biodegradation of TPH-contaminated gas station soil.
Access options
Buy single article
Instant access to the full article PDF.
USD 39.95
Price excludes VAT (USA)
Tax calculation will be finalised during checkout.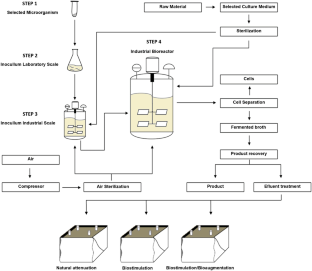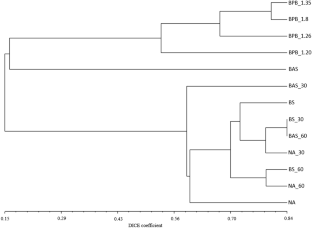 References
Abbasian F, Lockington R, Megharaj M, Naidu R (2016) A review on the genetics of aliphatic and aromatic hydrocarbon degradation. Appl Biochem Biotechnol 178:224–250. https://doi.org/10.1007/s12010-015-1881-y

Al-Hawash AB, Dragh MA, Li S, Alhujaily A, Abbood HA, Zhang X, Ma F (2018) Principles of microbial degradation of petroleum hydrocarbons in the environment. Egypt J Aquat Res 44:71–76. https://doi.org/10.1016/j.ejar.2018.06.001

Allebrandt SR, Napp AP, Mitidieri S, Bento FM, Vainstein MH (2015) Bioremediation of diesel oil-contaminated soil using native hydrocarbon-degrading bacterial strains under microcosm study. Int J Adv Res 3:732–746

Almeida JA, Augusto F, Jardim ICSF (2010) Biorremediação de solos contaminados por petróleos e seus derivados. Eclet Quím 35:17–43. https://doi.org/10.1590/S0100-46702010000300002

Arun A, Raja PP, Arthi R, Ananthi M, Kumar KS, Eyini M (2008) Polycyclicaromatic hydrocarbons (PAHs) biodegradation by basidiomycetes fungi, Pseudomonas isolate, and their cocultures: comparative in vivo and in silico approach. Appl Biochem Biotechnol 151:132–142. https://doi.org/10.1007/s12010-008-8160-0

Bartha R, Pramer D (1965) Features of flask and method for measurement of the persistence and biological effects of pesticides in soil. Soil Sci 100:68–70. https://doi.org/10.1097/00010694-196507000-00011

Bento FM, Camargo FAO, Okeke BC, Frankenberger WT (2005) Comparative bioremediation of soils contaminated with diesel oil by natural attenuation, biostimulation and bioaugmentation. Bioresour Technol 96:1049–1055. https://doi.org/10.1016/j.biortech.2004.09.008

Boufadel MC, Sharifi Y, Van Aken B, Wrenn BA, Lee K (2010) Nutrient and oxygen concentrations within the sediments of an Alaskan beach polluted with the Exxon Valdez oil spill. Environ Sci Technol 44:7418–7424. https://doi.org/10.1021/es102046n

Cerqueira VS, Hollenbach EB, Maboni F, Vainstein MH, Camargo FAO, Peralba MCR, Bento FM (2011) Biodegradation potential of oily sludge by pure and mixed bacterial cultures. Biores Technol 102:11003–11010. https://doi.org/10.1016/j.biortech.2011.09.074

Cerqueira VS, Hollenbach EB, Maboni F, Camargo FA, Peralba Mdo C, Bento FM (2012) Bioprospection and selection of bacteria isolated from environments contaminated with petrochemical residues for application in bioremediation. World J Microbiol Biotechnol 28:1203–1222. https://doi.org/10.1007/s11274-011-0923-z

Chaudhary P, Sahay H, Sharma R, Pandey AK, Singh SB, Saxena AK, Nain L (2015) Identification and analysis of polyaromatic hydrocarbons (PAHs) biodegrading bacterial strains from refinery soil of India. Environ Monit Assess 187:1–9. https://doi.org/10.1007/s10661-015-4617-0

Chen M, Xu P, Zeng G, Yang C, Huang D, Zhang J (2015) Bioremediation of soils contaminated with polycyclic aromatic hydrocarbons, petroleum, pesticides, chlorophenols and heavy metals by composting: applications, microbes and future research needs. Biotechnol Adv 33:745–755. https://doi.org/10.1016/j.biotechadv.2015.05.003

Colla TS, Andreazza R, Bücker F, De Souza MM, Tramontini L, Prado GR, Frazzon APG, Camargo FAO, Bento FM (2014) Bioremediation assessment of diesel–biodiesel-contaminated soil using an alternative e bioaugmentation strategy. Environ Sci Pollut Res 21:2592–2602. https://doi.org/10.1007/s11356-013-2139-2

Couto MN, Monteiro E, Vasconcelos MT (2010) Mesocosm trials of bioremediation of contaminated soil of a petroleum refinery: comparison of natural attenuation, biostimulation and bioaugmentation. Environ Sci Pollut Res 17:1339–1346. https://doi.org/10.1007/s11356-010-0318-y

Das N, Chandran P (2011) Microbial degradation of petroleum hydrocarbon contaminants: an overview. Biotechnol Res Int 2011:1–13. https://doi.org/10.4061/2011/941810

Dörr de Quadros P, Cerqueira VS, Cazarolli JC, Peralba MCR, Camargo FO, Giongo A, Bento FM (2016) Oily sludge stimulates microbial activity and changes microbial structure in a landfarming soil. Int Biodeterior Biodegrad 115:90–101. https://doi.org/10.1016/j.ibiod.2016.07.018

Ebadi A, Sima NAK, Olamaee M, Hashemi M, Nasrabadi RG (2017) Effective bioremediation of a petroleum-polluted saline soil by a surfactant producing Pseudomonas aeruginosa consortium. J Adv Res 8:627–633. https://doi.org/10.1016/j.jare.2017.06.008

Fukuhara Y, Horii S, Matsuno T, Matsumiya Y, Mukai M, Kubo M (2013) Distribution of hydrocarbon-degrading bacteria in the soil environment and their contribution to bioremediation. Appl Biochem Biotechnol 170:329–339. https://doi.org/10.1007/s12010-013-0170-x

Horel A, Schiewer S (2009) Investigation of the physical and chemical parameters affecting biodegradation of diesel and synthetic diesel fuel contaminating Alaskan soils. Cold Reg Sci Technol 58:113–119. https://doi.org/10.1016/j.coldregions.2009.04.004

Kaczorek E, Olszanowski A (2011) Uptake of hydrocarbon by Pseudomonas fluorescens (P1) and Pseudomonas putida (K1) strains in the presence of surfactants: a cell surface modification. Water Air Soil Pollut 214:451–459. https://doi.org/10.1007/s11270-010-0436-7

Kostka JE, Prakash O, Overholt WA, Green SJ, Freyer G, Canion A, Delgardio J, Norton N, Hazen TC, Huettel M (2011) Hydrocarbon-degrading bacteria and the bacterial community response in Gulf of Mexico beach sands impacted by the Deepwater Horizon oil spill. Appl Environ Microbiol 77:7962–7974. https://doi.org/10.1128/AEM.05402-11

Kumar M, De Sisto LV, A, Ilzins OA, Luis L, (2008) Biosurfactant production and hydrocarbon-degradation by halotolerant and thermotolerant Pseudomonas sp. World J Microbiol Biotechnol 24:1047–1057. https://doi.org/10.1007/s11274-007-9574-5

Liang YT, Zhang X, Wang J, Li GH (2012) Spatial variations of hydrocarbon contamination and soil properties in oil exploring fields across China. J Haz Mat 241:371–378. https://doi.org/10.1016/j.jhazmat.2012.09.055

Mahjoubi M, Cappello S, Souissi Y, Jaouani A, Cherif A (2018) Microbial bioremediation of petroleum hydrocarbon–contaminated marine environments. Recent Insights Petrol Sci Eng. https://doi.org/10.5772/intechopen.72207

Maier RM, Gentry TJ (2015) Microorganisms and organic pollutants. In: Environmental microbiology: Third Edition, pp 377–413. Elsevier Inc, Amsterdam. https://doi.org/10.1016/b978-0-12-394626-3.00017-x

Meyer DD, Beker SA, Bücker F, Peralba MCR, Frazzon APG, Osti JF, Andreazza R, Camargo FAO, Bento FM (2014) Bioremediation strategies for diesel and biodiesel in oxisol from southern Brazil. Int Biodeterior Biodegr 95:356–363. https://doi.org/10.1016/j.ibiod.2014.01.026

Meyer DD, Beker SA, Heck K, Peralba MCR, Bento FM (2018) Simulation of a surface spill of different diesel/biodiesel mixtures in an ultisol, using natural attenuation and bioaugmentation/biostimulation. An Acad Bras Ciênc 90:2741–2752. https://doi.org/10.1590/0001-3765201820170268

Moschini LE, Santos JE, Pires JSR (2005) Environmental diagnosis of risk areas related to gas stations. Braz Arch Biol Technol 48:657–666. https://doi.org/10.1590/S1516-89132005000500019

Napp AP, Pereira JES, Oliveira JS, Silva-Portela RCB, Agnez-Lima LF, Peralba MCR, Bento FM, Passaglia LMP, Thompson CE, Vainstein MH (2018) Comparative metagenomics reveals different hydrocarbon degradative abilities from enriched oil-drilling waste. Chemosphere 209:7–16. https://doi.org/10.1016/j.chemosphere.2018.06.068

Obi LU, Atagana HI, Adeleke RA (2016) Isolation and characterisation of crude oil sludge degrading bacteria. Springerplus 5:1–13. https://doi.org/10.1186/s40064-016-3617-z

Ovreas L, Forney L, Dae FL, Torsvik V (1997) Distribution of bacterioplankton in meromictic lake saelenvannet, as determined by denaturing gradient gel eletrophoresis of PCR-amplified gene fragment coding for 16S rRNA. Appl Environ Microbiol 63:3367–3373. https://doi.org/10.1128/AEM.63.9.3367-3373.1997

Pacwa-Płociniczak M, Płaza GA, Poliwoda A, Piotrowska-Seget Z (2014) Characterization of hydrocarbon-degrading and biosurfactant-producing Pseudomonas sp. P-1 strain as a potential tool for bioremediation of petroleum-contaminated soil. Environ Sci Pollut Res 21:9385–9395. https://doi.org/10.1007/s11356-014-2872-1

Peixoto RS, Vermelho AB, Rosado AS (2011) Petroleum-degrading enzymes: bioremediation and new prospects. Enzyme Res 2011:1–7. https://doi.org/10.4061/2011/475193

Roy A, Dutta A, Pal S, Gupta A, Sarkar J, Chatterjee A, Saha A, Sarkar P, Sar P, Kazy SK (2018) Biostimulation and bioaugmentation of native microbial community accelerated bioremediation of oil refinery sludge. Bioresour Technol 253:22–32. https://doi.org/10.1016/j.biortech.2018.01.004

Sabaté J, Viñas M, Solanas AM (2004) Laboratory-scale bioremediation experiments on hydrocarbon-contaminated soils. Int Biodeterior Biodegrad 54:19–25. https://doi.org/10.1016/j.ibiod.2003.12.002

Sarkar J, Kazy SK, Gupta A, Dutta A, Mohapatra B, Roy A, Bera P, Mitra A, Sar P (2016) Biostimulation of indigenous microbial community for bioremediation of petroleum refinery sludge. Front Microbiol 7:1–20. https://doi.org/10.3389/fmicb.2016.01407

Shankar S, Kansrajh C, Dinesh MG, Satyan RS, Kiruthika S, Tharanipriya A (2014) Application of indigenous microbial consortia in bioremediation of oil contaminated soils. Int J Environ Sci Technol 11:367–376. https://doi.org/10.1007/s13762-013-0366-1

Sopeña F, Laiz L, Morillo E, Sanchez-Trujillo MA, Villaverde J, Jurado V, Saiz-Jimenez C (2013) Phenanthrene biodegradation by Pseudomonas xanthomarina isolated from an aged contaminated soil. Clean: Soil, Air, Water 42:785–790. https://doi.org/10.1002/clen.201300247

Suja F, Rahim F, Taha MR, Hambali N, Razali RM, Khalid A, Hamzah A (2014) Effects of local microbial bioaugmentation and biostimulation on the bioremediation of total petroleum hydrocarbons (TPH) in crude oil contaminated soil based on laboratory and field observations. Int Biodeterior Biodegradation 90:115–122. https://doi.org/10.1016/j.ibiod.2014.03.006

Szulc A, Ambrozewicz D, Sydow M, Lawniczak L, Piotrowska-Cyplik A, Marecik R, Chrzanowski L (2014) The influence of bioaugmentation and biosurfactant addition on bioremediation efficiency of diesel-oil contaminated soil: feasibility during field studies. J Environ Manag 132:121–128. https://doi.org/10.1016/j.jenvman.2013.11.006

Tahhan RA, Ammari TG, Goussous SJ, Al-Shdaifat HI (2011) Enhancing the biodegradation of total petroleum hydrocarbons in oily sludge by a modified bioaugmentation strategy. Int Biodeterior Biodegrad 65:130–134. https://doi.org/10.1016/j.ibiod.2010.09.007

Teng Y, Feng D, Song L, Wang J, Li J (2013) Total petroleum hydrocarbon distribution in soils and groundwater in Songyuan oilfield, Northeast China. Environ Monit Assess 185:9559–9569. https://doi.org/10.1007/s10661-013-3274-4

Tyagi M, Da Fonseca MR, De Carvalho CCCR (2011) Bioaugmentation and biostimulation strategies to improve the effectiveness of bioremediation processes. Biodegrad 22:231–241. https://doi.org/10.1007/s10532-010-9394-4

Wang Y, Liang J, Wang J, Gao S (2018) Combining stable carbon isotope analysis and petroleum-fingerprinting to evaluate petroleum contamination in the Yanchang oilfield located on loess plateau in China. Environ Sci Pollut Res 25:2830–2841. https://doi.org/10.1007/s11356-017-0500-6

Wu M, Dick WA, Li W, Wang X, Yang Q, Wang T, Xu L, Zhang M, Chen L (2016) Bioaugmentation and biostimulation of hydrocarbon degradation and the microbial community in a petroleum-contaminated soil. Int Biodeterior Biodegrad 107:158–164. https://doi.org/10.1016/j.ibiod.2015.11.019

Yu Y, Zhang W, Chen G, Gao Y, Wang J (2014) Preparation of petroleum-degrading bacterial agent and its application in remediation of contaminated soil in Shengli Oil Field, China. Environ Sci Pollut Res 21:7929–7937. https://doi.org/10.1007/s11356-014-2707-0

Zeneli A, Kastanaki E, Simantiraki F, Gidarakos E (2019) Monitoring the biodegradation of TPH and PAHs in refinery solid waste by biostimulation and bioaugmentation. J Environ Chem Eng 7:2213–3437. https://doi.org/10.1016/j.jece.2019.103054
Acknowledgements
The authors would like to thank Bioplus Desenvolvimento Biotecnológico Ltda for the use of facilities and financial support. This work was financially supported through grants from the following Brazilian agencies: Conselho Nacional de Desenvolvimento Científico e Tecnológico (CNPq), Coordenação de Aperfeiçoamento de Pessoal do Ensino Superior (CAPES). MHV have been supported by Grant Numbers [302637/2017-6] and [307191/2016-8], respectively.
Ethics declarations
Conflict of interest
The authors declare that they have no conflict of interest.
Additional information
Editorial responsibility: BV Thomas.
About this article
Cite this article
Napp, A.P., Allebrandt, S.R., Pereira, J.E.S. et al. Scale-up treatment of petroleum hydrocarbon-contaminated soil using a defined microbial consortium. Int. J. Environ. Sci. Technol. 19, 6023–6032 (2022). https://doi.org/10.1007/s13762-021-03467-z
Received:

Revised:

Accepted:

Published:

Issue Date:

DOI: https://doi.org/10.1007/s13762-021-03467-z
Keywords
Bioaugmentation

Bioremediation

Biostimulation

Gas station

TPH-contaminated soils