Abstract
In this study, jute stick derived activated carbon (JSAC) has been evaluated as an adsorbent to remove textile dyes namely acid red-1 (AR-1), reactive orange-16 (RO-16), and methylene blue (MB) from water using the Box–Behnken model of response surface methodology (RSM). The direct and interaction effects of four independent process parameters namely solution pH, initial dye concentration, adsorbent dose, and time were investigated and optimized for textile dye by using ANOVA. The optimum conditions for maximum % dye removal were found to be pH-3, initial dye concentration-500 mg L−1, adsorbent dose-0.9 gL−1, and time-110 min for AR-1; pH-3, initial dye concentration-350 mg L−1, adsorbent dose-1.5 g L−1, and time-110 min for RO-16, and pH-11, initial dye concentration-415 mg L−1, adsorbent dose-0.7 g L−1, and time-86 min for MB, respectively. Adsorption equilibrium investigations were carried out with Langmuir, Freundlich, and Jovanovic models. Based on error analysis, Langmuir isotherm was found the best-fitted model with maximum adsorption capacities of 588.2, 156.3, and 384.6 mg g−1 for AR-1, RO-16, and MB, respectively. The dimensionless factor, RL values (range: 0.0152–0.2665) also indicated spontaneous and favorable adsorption of studied dyes onto JSAC. Dye loaded adsorbents were easily regenerated with 0.1 M HCl (for MB) and 0.1 M NaOH (for AR-1/RO-16) and reused up to the 4th cycle. The present investigation indicated that JSAC, with a highly porous and stable structure coupled with various functional groups, holds immense potential as a new adsorbent for textile dyes.
This is a preview of subscription content, log in to check access.
Access options
Buy single article
Instant access to the full article PDF.
US$ 39.95
Tax calculation will be finalised during checkout.
Subscribe to journal
Immediate online access to all issues from 2019. Subscription will auto renew annually.
US$ 99
Tax calculation will be finalised during checkout.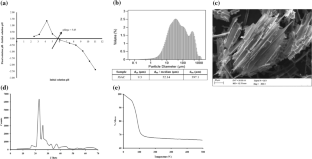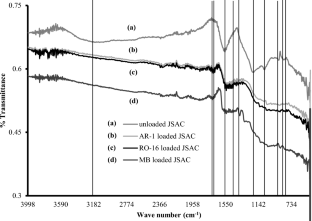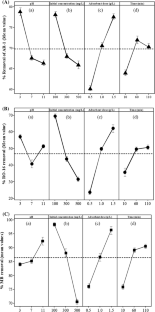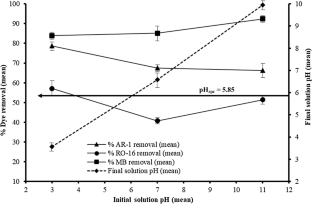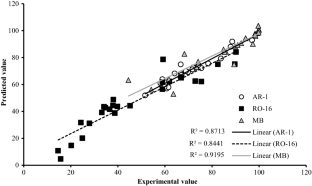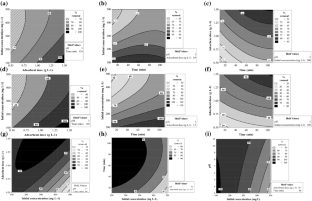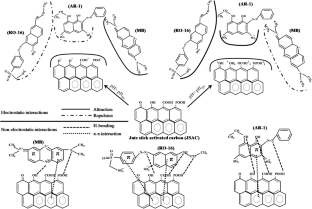 References
Akbar AAM, Karthikeyan RK, Sentamil SM, Mithilesh KR, Madhangi P, Maheswari N, Janani SG, Padmanaban VC, Singh RS (2018) Removal of reactive Orange 16 by adsorption onto activated carbon prepared from rice husk ash: statistical modeling and adsorption kinetics. Sep Sci Technol. https://doi.org/10.1080/01496395.2018.1559856

Bhomick PC, Supong A, Baruah M, Pongener C, Gogoi C, Sinha D (2020) Alizarin Red S adsorption onto biomass-based activated carbon: optimization of adsorption process parameters using Taguchi experimental design. Int J Environ Sci Technol. https://doi.org/10.1007/s13762-019-02389-1

Danish M, Ahmad T, Nadhari WNAW (2018) Optimization of banana trunk-activated carbon production for methylene blue-contaminated water treatment. Appl Water Sci. https://doi.org/10.1007/s13201-018-0644-7

EWA (2005) Efficient use of water in the textile finishing industry. Official Publication of the European Water Association (EWA), Brussels, Belgium

Ghosh RK, Reddy DD (2013) Tobacco stem ash as an adsorbent for removal of methylene blue from aqueous solution: equilibrium, kinetics, and mechanism of adsorption. Water Air Soil Pollut. https://doi.org/10.1007/s11270-013-1582-1585

Ghosh RK, Reddy DD (2014) Crop residue ashes as adsorbents for basic dye (methylene blue) removal: adsorption kinetics and dynamics. CLEAN Soil Air Water 42(8):1098–1105

Ghosh RK, Ray DP, Debnath S, Tewari A, Das I (2019) Optimization of process parameters for methylene blue removal by jute stick using response surface methodology. Environ Prog Sustain Energy. https://doi.org/10.1002/ep.13146

Ghosh RK, Ray DP, Chakraborty S, Saha B, Manna K, Tewari A, Sarkar S (2020) Cadmium removal from aqueous medium by jute stick activated carbon using response surface methodology: factor optimisation, equilibrium, and regeneration. Int J Environ Anal Chem. https://doi.org/10.1080/03067319.2019.1700964

Girgis BS, Temerk YM, Gadelrab MM, Abdullah ID (2007) X-ray diffraction patterns of activated carbons prepared under various conditions. Carbon Sci 8(2):95–100

Gita S, Hussan A, Choudhury TG (2017) Impact of textile dyes waste on aquatic environments and its treatment. Environ Ecol 35(3C):2349–2353

Hannachi Y, Hafidh A (2020) Biosorption potential of Sargassummuticum algal biomass for methylene blue and lead removal from aqueous medium. Int J Environ Sci Technol. https://doi.org/10.1007/s13762-020-02742-9

Hasanuzzaman Bhar C (2016) Indian textile industry and its impact on the environment and health: a review. Int J Info Syst Serv Sect 8(4):33–46

Hassan MM, Carr CM (2018) A critical review on recent advancements of the removal of reactive dyes from dyehouse effluent by ion-exchange adsorbents. Chemosphere 209(1):201–219

Imran M, Crowley DE, Khalid A, Hussain S, Mumtaz MW, Arshad M (2015) Microbial biotechnology for decolorization of textile wastewaters. Rev Environ Sci Biotechnol 14(1):73–92

Ito T, Adachi Y, Yamanashi Y, Shimada Y (2016) Long term natural remediation process in textile dye-polluted river sediment driven by bacterial community changes. Water Res 100:458–465

Janos P, Buchtova H, Ryznarova M (2003) Sorption of dyes from aqueous solutions onto fly ash. Water Res 37:4938–4944

Kannan N, Sundaram MM (2001) Kinetics and mechanism of removal of methylene blue by adsorption on various carbons—a comparative study. Dyes Pigm 51:25–40

Kavitha D, Namasivayam C (2007) Experimental and kinetic studies on methylene blue adsorption by coir pith carbon. Bioresour Technol 98:14–21

Kayan B, Akay S, Kulaksız E, Gözmen B, Kalderis D (2017) Acid Red 1 and Acid Red 114 decolorization in H2O2-modified subcritical water: process optimization and application on a textile wastewater. Desalin Water Treat 59:248–261

Khan S, Malik A (2018) Toxicity evaluation of textile effluents and role of native soil bacterium in biodegradation of a textile dye. Environ Sci Pollut Res Int 25(5):4446–4458

Khan MR, Mozumder SI, Islam A, Prasad DMR, Alam MM (2012) Methylene blue adsorption onto water hyacinth: batch and column study. Water Air Soil Pollut 223:2943–2953

Khanna S, Rattan VK (2017) Removal of acid red 1 from aqueous waste streams using peel of Cucumis sativus fruit- Equilibrium studies. J Chem Technol Metall 52(5):803–811

Khatri J, Nidheesh PV, Singh TA, Kumar MS (2018) Advanced oxidation processes based on zero-valent aluminum for treating textile wastewater. Chem Eng J 348:67–73

Lellis B, Polonio CZF, Pamphile JA, Polonio JC (2019) Effects of textile dyes on health and the environment and bioremediation potential of living organisms. Biotechnol Res Innov 3:275–290

Ludwig GM, Perschbacher P, Edziyie R (2010) The effect of the dye Aquashade® on water quality, phytoplankton, zooplankton, and sunshine Bass, Moronechrysops × M. saxatilis, fingerling production in fertilized culture ponds. J World Aquacult Soc 41:40–48

Malakootian M, Heidari MR (2018) Reactive orange 16 dye adsorption from aqueous solutions by Psyllium seed powder as a low-cost biosorbent: kinetic and equilibrium studies. Appl Water Sci 8:212

Malik R, Ramteke DS, Wate SR (2007) Adsorption of malachite green on groundnut shell waste-based powdered activated carbon. Waste Manage 27:1129–1138

Moreno-Castilla C (2004) Adsorption of organic molecules from aqueous solutions on carbon materials. Carbon N Y 42:83–94. https://doi.org/10.1016/j.carbon.2003.09.022

Muthu SS (2017) Introduction. In: Muthu SS (ed) Sustainability in the textile industry. Springer, Heidelberg, pp 1–8

O'Mahony T, Guibal E, Tobin JM (2002) Reactive dye biosorption by Rhizopusarrhizus biomass. Enzyme Microb Technol 31:456–463

Oliveira GF, Andrade RC, Trindade MAG, Andrade HMC, Carvalho CT (2017) Thermogravimetric and spectroscopic study (tg–dta/ft–ir) of activated carbon from the renewable biomass source babassu. Quim Nova 40(3):284–292

Ramachandran P, Vairamuthu R, Ponnusamy S (2011) Adsorption isotherms, kinetics, thermodynamics and desorption studies of reactive orange 16 on activated carbon derived from Anana scomosus (L.) carbon. ARPN J Eng Appl Sci 6(11):15–26

Ratna Padhi BS (2012) Pollution due to synthetic dyes toxicity & carcinogenicity studies and remediation. Int J Environ Sci 3:940–955

Rawat D, Mishra V, Sharma RS (2016) Detoxification of azo dyes in the context of environmental processes. Chemosphere 155:591–605

Ray DP, Ghosh RK (2018) Perspective of jute in a new realm beyond sacking. Econ Affairs 63(4):981–986

Reddy DD, Ghosh RK, PoornaBindu J, Mahadevswamy M, Murty TGK (2017) Removal of methylene blue from aqueous system using tobacco stems biomass: kinetics, mechanism and single-stage adsorber design. Environ Prog Sustain Energy 36(4):1005–1012. https://doi.org/10.1002/ep.12542

Renganathan S, Gautam P (2008) Removal of reactive orange 4 from aqueous solution by waste Eichhornia crassipes biomass. Chem Prod Process Model. https://doi.org/10.2202/1934-2659.1146

Saeed M, Nadeem R, Yousaf M (2015) Removal of industrial pollutant (Reactive Orange 122 dye) using environment-friendly sorbent Trapa bispinosa's peel and fruit. Int J Environ Sci Technol 12:1223–1234

Saini RD (2017) Textile organic dyes: polluting effects and elimination methods from textile waste water. Int J Chem Eng Res 9(1):121–136

Sandhya S (2010) Biodegradation of azo dyes under anaerobic condition: Role of azoreductase. In: Erkurt HA (ed) Biodegradation of azo dyes. The handbook of environmental chemistry, vol 9. Springer, Berlin, pp 39–57

Seredych M, Bandosz TJ (2007) Removal of cationic and ionic dyes on industrial-municipal sludge-based composite adsorbents. Ind Eng Chem Res 46:1786–1793

Shyamsundar P, Springer NP, Tallis H, Olasky S, Jat ML, Sidhu HS, Krishnapriya PP, Skiba N, Ginn W, Ahuja V, Cummis J, Datta I, Dholakia HH, Dixon J, Gerard B, Gupta R, Hellmann J, Jadhav A, Jat HS, Keil A, Ladha JK, Lopez-Ridaura S, Nandrajog SP, Paul S, Ritter A, Sharma PC, Singh R, Singh D, Somanathan R (2019) Fields on fire: alternatives to crop residue burning in India. Science 365(6453):536–538

Suteu D, Zaharia C, Malutan T (2011) Removal of Orange 16 reactive dye from aqueous solutions by waste sunflower seed shells. J Serb Chem Soc 76(4):607–624

Szymański GS, Karpiński Z, Biniak S, Światkowski A (2002) The effect of the gradual thermal decomposition of surface oxygen species on the chemical and catalytic properties of oxidized activated carbon. Carbon 40(14):2627–2639

Thinakaran N, Panneerselvam P, Baskaralingam P, Elango D, Sivanesan S (2008) Equilibrium and kinetic studies on the removal of Acid Red 114 from aqueous solutions using activated carbons prepared from seed shells. J Hazard Mater 158:142–150

Wong YC, Szeto YS, Cheung WH, McKay G (2004) Adsorption of acid dyes on chitosan–equilibrium isotherm analyses. Process Biochem 39:695–704

Yaket SM, El-Deen GS (2016) Characterization of activated crabon prepared by phosphoric acid activation of olive stone. Arab J Chem 9:S1155–S1162

Yang J, Qui K (2010) Preparation of activated carbon from walnut shells via vacuum chemical activation and their application for methylene blue removal. Chem Eng J 165(1):209–217
Acknowledgments
The authors wish to thank the Director, ICAR-NINFET, for extending all facilities required for this study. The authors gratefully acknowledge Director, ICAR-NINFET, Kolkata-700040, India for financial support during this research work.
Ethics declarations
Conflict of interest
The authors declare that they have no conflict of interest.
Additional information
Editorial responsibility: R Saravanan.
Electronic supplementary material
Below is the link to the electronic supplementary material.
About this article
Cite this article
Ghosh, R.K., Ray, D.P., Tewari, A. et al. Removal of textile dyes from water by jute stick activated carbon: process optimization and isotherm studies. Int. J. Environ. Sci. Technol. (2020). https://doi.org/10.1007/s13762-020-03003-5
Received:

Revised:

Accepted:

Published:
Keywords
Textile dye adsorption

Jute stick activated carbon

Response surface methodology

Optimization

Isotherms