Abstract
Restoration of ecosystems on the lands disturbed by the mining industry is very slow. Acceleration of these processes is the main purpose of revegetation measures. The purpose of the current research is to show changes of cyanobacteria and algae diversity and abundance depending on the composition of different reforested stands and technosols qualities of the waste rock dumps in West Donbas coal basin, Nikopol manganese ore basin and Kryvyi Rih iron ore basin (Ukraine) that were revegetated in 1966 and 1975. The main technosols physical and chemical qualities, diversity and abundance of cyanobacteria and algae are identified. It is discovered that abundance and diversity of cyanobacteria and algae depends on qualities of soils and forest-forming tree species. The increase in physical clay in soils (particles < 0.01 mm) has a positive effect on cyanobacteria diversity and development, the increase in humus effects positively species diversity of yellow-green and green algae. A higher pH intensifies development of cyanobacteria. Development of groups of cyanobacteria and algae shows dependence on the composition of forest-forming tree species and on their environment-forming impact. The environment-forming impact depends on properties of soils and decreases under the unfavourable conditions. Our study proved that the composition and quantity of cyanobacteria and algae have relation to forest-forming tree species and properties. The results can be used for the structural design of artificial edaphotopes, for a choice of forest-forming tree species that have a high capability to create forest ecosystems equivalent to natural ones.
Access options
Buy single article
Instant access to the full article PDF.
USD 39.95
Price excludes VAT (USA)
Tax calculation will be finalised during checkout.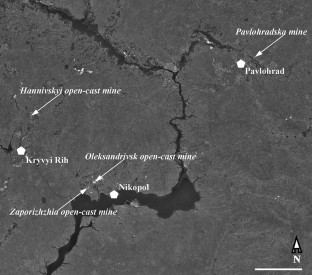 References
Aleksakhina TI, Shtina EA (1984) Soil algae inforest biogeocenoses. Nauka, Moscow

Angel HZ, Priest JS, Stovall JP, Oswald BP, Weng Y, Williams HM (2019) Individual tree and stand-level carbon and nutrient contents across one rotation of loblolly pine plantations on a reclaimed surface mine. New Forest 50:733–753. https://doi.org/10.1007/s11056-018-09696-4

Avera BN, Strahm BD, Burger JA, Zipper CE (2015) Development of ecosystem structure and function on reforested surface-mined lands in the Central Appalachian Coal Basin of the United States. New Forest 46:683–702. https://doi.org/10.1007/s11056-015-9502-8

Baranova OO (2008) Soil algae of first succession on iron-stone dumps of Kryvoy Rog. Ecology and noospherology 19:139–142

Bellenfant G, Guezennec A, Bodénan F, D'Hugues P, Cassard D (2013) Re-processing of mining waste: combining environmental management and metal recovery? In: Tibbett M, Fourie AB, Digby C (eds) Proceedings of the 8th international seminar on mine closure. Australian Centre for Geomechanics, Cornwall, pp 571–582. https://doi.org/10.36487/ACG_rep/1352_48_Bellenfant

Bischoff HW, Bold HC (1963) Some soil algae from Enchanted Rock and related algal species. Phycological studies IV. University of Texas Publication, Austin

Cabala J, Rahmonov O, Jablonska M, Teper E (2011) Soil algal colonization and its ecological role in an environment polluted by past Zn–Pb mining and smelting activity. Water Air Soil Pollut 215:339–348. https://doi.org/10.1007/s11270-010-0482-1

Chaulya SK, Singh RS, Chakraborty MK, Srivastava BK (2000) Quantification of stability improvement of a dump through biological reclamation. Geotech Geol Eng 18(3):193–207. https://doi.org/10.1023/A:1026576711324

Chen HYH, Biswas SR, Sobey TM, Brassard BW, Bartels SF (2017) Reclamation strategies for mined forest soils and overstorey drive understorey vegetation. J of Appl Ecology 55:926–936. https://doi.org/10.1111/1365-2664.13018

Chugh YP, Behum PT (2014) Coal Waste Management Practices in the USA: An Overview. Int J of Coal Sci and Technol 1:163–176. https://doi.org/10.1007/s40789-014-0023-4

Daniels WL, Stewart BR (2000) Reclamation of Appalachian coal refuse disposal areas. In: Barnhisel RI, Darmody RG, Daniels WL (eds) Reclamation of drastically disturbed lands, agronomy monograph vol 41, pp 433–459. https://doi.org/10.2134/agronmonogr41.c17

Dhar A, Comeau PG, Naeth MA, Pinno BD, Vassov R (2020) Plant community development following reclamation of oil sands mines using four cover soil types in northern Alberta. Restor Ecology 28(1):82–92. https://doi.org/10.1111/rec.13039

Ettl H (1978) Xanthophyceae 1. In: Ettl H, Gerloff J, Heynig H (eds) Süsswasserflora von Mitteleuropa. Gustav Fischer Verlag, Stuttgart, vol 3

Ettl H (1983) Chlorophyta I (Phytomonadina). In: Ettl H, Gerloff J, Heynig H, Mollenhauer D (eds) Süßwasserflora von Mitteleuropa. Gustav Fischer Verlag, Stuttgart, vol 9

Ettl H, Gärtner G (1988a) Tetrasporales, chlorococcales, gloeodendrales, chlorophyta II. In: Ettl H, Gerloff J, Heynig H (eds) Süswasserflora von Mitteleuropa. Gustav Fischer Verlag, Stuttgart

Ettl H, Gärtner G (1988b) Chlorophyta II, Tetrasporales, Chlorococcales, Gloeodendrales. In: Ettl H, et al. (eds) Süßwasserflora von Mitteleuropa. Gustav Fischer Verlag, Stuttgart, vol 10, p 436

Ettl H, Gärtner G (1995) Syllabus der Boden-, Luft und Flechtenalgen. Gustav Fischer Verlag, Stuttgart

Ettl H, Gärtner G (2014) Syllabus der Boden-Luft und Flechtenalgen. Springer Spektrum, Berlin

Frey W (2015) Syllabus of plant families. Adolf Engler's syllabus der Pflanzenfamilien. Part 2/1: photoautotrophic eukaryotic Algae. Schweizerbart Science Publishers, Stuttgart

Gaysina LA, Fazlutdinova AI, Kabirov RR (2008) Modern methods of isolation and cultivation of algae. BGPU, Ufa

Guillard RRL, Lorenzen CJ (1972) Yellow–green algae with chlorophyllide c. J Phycol 8:10–14. https://doi.org/10.1111/j.1529-8817.1972.tb03995.x

Gypser S, Herppich WB, Fischer T, Lange P, Veste M (2016a) Photosynthetic characteristics and their spatial variance on biological soil crusts covering initial soils of post-mining sites in Lower Lusatia, NE Germany. Flora 220:103–116. https://doi.org/10.1016/j.flora.2016.02.012

Gypser S, Veste M, Fischer T, Lange P (2016b) Infiltration and water retention of biological soil crusts on reclaimed soils of former open-cast lignite mining sites in Brandenburg, north-east Germany. J Hydrol Hydromech 64:1–11. https://doi.org/10.1515/johh-2016-0009

Józefowska A, Woś B, Pietrzykowski M (2016) Tree species and soil substrate effects on soil biota during early soil forming stages at afforested mine sites. Appl Soil Ecology 102:70–79. https://doi.org/10.1016/j.apsoil.2016.02.012

Juwarkar AA, Singh SK (2010) Microbe-assisted phytoremediation approach for ecological restoration of zinc mine spoil dump. Int J of Environ and Pollut 43:236–250. https://doi.org/10.1504/IJEP.2010.035927

Kharytonov MM, Kroik AA (2011) Environmental Security of solid wastes in the western donbas coal mining region, Ukraine. In: Alpas H, Berkowicz S, Ermakova I (eds) Environmental security and ecoterrorism. NATO science for peace and security series C: environmental security. Springer, Dordrecht, pp 129–137. https://doi.org/10.1007/978-94-007-1235-5_10

Klimkina I, Kharytonov M, Zhukov O (2018) Trend analysis of water-soluble salts vertical migration in technogenic edaphotops of reclaimed mine dumps in Western Donbass (Ukraine). Environ Res Eng Manag 74:82–93. https://doi.org/10.5755/j01.erem.74.2.19940

Komárek J (2013) Cyanoprokaryota. Part 3 heterocytous Genera. Springer Spectrum, Heidelberg

Komárek J, Anagnostidis K (2005) Cyanoprokaryota. Part 2 oscillatoriales. Springer Spektrum, Heidelberg

Kotai J (1972) Instructions for Preparation of Modified Nutrient Solution Z8 for Algae. Norwegian Institute for Water Research, Oslo, Norway

Krammer K, Lange-Bertalot H (1986) Bacillariophyceae.2/1. Naviculaceae. In: Ettl H, Gerloff J, Heynig H, Mollenhauer D (eds) Süßwasserflora von Mitteleuropa. Gustav Fischer Verlag, Stuttgart

Krammer K, Lange-Bertalot H (1988) Bacillariophyceae. 2/2. bacillariaceae, epithemiaceae, surirellaceae. In: Ettl H, Gerloff J, Heynig H, Mollenhauer D (eds) Süßwasserflora von Mitteleuropa. Gustav Fischer Verlag, Stuttgart

Kuziachmetov GG, Dubovik IE (2001) Methods of studying of soil algae. Publishing House of Bashkir University, Ufa

Lukešová A (2001) Soil algae in brown coal and lignite post-mining areas in Central Europe (Czech Republic and Germany). Restor Ecol 9:341–350. https://doi.org/10.1046/j.1526-100X.2001.94002.x

Maltsev Y, Maltseva I (2018) The influence of forest-forming tree species on diversity and spatial distribution of algae in forest litter. Folia Oecol 45:72–81. https://doi.org/10.2478/foecol-2018-0008

Maltsev YI, Didovich SV, Maltseva IA (2017a) Seasonal changes in the communities of microorganisms and algae in the litters of tree plantations in the Steppe zone. Eurasian Soil Sci 50:935–942. https://doi.org/10.1134/S1064229317060059

Maltsev YI, Pakhomov AY, Maltseva IA (2017b) Specific features of algal communities in forest litter of forest biogeocenoses of the steppe zone. Contemp Probl Ecol 10:71–76. https://doi.org/10.1134/S1995425517010085

Maltseva IA (1996) Soil algae of forest stands on the reclaimed mine dumps of the Western Donbas. Ecol Noospherology 2:129–134

Maltseva IA, Baranova OO (2014) Algae of man-made ecotop of iron ore production. Algologia 24:350–353

Maltseva IA, Maltsev YI, Solonenko AN (2017) Soil algae of the oak groves of the steppe zone of Ukraine. Int J Algae 19:215–226. https://doi.org/10.1615/InterJAlgae.v19.i3.20

Marques AR, Couto FR, Silva VC, Fonseca PV, Paiva PRP, Pontes PP, Gomes FCO, Ferreira AM (2017) Biological re-colonization of sub-aerial boundaries of an 'artificial construction-niche' contaminated by iron mine tailings: laboratory bioassays. Environ Earth Sci 76:480. https://doi.org/10.1007/s12665-017-6812-5

Marynych OM, Lan'ko AI, Shcherban' MI, Tyshchenko PG (1982) Physical geography of the Ukrainian SSR. Graduate School, Kyiv

Mendez MO, Maier RM (2008) Phytostabilization of mine tailings in arid and semiarid environments: an emerging remediation technology. Environ Health Perspect 116(3):278–283. https://doi.org/10.1289/ehp.10608

Nayak S, Prasanna R (2007) Soil pH and its role in cyanobacterial abundance and diversity in rice field soils. J Appl Ecol Env Res 5:103–113

Patova EN, Kulyugina EE, Deneva SV (2016) Processes of natural soil and vegetation recovery on a worked-out open pit coal mine (Bol'shezemel'skaya tundra). Russian J Ecol 47(3):228–233. https://doi.org/10.1134/S1067413616020119

Prykhod'kova LP (1992) Blue-green algae of soils of the steppe zone of Ukraine. Naukova dumka, Kiev

Rahmonov O, Cabala J, Bednarek R, Rozek D, Florkiewicz A (2015) Role of soil algae on the initial stages of soil formation in sandy polluted areas. Ecol Chem Eng 22:675–690. https://doi.org/10.1515/eces-2015-0041

Rani N, Sharma HR, Kaushik A, Sagar A (2019) Bioremediation of mined waste land. In: Hussain C (ed) Handbook of environmental materials management. Springer, Cham, pp 557–582. https://doi.org/10.1007/978-3-319-73645-7_79

Rosario K, Iverson SL, Henderson DA, Chartrand S, McKeon C, Glenn EP, Maier RM (2007) Bacterial community changes during plant establishment at the San Pedro River mine tailings site. J Environ Qual 36(5):1249–1259. https://doi.org/10.2134/jeq2006.0315

Scherbina VV (2012) Algae associations of virgin steppe and mastered earths of south steppe of Ukraine. Bioindication Environ Issues 17:3–12

Scherbina VV, Maltseva IA, Solonenko AN (2014) Peculiarities of postpyrogene development of algae in steppe biocenoses at Askania Nova Biospheric National Park. Contemp Probl Ecol 7:187–191. https://doi.org/10.1134/S1995425514020140

Seiderer T, Venter A, van Wyk F, Levanets A, Jordaan A (2017) Growth of soil algae and cyanobacteria on gold mine tailings material. South African J Sci 113(11–12):45–50. https://doi.org/10.17159/sajs.2017/20160384

Shannon CW, Weaver W (1963) The mathematical theory of communication. University of Illinois Press, Urbana

Shmidt VM (1984) Mathematical methods in botany: tutorial allowance. LU Publishing House, Leningrad

Sokolov AV, Askinazi DL (1965) Agrochemical methods of soil studies. Nauka, Moscow

Song Y, Shu W, Wang A, Liu W (2014) Characters of soil algae during primary succession on copper mine dumps. J Soils Sediments 14(3):577–583. https://doi.org/10.1007/s11368-013-0815-y

Sorenson PT, Quideau SA, MacKenzie MD, Landhäusser SM, Oh SW (2011) Forest floor development and biochemical properties in reconstructed boreal forest soils. Appl Soil Ecol 49:139–147. https://doi.org/10.1016/j.apsoil.2011.06.006

Ssenku JE, Ntale M, Backeus I, Lehtila K, Oryem-Origa H (2014) Dynamics of plant species during phytostabilisation of copper mine tailings and pyrite soils, Western Uganda. J Environ Eng Ecol Sci 3:1–12. https://doi.org/10.7243/2050-1323-3-4

Starmach K (1963) Flora Slodkowodna Polski Rosliny Slodkovodne. Wstep Ogólny I Zarys Method Badania. Panstwowe Wyd-wo Nauk, Warszawa

Travleyev AP, Belova NA, Zverkovsky VN (2005) Theoretically practical aspects of forest reclamation the territory of western Donbass in Dnipropetrovsk region. Gruntoznavstvo 16(1–2):19–31

Žaltauskaitė J, Vaitonytė I (2016) Toxicological assessment of closed municipal solid-waste landfill impact on the environment. Environ Res Eng Manag 72(4):8–16. https://doi.org/10.5755/j01.erem.72.4.16555

Zhengfu B, Hilary II, John LD, Otto F, Struthers S (2010) Environmental issues from coal mining and their solutions. Min Sci Technol 20(2):215–223. https://doi.org/10.1016/S1674-5264(09)60187-3

Zverkovsky V, Kharytonov M, Klimkina I, Sytnyk S, Lovynska V, Mykolenko S, Pardini G, Margui E (2018) Environmental Feasibility of Forest Reclamation of Mining Dumps of the Western Donbass. Miestų Želdynų Formavimas 15(1):268–275
Acknowledgement
Work with Cyanobacteria for morphological analysis and curation under Yevhen Maltsev was supported by Russian Foundation for Basic Research according to the research project, Grant No. 19-04-00326.
Ethics declarations
Conflict of interest
The authors declare that they have no conflict of interest.
Informed consent
Informed consent was obtained from all individual participants included in the study.
Additional information
Editorial responsibility: Samareh Mirkia.
Electronic supplementary material
Below is the link to the electronic supplementary material.
About this article
Cite this article
Maltseva, I.A., Maltsev, Y.I. Diversity of cyanobacteria and algae in dependence to forest-forming tree species and properties rocks of dump. Int. J. Environ. Sci. Technol. 18, 545–560 (2021). https://doi.org/10.1007/s13762-020-02868-w
Received:

Revised:

Accepted:

Published:

Issue Date:

DOI: https://doi.org/10.1007/s13762-020-02868-w
Keywords
Anthropogenic edaphotope

Soil properties

Soil cyanobacteria

Soil algae

Revegetation

Forest-forming tree species