Abstract
Structural-grade geopolymer concrete (GPC) containing metakaolin (MK) was assessed by partial inclusion of recycled coarse aggregate (RCA) to produce environmental-friendly composites. Polypropylene (PP) fiber was also used at different weight ratios. Mechanical and durability properties of GPCs were then evaluated. The impact of fiber and RCA on the microstructure of geopolymer paste and interfacial transition zone in different parts were evaluated. The results indicated no significant change on compressive strength by the inclusion of PP fiber. However, a remarkable improvement in flexural and splitting tensile strength and drying shrinkage was observed through the inclusion of PP fiber. Load–displacement graphs revealed that PP fiber increases the GPC fracture toughness and improves the maximum load capacity. Although the compressive strength of samples decreased by the RCA inclusion, the strengths achieved were still appropriate for structural applications. From microstructural point of view, it was found that fiber and geopolymer paste have a firm bound, which would contribute to constraining the propagation of potential cracks. It was indicated that the combination of 1% PP fiber and 20% RCA in MK-based GPC leads to an eco-friendly concrete mix with appropriate hardening properties that would contribute to the sustainability in the construction industry.
Access options
Buy single article
Instant access to the full article PDF.
USD 39.95
Price excludes VAT (USA)
Tax calculation will be finalised during checkout.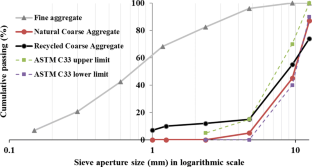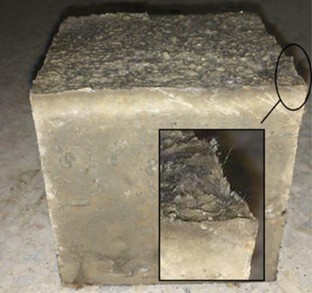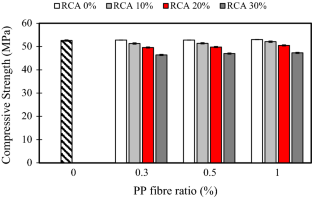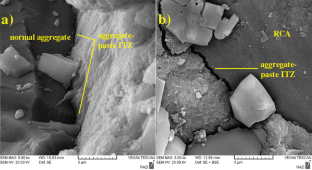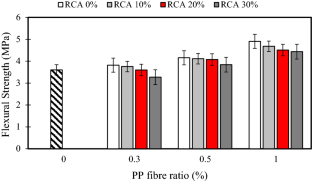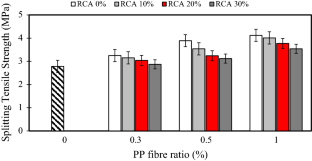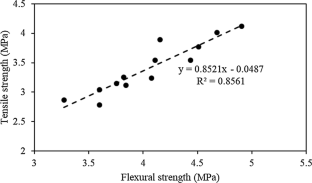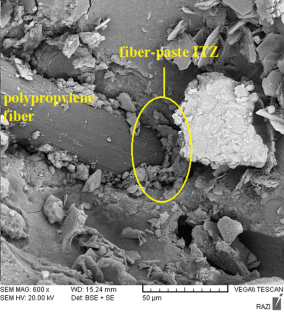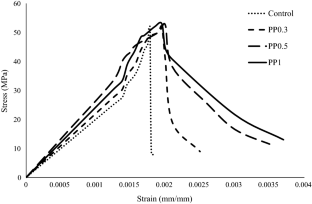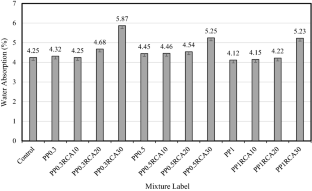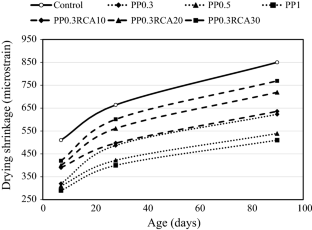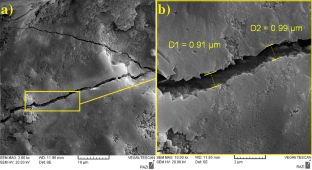 References
Afroughsabet V, Ozbakkaloglu T (2015) Mechanical and durability properties of high-strength concrete containing steel and polypropylene fibers. Constr Build Mater 94:73–82

Afroughsabet V, Biolzi L, Ozbakkaloglu T (2016) High-performance fiber-reinforced concrete: a review. J Mater Sci 51:6517–6551

Afroughsabet V, Biolzi L, Ozbakkaloglu T (2017) Influence of double hooked-end steel fibers and slag on mechanical and durability properties of high performance recycled aggregate concrete. Compos Struct 181:273–284

Al-Majidi MH, Lampropoulos A, Cundy AB (2017) Steel fibre reinforced geopolymer concrete (SFRGC) with improved microstructure and enhanced fibre-matrix interfacial properties. Constr Build Mater 139:286–307

Al-Mashhadani MM, Canpolat O, Aygörmez Y, Uysal M, Erdem S (2018) Mechanical and microstructural characterization of fiber reinforced fly ash based geopolymer composites. Constr Build Mater 167:505–513

Ascensão G, Seabra MP, Aguiar JB, Labrincha JA (2017) Red mud-based geopolymers with tailored alkali diffusion properties and pH buffering ability. J Clean Prod 148:23–30

ASTM-C496-96 (1996) Standard test method for splitting tensile strength of cylindrical concrete specimens. American Society for Testing and Materials, West Conshohocken

ASTM-C490 (2003) Standard practice for use of apparatus for determination of length change of hardened cement paste. Annual Book of ASTM Standards, Philadelphia

ASTM-C642–13 (2013) Standard test method for density, absorption, and voids in hardened concrete. ASTM International, West Conshohocken

ASTM-C293 (2016) Standard test method for flexural strength of concrete (using simple beam with center-point loading). ASTM International, West Conshohocken

ASTM-C33 (2018) Standard specification for concrete aggregates. ASTM International, West Conshohocken

AS3600-2009 (2009) Concrete structures. Standards Australia, North Sydney

Bhutta A, Borges PHR, Zanotti C, Farooq M, Banthia N (2017) Flexural behavior of geopolymer composites reinforced with steel and polypropylene macro fibers. Cem Concr Compos 80:31–40

Clarke J, Peaston C, Swannell N (2007) Guidance on the use of macro-synthetic-fiber reinforced concrete. The Concrete Society, Camberley

Davidovits J (1991) Geopolymers—inorganic polymeric new materials. J Therm Anal 37:1633–1656

Duxson P, Fernández-Jiménez A, Provis JL, Lukey GC, Palomo A, Van Deventer JSJ (2007) Geopolymer technology: the current state of the art. J Mater Sci 42:2917–2933

Ebrahimi A, Saffari M, Milani D, Montoya A, Valix M, Abbas A (2017) Sustainable transformation of fly ash industrial waste into a construction cement blend via CO2 carbonation. J Clean Prod 156:660–669

Gholampour A, Ozbakkaloglu T (2018) Time-dependent and long-term mechanical properties of concretes incorporating different grades of coarse recycled concrete aggregates. Eng Struct 157:224–234

Kamseu E, Cannio M, Obonyo EA, Tobias F, Bignozzi MC, Sglavo VM, Leonelli C (2014) Metakaolin-based inorganic polymer composite: effects of fine aggregate composition and structure on porosity evolution, microstructure and mechanical properties. Cem Concr Compos 53:258–269

Khotbehsara MM, Miyandehi BM, Naseri F, Ozbakkaloglu T, Jafari F, Mohseni E (2018) Effect of SnO2, ZrO2, and CaCO3 nanoparticles on water transport and durability properties of self-compacting mortar containing fly ash: experimental observations and ANFIS predictions. Constr Build Mater 158:823–834

Koushkbaghi M, Kazemi MJ, Mosavi H, Mohseni E (2019) Acid resistance and durability properties of steel fiber-reinforced concrete incorporating rice husk ash and recycled aggregate. Constr Build Mater 202:266–275

Medina G, Sáez Del Bosque IF, Frías M, Sánchez De Rojas MI, Medina C (2017) Granite quarry waste as a future eco-efficient supplementary cementitious material (SCM): scientific and technical considerations. J Clean Prod 148:467–476

Mohseni E (2018) Assessment of Na2SiO3 to NaOH ratio impact on the performance of polypropylene fiber-reinforced geopolymer composites. Constr Build Mater 186:904–911

Mohseni E, Miyandehi BM, Yang J, Yazdi MA (2015) Single and combined effects of nano-SiO2, nano-Al2O3 and nano-TiO2 on the mechanical, rheological and durability properties of self-compacting mortar containing fly ash. Constr Build Mater 84:331–340

Mohseni E, Saadati R, Kordbacheh N, Parpinchi ZS, Tang W (2017a) Engineering and microstructural assessment of fibre-reinforced self-compacting concrete containing recycled coarse aggregate. J Clean Prod 168:605–613

Mohseni E, Tang W, Cui H (2017b) Chloride diffusion and acid resistance of concrete containing zeolite and tuff as partial replacements of cement and sand. Materials 10:372

Naik TR (2008) Sustainability of concrete construction. Pract Period Struct Des Constr 13:98–103

Nath P, Sarker PK (2017) Flexural strength and elastic modulus of ambient-cured blended low-calcium fly ash geopolymer concrete. Constr Build Mater 130:22–31

Nematollahi B, Sanjayan J, Qiu J, Yang E-H (2017) High ductile behavior of a polyethylene fiber-reinforced one-part geopolymer composite: a micromechanics-based investigation. Arch Civ Mech Eng 17:555–563

Nuaklong P, Sata V, Chindaprasirt P (2016) Influence of recycled aggregate on fly ash geopolymer concrete properties. J Clean Prod 112:2300–2307

Nuaklong P, Sata V, Chindaprasirt P (2018) Properties of metakaolin-high calcium fly ash geopolymer concrete containing recycled aggregate from crushed concrete specimens. Constr Build Mater 161:365–373

Ozbakkaloglu T, Gholampour A, Xie T (2017) Mechanical and durability properties of recycled aggregate concrete: effect of recycled aggregate properties and content. J Mater Civ Eng 30:04017275

Pouhet R, Cyr M (2016) Formulation and performance of flash metakaolin geopolymer concretes. Constr Build Mater 120:150–160

Punurai W, Kroehong W, Saptamongkol A, Chindaprasirt P (2018) Mechanical properties, microstructure and drying shrinkage of hybrid fly ash-basalt fiber geopolymer paste. Constr Build Mater 186:62–70

Rahal K (2007) Mechanical properties of concrete with recycled coarse aggregate. Build Environ 42:407–415

Ramlochan T, Thomas M, Gruber KA (2000) The effect of metakaolin on alkali–silica reaction in concrete. Cem Concr Res 30:339–344

Ren X, Zhang L (2018) Experimental study of interfacial transition zones between geopolymer binder and recycled aggregate. Constr Build Mater 167:749–756

Richardson AE (2006) Compressive strength of concrete with polypropylene fibre additions. Struct Surv 24:138–153

Saradar A, Tahmouresi B, Mohseni E, Shadmani A (2018) Restrained shrinkage cracking of fiber-reinforced high-strength concrete. Fibers 6:12

Siddique R, Klaus J (2009) Influence of metakaolin on the properties of mortar and concrete: a review. Appl Clay Sci 43:392–400

Verdolotti L, Iannace S, Lavorgna M, Lamanna R (2008) Geopolymerization reaction to consolidate incoherent pozzolanic soil. J Mater Sci 43:865–873

Xie T, Ozbakkaloglu T (2015a) Behavior of low-calcium fly and bottom ash-based geopolymer concrete cured at ambient temperature. Ceram Int 41:5945–5958

Xie T, Ozbakkaloglu T (2015b) Influence of coal ash properties on compressive behaviour of FA-and BA-based GPC. Mag Concr Res 67:1301–1314

Xie T, Gholampour A, Ozbakkaloglu T (2018) Toward the development of sustainable concretes with recycled concrete aggregates: comprehensive review of studies on mechanical properties. J Mater Civ Eng 30:04018211

Yang T, Zhu H, Zhang Z (2017) Influence of fly ash on the pore structure and shrinkage characteristics of metakaolin-based geopolymer pastes and mortars. Constr Build Mater 153:284–293

Zabihi SM, Tavakoli H, Mohseni E (2018) Engineering and microstructural properties of fiber-reinforced rice husk; ash based geopolymer concrete. J Mater Civ Eng 30:04018183
Acknowledgements
The authors would like to express their deepest appreciation to the laboratory manager of the Dehaghan Branch—Islamic Azad University—that provided us the possibility to complete this research.
Additional information
Editorial responsibility: M. Abbaspour.
About this article
Cite this article
Behforouz, B., Balkanlou, V.S., Naseri, F. et al. Investigation of eco-friendly fiber-reinforced geopolymer composites incorporating recycled coarse aggregates. Int. J. Environ. Sci. Technol. 17, 3251–3260 (2020). https://doi.org/10.1007/s13762-020-02643-x
Received:

Revised:

Accepted:

Published:

Issue Date:

DOI: https://doi.org/10.1007/s13762-020-02643-x
Keywords
Drying shrinkage

Environmental-friendly concrete

Geopolymer composite

Microstructure

Polypropylene (PP) fibers

Recycled coarse aggregate