Abstract
Climate variability and fluctuations dramatically affect terrestrial ecosystems and their variations. Several studies have been conducted on the relationship between them in terms of use of vegetation indices. In this study, GIS-based spatiotemporal analyses were used to model the relationship between vegetation variations based on the EVI-MODIS and its response to land surface temperature (LST) and rainfall in Mazandaran province during the period of 2000–2016 in the north of Iran. The LST parameter was derived from the 17-year MODIS data, and rainfall parameter was achieved via meteorological station data in the region. Correlation and linear regression analyses at 0.95% confidence level (P value = 0.5) were used to study the relationship between spatiotemporal enhanced vegetation index (EVI) and two climatic parameters. The results indicated that the EVI had a rising trend over the study period. This was mostly due to the increase in paddy fields. The result also shows significant spatial correlation between EVI with LST values, which was direct during winter and inverse during summer. The tabulate area analysis showed that throughout the winter months, the spatial distribution of pixels matched the highest EVI values in pixels with a maximum temperature (20–27 °C), while during June to September, the maximum EVI values were related to areas where the LST was less than 25 °C. Although we found no significant simultaneous relationship between EVI/MODIS and rainfall in studied area, but by 1.5–2.5 months lag time in spring season, the relation between them reaches peak.
Access options
Buy single article
Instant access to the full article PDF.
USD 39.95
Price excludes VAT (USA)
Tax calculation will be finalised during checkout.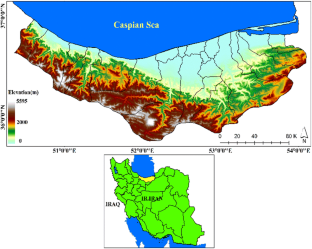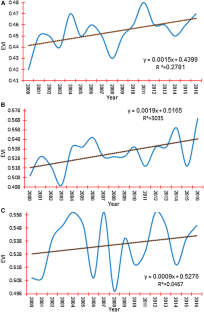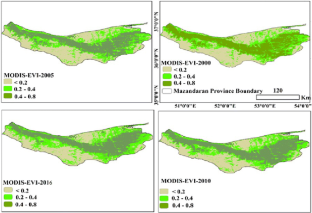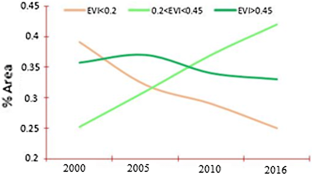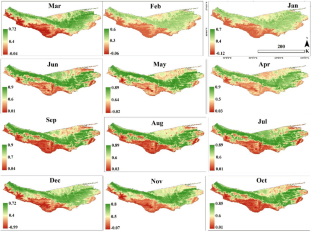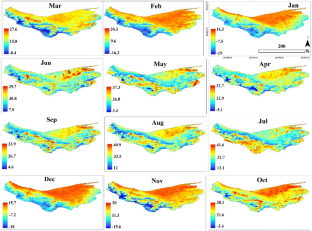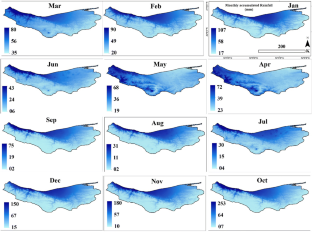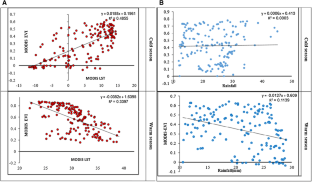 References
Alijani B (2013) Weather in Iran (geography). Payame Noor University Press, Tehran, p 236 (in Persian)

Amiri-Bourkhani M, Khaledian R, Mashrafzadeh A, Shahnazari A (2017) The temporal and spatial variations in groundwater salinity in Mazandaran Plain, Iran, during a long-term period of 26 years. Geofizika 34(1):119–139

Bao G, Qin Z, Bao Y, Zhou Y, Li W, Sanjjav A (2014) NDVI-based long-term vegetation dynamics and its response to climatic change in the Mongolian Plateau. Remote Sens 6(9):8337–8358

Chang CT, Wang SF, Vadeboncoeur MA, Lin TC (2014) Relating vegetation dynamics to temperature and precipitation at monthly and annual timescales in Taiwan using MODIS vegetation indices. Int J Remote Sens 35(2):598–620

Chen Z, Jiang WG, Tang ZH, Jia K (2016) Spatial–temporal pattern of vegetation index change and the relationship to land surface temperature in zoige. Int Arch Photogramm Remote Sens Spat Inf Sci 41:849–852

Chuai XW, Huang XJ, Wang WJ, Bao G (2013) NDVI, temperature and precipitation changes and their relationships with different vegetation types during 1998–2007 in Inner Mongolia, China. Int J Climatol 33(7):1696–1706

Ding M, Zhang Y, Liu L, Zhang W, Wang Z, Bai W (2007) The relationship between NDVI and precipitation on the Tibetan Plateau. J Geogr Sci 17(3):259–268

Emadi M, Shahriari AR, Sadegh-Zadeh F, Jalili Seh-Bardan B, Dindarlou A (2016) Geostatistics-based spatial distribution of soil moisture and temperature regime classes in Mazandaran province, northern Iran. Arch Agron Soil Sci 62(4):502–522

Guo L, Wu S, Zhao D, Yin Y, Leng G, Zhang Q (2014a) NDVI-based vegetation change in Inner Mongolia from 1982 to 2006 and its relationship to climate at the biome scale. Adv Meteorol. https://doi.org/10.1155/2014/692068

Guo W, Ni X, Jing D, Li S (2014b) Spatial–temporal patterns of vegetation dynamics and their relationships to climate variations in Qinghai Lake Basin using MODIS time-series data. J Geogr Sci 24(6):1009–1021

Halimi M, Sedighifar Z, Mohammadi C (2018) Analyzing spatiotemporal land use/cover dynamic using remote sensing imagery and GIS techniques case: Kan basin of Iran. GeoJournal 83(5):1067–1077

He D, Yi G, Zhang T, Miao J, Li J, Bie X (2018) Temporal and spatial characteristics of EVI and its response to climatic factors in recent 16 years based on grey relational analysis in inner Mongolia Autonomous Region, China. Remote Sens 10(6):961

Huete A, Didan K, Miura T, Rodriguez EP, Gao X, Ferreira LG (2002) Overview of the radiometric and biophysical performance of the MODIS vegetation indices. Remote Sens Environ 83(1–2):195–213

Hussein SO, Kovács F, Tobak Z (2017) Spatiotemporal assessment of vegetation indices and land cover for Erbil city and its surrounding using MODIS imageries. J Environ Geogr 10(1–2):31–39

Kaufmann RK, Zhou L, Myneni RB, Tucker CJ, Slayback D, Shabanov NV, Pinzon J (2003) The effect of vegetation on surface temperature: a statistical analysis of NDVI and climate data. Geophys Res Lett 30(22):4p

Leilei L, Jianrong F, Yang C (2014) The relationship analysis of vegetation cover, rainfall and land surface temperature based on remote sensing in Tibet, China. In: IOP conference series: earth and environmental science, vol 17, no 1. IOP Publishing, p 012034

Li Z, Li X, Wei D, Xu X, Wang H (2010) An assessment of correlation on MODIS-NDVI and EVI with natural vegetation coverage in Northern Hebei Province, China. Proc Environ Sci 2:964–969

Lu L, Kuenzer C, Wang C, Guo H, Li Q (2015) Evaluation of three MODIS-derived vegetation index time series for dryland vegetation dynamics monitoring. Remote Sens 7(6):7597–7614

Luan J, Liu D, Zhang L, Huang Q, Feng J, Lin M, Li G (2018) Analysis of the spatial–temporal change of the vegetation index in the upper reach of Han River Basin in 2000–2016. Proc Int Assoc Hydrol Sci 379:287–292

Marvi-Mohajer MR (2005) Silviculture. University of Tehran Press, Tehran, p 387

Motlagh MG, Kafaky SB, Mataji A, Akhavan R (2018) Estimating and mapping forest biomass using regression models and Spot-6 images (case study: Hyrcanian forests of north of Iran). Environ Monit Assess 190(6):352

Phompila C, Lewis M, Ostendorf B, Clarke K (2015) MODIS EVI and LST temporal response for discrimination of tropical land covers. Remote Sens 7(5):6026–6040

Raynolds MK, Comiso JC, Walker DA, Verbyla D (2008) Relationship between satellite-derived land surface temperatures, arctic vegetation types, and NDVI. Remote Sens Environ 112(4):1884–1894

Richard Y, Poccard I (1998) A statistical study of NDVI sensitivity to seasonal and interannual rainfall variations in Southern Africa. Int J Remote Sens 19(15):2907–2920

Testa S, Soudani K, Boschetti L, Mondino EB (2018) MODIS-derived EVI, NDVI and WDRVI time series to estimate phenological metrics in French deciduous forests. Int J Appl Earth Obs Geoinf 64:132–144

Wang J, Rich PM, Price KP (2003) Temporal responses of NDVI to precipitation and temperature in the central Great Plains, USA. Int J Remote Sens 24(11):2345–2364

Xin Z, Xu J, Zheng W (2008) Spatiotemporal variations of vegetation cover on the Chinese Loess Plateau (1981–2006): impacts of climate changes and human activities. Sci China Ser D Earth Sci 51(1):67–78

Xu G, Zhang H, Chen B, Zhang H, Innes JL, Wang G, Yan J, Zheng Y, Zhu Z, Myneni RB (2014) Changes in vegetation growth dynamics and relations with climate over China's landmass from 1982 to 2011. Remote Sens 6(4):3263–3283

Zhong L, Ma Y, Salama MS, Su Z (2010) Assessment of vegetation dynamics and their response to variations in precipitation and temperature in the Tibetan Plateau. Clim Change 103(3–4):519–535

Zoungrana BJB, Conrad C, Amekudzi LK, Thiel M, Da ED (2014) Land use/cover response to rainfall variability: a comparing analysis between NDVI and EVI in the Southwest of Burkina Faso. Climate 3(1):63–77
Acknowledgements
The authors thank all those who helped in this research.
Ethics declarations
Conflict of interest
There is no conflict of interest.
Additional information
Editorial responsibility: M. Abbaspour.
About this article
Cite this article
Sedighifar, Z., Motlagh, M.G. & Halimi, M. Investigating spatiotemporal relationship between EVI of the MODIS and climate variables in northern Iran. Int. J. Environ. Sci. Technol. 17, 733–744 (2020). https://doi.org/10.1007/s13762-019-02374-8
Received:

Revised:

Accepted:

Published:

Issue Date:

DOI: https://doi.org/10.1007/s13762-019-02374-8
Keywords
EVI

LST

Rainfall

Tabulate area analysis

Mazandaran