Abstract
Methyl violet is one of the most important pollutants responsible for destabilizing aquatic ecosystems, and it is poisonous to most of the animals. Inhalation of methyl violet in humans may cause irritation in the respiratory tract, while eating it may irritate the digestive tract. In this study, the carbon of palm kernel was used as a biological absorbent to remove the methyl violet pollutants from textile industry sewages. Further, the influential variables were studied on sorption, such as the amount of adsorbent (0.04–0.15 g), pH (4–10), contact time (1–120 min), temperature (25–40 °C) and different dye concentrations (10–120 mg L−1). The optimum values of adsorbent, pH, contact time, temperature and dye concentration were 0.1 g, 7, 30 min, 25 °C and 50 mg L−1, respectively. Under optimum conditions, the percentages of dye removal were 98.85 and 91.08 in relation to modified and unmodified adsorbent, respectively. The adsorption data were in good agreement with Langmuir–Freundlich isotherm. Based on the results, data were mostly consistent with pseudo-second-order kinetics; different thermodynamic parameters such as free energy absorption (ΔG°), entropy (ΔS°) and enthalpy (ΔH°) were further investigated. These studies (ΔG° = − 7651.9141 kJ mol−1 for unmodified adsorbent and ΔG° = − 13,799.6138 kJ mol−1 for modified adsorbent, ΔS° = 0.135 for unmodified adsorbent and ΔS° = 26.195 for modified adsorbent, ΔH° = 32.702 kJ mol−1 K−1 for unmodified adsorbent and ΔH° = 0.069 kJ mol−1 K−1 for modified adsorbent) showed that adsorption is a spontaneous and endothermic process. The maximum adsorption capacities of methyl violet were 107.3 and 83.91 mg g−1 in relation to the modified and unmodified adsorbent, respectively.
Access options
Buy single article
Instant access to the full article PDF.
USD 39.95
Price excludes VAT (USA)
Tax calculation will be finalised during checkout.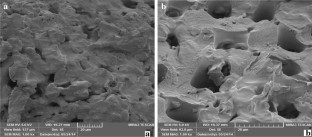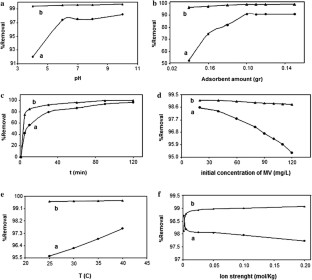 References
Abdelwahab O, El Sikaily A, Khaled A, El Nemr A (2007) Mass-transfer processes of chromium (VI) adsorption onto guava seeds. Chem Ecol 23(1):73–85

Annadurai G, Juang RS, Lee DJ (2002) Use of cellulose-based wastes for adsorption of dyes from aqueous solutions. J Hazard Mater 92(3):263–274

Azizian S, Haerifar M, Bashiri H (2009) Adsorption of methyl violet onto granular activated carbon: equilibrium, kinetics and modeling. Chem Eng J 146(1):36–41

Bogdanov S (2006) Contaminants of bee products. Apidologie 37(1):1–18

Bulut E, Özacar M, Şengil İA (2008) Adsorption of malachite green onto bentonite: equilibrium and kinetic studies and process design. Microporous Mesoporous Mater 115(3):234–246

Cheung CW, Porter JF, McKay G (2000) Sorption kinetics for the removal of copper and zinc from effluents using bone char. Sep Purif Technol 19(1):55–64

Chishti Z, Hussain S, Arshad KR, Khalid A, Arshad M (2013) Microbial degradation of chlorpyrifos in liquid media and soil. J Environ Manage 114:372–380

Chompuchan C, Satapanajaru T, Suntornchot P, Pengthamkeerati P (2010) Decolorization of reactive black 5 and reactive red 198 using nanoscale zerovalent iron. Int J Environ Sci Eng 2(3):123–127

Deniz F (2013) Dye removal by almond shell residues: studies on biosorption performance and process design. Mater Sci Eng, C 33(5):2821–2826

Dhal B, Thatoi HN, Das NN, Pandey BD (2013) Chemical and microbial remediation of hexavalent chromium from contaminated soil and mining/metallurgical solid waste: a review. J Hazard Mater 250:272–291

Doğan M, Özdemir Y, Alkan M (2007) Adsorption kinetics and mechanism of cationic methyl violet and methylene blue dyes onto sepiolite. Dyes Pigm 75(3):701–713

Febrianto J, Kosasih AN, Sunarso J, Ju YH, Indraswati N, Ismadji S (2009) Equilibrium and kinetic studies in adsorption of heavy metals using biosorbent: a summary of recent studies. J Hazard Mater 162(2):616–645

Foo KY, Hameed BH (2010) Detoxification of pesticide waste via activated carbon adsorption process. J Hazard Mater 175(1–3):1–11

Greluk M, Hubicki Z (2011) Efficient removal of acid orange 7 dye from water using the strongly basic anion exchange resin Amberlite IRA-958. Desalination 278(1):219–226

Hameed BH (2008) Equilibrium and kinetic studies of methyl violet sorption by agricultural waste. J Hazard Mater 154(1):204–212

Hameed BH, Ahmad AA, Aziz N (2009) Adsorption of reactive dye on palm-oil industry waste: equilibrium, kinetic and thermodynamic studies. Desalination 247(1–3):551–560

Han R, Zhang J, Han P, Wang Y, Zhao Z, Tang M (2009) Study of equilibrium, kinetic and thermodynamic parameters about methylene blue adsorption onto natural zeolite. Chem Eng J 145(3):496–504

Ho YS, Chiang TH, Hsueh YM (2005) Removal of basic dye from aqueous solution using tree fern as a biosorbent. Process Biochem 40(1):119–124

Huong PT, Lee BK, Kim J, Lee CH (2016) Nitrophenols removal from aqueous medium using Fe-nano mesoporous zeolite. Mater Des 101:210–217

Kobya M, Gengec E, Sensoy MT, Demirbas E (2014) Treatment of textile dyeing wastewater by electrocoagulation using Fe and Al electrodes: optimisation of operating parameters using central composite design. Color Technol 130(3):226–235

Li YH, Ding J, Luan Z, Di Z, Zhu Y, Xu C, Wei B (2003) Competitive adsorption of Pb 2+, Cu 2+ and Cd 2+ ions from aqueous solutions by multiwalled carbon nanotubes. Carbon 41(14):2787–2792

Li P, Su YJ, Wang Y, Liu B, Sun LM (2010) Bioadsorption of methyl violet from aqueous solution onto Pu-erh tea powder. J Hazard Mater 179(1):43–48

Morales-Pérez AA, Arias C, Ramírez-Zamora RM (2016) Removal of atrazine from water using an iron photo catalyst supported on activated carbon. Adsorption 22(1):49–58

Mostafavi ST, Mehrnia MR, Rashidi AM (2009) Preparation of nanofilter from carbon nanotubes for application in virus removal from water. Desalination 238(1–3):271–280

Nwankwegu AS, Onwosi CO (2017) Bioremediation of gasoline contaminated agricultural soil by bioaugmentation. Environ Technol Innov 7:1–11

Ofomaja AE, Ho YS (2008) Effect of temperatures and pH on methyl violet biosorption by Mansonia wood sawdust. Bioresour Technol 99(13):5411–5417

Özer A, Özer D, Özer A (2004) The adsorption of copper(II) ions on to dehydrated wheat bran (DWB): determination of the equilibrium and thermodynamic parameters. Process Biochem 39(12):2183–2191

Rahman MS, Islam MR (2009) Effects of pH on isotherms modeling for Cu(II) ions adsorption using maple wood sawdust. Chem Eng J 149(1):273–280

Rangarajan SK (1973) Adsopption isotherms—A critique. J Electroanal Chem Interfacial Electrochem 45(2):283–293

Shojaei S (2018) Optimization of process variables by the application of response surface methodology for dye removal using nanoscale zero-valent iron. Int J Environ Sci Technol, 1–10. https://doi.org/10.1007/s13762-018-1866-9

Shojaei S, Shojaei S (2017) Experimental design and modeling of removal of Acid Green 25 dye by nanoscale zero-valent iron. Euro Mediterr J Environ Integr 2(1):15

Shojaei S, Khammarnia S, Shojaei S, Sasani M (2017a) Removal of reactive red 198 by nanoparticle zero valent iron in the presence of hydrogen peroxide. J Water Environ Nanotechnol 2(2):129–135

Shojaei S, Shojaei S, Sasani M (2017b) The efficiency of eliminating direct red 81 by zero-valent iron nanoparticles from aqueous solutions using response surface model (RSM). Model Earth Syst Environ 3(1):27

Sun L, Wan S, Luo W (2013) Biochars prepared from anaerobic digestion residue, palm bark, and eucalyptus for adsorption of cationic methylene blue dye: characterization, equilibrium, and kinetic studies. Biores Technol 140:406–413

Thinakaran N, Panneerselvam P, Baskaralingam P, Elango D, Sivanesan S (2008) Equilibrium and kinetic studies on the removal of Acid Red 114 from aqueous solutions using activated carbons prepared from seed shells. J Hazard Mater 158(1):142–150

Wu JS, Liu CH, Chu KH, Suen SY (2008) Removal of cationic dye methyl violet 2B from water by cation exchange membranes. J Membr Sci 309(1):239–245

Zhang Y, Zhang W, Liao X, Zhang J, Hou Y, Xiao Z, Hu X (2010) Degradation of diazinon in apple juice by ultrasonic treatment. Ultrason Sonochem 17(4):662–668
Acknowledgements
The authors are grateful to University of Payame Noor for kind support.
Additional information
Editorial responsibility: Necip Atar.
About this article
Cite this article
Mehr, H.V., Saffari, J., Mohammadi, S.Z. et al. The removal of methyl violet 2B dye using palm kernel activated carbon: thermodynamic and kinetics model. Int. J. Environ. Sci. Technol. 17, 1773–1782 (2020). https://doi.org/10.1007/s13762-019-02271-0
Received:

Revised:

Accepted:

Published:

Issue Date:

DOI: https://doi.org/10.1007/s13762-019-02271-0
Keywords
Adsorption

Methyl violet

Carbon-based palm kernel

Dye removal