Abstract
The contamination of lead in roadside soils and in the leaves of selected trees grown on the corresponding roadside land was investigated. Roadside soil and leaf samples of four tree species were collected along the national and provincial highways in five towns of the Khyber Pakhtunkhwa province, Pakistan. The mean lead concentrations in roadside soil samples were 44.8, 39.4, 32.7, 28.4 and 41.7 mg kg−1 for Peshawar, Charsadda, Swabi, Upper Dir and Lower Dir, respectively. For leaves, the mean concentrations were 4.44, 3.48, 5.56 and 5.93 mg kg−1 for Eucalyptus camaldulensis, Dalbergia sissoo, Platanus orientalis and Morus nigra, respectively. Human health risks via ingestion, inhalation and dermal contact were estimated numerically in terms of average daily dose, hazard quotient and hazard index for the exposed adults and children. The mean hazard index value for adults was 0.37, and mean hazard index value for children was 3.23. Thus, children were found at high risk of lead-related health issues due to roadside soil pollution.
This is a preview of subscription content, log in to check access.
Access options
Buy single article
Instant access to the full article PDF.
US$ 39.95
Price includes VAT for USA
Subscribe to journal
Immediate online access to all issues from 2019. Subscription will auto renew annually.
US$ 99
This is the net price. Taxes to be calculated in checkout.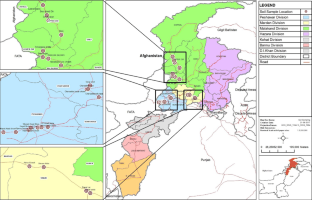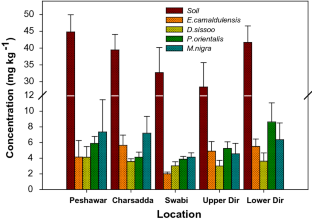 References
ATSDR (Agency for Toxic Substances and Disease Registry) (2015) Priority list of hazardous substances. http://www.atsdr.cdc.gov/SPL/index.html. Accessed 14 January 2017

Blanusa T, Fantozzi F, Monaci F, Bargagli R (2015) Leaf trapping and retention of particles by holm oak and other common tree species in Mediterranean urban environments. Urban For Urban Green 14(4):1095–1101

Brown SL, Chaner RL, Hettiarachchi GM (2016) Lead in urban soils: a real or perceived concern for urban agriculture? J Environ Qual 45(1):25–36

Chen X, Xia X, Zhao Y, Zhang P (2010) Heavy metal concentrations in roadside soils and correlation with urban traffic in Beijing, China. J Hazard Mater 181(1–3):640–646

Cheng H, Hu Y (2010) Lead (Pb) isotopic fingerprinting and its applications in lead pollution studies in China: a review. Environ Pollut 158(5):1134–1146

Chrastny V, Sillerova H, Vitkova M, Francova A, Jehlicka J, Kocourkova J, Aspholm PE, Nilsson LO, Berglen TF, Jensen HKB, Komarek M (2018) Unleaded gasoline as a significant source of Pb emissions in the Subarctic. Chemosphere 193(2):230–236

Fakayode SO, Olu-Owolabi BI (2003) Heavy metal contamination of roadside topsoil in Osogbo, Nigeria: its relationship to traffic density and proximity to highways. Environ Geol 44(2):150–157

Fan S, Wang X (2017) Analysis and assessment of heavy metals pollution in soils around a Pb and Zn smelter in Baoji City, Northwest China. Hum Ecol Risk Assess 23(5):1099–1120. https://doi.org/10.1080/10807039.2017.1300857

Guney M, Zagury GJ, Dogan N, Onay TT (2010) Exposure assessment and risk characterization from trace elements following soil ingestion by children exposed to playgrounds, parks and picnic areas. J Hazard Mater 182:656–664

Hettiarachchi GM, Pierzynski GM (2004) Soil lead bioavailability and in situ remediation of lead-contaminated soils: a review. Environ Progress 23(1):78–93

Hjortenkrans D, Bergbäck B, Häggerud A (2006) New metal emission patterns in road traffic environments. Environ Monit Assess 117(1):85–98

Hjortenkrans DDT, Bergback GG, Haggerfud AV (2007) Metal emissions from brake linings and tires; case studies in Stockholm, Sweden 1995/1998 and 2005. Environ Sci Technol 41:5224–5230

Hu W, Huang B, He Y, Kalkhajeh YK (2016) Assessment of potential health risk of heavy metals in soils from a rapidly developing region of China. Hum Ecol Risk Assess 22(1):211–225

Karim Z, Qureshi BA (2014) Health risk assessment of heavy metals in urban soil of Karachi, Pakistan. Hum Ecol Risk Assess 20(3):658–667

Khan MN, Wasim AA, Sarwar A, Rasheed MF (2011a) Assessment of heavy metal toxicants in the roadside soil along the N-5, National Highway, Pakistan. Environ Monit Assess 182:587–595

Khan S, Khan MA, Rehman S (2011b) Lead and cadmium contamination of different roadside soils and plants in Peshawar City, Pakistan. Pedosphere 21(3):351–357

Khan B, Ullah H, Khan S, Aamir M, Khan A, Khan W (2016a) Sources and contamination of heavy metals in sediments of Kabul River: the role of organic matter in metals retention and accumulation. Soil Sediment Contam 25(8):891–904

Khan S, Munir S, Sajjad M, Li G (2016b) Urban park soil contamination by potentially harmful elements and human health risk in Peshawar City, Khyber Pakhtunkhwa, Pakistan. J Geochem Explor 165:102–110

Kluge B, Wessolek G (2012) Heavy metal pattern and solute concentration in soils along the oldest highway of the world—the AVUS Autobahn. Environ Monit Assess 184:6469–6481

KPBOS (Khyber Pakhtunkhwa Bureau of Statistics) (2012) District wise road kilometrage in Khyber Pakhtunkhwa. https://kpbos.gov.pk/prd_images/1399455809.pdf. Accessed 29 December 2016

LEAD Group (2011) Chronology of leaded gasoline/leaded petrol history. http://www.lead.org.au/Chronology-Making_Leaded_Petrol_History.pdf. Accessed 14 December 2017

Luo X, Yu S, Zhu Y, Li X (2012) Trace metal contamination in urban soils of China. Sci Total Environ 421:17–30

Man YB, Sun XL, Zhao YG, Lopez BN, Chung SS, Wu SC et al (2010) Health risk assessment of abandoned agricultural soils based on heavy metal contents in Hong Kong, the world's most populated city. Environ Int 36(6):570–576

Markus J, McBratney AB (2001) A review of the contamination of soil with lead: II. Spatial distribution and risk assessment of soil lead. Environ Int 27(5):399–411

Mielke HW, Laidlaw MAS, Gonzales C (2010) Lead (Pb) legacy from vehicle traffic in eight California urbanized areas: continuing influence of lead dust on children's health. Sci Total Environ 408(19):3695–3975. https://doi.org/10.1016/j.scitotenv.2010.05.017

Nabulo G, Oryem-Origa H, Diamond M (2006) Assessment of lead, cadmium, and zinc contamination of roadside soils, surface films, and vegetables in Kampala City, Uganda. Environ Res 101(1):42–52

Nriagu JO (1990) The rise and fall of leaded gasoline. Sci Total Environ 92(1):13–28

Parekh PP, Khwaja HA, Khan AR, Naqvi RR, Malik A, Khan K, Hussain G (2002) Lead content of petrol and diesel and its assessment in an urban environment. Environ Monit Assess 74(3):255–262. https://doi.org/10.1023/A:1014296713553

Paul R, White F, Luby S (2003) Trends in lead content of petrol in Pakistan. Bull World Health Organ 81(6):468–468

Poggio L, Vrščaj B, Hepperle E, Schulin R, Marsan FA (2008) Introducing a method of human health risk evaluation for planning and soil quality management of heavy metal-polluted soils—an example from Grugliasco (Italy). Landsc Urban Plan 88(2):64–72

Reeder P, Shapiro L (2003) Lead contamination of soils in Belize City, Belize, Central America. J Environ Sci Health A 38(12):2785–2805

Safari M, Ramavandi B, Sanati AM, Sorial GA, Hashemi S, Tahmasebi S (2018) Potential of trees leaf/bark to control atmospheric metals in a gas and petrochemical zone. J Environ Manag 222:12–20

Shah F, Kazi TG, Afridi HI, Baig JA, Khan S, Kolachi NF et al (2010) Environmental exposure of lead and iron deficit anemia in children age ranged 1–5 years: a cross sectional study. Sci Total Environ 408(22):5325–5330

Siciliano SD, James K, Zhang G, Schafer AN, Peak JD (2009) Adhesion and enrichment of metals on human hands from contaminated soil at an Arctic urban brownfield. Environ Sci Technol 43(16):6385–6390

Tomašević M, Antanasijević D, Aničić M, Deljanin I, Perić-Grujić A, Ristić M (2013) Lead concentrations and isotope ratios in urban tree leaves. Ecol Indic 24:504–509

USEPA (US Environmental Protection Agency) (1989a) EPA sets new limits on lead in gasoline. https://archive.epa.gov/epa/aboutepa/epa-sets-new-limits-lead-gasoline.html. Accessed 4 December 2017

USEPA (US Environmental Protection Agency) (1989b) Risk assessment guidance for superfund (vol I). Human health evaluation manual (Part A). EPA/540/1-89/002. Office of Emergency and Remedial Response, US Environmental Protection Agency, Washington, DC, pp 6-40–6-44

USEPA (US Environmental Protection Agency) (2001) Risk assessment guidance for superfund: volume III part-A. Process for conducting probabilistic risk assessment. (EPA 540-R-02-002), Washington, DC

USEPA (US Environmental Protection Agency) (2004) Risk assessment guidance for superfund volume I: human health evaluation manual (Part E, supplemental guidance for dermal risk assessment). Office of Superfund Remediation and Technology Innovation, US Environmental Protection Agency, Washington DC, pp D5–D7

USEPA (US Environmental Protection Agency) (2011) Exposure factors handbook 2011 edition. (EPA/600/R-09/052F). National Center for Environmental Assessment, Office of Research and Development, Washington, DC, 20460

Wilson SC, Tighe M, Paterson E, Ashley PM (2014) Food crop accumulation and bioavailability assessment for antimony (Sb) compared with arsenic (As) in contaminated soils. Environ Sci Pollut Res 21(20):11671–11681

Wu S, Peng S, Zhang X, Wu D, Luo W, Zhang T et al (2015) Levels and health risk assessments of heavy metals in urban soils in Dongguan, China. J Geochem Explor 148:71–78

Yan G, Mao L, Liu S, Mao Y, Ye H, Huang T et al (2018) Enrichment and sources of trace metals in roadside soils in Shanghai, China: a case study of two urban/rural roads. Sci Total Environ 631:942–950

Zhang H, Wang Z, Zhang Y, Ding M, Li L (2015) Identification of traffic-related metals and the effects of different environments on their enrichment in roadside soils along the Qinghai–Tibet highway. Sci Total Environ 521:160–172
Acknowledgements
This research work was supported by the Higher Education Commission (HEC), Pakistan, under the indigenous 5000 PhD fellowship program, Grant No. 112-25048-2PS1-361 to the 1st author.
Ethics declarations
Conflict of interest
The authors declare that they have no conflict of interest.
Additional information
Editorial responsibility: M. Abbaspour.
About this article
Cite this article
Ahmad, I., Khan, B., Asad, N. et al. Traffic-related lead pollution in roadside soils and plants in Khyber Pakhtunkhwa, Pakistan: implications for human health. Int. J. Environ. Sci. Technol. 16, 8015–8022 (2019). https://doi.org/10.1007/s13762-019-02216-7
Received:

Revised:

Accepted:

Published:

Issue Date:
Keywords
Health risk

Lead

Plant contamination

Pollution

Roadside soil

Khyber Pakhtunkhwa