Abstract
Ethanol is an alternative fuel produced from sugarcane and economically very important for São Paulo state and Brazil. Vinasse, which has been traditionally distributed on the agricultural soil as an organic fertilizer, is the main residue of the ethanol production. Its dosage has been annually rationed in function of the potassium balance for reuse in agriculture. The vinasse potassium for ferti-irrigation can fully substitute potassium from mineral sources, but its transport is economically unviable from a determined distance. In this context, the paper presents the dehydration of sugarcane vinasse using a reverse osmosis technology to reduce the cost of transport until the sugarcane tillage. The main contributions are the reduction in the water content (concentration) and increase in the solid and the potassium content (13.8%). The study showed a payback value of 5.49 years.
This is a preview of subscription content, log in to check access.
Access options
Buy single article
Instant access to the full article PDF.
US$ 39.95
Price includes VAT for USA
Subscribe to journal
Immediate online access to all issues from 2019. Subscription will auto renew annually.
US$ 99
This is the net price. Taxes to be calculated in checkout.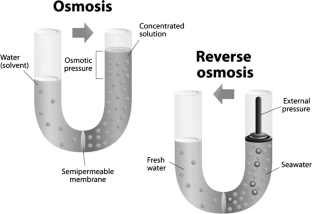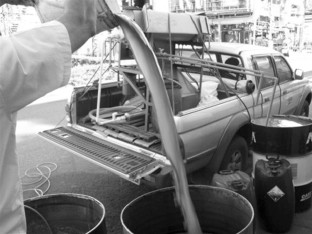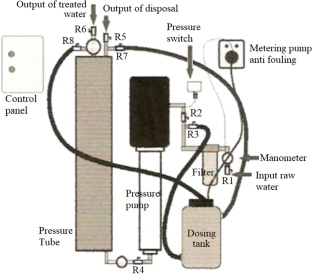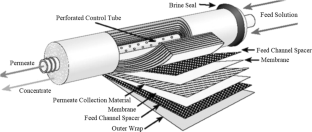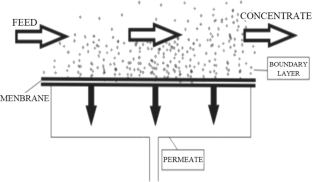 References
Acero JL, Benitez FJ, Leal AI et al (2010) Membrane filtration technologies applied to municipal secondary effluents for potential reuse. J Hazard Mater 177(1–3):390–398. https://doi.org/10.1016/j.jhazmat.2009.12.045

Akram M, Tan CK, Garwood R et al (2015) Vinasse – A potential biofuel: cofiring with coal in a fluidised bed combustor. Fuel 158:1006–1015. https://doi.org/10.1016/j.fuel.2015.06.036

Benítez FJ, Acero JL, Leal AI et al (2009) The use of ultrafiltration and nanofiltration membranes for the purification of cork processing wastewater. J Hazard Mater 162(2–3):1438–1445. https://doi.org/10.1016/j.jhazmat.2008.06.036

Canellas LP, Velloso ACX, Marciano CR et al (2003) Propriedades químicas de um cambissolo cultivado com cana-de-açúcar, com preservação de palhiço e adição de vinhaça por longo tempo. Rev Bras Ciênc Solo 27(5):935–944. https://doi.org/10.1590/S0100-06832003000500018

Cibis E, Ryznar-Luty A, Krzywonos M et al (2011) Betaine removal during thermo- and mesophilic aerobic batch biodegradation of beet molasses vinasse: influence of temperature and pH on the progress and efficiency of the process. J Environ Manag 92(7):1733–1739. https://doi.org/10.1016/j.jenvman.2011.02.009

Cruz LFLS. Viabilidade técnica/econômica/ambiental das atuais formas de aproveitamento da vinhaça para o Setor Sucroenergético do Estado de São Paulo. Escola de Engenharia de São Carlos, Universidade de São Paulo, 2011, Dissertaion Thesis in Portuguese

Franco A, Marques MO, Melo WJD (2008) Sugarcane grown in an oxisol amended with sewage sludge and vinasse: nitrogen contents in soil and plant. Sci Agric 65(4):408–414. https://doi.org/10.1590/S0103-90162008000400013

Freire WJ, Cortez LAB (2000) Sugarcane Vinasse. Agropecuária Ed., Guaíba, RS, Brazil, 203

Goldemberg J, Coelho ST, Guardabassi P (2008) The sustainability of ethanol production from sugarcane. Energy Policy 36(6):2086–2097. https://doi.org/10.1016/j.enpol.2008.02.028

Gomes MTMS, Eça KS, Viotto LA (2011) Concentração da vinhaça por microfiltração seguida de nanofiltração com membranas. Pesqui Agropecu Bras 46(6):633–638. https://doi.org/10.1590/S0100-204X2011000600009

Lourencetti C, Demarchi M, Ribeiro M (2008) Determination of sugar cane herbicides in soil and soil treated with sugar cane vinasse by solid-phase extraction and HPLC-UV. Talanta 77(2):701–709. https://doi.org/10.1016/j.talanta.2008.07.013

Madaeni SS, Zereshki S (2010) Energy consumption for sugar manufacturing. Part I: evaporation versus reverse osmosis. Energy Convers Manag 51(6):1270–1276. https://doi.org/10.1016/j.enconman.2010.01.002

Mariano AP, Crivelaro SHR, Angelis DDFD et al (2009) The use of vinasse as an amendment to ex situ bioremediation of soil and groundwater contaminated with diesel oil. Braz Arch Biol Technol 52(4):1043–1055. https://doi.org/10.1590/S1516-89132009000400030

Nataraj SK, Hosamani KM, Aminabhavi TM (2006) Distillery wastewater treatment by the membrane-based nanofiltration and reverse osmosis processes. Water Res 40(12):2349–2356. https://doi.org/10.1016/j.watres.2006.04.022

Parnaudeau V, Condom N, Oliver R et al (2008) Vinasse organic matter quality and mineralization potential, as influenced by raw material, fermentation and concentration processes. Bioresour Technol 99(6):1553–1562. https://doi.org/10.1016/j.anaerobe.2015.04.008

Patzek TW, Pimentel D (2005) Thermodynamics of energy production from biomass. Crit Rev Plant Sci 24(5–6):327–364. https://doi.org/10.1080/07352680500316029

Robles-González V, Galíndez-Mayer J, Rinderknecht-Seijas N et al (2012) Treatment of mezcal vinasses: a review. J Biotechnol 157:524–546. https://doi.org/10.1016/j.jbiotec.2011.09.006

Santana VS, Machado NRCF (2008) Photocatalytic degradation of the vinasse under solar radiation. Catal Today 133–135:606–610. https://doi.org/10.1016/j.cattod.2007.12.131

Silva MAS, Griebeler NP, Borges LC (2007) Uso de vinhaça e impactos nas propriedades do solo e lençol freático. Rev Bras Eng Agric Ambient 11(1):108–114. https://doi.org/10.1590/S1415-43662007000100014

Simões CLN, Sena MER, Campos R (2004) !Estudo da viabilidade econômica da concentração de vinhoto através de osmose inversa. XXIV Encontro Nacional de Engenharia de Produção, Florianópolis, Brazil

Tejada M, Gonzalez JL, García-Martínez AM et al (2008) Application of a green manure and green manure composted with beet vinasse on soil restoration: effects on soil properties. Bioresour Technol 99(11):4949–4957. https://doi.org/10.1016/j.biortech.2007.09.026

Tejada M, García-Martínez AM, Parrado J (2009) Effects of a vermicompost composted with beet vinasse on soil properties, soil losses and soil restoration. CATENA 77(3):238–247. https://doi.org/10.1016/j.catena.2009.01.004
Acknowledgements
The authors would like to acknowledge Empresa HS – Osmose Reversa for supplying the reverse osmosis machine, Clealco Sugar and Alcohol SA industry and Ferti-irrigation team of Clealco Sugar and Alcohol SA industry.
Additional information
Editorial responsibility: M. Abbaspour.
About this article
Cite this article
Silva, G.A., Ferreira, S.L., de Souza, G.R. et al. Utilization of a new approach for the potassium concentration of sugarcane vinasse by reverse osmosis: case study. Int. J. Environ. Sci. Technol. 16, 6441–6446 (2019). https://doi.org/10.1007/s13762-019-02209-6
Received:

Revised:

Accepted:

Published:

Issue Date:
Keywords
Reverse osmosis

Reduce transport costs

Vinasse arrangement

Potassium

Sugarcane