Abstract
Nanotechnology is a relatively new field which is making advancements each day. It is making a huge impact on our day-to-day lives. Nanoparticles possess unique properties which makes it viable to use it in a wide variety of fields such as in cosmetics, parasitology and catalysis. We used a plant-mediated, nature-friendly method which does not involve the usage of any harmful chemicals. Syzgium cumini seed extract was taken as the reducing agent for the preparation of zinc oxide nanoparticles. Green-synthesized zinc oxide nanoparticles were confirmed using X-ray diffraction, Fourier-transform infrared, UV–Vis spectroscopy, scanning electron microscope and transmission electron microscope. The average particle size was found to be around 50–60 nm. Additionally, larvicidal and ovicidal activity of the prepared nanoparticles against dengue causing vector was also carried out which resulted in LC50 and LC90 of 51.94 ppm and 119.99 ppm, respectively.
Graphical abstract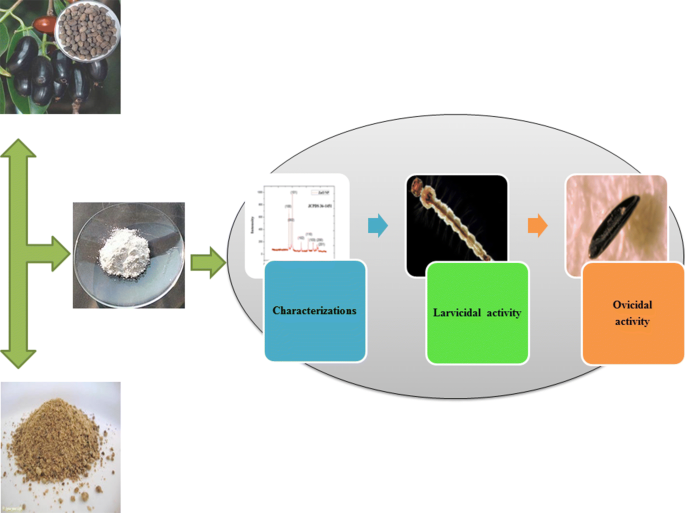 This is a preview of subscription content, log in to check access.
Access options
Buy single article
Instant access to the full article PDF.
US$ 39.95
Price includes VAT for USA
Subscribe to journal
Immediate online access to all issues from 2019. Subscription will auto renew annually.
US$ 99
This is the net price. Taxes to be calculated in checkout.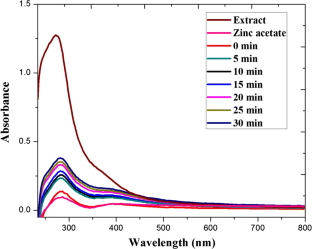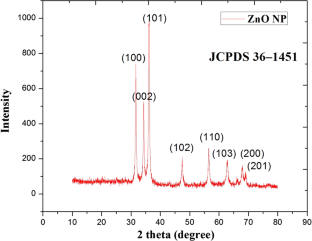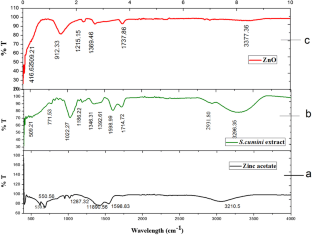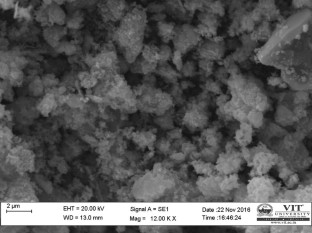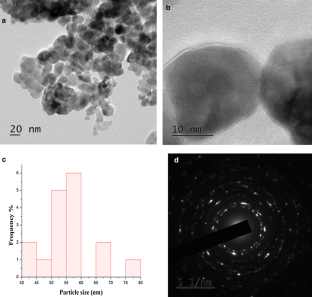 References
Ayyanar M, Subash-Babu P (2012) Syzygium cumini (L.) skeels: a review of its phytochemical constituents and traditional uses. Asian Pac J Trop 2:240–246

Balyan U, Sarkar B (2016) Aqueous extraction kinetics of phenolic compounds from Jamun (Syzygium cumini L.) Seeds. Int J Food Prop 20:372–389

Banerjee J, Kannan RT (2011) Biosynthesis of silver nanoparticles from Syzygium cumini (L.) seed extract and evaluation of their in vitro antioxidant activities. Dig J Nanomater Biostruct 6:961–968

Benelli G (2015) Research in mosquito control: current challenges for a brighter future. Parasitol Res 114:2801–2805

Bobo D, Robinson K, Islam J, Thuretch KJ, Corrie SR (2016) Nanoparticle-based medicines: a review of FDA-approved materials and clinical trials to date. Pharm Res 33:2373–2387

BrancoIG Moraes ICF, Argandoña EJS, Madrona GS, Santos C, Ruiz ALTG, Ernesto de Carvalho J, Haminiuk CWI (2016) Influence of pasteurization on antioxidant and in vitro anti-proliferative effects of jambolan (Syzygium cumini (L.) Skeels) fruit pulp. Ind Crops Prod 89:225–230

Elango G, Roopan SM, Al-Dhabi NA, Arasu MV, Dhamodaran KI, Elumalai K (2016) Coir mediated instant synthesis of Ni–Pd nanoparticles and its significance over larvicidal, pesticidal and ovicidal activities. J Mol Liq 223:1249–1255

Fowsiya J, Madhumitha G, Al-Dhabi NA, Arasu MV (2016) Photocatalytic degradation of congo red using carissa edulis extract capped zinc oxide nanoparticles. J Photochem Photobiol, B 162:395–401

Ghosh A, Chowdhary N, Chandra G (2012) Plant extracts as potential mosquito larvicides. Indian J Med Res 135:581–598

Helan V, Prince JJ, Al-Dhabi NA, Arasu MV, Ayeshamariam A, Madhumitha G, Roopan SM, Jayachandran M (2016) Neem leaves mediated preparation of NiO nanoparticles and its magnetization, coercivity and antibacterial analysis. Results Phys 6:712–718

Ishwarya R, Vaseeharan B, Subbaiah S, Nazar AK, Govindarajan M, Alharbi NS, Kadaikunnan S, Khaled JM, Al-anbr MN (2018a) Sargassum wightii-synthesized ZnO nanoparticles—from antibacterial and insecticidal activity to immunostimulatory effects on the green tiger shrimp Penaeus semisulcatus. J Photochem Photobiol, B 183:318–330

Ishwarya R, Vaseeharan B, Kalyani S, Banumathi B, Govindarajan M, Alharbi NS, Kadaikunnan S, Al-anbr MN, Khaled JM, Benelli G (2018b) Facile green synthesis of zinc oxide nanoparticles using Ulva lactuca seaweed extract and evaluation of their photocatalytic, antibiofilm and insecticidal activity. J Photochem Photobiol, B 178:249–258

Kapuscinska A, Igielska-Kalwat J, Goscianska J, Nowak I (2015) Use of metal nanoparticles in cosmetics. Prezem Chem 94:566–570

Kirthi AV, Rahuman AA, Rajakumar G, Marimuthu S, Santhoshkumar T, Jayaseelan C, Velayutham K (2011) Acaricidal, pediculocidal and larvicidal activity of synthesized ZnO nanoparticles using wet chemical route against blood feeding parasites. Parasitol Res 109:461–472

Koupaei MH, Shareghi B, Saboury AA, Davar F, Semnani A, Evini M (2016) Green synthesis of zinc oxide nanoparticles and their effect on the stability and activity of proteinase K. RSC Adv 6:42313–42323

Kumar V, Yadav SK (2012) Characterisation of gold nanoparticles synthesized by leaf and seed extract of Syzygium cumini L. J Exp Nanosci 7:440–451

Madhumitha G, Elango G, Roopan SM (2016) Biotechnological aspects of ZnO nanoparticles: overview on synthesis and its applications. Appl Microbiol Biotechnol 100:571–581

Pageni P, Yang P, Chen YP, Huang Y, Bam M, Zhu T, Nagarkatti M, Benicewicz BC, Decho AW, Tang C (2018) Charged metallopolymer-grafted silica nanoparticles for antimicrobial applications. Biomacromol 19:417–425

Ramala SK, Manivasagam GA (2016) Updated review of nanoparticles. World J Pharm Pharm Sci 5:1622–1637

Rana PJS, Singh P, Kar P (2016) Carbon nanoparticles for ferric ion detection and novel HFCNs-Fe3+ composite for NH3 and F- estimation based on a "TURN ON" mechanism. J Mater Chem B Mater Biol Med 4:5929–5937

Rani M, Shanker U (2017) Degradation of traditional and new emerging pesticides in water by nanomaterials: recent trends and future recommendations. Int J Environ Sci Technol. https://doi.org/10.1007/s13762-017-1512-y

Ravichandran K, Karthika K, Sakthivel B, JabenaBegum N, Snega S, Swaminathan K, Senthamilselvi V (2014) Tuning the combined magnetic and antibacterial properties of ZnO nanopowders through Mn doping for biomedical applications. J Magn Magn Mater 358–359:50–55

Roopan SM, Bharathi A, Kumar R, Khanna VG, Prabhakarn A (2012) Agricultural waste Annona squamosa peel extract: biosynthesis of silver nanoparticles. Colloid Surf B 92:209–212

Shipway AN, Katz E, Willner I (2000) Nanoparticle arrays on surfaces for electronic, optical and sensor applications. Chem Phys Chem 1:18–52

Singh A, Prasad SM (2017) nanotechnology and its role in agro ecosystem: a strategic perspective. Int J Environ Sci Technol 14:2277–2300

Su T, Mulla MS (1998) Ovicidal activity of neem products (azadirachtin) against Culex tarsalis and Culex quinquefasciatus (Diptera: Culicidae). J Am Mosq Control Assoc 14:204–209

Surendra TV, Roopan SM, Al-Dhabi NA, Arasu MV, Sarkar G, Suthindhiran K (2016) Vegetable peel waste for the production of ZnO Nanoparticles and its toxicological efficiency, antifungal, hemolytic, and antibacterial activities. Nanoscale Res Lett 11:546

Swami SB, Thakor NSJ, Patil MM, Haldankar PM (2012) Jamun (Syzygium cumini (L.)): a review of its food and medicinal uses. Food Nutr Sci 3:1100–1117

Velayutham K, Rahuman AA, Rajakumar G, Roopan SM, Elango G, Kamaraj C, Marimuthu S, Santhoshkumar T, Iyyapan M, Siva C (2013) Larvicidal activity of green synthesized silver nanoparticles using bark aqueous extract of Ficus racemosa against Culex quinquefasciatus and Culex gelidus. Asian Pac J Trop Med 6:95–101

Veni T, Pushpanathan P, Mohanraj J (2017) Larvicidal and ovicidal activity of Terminalia chebula Retz. (Family: Combretaceae) medicinal plant extracts against Anopheles stephensi, Aedes aegypti and Culex quinquefasciatus. J Parasit Dis 41:693–702

Venkateswarlu S, Kumar BN, Prasad CH, Venkateswarlu P, Jyothi NVV (2014) Bio-inspired green synthesis of Fe3O4 spherical magnetic nanoparticles using Syzygium cumini seed extract. Physica B Condens Matter 449:67–71

WHO Handbook for integrated vector management, World Health Organization, Geneva (2012)

Xia Y, Matham MV, Su H, Padmanabhan P (2016) Nanoparticulate contrast agents for multimodality molecular imaging. J Biomed Nanotechnol 12:1553–1584

Yang Y, Zhang C, Hu Z (2013) Impact of metallic and metal oxide nanoparticles on wastewater treatment and anaerobic digestion. Env Sci Process Impact 15:39–48

Zhang Y, Nayak TR, Hong H, Cai W (2013) Biomedical Applications of zinc oxide nanomaterials. Curr Mol Med 13:1633–1645

Zhang XF, Shen W, Gurunathan S (2016) Silver nanoparticle-mediated cellular responses in various cell lines: an in vitro model. Int J Mol Sci 17:1603
Acknowledgments
We thank SAS, Vellore Institute of Technology, Vellore, for providing XRD, FTIR, SEM facilities and STIC, Cochin, for TEM facility.
Ethics declarations
Conflict of interest
All authors declare that they have no conflict of interest.
Additional information
Editorial responsibility: Tanmoy Karak.
About this article
Cite this article
Roopan, S.M., Mathew, R.S., Mahesh, S.S. et al. Environmental friendly synthesis of zinc oxide nanoparticles and estimation of its larvicidal activity against Aedes aegypti. Int. J. Environ. Sci. Technol. 16, 8053–8060 (2019). https://doi.org/10.1007/s13762-018-2175-z
Received:

Revised:

Accepted:

Published:

Issue Date:
Keywords
Syzgium cumini

Green synthesis

Zinc oxide

Nanoparticles

Larvicidal

Ovicidal activity