Abstract
The persistent pollutant azo dye, Acid Orange 10, was removed from the environment by an Amberlite IRA 400 anion-exchange resin and then biodegraded by two bacterial strains. Moreover, the pollutant ecotoxicity was studied by a bacterial model. The objective of this study was to offer a new synergetic/compatible physico-chemical and biological method to remove and biodegrade the azo dye, Acid Orange 10, from the environment. Bach method was applied. The Acid Orange 10 sorption on the resin (Acid Orange 10 concentration, its contact time and stability) was characterized based on the various parameters such as pH and temperature. The biodegradation and the ecotoxicity effect of Acid Orange 10 have been monitorized on two bacterial strains such as Salmonella enterica (gram-negative bacteria) and Enterococcus faecalis (gram-positive bacteria). Experimental data detected from ion-exchange studies showed that the strongly basic anion-exchange resin Amberlite IRA 400, can removed efficiently up to 96.8% at 10−2 M of Acid Orange 10 concentration. Moreover, 10−2 M Acid Orange 10 induced in 1 h a significant 50% growth inhibition on S. enterica, but not on the E. faecalis. This result was linked to E. faecalis ability to degrade more than 60% of Acid Orange 10 compared to S. enterica (30% Acid Orange 10 degradation). The methods tested in this study can be used for removed/biodegradation of Acid Orange 10 from different polluted waters.
This is a preview of subscription content, log in to check access.
Access options
Buy single article
Instant access to the full article PDF.
US$ 39.95
Price includes VAT for USA
Subscribe to journal
Immediate online access to all issues from 2019. Subscription will auto renew annually.
US$ 99
This is the net price. Taxes to be calculated in checkout.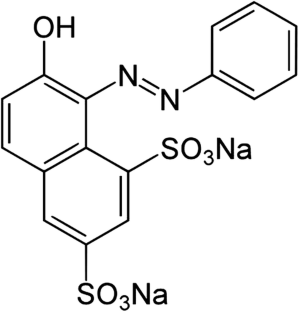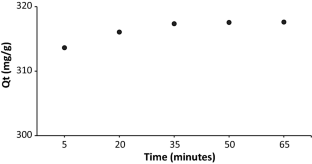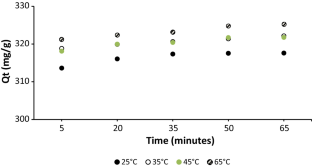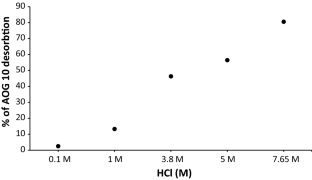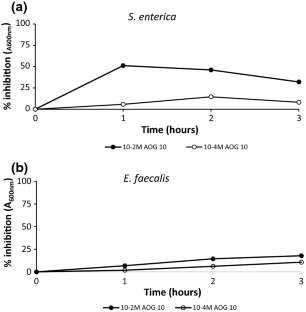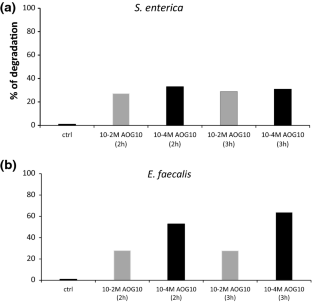 References
Alyüz B, Veli S (2009) Kinetics and equilibrium studies for the removal of nickel and zinc from aqueous solutions by ion exchange resins. J Hazard Mater 167:482–488

Arzani K, Ashtiani BG, Kashi AHA (2012) Equilibrium and kinetic adsorption study of the removal of Orange-G dye using carbon mesoporous material. J Inorg Mater 27:660–664

Atia AA, Donia AM, Al-Amrani WA (2009) Adsorption/desorption behavior of Acid Orange 10 on magnetic silica modified with amine groups. Chem Eng J 150:55–62

Balla W, Essadki A, Gourich B, Dassaa A, Chenik H, Azzi M (2010) Electrocoagulation/electroflotation of reactive, disperse and mixture dyes in an external-loop airlift reactor. J Hazard Mater 184:710–716

Cariell C, Barclay S, Naidoo N, Buckley C, Mulholland D, Senior E (1995) Microbial decolourisation of a reactive azo dye under anaerobic conditions. Water SA 21:61–69

Chen X, Zhao Y, Moutinho J, Shao J, Zydney AL, He Y (2015) Recovery of small dye molecules from aqueous solutions using charged ultrafiltration membranes. J Hazard Mater 284:58–64

Cheng Z, Zhang L, Guo X, Jiang X, Liu R (2015) Removal of lissamine rhodamine B and Acid Orange 10 from aqueous solution using activated carbon/surfactant: process optimization, kinetics and equilibrium. J Taiwan Inst Chem E 47:149–159

Cruz N (2015) Behavior of methyl orange and orange 10 (orange G) in the presence of hydrotalcite type compounds of Mg/Al and Mg/Fe. Int Nuclear Inf Syst. https://inis.iaea.org/search/search.aspx?orig_q=RN:47087230. Accesed 20 Sept 2018

Dada A, Olalekan A, Olatunya A, Dada O (2012) Langmuir, Freundlich, Temkin and Dubinin–Radushkevich isotherms studies of equilibrium sorption of Zn2+ unto phosphoric acid modified rice husk. J Appl Chem 3:38–45

Deepika R, Venkateshprabhu M, Pandimdevi M (2013) Studies on the behaviour of reactive dyes onto the cross-linked chitosan using adsorption isotherms. Int J Environ Sci 4:323–351

Dulman V, Cucu-Man SM, Bunia I, Dumitras M (2016) Batch and fixed bed column studies on removal of Orange G acid dye by a weak base functionalized polymer. Desalin Water Treat 5:714708–714727

Esfandian H, Javadian H, Parvini M, Khoshandam B, Katal R (2013) Batch and column removal of copper by modified brown algae sargassum bevanom from aqueous solution. Asia Pac J Chem Eng 8:665–678

Extremera R, Pavlovic I, Pérez MR, Barriga C (2012) Removal of Acid Orange 10 by calcined Mg/Al layered double hydroxides from water and recovery of the adsorbed dye. Chem Eng J 213:392–400

Foo K, Hameed B (2010) Insights into the modeling of adsorption isotherm systems. Chem Eng J 156:2–10

Hameed B, Mahmoud D, Ahmad A (2008) Equilibrium modeling and kinetic studies on the adsorption of basic dye by a low-cost adsorbent: coconut (Cocos nucifera) bunch waste. J Hazard Mater 158:65–72

Humelnicu I, Baiceanu A, Ignat ME, Dulman V (2017) The removal of Basic Blue 41 textile dye from aqueous solution by adsorption onto natural zeolitic tuff: kinetics and thermodynamics. Process Saf Environ 105:274–287

Jović-Jovičić N, Milutinović-Nikolić A, Banković P, Mojović Z, Žunić M, Gržetić I, Jovanović D (2010) Organo-inorganic bentonite for simultaneous adsorption of Acid Orange 10 and lead ions. Appl Clay Sci 47:452–456

Kertèsz S, Cakl J, Jiránková H (2014) Submerged hollow fiber microfiltration as a part of hybrid photocatalytic process for dye wastewater treatment. Desalination 343:106–112

Lau YY, Wong YS, Teng TT, Morad N, Rafatullah M, Ong SA (2014) Coagulation–flocculation of azo dye Acid Orange 7 with green refined laterite soil. Chem Eng J 246:383–390

Li C, Zhu H, She X, Wang T, She F, Kong L (2016) Selective removal of anionic dyes using poly (N, N-dimethyl amino ethylmethacrylate) functionalized graphene oxide. RSC Adv 71:67242–67251

Mall ID, Srivastava VC, Agarwal NK (2006) Removal of Orange-G and methyl violet dyes by adsorption onto bagasse fly ash—kinetic study and equilibrium isotherm analyses. Dyes Pigmemts 69:210–223

Merzouk B, Gourich B, Madani K, Vial C, Sekki A (2011) Removal of a disperse red dye from synthetic wastewater by chemical coagulation and continuous electrocoagulation. A comparative study. Desalination 272:246–253

Mubarak N, Fo Y, Al-Salim HS, Sahu J, Abdullah E, Nizamuddin S, Jayakumar N, Ganesan P (2015) Removal of methylene blue and orange-G from waste water using magnetic biochar. Int J Nanosci 14:155009

Nita-Lazar M, Galaon T, Banciu A, Paun I, Stoica C, Lucaciu I (2016) Screening of various harmful compounds in a new bacterial biological model. J Environ Prot Ecol 17:237–247

Özcan AS, Erdem B, Özcan A (2004) Adsorption of Acid Blue 193 from aqueous solutions onto Na–bentonite and DTMA–bentonite. J Colloid Interface Sci 280:44–54

Sandić ZP, Nastasović AB, Jović-Jovičić NP, Milutinović-Nikolić AD, Jovanović DM (2011) Sorption of textile dye from aqueous solution by macroporous amino-functionalized copolymer. J Appl Polym Sci 121:234–242

Souza SM, Bonilla KA, Souza AA (2010) Removal of COD and color from hydrolyzed textile azo dye by combined ozonation and biological treatment. J Hazard Mater 179:35–42

Szyguła A, Guibal E, Ruiz M, Sastre AM (2008) The removal of sulphonated azo-dyes by coagulation with chitosan. Colloids Surf A 330:219–226

Tan IAW, Ahmad AL, Hameed BH (2008) Adsorption of basic dye on high-surface-area activated carbon prepared from coconut husk: equilibrium, kinetic and thermodynamic studies. J Hazard Mater 154:337–346

Tripathi A, Srivastava SK (2011) Biodecolorization of azo dye, Acid Orange 10, using different bacterial strains, vol 6. In: IPCBEE, pp 253–257

Ulson De Souza AA, Melo AR, Guelli SMA, Souza U (2006) Re-utilisation conditions of wastewaters from textiles industries. Res Conserv Recycl 49:491–513

Umar A, Sanagi MM, Naim AA, Ibrahim WNW, Keyon ASA, Ibrahim WAW (2017) Removal of orange G from aqueous solutions by polystyrene-modified chitin. J Teknol 79:91–99

Valderrama C, Cortina J, Farran A, Gamisans X, De Las Heras F (2008) Evaluation of hyper-cross-linked polymeric sorbents (Macronet MN200 and MN300) on dye (Acid red 14) removal process. React Funct Polym 68:679–691

Wawrzkiewicz M (2011) Comparison of gel anion exchangers of various basicity in direct dye removal from aqueous solutions and wastewaters. Chem Eng J 173:773–781

Wawrzkiewicz M, Hubicki Z (2009) Equilibrium and kinetic studies on the adsorption of acidic dye by the gel anion exchanger. J Hazard Mater 172:868–874

Xu L, Du LS, Wang C, Xu W (2012) Nanofiltration coupled with electrolytic oxidation in treating simulated dye wastewater. J Membr Sci 409–410:329–334

Yahagi T, Degawa M, Seino Y, Matsushima T, Nagao M, Sugimura T, Hashimoto Y (1975) Mutagenicity of carcinogenic azo dyes and their derivatives. Cancer Lett 1:91–96

Zhang L, Cheng Z, Guo X, Jiang X, Liu R (2014) Process optimization, kinetics and equilibrium of Orange G and Acid Orange 7 adsorptions onto chitosan/surfactant. J Mol Liq 197:353–367

Zheng H, Liu D, Zheng Y, Liang S, Liu Z (2009) Sorption isotherm and kinetic modeling of aniline on Cr-bentonite. J Hazard Mater 167:141–147
Acknowledgements
The authors wish to thank all who assisted in conducting this work.
Ethics declarations
Human and animal rights
No animals/humans were used for studies that are base of this research.
Conflict of interest
The authors declare no conflict of interest, financial or otherwise.
Additional information
Editorial responsibility: Binbin Huang.
About this article
Cite this article
Marin, N.M., Pascu, L.F., Demba, A. et al. Removal of the Acid Orange 10 by ion exchange and microbiological methods. Int. J. Environ. Sci. Technol. 16, 6357–6366 (2019). https://doi.org/10.1007/s13762-018-2164-2
Received:

Revised:

Accepted:

Published:

Issue Date:
Keywords
Acid Orange 10

Anion-exchange resin

Bacteria

Biodegradation

Ecotoxicity