Abstract
Membrane preparation via phase inversion requires the use of solvents that presents in most cases a significant risk to health. Hence, the substitution of toxic solvents by others greener or more sustainable choices becomes a need. In this work, more sustainable solvents such as butyl acetate and liquid paraffin were used to prepare recycled low-density polyethylene (LDPE) flat membranes via thermally induced phase separation method. A comparison using xylene as a solvent, ethanol as a non-solvent and alumina as a pore-former was also carried out to evaluate the differences of both produced membranes. The crystalline properties of the polymer were studied via Fourier transform infrared spectroscopy with the aim of revealing differences in functional groups between the various membranes. The characterization of these membranes in terms of thickness, contact angle, pore size, porosity and SEM analyses showed that the addition of alumina had an important role in improving essentially the porosity and the contact angle. As expected, the results of LDPE-alumina membranes revealed good porosity with a hydrophobic moiety.
This is a preview of subscription content, log in to check access.
Access options
Buy single article
Instant access to the full article PDF.
US$ 39.95
Price includes VAT for USA
Subscribe to journal
Immediate online access to all issues from 2019. Subscription will auto renew annually.
US$ 99
This is the net price. Taxes to be calculated in checkout.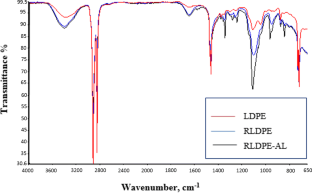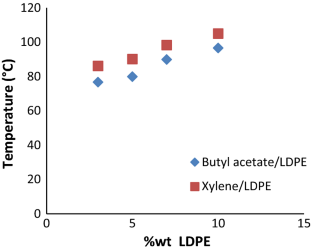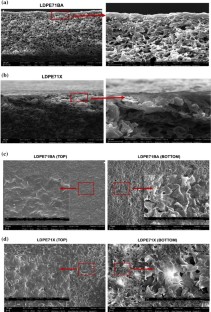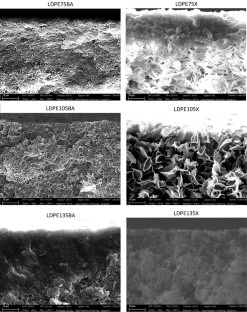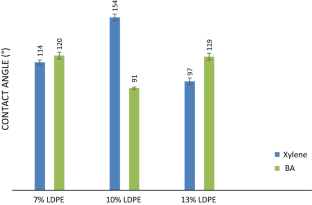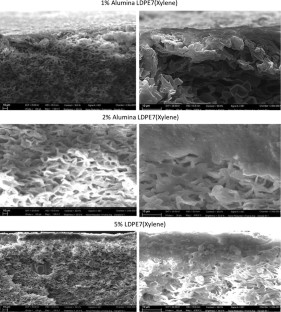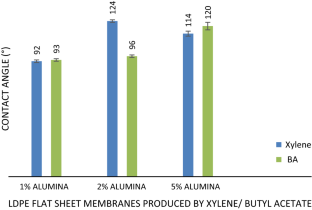 References
Achilias DS, Roupakias C, Megalokonomos P, Lappas AA, Antonakou EV (2007) Chemical recycling of plastic wastes made from polyethylene (LDPE and HDPE) and polypropylene (PP). J Hazard Mater 149:536–542

Alsalhy Q, Algebory S, Alwan GM, Simone S, Figoli A, Drioli E (2011) Hollow fiber ultrafiltration membranes from poly(vinyl chloride): preparation, morphologies, and properties. Sep Purif Technol 46:2199–2210

Biron DS, Poletto P, Duarte J, Zeni M, Bergmann CP, Santos VD (2015) Preparation and characterization of PA66/alumina composite membrane. Mater Res 18:748–755

Capello C, Fischer U, Hunger Buhler K (2007) What is a green solvent? A comprehensive framework for the environmental assessment of solvents. Green Chem 9: 927–934

Chen K, Xiao CF, Huang Q, Liu H, Liu H, Wu Y, Liu Z (2015) Study on vacuum membrane (VMD) using FEP hollow fiber membrane. Desalination 375:24–32

Cui Z, Hassankiadeh NT, Lee SK, LeeJM Woo KT, Sanguineti A, Arcella V, Lee YM, Drioli E (2013) Poly(vinylidene fluoride) membrane preparation with an environmental diluent via thermally induced phase separation. J Membr Sci 444:223–236

Das R, Sondhi K, Majumdar S, Sarkar S (2016) Development of hydrophobic clay–alumina based capillary membrane for desalination of brine by membrane distillation. J Asian Ceram Soc 4:243–251

Fadhil S, Marino T, Makki HF, Alsalhy QF, Blefari S, Macedonio F, Di Nicolò E, Giorno L, Drioli E, Figoli A (2016) Novel PVDF-HFP flat sheet membranes prepared by triethyl phosphate (TEP) solvent for direct contact membrane distillation. Chem Eng Process 102:16–26

Figoli A, Marino T, Simone S, Di Nicolò E, Li XM, He T, Tornaghid S, Drioli E (2014) Towards non-toxic solvents for membrane preparation: a review. Green Chem 16:4034–4059

Figoli A, Santoro S, Galiano F, Basile A (2015) Pervaporation membranes: preparation, characterization and application, pervaporation, vapour permeation and membrane distillation principles and applications. Woodhead Publishing Series in Energy. Elsevier, Amsterdam, pp 19–63

Figoli A, Ursino C, Galiano F, Di Nicolò E, Campanelli P, Carnevale MC, Criscuoli A (2017) Innovative hydrophobic coating of perfluoropolyether (PFPE) on commercial hydrophilic membranes for DCMD application. J Membr Sci 522:192–201

García-Fernández L, Wang B, García-Payo MC, Li K, Khayet M (2017) Morphological design of alumina hollow fiber membranes for desalination by air gap membrane distillation. Desalination 420:226–240

Good RJ, Chaudhury MK, Yeung C (1998) A new approach for determining roughness by means of contact angles on solids. In: Van Ooij WJ, Anderson HR (eds) Proceeding of first international congress on adhesion science and technology, pp 181–197

Goyal M (2016) Fabrication and characterization of low density polyethylene (LDPE)/multi walled carbon nanotubes (MWCNTs) nano-composites. Perspect Sci 8:403–405

Hansen CM (2007) Hansen solubility parameters: a user's handbook, 2nd edn. CRC Press, Boca Raton

http://www.plasticseurope.org/plastic. The fact-2016. Accessed 09 July 2018

http://www.sigmaaldrich.com/help-welcome/hazard-and-precautionarystatements.html#hazard. Accessed 09 July 2018

Ji GL, Zhu LP, Zhu BK, Zhang CF, Xu YY (2008) Structure formation and characterization of PVDF hollow fiber membrane prepared via TIPS with diluent mixture. J Membr Sci 319:264–270

Lerici LC, Renzini MS, Pierella LB (2015) Chemical catalyzed recycling of polymers: catalytic conversion of PE, PP and PS into fuels and chemicals over H-Y. Procedia Mater Sci 8:297–303

Lloyd DR (1990) Microporous membrane formation via thermally induced phase separation. I. Solid-liquid phase separation. J Membr Sci 52:239–261

Lu X, Zhang C, Han Y (2004) Low-density polyethylene superhydrophobic surface by control of its crystallization behavior. Macromol Rapid Commun 25:1606–1610

Nelson WM (2003) Green solvents for chemistry: perspectives and practice. Oxford University Press, New York

Rinku T (2014) Pore structure control of PVDF membranes using a 2-stages coagulation bath phase inversion process for application in membrane distillation (MD). J Membr Sci 452:470–480

Sawada S, Ursino C, Galiano F, Simone S, Drioli E, Figoli A (2015) Effect of citrate-based non-toxic solvents on poly(vinylidene fluoride) membrane preparation via thermally induced phase separation. J Membr Sci 493:232–242

Sehgal T, Semwal A, Maity G, Patel SP (2017) Hydrophilic modifications of PVDF membranes via swift heavy ion irradiations. Surf Eng 34:158–164

Simone S, Figoli A, Santoro S, Galiano F, Alfadul SM, Al-Harbi AO, Drioli E (2012) Preparation and characterization of ECTFE solvent resistant membranes and their application in pervaporation of toluene/water mixtures. Sep Purif Technol 90:147–161

Wang P, Chung TS (2015) Recent advances in membrane distillation processes: membrane development, configuration design and application exploring. J Membr Sci 474:39–56

Zhu J, Zhang Q, Zheng J, Hou S, Mao H, Zhang S (2016) Green fabrication of a positively charged nanofiltration membrane by grafting poly(ethyleneimine) on to a poly(aryleneethersulfone) membrane containing tertiary amine groups. J Membr Sci 517:39–46

Zuo J, Bonyadi S, Chung TS (2016) Exploring the potential of commercial polyethylene membranes for desalination by membrane distillation. J Membr Sci 497:239–247
Acknowledgements
The author H. Ajari would like to thank Prof. Figoli Alberto from the ITM CNR (Italy) for his academic support and the University of Gabes for financial support.
Additional information
Editorial responsibility: M. Abbaspour.
About this article
Cite this article
Ajari, H., Chaouachi, B., Galiano, F. et al. A novel approach for dissolving crystalline LDPE using non-toxic solvents for membranes preparation. Int. J. Environ. Sci. Technol. 16, 5375–5386 (2019). https://doi.org/10.1007/s13762-018-2123-y
Received:

Revised:

Accepted:

Published:

Issue Date:
Keywords
Non-toxic solvents

Membrane preparation

Thermally induced phase separation (TIPS)

Recycled low-density polyethylene